Find Assisted Living Options Near Me
At some point in their later years, most older adults will need some type of senior care. Health challenges such as reduced mobility, complicated medication schedules, and reduced vision can make it unsafe for the adult to continue to live independently. While many people immediately think of nursing homes when they think of residential care for seniors, assisted living can be a better option for seniors who need some assistance in their day-to-day lives but do not need regular medical care.

Assisted living is a long-term residential care option designed for older adults who need some help with activities of daily living and support in their other daily tasks, such as laundry and transportation. Assisted living facilities (ALFs) offer residents assistance with their daily activities and the security of around-the-clock staff. At the same time, residents are able to remain as independent as they please. This makes assisted living a good fit for many seniors who are beginning to have health challenges.

There are thousands of assisted living facilities in the United States that are home to over 800,000 residents, making it challenging to choose a community. This guide will help you better understand assisted living and determine if it's the right senior care choice for yourself or a loved one. We also cover the cost of assisted living, how to choose a community, and more.

What Is Assisted Living?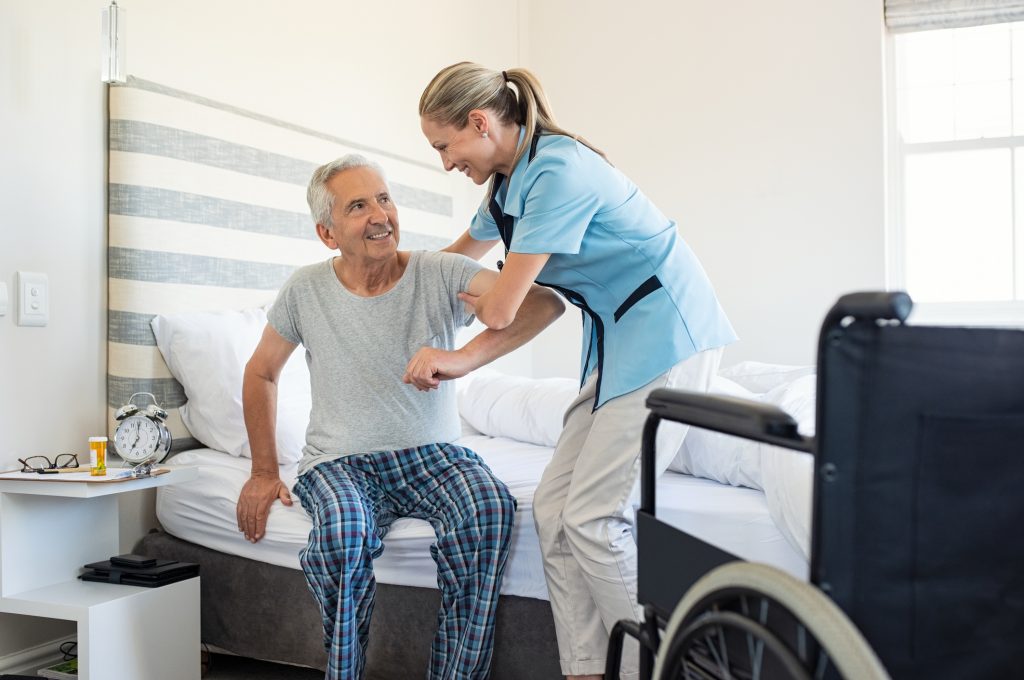 Assisted living is a type of residential care for older adults who need help with normal daily activities. Seniors in assisted living receive personal care and assistance with activities of daily living (ADLs) such as bathing, dressing, grooming, and toileting as needed so that they're able to live as independently as possible.

A look around a typical assisted living community will reveal something far different from the clinical setting many imagine when they hear the words "retirement home." While each community is different, assisted living facilities in the U.S. today typically offer a wide range of convenient services, comforts, amenities, and enriching activities to ensure residents get the help and care they need, in a setting they can call "home."

How Does Assisted Living Compare to Other Senior Living Options?
Assisted living falls somewhere between an independent living community and a skilled nursing facility in terms of the level of care provided. It is a good solution for those who need some assistance with ADLs, but can still live somewhat independently and want to retain that independence as long as possible. That being said, some seniors will be better suited for a different senior living option. Below, we explain how assisted living compares to other common senior living options.

Assisted Living Communities vs. Nursing Homes
People often confuse assisted living facilities for nursing homes, but the two senior care options are very different.

The key difference: assisted living communities provide personal care and assistance with ADLs for residents who need help with these activities but do not require skilled nursing care, while nursing homes provide around-the-clock skilled care and medical support. For example, a nursing home would be a good fit for someone who needs a feeding tube, while assisted living would not.

Another big distinction is the types of services and amenities offered. Assisted living communities typically offer a wider range of social activities and outings and have a less institutional, more communal feel than nursing homes. And while nursing homes tend to be more expensive than ALFs, Medicaid and Medicare can be used to cover skilled nursing home costs, which is rarely the case for assisted living.

Visit our Nursing Homes page to learn more about this type of senior care.

Assisted Living vs. Memory Care
Memory care is a specialized form of long-term care for seniors with Alzheimer's disease and other forms of dementia. Today, many assisted living communities offer memory care in addition to assisted living care, typically in a separate wing or building of the same facility. The key difference between these two options is that memory care is specialized for those with dementia, while assisted living is not.

Essentially every aspect of memory care, from the types of organized activities that take place at the community to the presence of physical safeguards such as secured courtyards and doors with alarms, is designed with those with dementia in mind. Because of the enhanced staff training and safety measures required, memory care also comes with a higher price tag than assisted living. It typically costs 20-30% more per month than an ALF in the same location.

Visit our Memory Care page to learn more about this senior care option.

Assisted Living vs. Independent Living
Independent living facilities offer residential, community living with many of the same amenities that one would find in an ALF. Gyms and exercise classes, communal dining rooms and prepared meals, and planned social activities are all common at independent living communities. The biggest difference between assisted living and independent living is that the latter does not offer any personal care assistance or assistance with ADLs.

Because of this difference, independent living communities are best suited for seniors who do not yet need any assistance with their daily activities and can live independently in their day-to-day lives. Independent living communities typically do offer prepared meals, interior and exterior maintenance, and housekeeping and laundry services.

Visit our Independent Living page to learn more about this senior care option.

Assisted Living vs. In-Home Care
The biggest differences between assisted living care and in-home care are the most obvious- in assisted living, residents live in a community of other adults receiving care, while in-home care takes place in an individual home. The type of assistance provided by both assisted living communities and home-care providers can overlap, and include personal care and help with activities of daily living. Neither assisted living nor in-home care providers administer skilled nursing care.

Visit our In-Home Care page to learn more about this type of senior care.

How Much Does Assisted Living Cost?
In the United States, assisted living costs an average of $4,051 per month. This varies depending on the state and city, and even different communities in the same area can be priced very differently. When looking into ALFs for yourself or a loved one, be sure to get cost information from each individual community- don't assume that an ALF will be priced similarly to the area average.

Another thing to consider is a community's cost structure. Some charge an all-inclusive monthly fee, while others choose to itemize bills and charge for specific services or amenities utilized. Think about which structure you prefer, and whether it's sustainable to choose a facility with itemized billing. In these situations, costs are likely to increase as the resident ages and needs more assistance. An all-inclusive monthly bill, on the other hand, remains relatively steady over time, other than standard cost-of-living increases from year to year.
Financial Assistance for Assisted Living
When looking for financial assistance for long-term care, many people are surprised to learn that Medicare does not cover assisted living. Still, in addition to private pay, the following options are available and may help you pay for assisted living.

Medicaid: In most states, Medicaid provides some financial assistance for assisted living for seniors who qualify. In many cases, coverage is through a 1915(c) waiver program, commonly known as Home & Community Based Services (HCBS) waivers. Waiver programs provide expanded coverage from standard Medicaid, and HCBS waivers are specifically intended to give seniors more choice when it comes to long-term care rather than defaulting to a nursing home. The available HCBS waivers and what they cover vary between different states, so be sure to look into your state's Medicaid program for more information on coverage of assisted living services.
Life Insurance: One typically purchases a life insurance policy to benefit their loved ones after the policyholder passes. However, in some cases, it makes sense to "cash-out" the policy early in order to have liquid assets to use to pay for long-term care. Some insurance companies will essentially buy back the policy for a portion of its cash value, while others seek a third party to handle a "life settlement." In any case, it's important to consider the pros and cons of using one's life insurance policy to pay for long-term care.
Long-Term Care Insurance: Long-term care insurance policies specifically cover some of the costs of long-term care such as assisted living. These policies may not cover all forms of long-term care, so be sure to look into the specifics. It can be challenging to be approved for a long-term care insurance policy after reaching a certain age, so this option is typically only available to those who already have a policy before the need for assisted living arises.
VA Aid and Attendance Benefit: The Aid and Attendance (A&A) benefit for veterans is a monthly payment that some veterans receive in addition to their standard VA pension. A&A is intended to help disabled and/or elderly veterans access the care that they need, such as assisted living. Veterans who sustained an injury in combat and meet income requirements and their spouses are eligible for A&A. For more information, contact your local VA office.
Reverse Mortgages: If a senior is moving out of a home that they own and into an ALF, a reverse mortgage can be a good option to help pay for assisted living expenses. Reverse mortgages are loans that one takes out against the value of their home without having to immediately sell the home. When the last resident of the home moves out and the home is sold, the loan recipient will be required to pay it back with interest.
Top Cities for Assisted Living
What Types of Care Are Provided in Assisted Living?
Since assisted living communities are not regulated nationally, there are some differences in the exact services and standards delivered from state-to-state and facility-to-facility. Some states, for example, require assisted living staff members to undergo more than 24 hours of training, while other states have zero training requirements.
Still, there are a number of standard services provided to residents at the vast majority of assisted living communities across the U.S. These include personal care services in the form of assistance with activities of daily living such as:
Eating
Dressing
Grooming
Bathing
Toileting
Walking
Medication management
In addition to personal care, just about every assisted living community in the country offers the following services:
Prepared meals
Scheduled transportation
Housekeeping
Cleaning services
Organized activities
While these services are included in a resident's monthly payment at some communities, others will charge per service utilized, so it's important to check with community staff about any additional fees.

What Are Some Services and Amenities Provided in Assisted Living?
Assisted living communities today are not the retirement homes of yesteryear. Many offer a wide range of amenities to ensure their residents are comfortable and entertained. Every community is different, and some assisted living communities offer more basic amenities that cover the essentials while other facilities can resemble a high-end resort.

The below table provides more in-depth explanations of common offerings at assisted living facilities today.
| | |
| --- | --- |
| Service or Amenity | Description |
| Controlled Access | A security system that may include a secured gate requiring permission to enter the community and/or a sign-in system at the front desk for visitors. |
| Emergency Call System | Wireless alert systems that allow assisted living residents to call for help from their rooms with the push of a button. |
| Nursing Staff | Licensed nursing staff that are either on-site or on-call for an assisted living facility and can respond to provide medical care for residents such as dressing wounds, placing catheters or IVs. |
| Concierge Service | Front desk staff members who are available (in some cases around the clock) to answer residents' questions and calls. |
| Transportation | Scheduled transportation via community shuttle or car that's provided to residents to attend medical appointments or for trips to nearby shops, restaurants, parks or other community-organized outings. |
| Social Activities and Events | Community activities organized by the facility's staff members that may include classes, games, social events such as happy hours or parties, regular clubs, community volunteer programs, cultural or artistic performances, visiting lecturers, and outings to nearby attractions. |
| Salon/Barbershop | An on-site hair and beauty salon where residents can receive typical salon or barbershop-style services such as haircuts, perms, facial hair grooming or manicures, and in some cases massages. |
| Gym/Fitness Room | An on-site space where residents can use exercise equipment or light weights or attend fitness classes led by an instructor. Some communities' fitness areas also include a swimming pool, sauna and/or hot tub. |
| Wellness Program | A program offered at an assisted living community that is specifically designed to enhance a resident's nutrition, physical fitness, and overall health and wellbeing. |
| Outdoor Common Areas | A communal space accessible to residents that allows them to enjoy the outdoors while remaining on community property. This might be anything from a shared patio with tables to a park-like yard with a communal garden. |
| Computer Room | A room in the facility that's equipped with computers and printers for residents to use, along with resources to help them use the computers and other equipment provided. |
| Wi-Fi | Wireless internet access that's provided to residents and visitors on facility grounds. |
| Laundry and linen services | Washing and drying of laundry and bed linens for residents. These services often operate on a schedule that includes regular laundry pick-ups and drop-offs to residents' apartments. |
What Are Some Key Signs That It May Be Time for Assisted Living?
The decision to help an aging adult move out of a current home is a complex one- both emotionally and practically. Above all, you want the person to be safe and well. Although every situation is different, the following signs are some key indicators that it may be time for a senior to transition to an ALF.

Increasing difficulty managing the activities of daily living
Recent accidents in the home (such as a fall) or while driving
Slower recovery times after an accident or illness
Noticeable weight loss or increased frailty
Changes in one's appearance, such as stained clothing or unkempt hair
Loneliness due to lack of companionship
Bills and loans going unpaid and mail from creditors going unopened
Signs of dangerous driving (not wearing a seatbelt, easily distracted, new nicks or dents in the car)
Stale or expired foods in the pantry and refrigerator
Broken appliances that your loved one used to use regularly
Signs of lax housekeeping such as a dirty bathroom or lots of clutter around the home
Ultimately, no one other than the senior and those closest to them will know when it's the right time to transition for assisted living. But if one or more of the above situations occur, it's a sign that the person could benefit from the services provided in an ALF.

What Should I Look for in Assisted Living? 
After determining if it's time for assisted living, it's time to choose a community. This is often the most challenging part – finding a community for your loved one that feels like home.

When possible, It's always great to tour a facility before any decisions are made about moving in to get a firsthand peek at what amenities are available and residents' lifestyles. Today, most communities offer high-quality virtual tours as well, which are particularly useful when in-person tours are not possible or safe. The main advantage of an in-person tour is that you can see and converse with current residents about their experiences. Still, virtual tours can provide you with an inside look at a community and give you more of a sense of it than just looking at pictures alone.
Whether you're looking at a community in-person or online, be on the lookout for the following signs of a high-quality ALF.
Regular Health Assessments: Your loved one should undergo an initial health assessment at the community, which will allow staff to determine the level of care they will need. Staff should conduct regular follow-up assessments and make adjustments to a resident's care plan as needed. This ensures that your loved one continues to get the care that they need even as their needs change.
Transparency: Any trustworthy community should be able to provide you with details about costs, policies, and contracts on-the-spot. If a community takes a long time to provide you with this information or is not forthcoming about it, it's probably best to look elsewhere.
Low Staff-to-Resident Ratios: Some states mandate a minimum staff-to-resident ratio, while others leave it up to individual facilities to decide. Regardless, be sure to ask a community about their ratios and make sure that it's one you feel comfortable with.
Efficient Communication: You want to know that you'll always be able to reach the people responsible for your loved one's care and to have your questions answered in a timely manner. Use the tour and inquiry process as a trial for the community's communication with family members. If it's difficult to get a hold of staff or get answers to your questions, it may indicate that the community staff is not the best at communicating.
Amenities: While all ALFs offer personal care assistance, not all communities have the same amenities. If there is a certain amenity that is especially important to your loved one, such as a gym or swimming pool, be sure to check with each individual community you're interested in about which amenities they have on-site.
How Do I Choose an Assisted Living Community?
You can start your search for an assisted living community by entering your city or zip code at the top of this page. You'll see a directory of the best assisted living communities in your area.
If you'd like more assistance, contact one of our skilled Family Advisors at (800) 973-1540. A Family Advisor can provide you with personal, one-on-one guidance to help you find the right assisted living community for your family.
Frequently Asked Questions

What Does Assisted Living Help With? 

Assisted living helps with personal care and completing the activities of daily living. It can also help with isolation and loneliness, weight loss or improper nutrition, safety and emergency care, and overall health and wellness for seniors. It does not help with dementia or Alzheimer's, or other medical conditions that require regular skilled care. Seniors with these conditions should seek higher levels of care, like skilled nursing and memory care services.
Who Is a Good Candidate for Assisted Living?

Someone is a good candidate for assisted living when they need help with the basic activities of daily living (bathing, dressing, grooming, walking, managing medications, toileting, and eating), or expects to need that help in the near future. Other traits that indicate that it's time for assisted living include difficulty maintaining one's home or preparing meals, inability to safely drive, and increasing social isolation and loneliness.

What Services Are Usually Included in Assisted Living? 

Room and board and personal care services are usually included in assisted living. Most communities also provide residents with prepared meals, individualized care plans, first-aid care and medication management, and sometimes extras like transportation and fitness programs included in the monthly cost. Some communities bill residents and their families on a fee-for-service basis or in an itemized fashion, so be sure to check with each individual facility about what is and isn't included in the monthly price.

What Is the Difference Between Assisted Living and a Nursing Home?

The main difference between assisted living and a nursing home is that nursing homes provide skilled medical care and rehabilitation services, while assisted living does not offer skilled medical care. Assisted living is intended for people who do not need this skilled care, but do need some assistance with personal care and the activities of daily living. Both assisted living and nursing homes are a type of long-term residential care for seniors.

When Is It Time for Assisted Living?

In general, it is time for assisted living when a senior can no longer perform the activities of daily living independently. Some signs of this include an unkempt appearance, accidents or incidents occurring while the senior is home alone or driving, inability to adhere to one's medication schedule, and noticeable weight loss or malnutrition. Each individual and their situation is different, so if you're unsure, it may be useful to talk to a gerontologist or your loved one's regular primary care physician about whether it's time for them to transition to assisted living.

Does Insurance Pay for Assisted Living?

Insurance sometimes pays for assisted living. Original Medicare (Medicare parts A and B) does not cover any portion of assisted living costs, though some Medicare Advantage and Medicare Supplement plans may. In many states, Medicaid or an associated waiver program will help pay for assisted living. Additionally, those with long-term care insurance oftentimes have coverage for assisted living. Ultimately, seniors and their families should check the specifics of the senior's insurance policy or policies to see if there is any assistance available for assisted living.