Find Nursing Homes Near Me
Nursing homes, also called skilled nursing facilities or convalescent homes, serve anyone who requires preventive, therapeutic and/or rehabilitative nursing care. Nursing homes provide residential care for people who don't require hospitalization but need 24-hour care they can't get at home. Some nursing homes are set up like a hospital with staff members providing medical care. Nursing homes also provide a wide range of other services.

Some residents also receive help with activities of daily living or participate in physical, speech and/or occupational therapy. Most nursing homes provide two distinct levels of care: one for short-term residents and the other for long-term care.

Short-term nursing home care serves patients requiring care following surgery or an acute illness or injury. These residents stay on a temporary basis while they recover from an injury or convalesce following hospitalization. Once they've recuperated and met their doctor-ordered health and wellness goals, they transition back to their own homes. This group typically makes up a small percentage of most nursing home residents and may include people of all ages.

Long-term residential care most often serves elders suffering from a chronic or terminal illness or cognitive disorder, such as Alzheimer's. Long-term residents typically stay for the rest of their lives and require constant care and supervision. For these residents, the nursing home is more than a facility; it's their home. Thus, some skilled nursing facilities are designed more like a home with a warm, reassuring environment and tranquil outdoor views and sitting areas to help put these residents more at ease.
What Are Some Key Signs That It May Be Time for Nursing Home Care?
Moving into a skilled nursing facility for long-term care can be one of the most difficult decisions for you and your loved ones, but it can also provide many benefits. If you're not sure your loved one needs to move into a nursing home to receive the care they need, consider some of these key signs it's time to make that decision.
Consider a skilled nursing facility if your loved one needs 24-hour medical care and the current living situation doesn't provide it.

Newspapers, mail, packages or other outside items aren't being brought in
Not showing up for appointments or regular activities they previously enjoyed, such as social or church events
Inability to tidy up their house
Inability to manage transfers to or from a bed or wheelchair
Unsafe or impaired use of transportation, including their own vehicle or public transportation options
Not having food in their home
Skipping regular meals, including not attending meals at their assisted living facility or other community center
Being unable to eat solid foods
Lack of appetite
Storing or preparing food in unsafe ways
Unexplained weight loss
Good indicators your loved one needs greater care are having difficulty carrying out activities of daily living or other tasks, such as:

Bathing and other personal hygiene tasks
Brushing teeth and other oral hygiene tasks
Brushing hair and other grooming tasks
Going to the bathroom
Tending sores or bug bites
Keeping clothing and bed sheets clean
Feeding themselves
Getting dressed
Getting in and out bed or a chair
If your loved one often forgets whether they've taken their medications or you notice the medication counts aren't what you would expect, these are signs that doses are being missed or repeated. Other signs they're skipping medications include the return of symptoms or unexpected health test results.
One benefit of skilled nursing facilities is the easy access to specialists, such as wound-care specialists, social workers and physical therapists. Family members might find it difficult to take them to see these specialists regularly.
When you notice unusual and frequent bruises, fractures, sores or broken bones, it might be time to make the move.
Often the trigger for a higher level of care is a series of small things, including:
Refusing to let anyone into their home
Paranoia or delusions
Ongoing poor health or pain
Significant confusion or disorientation
If you're still not sure it's time to consider a nursing home, it's a good idea to go through a typical day with your loved one and observe how well they're managing. You can also ask others if they've noticed any type of decline or significant changes you should know about.

If they currently reside in an assisted living community, you can ask the staff, neighbors or other residents, or the staff might bring up their concerns to you and your loved one. If your loved one still lives at home, talk to people they interact with on a daily or at least regular basis, such as the mailman, neighbors, newspaper delivery person or anyone who might have noticed a change.

Ease the transition into a nursing home by talking with your loved one about skilled nursing options sooner rather than later and always seek their input, especially when it's time to choose a facility. Once your loved one moves into a facility, stay involved and in touch through regular visits or phone calls when you can't visit. Get to know the staff who cares for your loved one and work with the ombudsman should any concerns arise about your loved one's care.

What Kind of Nursing Home Care Services Are Available?
While nursing homes may be called skilled nursing facilities or convalescent homes, the level of care and services may differ. Intermediate care facilities are an entirely different type of facility and usually have much fewer beds than other residential care facilities, but they also offer fewer services.
Skilled Nursing Facility Services
Services and amenities at skilled nursing facilities focus on medical care with 24-hour medical supervision and help with activities of daily living, such as bathing, dressing, using the bathroom and getting in and out bed. Your loved one may need to be in a skilled nursing facility if they are on a respirator, require regular physical or occupational therapy, are recovering from surgery or have wounds that require ongoing medical care. Skilled nursing facilities provide 24-hour staffing by licensed or registered nurses, with other staff members typically including social services and rehabilitation teams.

Health-related care and services offered at nursing homes vary by facility, but federal requirements specify that each nursing home must provide the following

Nursing and related services
Specialized rehabilitative services to maintain a resident's physical, mental and psychosocial well-being
Medically related social services
Pharmaceutical services
Dietary services individualized to your loved ones needs
Professionally directed program of activities to meet the interests and needs of a resident's well being
Emergency dental services
Routine dental services as covered under your state's plan
Room and bed maintenance services
Routine personal hygiene items and services
Specialized rehabilitative services for treatment of a mental illness or intellectual disability
If a resident is unable to perform activities of daily living on their own, nursing facilities must also provide services to maintain good nutrition, grooming and personal and oral hygiene. They may also provide other services, including:

Treatment and assistive devices to maintain vision and hearing abilities
Treatment and devices for ambulatory assistance
Treatment and services to promote healing and prevent infection of pressure sores and new pressure sores from developing
Treatment and services for urinary incontinence
Treatment and services to increase range of motion or prevent reduction in range of motion
Physician services, including supervision, regularly scheduled visits and emergency care
Specialized rehabilitative services for physical therapy, speech-language pathology and occupational therapy
Infection control
Transportation to and from hospitals, doctor offices, dentist offices, specialty service providers or other facilities for required care
How Do Nursing Homes Compare to Other Other Senior Care Options?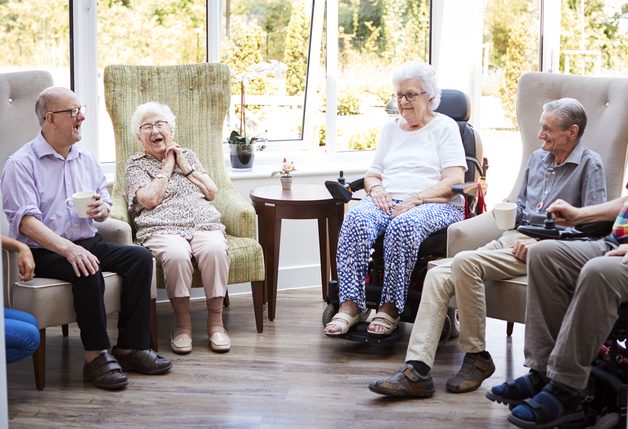 Nursing homes differ from assisted living facilities and home health care, so ensure you're choosing the right care option for your loved one by comparing the services provided in each situation.
Nursing Homes vs. Assisted Living
If your loved one doesn't require full-time medical care or supervision but can't continue living independently at home, consider assisted living in lieu of a nursing home. Assisted living facilities provide companionship and structure. Most residents still enjoy a high level of independence and privacy, which isn't possible in a nursing home, and assisted living facilities also have the added benefit of receiving assistance as needed.

Assisted living facilities, also known as residential care facilities, provide custodial care for seniors who need only limited daily living assistance, such as with housekeeping and meal preparation, and little medical care, such as help with medications. Nursing homes provide high levels of medical services and care, which these facilities don't. If your loved one has a physical or mental health condition that requires full-time care, requires a wheelchair for mobility or has issues cognitive issues that cause them to become confused or wander, assisted living isn't for them.

Living arrangements are quite different at assisted living facilities. Most of these communities provide residents with a private or semi-private apartment with a bedroom and their own kitchen and bathroom. Most assisted living facilities also offer more freedoms, such as tobacco use, alcohol consumption, pet ownership and overnight guests. Because residents require less medical care and supervision, assisted living facilities are usually cheaper than nursing homes, but most don't accept Medicare or Medicaid.
Nursing Homes vs. Home Health Care
Home health care is an option for seniors who can still mostly care for themselves. Home health care is ideal for anyone who wishes to maintain independence longer and often allows your loved one to age in place. There's a difference between home care, which is non-medical assistance, and home health care, which includes medical and non-medical assistance. Both take place in the client's own home based on their needs and schedule and are ideal for anyone who prefers to remain in their own home. However, don't confuse them with hospice, which also takes place in the home but is considered end-of-life care with medical treatment provided to clients who are expected to live about six months or less.

Non-medical in-home care includes custodial care for seniors who only need help with activities of daily living. Home care workers, also called caregivers, are professionally trained to help clients maintain a safe environment and provide companionship. However, they don't provide medical care. Home care is cheaper than home health care, which offers the same services plus medical care. The level of care required for home health care requires the experience of a registered nurse, which makes it much higher in cost when compared to non-medical home care and higher than nursing homes.

Home health agencies provide skilled medical care workers who work in your loved one's home. Home healthcare is ideal when your loved one doesn't require hospitalization and doesn't want to move to a nursing home or assisted living facility but also aren't well enough to live alone yet. Home healthcare nurses provide the short-term medical care your loved one needs to recover from a surgery, serious illness or acute injury. These agencies are licensed by the state and must follow all federal regulations.
How Much Does Nursing Home Care Cost?
According to the 2021 Genworth Cost of Care Study, the national average cost of nursing home care is $7,908 for a semi-private room and $9,034 for a private room.
Many older adults and caregivers worry about the cost of medical care. These expenses can use up a significant part of a family's monthly income, even those who thought they had saved enough.
How your loved one pays for their long-term care in a nursing home depends on their financial situation and the types of services they require. They may rely on a variety of payment sources, including personal funds or one of the following government-funded or private financing options outlined in the table below.
Financial Assistance for Nursing Home Care
If you're counting on Medicare or Medicaid to pay for your loved one's nursing home, find out whether a facility is government certified. Coverage under these programs is limited with strict qualifications, but you can learn more by contacting your local Social Security Office.
Understanding Medicare Coverage of Nursing Home Care
Medicare provides limited coverage for short-term stays in a skilled nursing facility following a hospital stay, but seniors must meet a number of specific requirements. This benefit is available to beneficiaries who have been hospitalized for at least three days, excluding the date of discharge, so it's most valuable for those who are recovering from an injury, illness or surgery.
Once seniors meet the hospitalization requirement, Medicare will pay for up to 100 days of skilled nursing per benefit period. The first 20 days are covered in full. Starting on day 21, beneficiaries must pay a daily coinsurance rate of approximately $170. This rate equals one-eighth of the annual inpatient hospital deductible.
After day 100, seniors are responsible for the entire cost. To qualify for another benefit period, seniors must have at least 60 consecutive days between hospital or SNF stays. Medicare Advantage Plans must provide the same benefits as Original Medicare although some policies waive the three-day hospitalization requirement. The number of benefit periods is unlimited.
What Does Medicare Cover?
Medicare covers a number of specific services, including:
Meals
A semiprivate room
Medications
Skilled nursing
Physical therapy
Occupational therapy
Speech therapy
Audiologist care
Medical supplies
Medical social services
Nutritional counseling
Ambulance transportation
What Isn't Covered by Medicare?
Medicare does not cover long-term custodial care that addresses seniors' day-to-day needs. This includes help with daily activities, such as bathing, dressing and using medical equipment.
Seniors who need help paying for ongoing nursing home care may qualify for Medicaid. The Program of All-Inclusive Care for the Elderly (PACE) is another alternative available in select geographic areas. Medigap supplements can cover daily coinsurance rates for days 21 through 100, and standalone long-term care insurance can provide more comprehensive benefits.

How Do I Find a Nursing Home?
To start your search, type your zip code here in the Nursing Home Directory to find nursing homes in your area. Be sure to look for ratings and reviews from other family caregivers. You'll also see the government's star ratings for nursing home quality. If you are certain you will be using Medicaid to pay for nursing home care, you should restrict your search to Medicaid-only nursing homes.
Be sure to call numerous nursing homes to get a feel for the facility and what sets each one apart. There are numerous refreshing trends in nursing home care — including the emergence of smaller, homier nursing homes where care is provided in smaller, more personalized home-style settings. It's always a good idea to ask for references and call them.
---
Search for Properties in Your Area