In terms of housing, Houston was rated the second-best in the state by Caring's Senior Living Report. An estimated 77.8% of properties in the city are easily accessible to seniors thanks to entryways without steps. Health care prices in the city are below the national average and there are many hospitals serving Houston residents, including the Houston Methodist Hospital, the Baylor St. Luke's Medical Center and the Memorial Hermann Hospital.
The average monthly price of $4,576 in Houston is the same for both home care and home health care. Both provider types assist seniors with activities of daily living. However, home health care aides can also help seniors manage medical conditions such as diabetes.
Below we've compiled a comprehensive directory of every home care provider in the Houston area – complete with services offered and reviews from families who've actually used the service. In addition to our in-depth provider listings, we've compiled resources to help seniors and their families to access all the tools they need to age in place safely and gracefully.
Paying for Home Care in Houston, TX
The Cost of Home Care in Houston, TX
The average Houston home care rate of $4,576 is equal to the Texas norm and substantially lower than the national median of $4,957. Home care agencies in Houston are a couple of hundred dollars more expensive than in the nearby cities of Victoria ($4,338) and Beaumont ($4,385). Older adults in College Station pay $147 less for their in-home care than seniors in Houston. The average monthly home care rate of $5,196 in Austin is significantly higher than in Houston.
The Cost of Home Care vs. Other Senior Care Options in Houston, TX
Home and home health care agencies provide similar services, such as housekeeping and personal grooming, with the latter also offering limited medical care delivered by registered nurses or therapists. However, the average fees for both services are identical at $4,290 per month. Adult day health services in local centers are the most affordable, at $1,138, while assisted living is the least costly option that Houston seniors pay the same average rate of $4,576 for home care and in-home health care. However, home health aides are usually trained to also provide medical monitoring services along with personal care services. Adult day health care is the cheapest senior care option in the city, at a median cost of $1,099. Older Houston residents can also opt for residential care in an assisted living facility, at an average cost of $4,245. Nursing home care is the most expensive in the area, at $5,262  per month.
Nursing Home Care (semiprivate room)
Financial Assistance for Home Care in Houston, TX
Given the high cost of in-home care, many people use one or more forms of financial assistance to cover the expenses. Below, we explain some of the most common sources of financial help for paying for in-home care. If none of these options are available to you, you can reach out to your Area Agency on Aging or Aging and Disability Resource Center to learn about local resources.
Free & Low-Cost Home Care Resources in Houston, TX
Houston's seniors can access numerous programs aimed at helping them age safely and comfortably within their own homes. The following list includes samples of what's available in Harris County and Texas. They can help seniors struggling with some daily tasks get fresh meals daily, others facing excessive energy costs reduce their bills and those who own their homes benefit from some tax exemptions.

Determining Your Loved One's Need for In-Home Care
Aging can be a difficult process, and loved ones may not always ask for help – often times it's up to their family to evaluate their need for help around the house. While no two situations are exactly alike, this checklist can help you and your loved ones determine when it's time to start the search for a home care provider.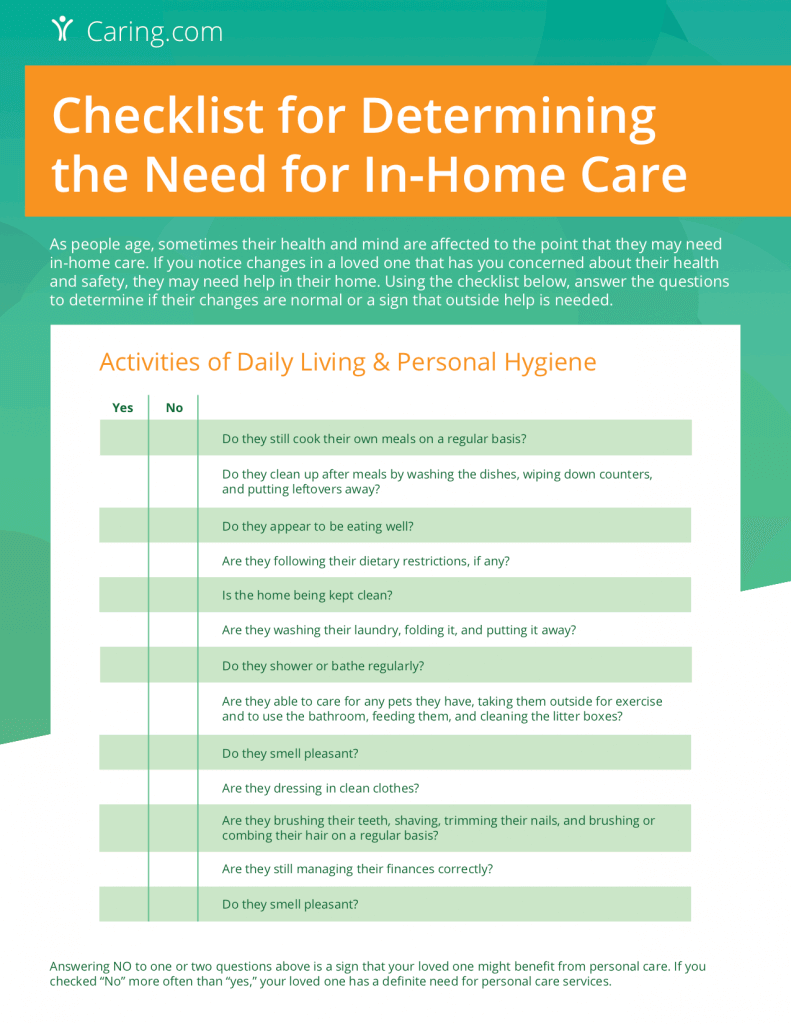 Guidelines for Talking About In-Home Care
If you've determined that your loved one needs the assistance of a care provider in their home, it may be time for a difficult conversation. Handled correctly, however, this process can bring a family together and ensure that everyone's concerns are addressed. Use this PDF as a starting point to help the conversation stay as positive and productive as possible.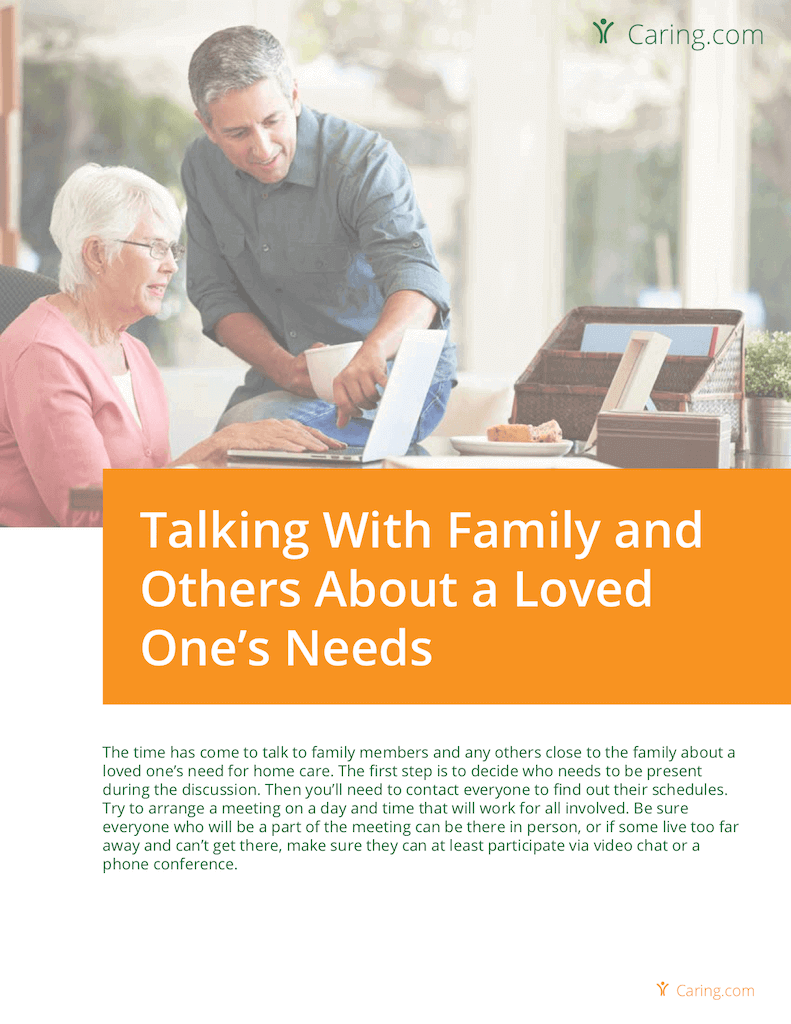 Frequently Asked Questions
What types of services can a home care agency in Houston provide?

Home care agencies offer a variety of services tailored to the client's needs. Seniors may get help with activities of daily living (ADLs) such as mobility, bathing and grooming. In-home caregivers can drive seniors to medical appointments and to grocery shops. Care agencies often list light housekeeping and meal preparation as services they provide. 
How can I find home care agencies near me with availability?

Seniors can get a list of in-home care agencies operating in the city of Houston by searching Caring's complete directory. Each listing contains a list of services available and reviews left by previous customers. Older adults can get in touch with individual companies and ask about their availability. 

What is the average cost for in-home elderly care in Houston?

Seniors in Houston should budget $4,576 each month for their in-home care, per the Genworth Cost of Care 2021 Survey. This median cost is calculated based on a senior receiving 44 hours of care per week, meaning the average hourly rate is $24.
Who is eligible for the veterans home care program?

Homebound seniors who are already receiving VA pensions may also qualify for the Aid and Attendance benefit, more commonly known as the Veterans Home Care Program. To be eligible, seniors must require help with day-to-day tasks, have reduced vision or be bed bound due to illness.
Assisted living homes vs. home care: How to decide

Both assisted living communities and home care agencies provide mild to moderate levels of care for older adults. The main difference is that assisted living facilities are residential and seniors need to move out of their homes. Assisted living facilities offer the benefits of living in a community setting, while home care is more convenient for aging in place. In terms of pricing, home care in Houston is a few hundred dollars more expensive than assisted living, on average.