Assisted Living in Vermont
Get the insights you need to find the right city.
Families looking for assisted living in Vermont (VT) have a wide array of communities to choose from, since estimated that there are more than 30,000 assisted living communities serving seniors across the U.S., and over 63 statewide. The state is also home to a rapidly growing number of senior citizens, with adults over 65 making up an estimated 18.7 percent of the population. A resident in an assisted living community in Vermont will pay $4,500 per month on average.
Find Assisted Living Options Near You
(800) 973-1546
Average Monthly Costs
States near Vermont
Genworth lists the average cost of a private, one bedroom unit in an assisted living community in Vermont as $4,917. This places Vermont on the higher end of the scale at about $900 over the national average, and about $0 lower than the median cost of assisted living in nearby states.
Compare Monthly Care Costs
When it comes to care options, assisted living is just one of several choices available to seniors. Some care options, like part-time in-home care or independent living, may cost less, while others like memory care or skilled nursing are likely to cost significantly more. Seniors can speak with their medical practitioners to receive guidance on what level of care will best suit their needs and abilities.
What You Should Know About Assisted Living in Vermont
In Vermont, assisted living includes assisted living residences (ALRs) and residential care homes (RCHs). ALRs offer programs that include housing, health services and other services such as daily meals and transportation. In ALRs, seniors must have a private suite with their own bathroom, living space, kitchen and a locking door. They must promote self-directed care and emphasize individuality, privacy and dignity for all residents.
RCHs provide care to three or more residents and must be licensed as either level III or level IV. Both levels must offer a private room and board, general supervision, medication management, and assistance with personal care. Level III RCHs must have the additional service of nursing overview, and ALRs must meet the licensing requirements of a level III RCH.
Special care units (SCUs) fall under the same regulations as ALRs and offer specialized care to seniors with Alzheimer's disease or other seniors with advanced needs.
---
Financial Assistance for Assisted Living in Vermont
In Vermont, there are two Medicaid programs available to seniors who need financial support to pay for assisted living programs.
Assistive Community Care Services (ACCS)
The ACCS program works with assisted living communities and residential care homes to provide seniors with care services, including:
Case management: This ensures seniors have access to medical, social and other required services and that they are receiving all the services that are outlined in their ACCS plan.
Personal care assistance: Help with the activities of daily living such as eating, dressing, grooming and personal hygiene.
Nursing assessment and routine tasks: Regular evaluations and monitoring performed by a licensed registered nurse, as well as medication monitoring and assistance.
On-site assistive therapy: Assistance from a licensed professional to modify activities, behaviors and techniques to improve cognitive skills.
Restorative nursing: Services designed to maintain overall function.
All of these services are provided by level III residential care homes or assisted living residences, and paid for by Medicaid. Room and board expenses are still to be paid by the resident and can be arranged privately between the resident and the care facility. The ACCS program allows seniors to retain a monthly allowance of $47.66 per month for personal needs.
Who Is Eligible?
To be eligible for the ACCS program, the senior must:
Be a Vermont resident aged 65 or older
Require the services provided by ACCS
Live in a participating level III residential care home or assisted living residence.
Meet the income requirements of the Medicaid ACCS program, which is $1,125 in Chittenden County and $1,041 for those living outside the county.
How to Apply
Eligible seniors may apply for the ACCS or have a trusted caregiver do so on their behalf. In order to apply, the following steps must be taken.
Find a participating assisted living residence or level III residential care home that has both space and ability to meet the seniors
If the senior isn't already on Medicaid, an application needs to be submitted to a local Department for Children and Families Services office. This office is responsible for determining ACCS
Once the Department for Children and Family Services has determined eligibility, the senior or caregiver must complete a Verification of Eligibility form with the assisted living residence or residential care home.
Those who aren't currently receiving supplemental security income need to contact a Social Security Administration office to determine whether or not they're eligible for supplemental security income in an assisted living residence or level III residential care home.
When moving into the chosen community, or upon completion of all the above steps, an agreement must be signed between the senior and the residence.
The Choices for Care program provides long-term support to seniors who require care in an assisted living residence, a level III residential care home, a personal home or a nursing home. This program provides cash to seniors or caregivers to enable them to pay for their own care in the home of their choice. The cash provided by Choices for Care gives seniors the flexibility to use the program for any range of goods or services that pertain to their well-being, including fall monitoring and emergency room visits.
Who is Eligible?
The following eligibility requirements must be met in order to qualify for the Choices for Care program:
Seniors applying for the program must be residents of Vermont aged 65 and over.
Senior applicants must require full-time care either from an assisted living residence, a level III residential care home, a personal home or a nursing home.
Income requirements for Medicaid in Vermont must be met: in Chittenden County that requirement is $1,125, while outside the county, it's $1,041.
Seniors applying for this program are not permitted to have more than $2,000 in countable assets when living in an assisted living residence or residential care home. The spouse of the applicant is allowed to retain up to $123,600 in non-exempt assets as long as they are not receiving Medicaid.
Vermont Medicaid and Choices for Care may review up to five years of the senior's past asset transfers to ensure that none were made in an attempt to fraudulently reduce the senior's income level to qualify for any Medicaid program. Transfers may not entirely disqualify an applicant from the program, but the program may require the senior to pay the value of any asset transfers made within the past five years towards their care costs.
How to Apply
The Choices for Care program is operated by the Global Commitment to Health Waiver. Seniors or their caregivers can find the application form online and deliver it to a Department of Child and Family Services office in person to begin the application process.
More Ways to Finance Assisted Living
While many families use their own funds or personal assets to pay for assisted living, there are plenty of additional options to cover these costs. Visit our 9 Ways to Pay for Assisted Living page for more information.
---
Free Assisted Living Resources in Vermont
In Vermont, there are a number of free resources available to seniors and their caregivers searching for long-term care. These nonprofit and government-funded services provide information regarding available care options, Medicaid programs and other services available to seniors in need of support.
Vermont Association of Area Agencies on Aging
Assisted Living Laws and Regulations in Vermont
Assisted Living Service Plan Requirements
Assisted living residences and residential care homes must work with residents to create a written service care plan within 14 days of moving in. This plan must outline the resident's care needs, choices and personal preferences and it must protect the resident's dignity, individuality, privacy and independence. The need for assistance with medication must be evaluated within 24 hours of the resident moving into the community.
This written service plan must be evaluated annually or sooner if the resident's needs change.
Assisted Living Admission Requirements
Assisted living residences and residential care homes may only admit residents they can appropriately care for. Applicants who require medical or surgical care for an acute condition, require the use of a respirator or a ventilator, are suffering from a stage III or stage IV decubitus ulcer or require two-person assistance to transfer from bed to chair may not be admitted.
If at any time the patient becomes a danger to themselves, staff or other residents, or if the assisted living residence is no longer able to meet their needs, then the resident may be involuntarily discharged.
Assisted Living Scope of Care
In Vermont, assisted living communities provide seniors with housing and meals as well as assistance with the activities of daily living. This includes help with bathing and personal hygiene, dressing, medication management and grooming activities.
These communities do not provide skilled nursing care and do not generally assist residents with dressing and wound care, injections, catheters or IVs. Residents of assisted living who require temporary skilled nursing care may be able to receive assistance from home health care agencies.
Assisted Living Medicaid Policy
Assisted living residences and level III residential care homes in Vermont must provide information to Medicaid about the facility's medication policies and provide details regarding nursing overview for residents, meaning that a nurse must be available to observe residents to ensure their needs are met both physically and psychologically, and provide training to staff regarding assessment and care.
Any assisted living community that offers Medicaid programs to residents must have a designated staff member to handle all Medicaid applications and payments.
Assisted Living Facility Requirements
In Vermont, all residents must be offered private occupancy units. Units may only be shared if residents choose to do so. All units must have a private bedroom, private bathroom, kitchenette, living space, individual temperature controls, locking door and emergency response system that alerts staff in the event that the resident has a medical emergency. Studio apartments may be offered as well, which means that the kitchen, bedroom and living space may occupy one large room. Kitchenettes in all units must have a working refrigerator, a stove or microwave that can be disconnected, a sink with hot and cold running water, cabinets, counter space, food preparation space, and electrical outlets.
Medication Management Regulations
The manager of an assisted living residence or level III residential care home is responsible for ensuring that all residents' medications are safely handled and administered according to the residence's policies and that all staff responsible for assisting residents with medications have been fully trained by a licensed nurse in the following areas:
Policies and procedures for administering medications and the differences between assistance and administration.
The resident's right to refuse medications and play a role in directing their own care.
Safe medication assistance procedures such as hand washing and ensuring that the correct medication is being given to the correct resident in the at the right time and in the right dose.
Signs, symptoms and side effects to watch for in residents taking medications.
In the event that a licensed and trained staff member is unavailable to assist with medications, an unlicensed staff member may be delegated to do so by a registered nurse, provided that the nurse accepts all responsibility should the job be done incorrectly.
Staffing Requirements
In Vermont, every assisted living residence and residential care home must employ a manager who is required to work a total of 32 hours per week. At any time the manager leaves the property, a competent staff member must be assigned to take on the manager's responsibilities and given the authority to make decisions regarding the safety and health of patients or be able to contact the manager when needed.
Every home must employ a registered nurse who is responsible for staff training and overseeing the care of all residents. The registered nurse is also responsible for evaluating the health of residents and making appropriate recommendations if the facility is no longer able to provide care for the resident.
Staff Training Requirements
Both assisted living residences and residential care homes must provide training to staff in the following areas:
General care and supervision of residents
Emergency procedures including fire safety and evacuation, first aid, the Heimlich maneuver, CPR, and contacting police or paramedics in the event of an emergency
Policies and procedures for reporting abuse, neglect or exploitation.
How to effectively and respectfully interact with residents.
Resident rights
Infection control measures and general hygiene including hand-washing, blood-borne pathogens, linen-handling and general cleaning procedures
Background Checks for ALR Staff in Vermont
Both assisted living residences and residential care homes in Vermont are subject to the same regulations in regards to background checks for staff.
Background checks must be performed on all potential employees prior to their first day of employment. They may not be hired if they have any history of abuse, neglect or exploitation or if they have previously been convicted of any criminal offense related to bodily harm, theft, misuse of funds or property or crimes inimical to public welfare.
This information must be obtained in the form of checking personal and business references, as well as running checks with the Division of Licensing and Protection.
Requirements for Reporting Abuse
In Vermont, there are strict laws regarding elderly abuse. Any person witnessing or suspecting neglect, abuse or exploitation of any senior is required to report the incident to the Commissioner of Disabilities, Aging and Independent Living. Reports must be made orally or in writing as soon as possible after the event and no later than 48 hours after. Any employee or volunteer of any care facility who receives reports of abuse, neglect or exploitation is responsible for reporting the incident.
Reports must include the name and address of the reporter and the name and address (if known) of the accused. Additionally, the name and address, as well as any known information such as the nature of the senior's condition, the nature of the neglect, abuse or exploitation, and any evidence pertaining to the incident, especially dates, times and locations, should be included in the report.
In the event that the report cannot be made to the Commissioner of Disabilities, Aging and Independent Living, the report should be made directly to the Secretary of Human Services. The Commissioner or Secretary of Human Services shall start an investigation within 48 hours of receiving the complaint and will keep the reporter and alleged victim informed at all stages of the investigation.
---
Assisted Living Facilities in Vermont
Cities
City
Avg. Monthly Cost
Communities
City
Avg. Monthly Cost
Communities
Counties
County
Avg. Monthly Cost
Communities
County
Avg. Monthly Cost
Communities
Top-Rated Caring Stars Winners in Vermont
Caring.com's Caring Stars award program recognizes the best assisted living facilities across the U.S. based on reviews from family caregivers and older adults. This award is meant to help older adults and their loved ones find the best assisted living or in-home care option in their area. The list below shows up to 10 listings that have won the most Caring Stars annual awards in their state, sorted by their current overall average rating. For a complete list of Caring Stars winners for each year, please visit our Caring Stars info center.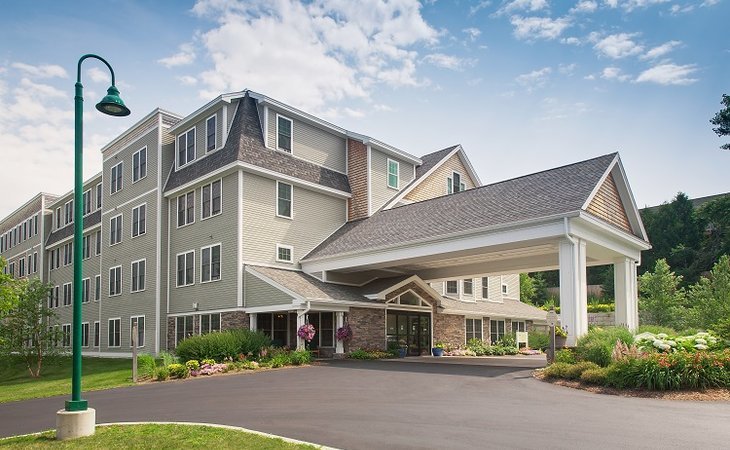 The Residence at Shelburne Bay
Shelburne, VT $$$
8 reviews