Assisted Living in Hawaii
Get the insights you need to find the right city.
Families looking for assisted living in Hawaii (HI) have a wide array of communities to choose from, since estimated that there are more than 30,000 assisted living communities serving seniors across the U.S., and over 22 statewide. The state is also home to a rapidly growing number of senior citizens, with adults over 65 making up an estimated 17.8 percent of the population. A resident in an assisted living community in Hawaii will pay $4,250 per month on average.
Find Assisted Living Options Near You
(800) 973-1546
Average Monthly Costs
States near Hawaii
Genworth lists the average cost of a private, one bedroom unit in an assisted living community in Hawaii as $6,010. This places Hawaii on the higher end of the scale at about $2,000 over the national average, and about $500 higher than the median cost of assisted living in nearby states.
Compare Monthly Care Costs
When it comes to care options, assisted living is just one of several choices available to seniors. Some care options, like part-time in-home care or independent living, may cost less, while others like memory care or skilled nursing are likely to cost significantly more. Seniors can speak with their medical practitioners to receive guidance on what level of care will best suit their needs and abilities.
Average Monthly Costs
Cities in Hawaii
$4,698.00
Kahului, Wailuku, Lahaina
When estimating the cost of assisted living, it's important to know that average prices can differ significantly between various parts of Hawaii. The most affordable region in Hawaii for assisted living is Kahului, Wailuku, Lahaina at $4,698.
What You Should Know About Assisted Living in Hawaii
Hawaiian assisted living communities can also be referred to as adult resident care homes (ARCHs). The state of Hawaii recognizes assisted living homes as a community setting offering 24-hour access to need-based services. Adult residential care homes offer 24-hour living accommodations to adults who require assistance with the activities of daily living (ADLs) and who are unrelated to the owner of the home. Both types of home provide care for seniors who wish to retain their independence, but residents of ARCHs must need at least minimal assistance with daily activities such as meals, personal care and medications.Assisted living communities in Hawaii are divided into two categories. Those that house five or fewer residents are considered Type 1, and those with six or more residents are Type II. There is also an expanded license classification for assisted living communities that offer advanced care similar to nursing home services. These communities are referred to as E-ARCHs.
---
Financial Assistance for Assisted Living in Hawaii
Low-income seniors who have a need for assisted living but do not have the means to cover the cost of care can take advantage of Hawaii's Medicaid subsidy program.
Med QUEST is a Hawaiian Medicaid program that stands for Quality care, Universal access, Efficient utilization, Stabilizing costs and Transform. This program is open to low-income elderly residents and provides unrestricted funding for E-ARCHs and care services that don't include meals and lodging in assisted living communities. The program was created to replace the Hawaii's Medicaid waivers: Nursing Home Without Walls and Residential Alternative Community Care.
Who Is Eligible?
Applicants must be Hawaii residents at least 65 years old with a monthly income that is no more than 138 percent of the Federal Poverty Level. The exact amount is adjusted each year. For those who have more than the income restrictions, Hawaii offers the Medically Needy pathway for those who have significant medical expenses that reduce their monthly income below $470.40. This amount requires legislative action to change. Applicants must also fall below the countable assets limits, which are $2,000 for single seniors and $3,000 for married couples. Primary homes valued at less than $858,000, one vehicle, home furnishings and personal items are not considered countable assets.
How to Apply
Seniors who wish to apply for Med QUEST can check eligibility and submit their application online on the Hawaii Medicaid benefits website. Benefits experts at the Med QUEST office are available to answer questions and assist with applications at 1-808-587-3521.
IMPORTANT NOTE:
Check with the assisted living facility you've chosen to ensure the home accepts payments from this subsidy. Not all assisted living communities will take every form of financial aid. However, some may offer low-income programs that help you afford the cost of care.
More Ways to Finance Assisted Living
While many families use their own funds or personal assets to pay for assisted living, there are plenty of additional options to cover these costs. Visit our 9 Ways to Pay for Assisted Living page for more information.
---
Free Assisted Living Resources in Hawaii
Seniors seeking long-term care in Hawaii have many resources available to help them navigate their options to decide which are best for their situation. Elderly residents can turn to one of the nonprofit or government-funded programs that have been set up to offer resource and benefit information and application assistance.
Assisted Living Laws and Regulations in Hawaii
Hawaiian assisted living communities and their staff must adhere to a comprehensive set of state laws and regulations. These laws govern the minimum provisions each assisted living community must offer, staff training and the rights of residents. See some of these laws listed below as they pertain to assisted living communities (ALF) and adult residential care homes (ARCH).
Assisted Living Service Plan Requirements
ALF: Before moving in, assisted living communities must create a resident's agreement and provide a copy to the resident. The agreement must include any services that are to be provided along with their cost and any additional services that may be offered and their corresponding prices. Any services not provided onsite must be described in the agreement if the assisted living community will be arranging or coordinating the services through a third party.
A comprehensive assessment must be completed for each resident to identify their needs and create a plan for services to be implemented. This service plan must be updated periodically. The resident must be involved with the development of the plan, and it should be created with the resident's dignity, choice, privacy, individuality and independence in mind. The plan should also manage risks involved with resident choices, weighing the probability for negative outcomes and risk to other residents. Third-party social work and ancillary services for medical care can be arranged by the assisted living community.
ARCH:
Adult residential care homes also require an agreement with residents that explains any services that will be provided according to the care plan, the responsibilities of the home and the rights of the resident.The service plans for adult residential care homes must include a schedule of activities describing provided services after a comprehensive assessment of that resident's needs. E-ARCH service plans will be created with the case management agency that represents the resident with minimum monthly required visits to reassess the residents' needs and evaluate the services and care provided. Therapeutic services prescribed by a licensed physician can be provided by third-party agencies.
Assisted Living Admission Requirements
ALF: Assisted living communities are required to have a discharge policy that includes a written 14-day notice for residents who are noncompliant with necessary assisted living rules, display behavior that puts themselves or others in imminent danger, or require care that the community is unable to provide.
ARCH:
Adult residential care homes are required to develop admission and discharge policies. E-ARCHs can admit residents who need nursing home levels of care as determined by a registered nurse or licensed physician. However, these residents cannot be more than 20 percent of the home's population unless an exception is approved by the state.
Assisted Living Scope of Care
ALF: Assisted living communities must offer:
Laundry and housekeeping services
Opportunities for group and individual socialization
Assistance with ADLs
Health monitoring
Nursing assessment and routine nursing tasks
Administration options for medication
Behavior problem services including supervision, intervention and staff support
Recreational and social activities
Transportation provisions or arrangement
Ancillary services for medical care
Hospice care
ARCH: Adult residential care homes must offer personal care services, medication administration assistance, medication services, housekeeping and laundry, supervision, social activities and transportation for medical appointments. E-ARCHs are required to provide additional medical services for residents who meet nursing home levels of care criteria and must arrange an appointment with a medical doctor every four months for those residents.
Assisted Living Medicaid Policy
Seniors who qualify for Hawaii Medicaid can apply some of their benefits toward personal care services under the Med QUEST waiver. The waiver cannot be applied toward meals or room and board.
Assisted Living Facility Requirements
ALF: Apartment-style units are required and must include a bathroom with a shower, toilet and sink. Residents must also be provided with a refrigerator, something with which to cook meals, and a call system monitored by staff 24 hours per day.
ARCH:
Each room may house up to four residents, and the house must have a minimum of one toilet for every eight residents, one sink per 10 residents and one shower per 14 residents.ALFs and ARCHs are both required to provide three meals a day to residents and snacks. Modified diets are permitted when recommended by a licensed physician and all meals served at ALFs are required to be evaluated and approved by a dietitian twice a year.
Medication Management Regulations
ALF: Assistance with self-administered medication can be provided by unlicensed staff members who are delegated by a licensed registered nurse. Residents can keep their medications in their units if they self-administer, but those who share a unit with another resident must keep medications in a locked container. All resident medications must be reviewed every 90 days by a licensed physician or registered nurse.
ARCH: Residents are allowed to self-administer medications if they are able. E-ARCHs must administer medications by injection with a registered nurse or an unlicensed delegate, unless the resident can self-administer.
Staffing Requirements
ALF: Every assisted living community must have direct care staff and a designated administrator. The administrator must ensure all staff are trained to provide necessary services to residents and understand assisted living principles. Every staff member must also have first aid training, including cardiopulmonary resuscitation. Each community must have arrangements for a registered nurse to provide staff training and conduct assessments of residents. There are no minimum staff-to-resident ratios, but a registered nurse must be available seven days a week for resident care management, and monitoring and direct care staff must be available 24 hours a day.
ARCH: Type II ARCHs must have an administrator that oversees all residents and staff. Arrangements must be made with a registered nurse to handle resident assessments. A social worker or registered nurse must train and supervise caregivers at E-ARCHs. The other staff must be comprised of direct care staff and nurse aides. There are also no minimum staff-to-resident ratios in residential care houses, but there must be enough staff on-duty 24 hours each day to attend to resident needs, and at least one nurse aide should be present each shift.
Staff Training Requirements
ALF: Every staff member must complete orientation training that covers the organization, practice, philosophy and goals of assisted living. They are also required to complete six hours of in-service training each year.
ARCH: A registered nurse must train primary caregivers in E-ARCH communities. Type II ARCH employees must complete six hours of training annually that cover specific topics, such as pharmacology, personal care, infection control, diseases and chronic illnesses, community services and resources, and medical and behavioral management of residents.
Background Checks for ALF and ARCH Staff in Hawaii
For both community classifications, staff must not have been convicted of neglect, abuse or misappropriation of funds. A conviction or substantiated findings of any of these crimes requires denial of employment.
Requirements for Reporting Abuse
In the state of Hawaii, elder abuse includes physical injury, psychological neglect or abuse, sexual abuse, negligent treatment, maltreatment or financial exploitation. If you suspect a loved one has been a victim of abuse, or if you have experienced abuse personally, a formal complaint can be filed by calling one of the following numbers:
808-832-5115 (Oahu)808-243-5151 (Maui, Molokai and Lanai)808-241-3337 (Kauai)808-933-8820 (Hilo, Hamakua and Puna)808-327-6280 (Kau, Kona, Kohala and Kamuela)808-586-7268 (Long Term Care Ombudsman)
---
Assisted Living Facilities in Hawaii
Counties
County
Avg. Monthly Cost
Communities
County
Avg. Monthly Cost
Communities
Top-Rated Caring Stars Winners in Hawaii
Caring.com's Caring Stars award program recognizes the best assisted living facilities across the U.S. based on reviews from family caregivers and older adults. This award is meant to help older adults and their loved ones find the best assisted living or in-home care option in their area. The list below shows up to 10 listings that have won the most Caring Stars annual awards in their state, sorted by their current overall average rating. For a complete list of Caring Stars winners for each year, please visit our Caring Stars info center.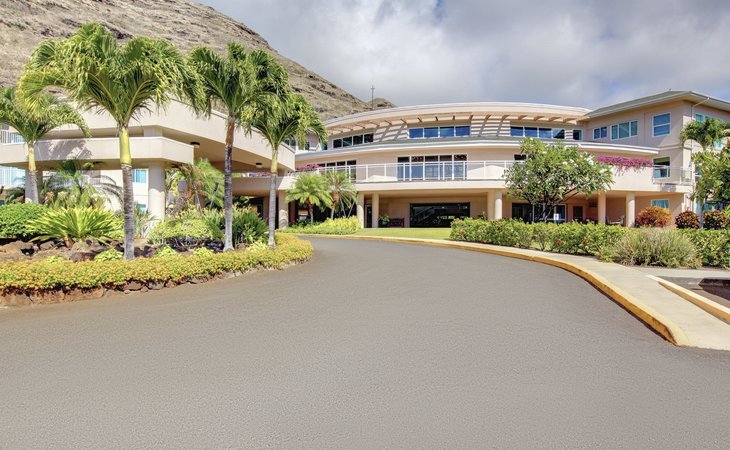 Hawai'i Kai Retirement Community
Honolulu, HI $
36 reviews