The 2020 U.S. Census found that 21.5% of Moraga's almost 17,000 residents are in the 65 and over age group, which is significantly more than the 16.5% U.S. average. Home care agencies abound in the town, typically charging fees of $6,864 for non-medical services, which is high by state and national standards. Home health care costs are a bit more because it focuses on delivering medical support at home. For those in need of greater levels of care, Moraga doesn't have a major medical facility, but seniors need only travel 20 minutes west to Oakland to find well-respected facilities, such as Highland Hospital and Oakland Medical Center.
Below we've compiled a comprehensive directory of every home care provider in the Moraga area – complete with services offered and reviews from families who've actually used the service. In addition to our in-depth provider listings, we've compiled resources to help seniors and their families to access all the tools they need to age in place safely and gracefully.
Paying for Home Care in Moraga, CA
The Cost of Home Care in Moraga
Home care in Moraga is costly by Californian standards, which, according to the 2021 Genworth Cost of Care Survey, is around $6,101 per month, a figure that's $1,144 above the national average. However, Moraga's median fee of $6,864 isn't as expensive as San Jose, where seniors usually pay around $7,102. Of the cities in the region included in the survey, those with more affordable home care fees include Sacramento ($6,292), Vallejo ($5,958) and Stockton ($5,482).
The Cost of Home Care. vs. Other Senior Care Options in Moraga
Adult day care centers provide the most affordable type of senior care in Moraga, which often charge around $1,950 per month. Assisted living facilities charge significantly more, at $6,319, although they're not as costly as home care agencies ($6,864) and home health care agencies ($7,150). Nursing home care is at near-hospital levels, which reflects in fees that average at $11,566 for a semiprivate room, which is the most affordable room type.
Nursing Home Facility (semiprivate room)
Note: Data for Moraga was unavailable, so data for the nearest city, San Francisco, was used instead.
Financial Assistance for Home Care in Moraga, CA
Given the high cost of in-home care, many people use one or more forms of financial assistance to cover the expenses. Below, we explain some of the most common sources of financial help for paying for in-home care. If none of these options are available to you, you can reach out to your Area Agency on Aging or Aging and Disability Resource Center to learn about local resources.
Free & Low-Cost Home Care Resources in Moraga, CA
Moraga's seniors can call on the help of many agencies and nonprofits in the region. This list explains how some reduce energy costs and the tax burden while other organizations ensure seniors get a healthy meal every day and have free access to legal advisors.
Determining Your Loved One's Need for In-Home Care
Aging can be a difficult process, and loved ones may not always ask for help – oftentimes it's up to their family to evaluate their need for help around the house. While no two situations are exactly alike, this checklist can help you and your loved ones determine when it's time to start the search for a home care provider.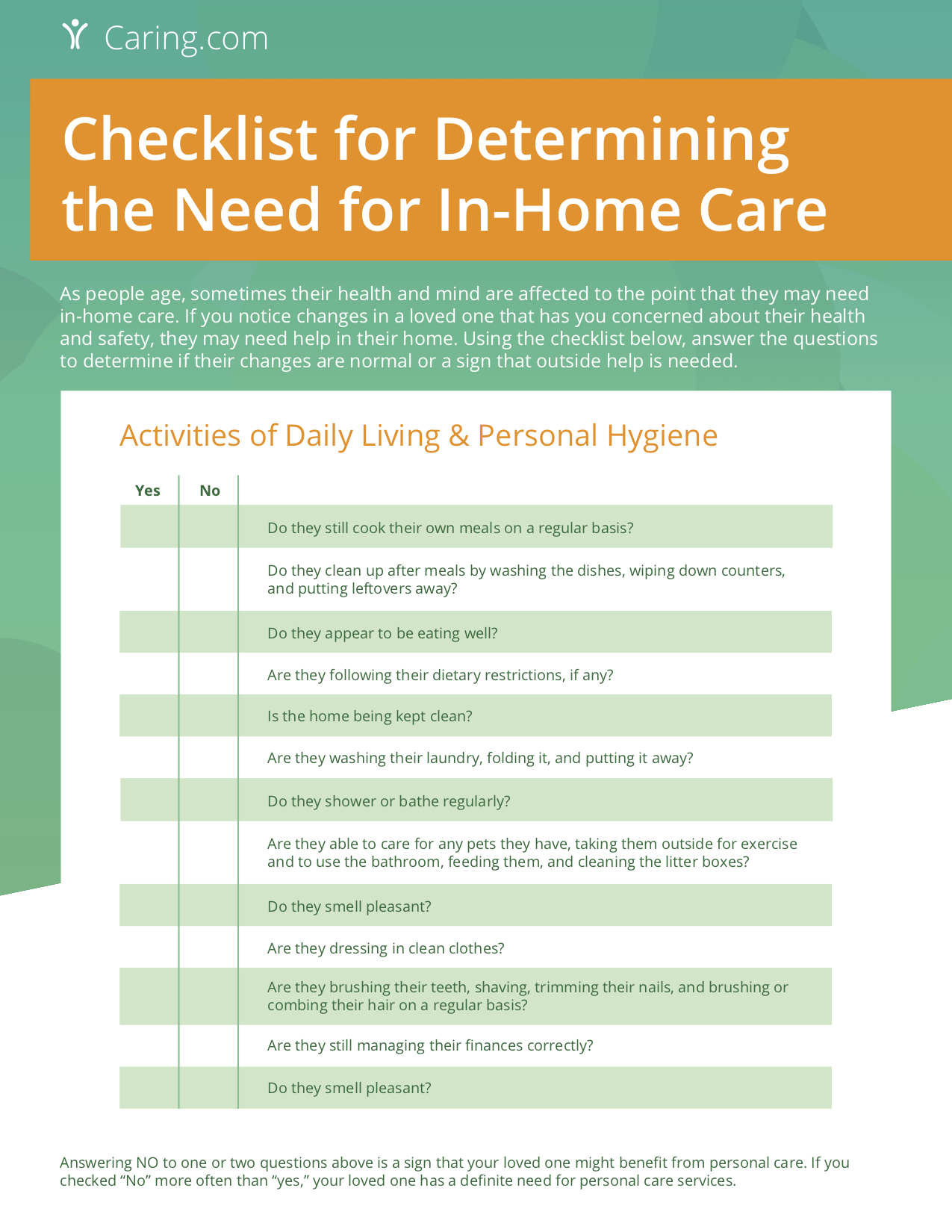 Guidelines for Talking About In-Home Care
If you've determined that your loved one needs the assistance of a care provider in their home, it may be time for a difficult conversation. Handled correctly, however, this process can bring a family together and ensure that everyone's concerns are addressed. Use this PDF as a starting point to help the conversation stay as positive and productive as possible.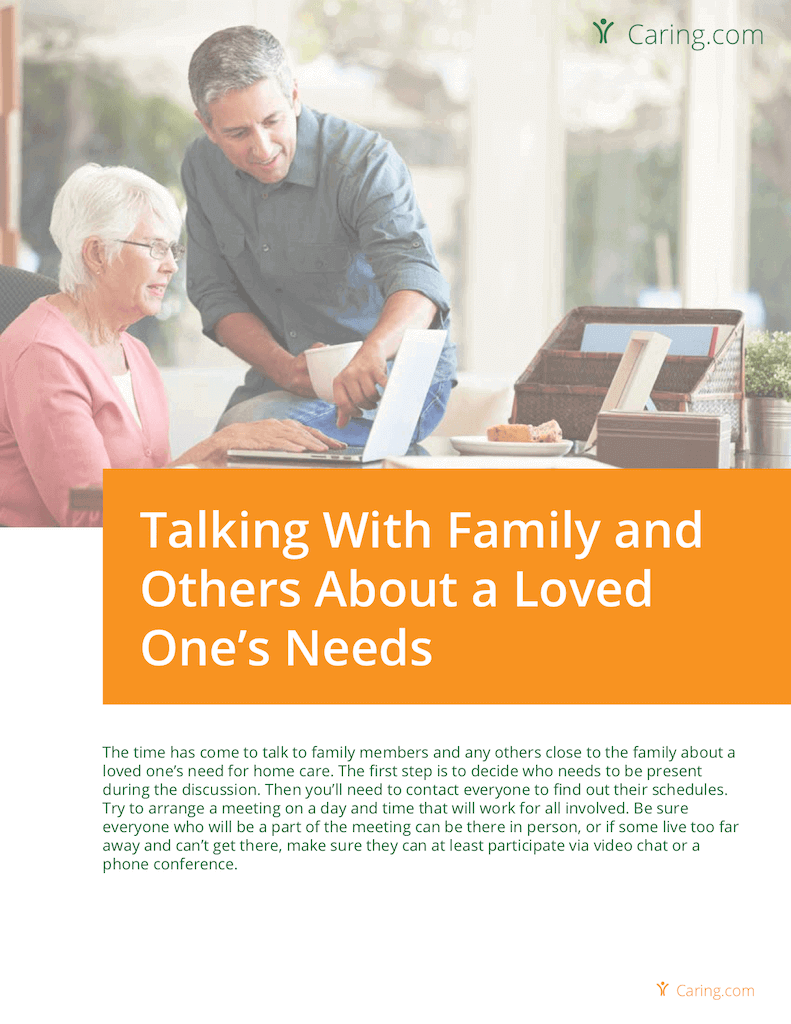 Frequently Asked Questions
What should I look for in a good home care agency near me in Moraga?

Before beginning your search, check the Home Care Services Bureau webpage to confirm your shortlisted providers have licenses to operate in Contra Costa County. Then visit the Caring.com Moraga page to review its home care agencies list. The page contains at-a-glance information to help you quickly see peer reviews and pricing for local agencies. When you're ready to contact an agency, ask questions about its policies and procedures. Good quality agencies can answer these immediately. As an example, ask about its recruitment policies, particularly in relation to staff qualifications and background checks.
How do you pay for senior care at home?

Although home care is mostly a non-medical service, there are occasions when Medi-Cal can help, such as when the senior is eligible for the In-Home Supportive Services Program. Medicare plans don't pay for long-term home care support, although Medicare Advantage beneficiaries can get help for longer periods than those with traditional Medicare. Seniors who don't qualify for these programs may need to use their incomes and savings or consider a reverse mortgage, which gradually releases their home equity that they can use to pay for home care in installments. 
What is the difference between in-home care and home health care?

The short answer is that home care is a non-medical service, and home health care is mostly medical. The former concentrates on assistive services, such as helping the senior get in and out of bed and making meals. Physicians, therapists and skilled nurses deliver the latter service. Patients may require short-term medical care at home, such as rehabilitating from a hospital stay or long-term care if they have a deteriorating condition. 
Assisted living homes vs. home care: how to decide?

As both options provide effectively the same services, the choice comes down to location. Seniors unwilling to leave their homes may opt for home care, even though they won't have a caregiver on-site 24/7, as in assisted living (although some home care agencies offer this service at an additional cost). The benefits of living at home include being surrounded by personal items in every room, although a negative may be increased periods of isolation, which is less likely in assisted living facilities.
What to expect with hospice care at home?

It can be disconcerting for families to see their loved ones receiving hospice care at home from other people. However, agencies have significant experience and tread delicately, working with families to provide a service capable of satisfying all parties as much as possible. Although each agency is unique, common to all are arranged visits by chaplains and social workers, the delivery and maintenance of medical equipment, qualified staff providing medical care and regular updates on the senior's health communicated to the family.