Turlock is a city in Stanislaus County, California, that's located about 20 minutes south of Modesto. Just over 13% of its 72,740 residents are aged 65 and older, including many individuals who were drawn to the city's favorable cost of living, small-town feel and diversity of places to eat and drink. There are also plenty of medical facilities to ensure that seniors have a choice, such as the Emanuel Medical Center and Stanislaus Surgical Hospital. Home care and home health care agencies abound too, with the latter offering limited medical care in addition to standard services. According to the 2020 Genworth Cost of Care Survey, the typical monthly cost is $5,148. Although above the national average, it's lower than normal for California.
Below we've compiled a comprehensive directory of every home care provider in the Turlock area – complete with services offered and reviews from families who've actually used the service. In addition to our in-depth provider listings, we've compiled resources to help seniors and their families to access all the tools they need to age in place safely and gracefully.

Paying for Home Care in Turlock, CA
The Cost of Home Care in Turlock, CA
The 2020 Genworth Cost of Care Survey reveals that the typical senior in Turlock pays $5,148 per month for home care. The national average is lower at $4,481, but this is expected as California is the second most expensive state in the country. This is reflected in the average home care fee of $5,529. However, Turlock offers the most affordable care in the region with only Stockton coming close at $5,243. In San Francisco, home care averages $6,101, while seniors in San Jose pay $6,197.
The Cost of Home Care vs. Other Senior Care Options in Turlock, CA
Despite providing basic medical support as well as home care, home health agencies typically charge $5,148, the same fee for home care. Assisted living facilities in Turlock offer their services for around $4,000, while nursing homes charge significantly more, usually $10,783 for a semiprivate room. The Genworth survey doesn't supply costs for adult day care in Turlock, but the state average of $1,733 should give some indication of likely costs.
Nursing Home Care (semi-private room)
Note: Data for Turlock was unavailable, so data for the nearest city, Modesto, was used instead
Financial Assistance for Home Care in Turlock, CA
Given the high cost of in-home care, many people use one or more forms of financial assistance to cover the expenses. Below, we explain some of the most common sources of financial help for paying for in-home care. If none of these options are available to you, you can reach out to your Area Agency on Aging or Aging and Disability Resource Center to learn about local resources.
Long-Term Care Insurance: Long-Term Care Insurance covers expenses related to senior care, including in-home care. Depending on the policy type, beneficiaries may receive a cash payment to use towards long-term care or reimbursement for qualifying long-term care expenses. Note that there are limitations- typically a maximum benefit of $150 per day- and exact coverage terms vary depending on the exact policy, so always check the details.
Medicare: Medicare does not cover in-home care because it is classified as custodial, or non-medical, care. However, some Medicare Advantage and Medicare Supplement plans, which offer expanded benefits, may cover in-home custodial care.
Medicaid: Medicaid coverage of in-home care varies between different states because it is not a federally mandated benefit. Currently, all states cover some in-home care either through their standard Medicaid or a waiver program. The specific coverage rules are set individually by each state.
Veterans' Benefits: The Aid and Attendance benefit is a monthly cash payment that beneficiaries can use to pay for senior care, including in-home care services. To qualify for A&A, Veterans must already receive the VA pension and meet several additional requirements, including needing assistance with the activities of daily living.Contact the Department of Veterans Affairs to learn more.
Reverse Mortgages: Home Equity Conversion Mortgages (HECMs) are federally insured loans that are available to homeowners age 62 and over. Reverse mortgages allow you to access a portion of your home's equity in cash, tax free. Many seniors use reverse mortgages to finance their care expenses, including in-home care. Note that although there are no monthly payments due on reverse mortgage loans, borrowers do have to repay the loan once the last surviving homeowner passes away, moves, or sells the home.
Free & Low-Cost Home Care Resources in Turlock, CA
Seniors living at home in Turlock can call on the support of numerous nonprofits and agencies that are dedicated to helping them age safely and comfortably. The following resources are only some of what's available. They can help those whose homes have become too expensive to heat or cool. They also provide healthy meals for seniors who are unable to cook for themselves and make homes safe again if they have deteriorated over time.
Determining Your Loved One's Need for In-Home Care
Aging can be a difficult process, and loved ones may not always ask for help – oftentimes it's up to their family to evaluate their need for help around the house. While no two situations are exactly alike, this checklist can help you and your loved ones determine when it's time to start the search for a home care provider.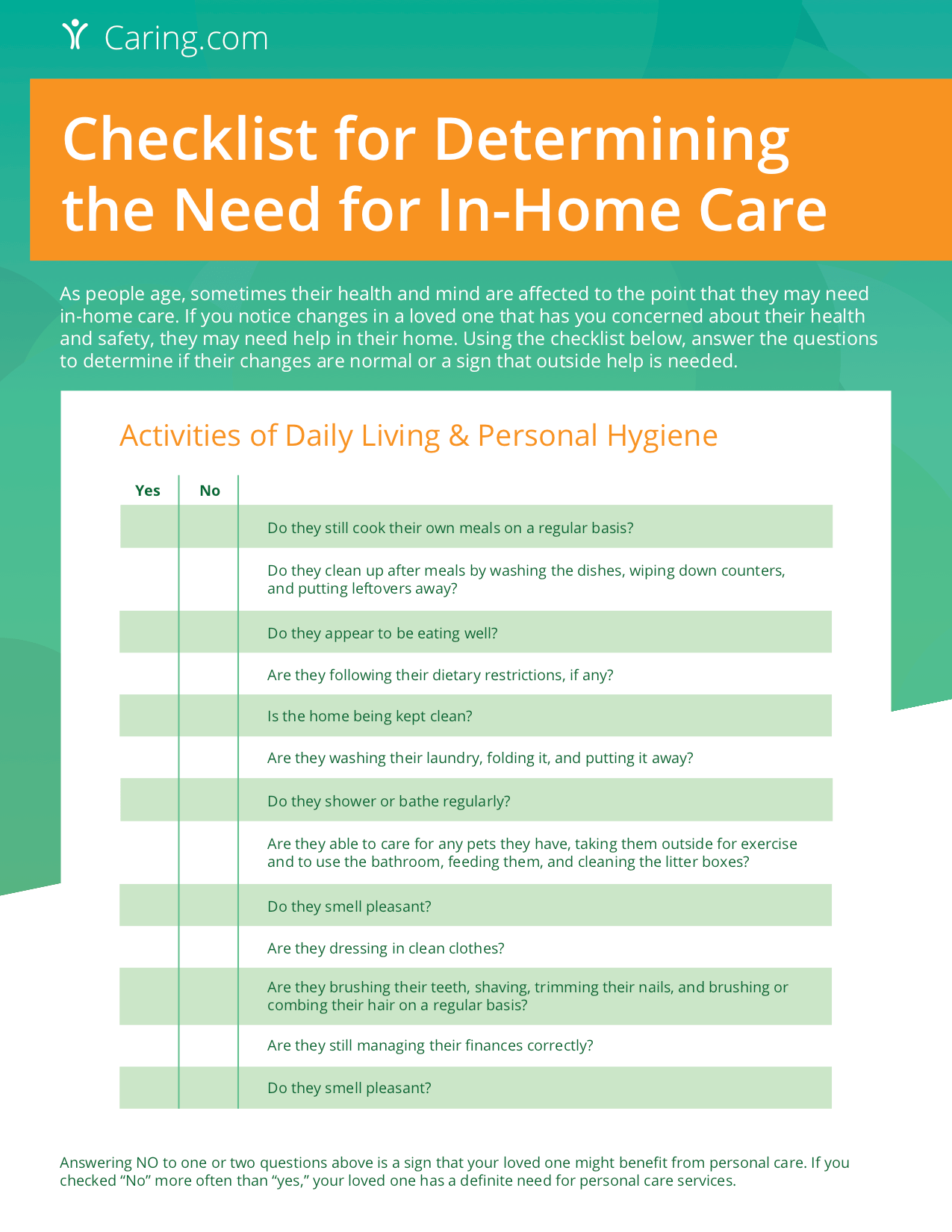 Guidelines for Talking About In-Home Care
If you've determined that your loved one needs the assistance of a care provider in their home, it may be time for a difficult conversation. Handled correctly, however, this process can bring a family together and ensure that everyone's concerns are addressed. Use this PDF as a starting point to help the conversation stay as positive and productive as possible.
Frequently Asked Questions
What should I look for in a good home care agency near me in Turlock?

The first step when considering a home care agency is to confirm that it's licensed to provide home care services in California by contacting the Home Care Services Bureau. Once this is confirmed, it's a good idea to read reviews from the agency's clients on Caring.com as these can give a sense of its quality of service. When calling the agency, ask questions about its policies and procedures, which staff should be able to answer without checking. These should include confirmation of its recruitment policies, such as background checks, and information about its procedures for dealing with emergencies while in the senior's home.
What's the difference between in-home care and home health care?

In-home care doesn't require the caregiver to be a medical professional like home health care does. Seniors receiving in-home care typically get help with daily chores, such as driving to appointments, housekeeping, bathing and preparing meals. Those receiving health care at home are regularly visited by registered nurses or therapists who use health care equipment and deliver some medical services, such as injections or massages. Home health care agencies also provide standard home care services with medical care.
How do you pay for senior care at home?

There are several ways a senior can pay for home care with their own funds, such as dipping into savings, liquidizing some assets or applying for a reverse mortgage to release equity from their home. Seniors who have Medicare can, if their plan allows, cover some costs in the short term, while those with the appropriate Medicare Advantage plan can get different types of assistance for longer. Seniors on low incomes whose medical needs justify care in a nursing home may be eligible for assistance from the In-Home Supportive Services Program if they prefer home health care.
Can you write off in-home elderly care?

Providing certain conditions are satisfied, some in-home care expenses may be tax-deductible. The senior must be considered to have a condition lasting over 90 days that prevents them from functioning normally and have care prescribed by a licensed medical professional. For more guidance regarding medical expenses, seniors should have a copy of IRS Publication 502 on hand when completing Schedule A. IRS Publication 926 can also be useful if the senior's caregiver is their employee.
Assisted living homes vs. home care: how to decide?

The decision is likely to come down to whether the senior is happier moving to a new location where caregivers are typically available 24/7 or if the person prefers to remain in their home with a caregiver on-site during agreed hours only. This is because both services are similar. They can both provide light housekeeping services, help with personal grooming and meal preparation assistance to ensure that healthy meals are provided daily. Some seniors may enjoy making new friends in assisted living, while others prefer the comforting routine of home life.