The 10 Best In-Home Care Services in Rocklin, CA for 2023
Rocklin is a vibrant city in the northeastern region of the Sacramento metro with about 70,000 residents. Nearly 14% of locals are retirement aged, which is low compared to state and national averages. Even so, the city has a wide range of benefits for older adults. It has one of the lowest crime rates in the state, providing peace of mind for those who live alone, and a comparatively high number of doctors per capita, promoting access to health care services. Due to the city's location in the Sacramento metro, home care costs are relatively high at $6,292 per month. For older adults seeking skilled nursing at home, home health care may be more appropriate.
Below we've compiled a comprehensive directory of every home care provider in the Rocklin area – complete with services offered and reviews from families who've actually used the service. In addition to our in-depth provider listings, we've compiled resources to help seniors and their families to access all the tools they need to age in place safely and gracefully.
Paying for Home Care in Rocklin, CA
The Cost of Home Care in Rocklin, CA
According to the Genworth 2021 Cost of Care Survey, home care agencies in Rocklin charge $6,292 monthly, which exceeds respective state and national norms of $6,101 and $4,957. While the city is an affordable place to obtain care compared to Napa, where monthly fees average $6,435, local home care rates are high compared to costs in most surrounding cities. In Vallejo and Yuba City, fees come in lower at $5,958 and $5,895, and in Stockton, care costs are among the lowest in Central California at $5,482.
The Cost of Home Care vs. Other Senior Care Options in Rocklin, CA
Home-based care is among the more expensive long-term care options in Rocklin, with seniors paying $6,292 monthly for both basic home care and specialized home health care. Assisted living is typically more affordable at $5,225 monthly, and those who opt for adult day health care pay the most economical rates of $2,167. Nursing home care is pricier, however, with the median rate for semiprivate accommodations averaging $10,646.
Nursing Home Facility (semiprivate room)
Note: Data for Rocklin was unavailable, so data for the nearest city, Sacramento, was used instead.
Financial Assistance for Home Care in Rocklin, CA
Given the high cost of in-home care, many people use one or more forms of financial assistance to cover the expenses. Below, we explain some of the most common sources of financial help for paying for in-home care. If none of these options are available to you, you can reach out to your Area Agency on Aging or Aging and Disability Resource Center to learn about local resources.
Free & Low-Cost Home Care Resources in Rocklin, CA
The Rocklin region has a network of supportive services and programs for older adults who want to remain in their homes. The following agencies and programs provide services such as case management and referrals to help older adults find affordable in-home care options. They may also provide benefits counseling and assistance to help older adults access money-saving programs and public benefits.
Determining Your Loved One's Need for In-Home Care
Aging can be a difficult process, and loved ones may not always ask for help – oftentimes it's up to their family to evaluate their need for help around the house. While no two situations are exactly alike, this checklist can help you and your loved ones determine when it's time to start the search for a home care provider.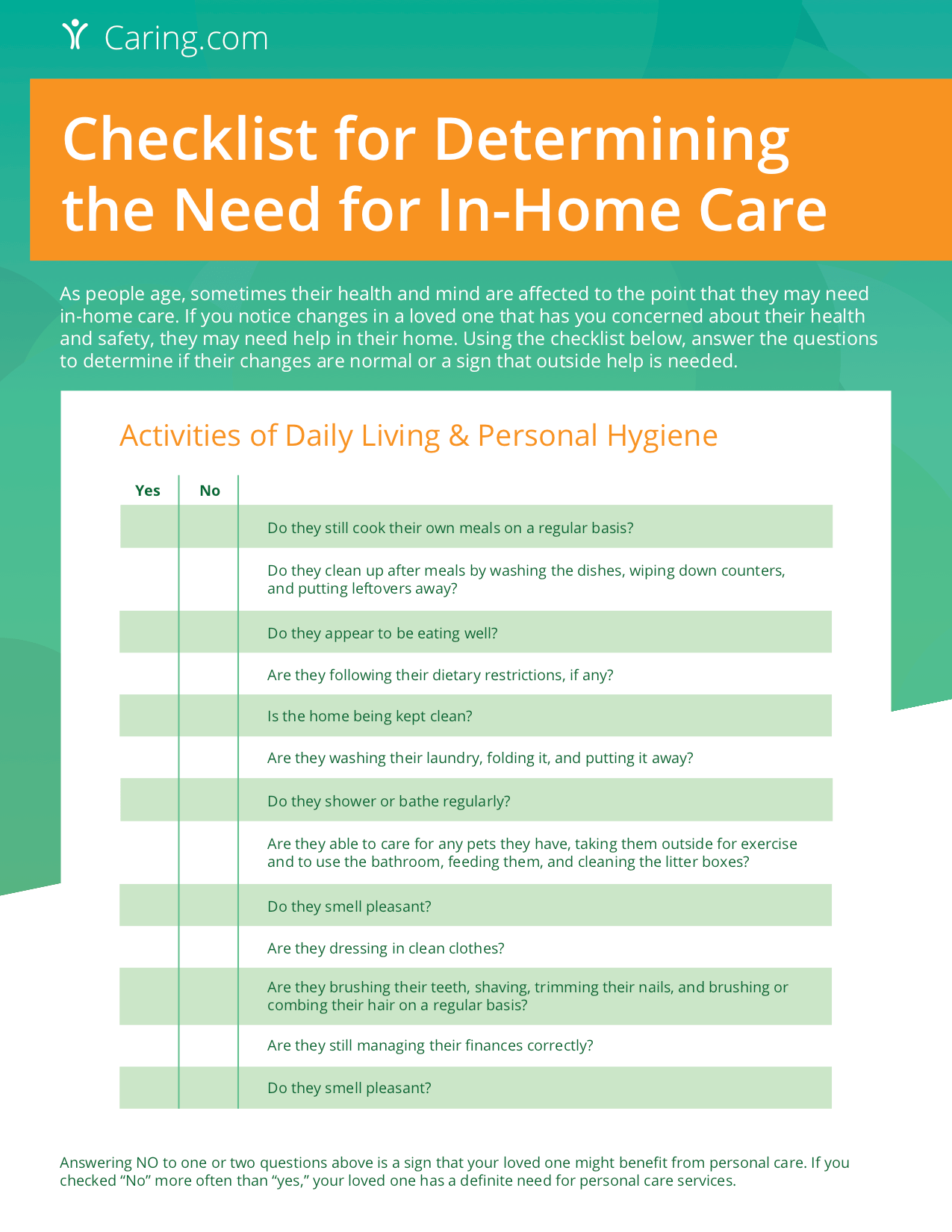 Guidelines for Talking About In-Home Care
If you've determined that your loved one needs the assistance of a care provider in their home, it may be time for a difficult conversation. Handled correctly, however, this process can bring a family together and ensure that everyone's concerns are addressed. Use this PDF as a starting point to help the conversation stay as positive and productive as possible.
Frequently Asked Questions
What should I look for in a good home care agency near me in Rocklin?

There are 34 home care agencies in Rocklin, which can make it challenging to find the right agency. To narrow the search, it's a good idea to consider how much an agency charges for services and whether it's significantly cheaper or more expensive than the regional average of $33 per hour. Ask about staff screening and training practices, whether an agency has the availability to fit the desired schedule and whether it provides the specific services needed. Client reviews are also a valuable indicator. Altogether, the agencies in Rocklin have 467 reviews and are rated 4.7 out of 5 stars.

What is the difference between in-home care and home health care?

In-home care and home health care can both help older adults remain in their homes despite changing care needs. In-home care is primarily for those who are largely independent but need help with some day-to-day activities. This type of care includes transportation and accompaniment for medical appointments, meal planning and preparation, and personal care. Home health care is for seniors who need skilled nursing services. This care includes vitals monitoring, wound care, catheter care, medication administration and physical and occupational therapies. In Rocklin, these care options have the same monthly rate.  

Who is eligible for the veterans home care program?

The Veterans Administration funds the Veterans Home Care program to meet the needs of older veterans, allowing them to remain in their homes for as long as possible. To qualify for this program, the services a senior is seeking must be available in the region and they must meet the clinical criteria for getting care. Additionally, they must meet at least one of the guidelines for community care.

What is in-home respite care?

Along with providing full-time regularly scheduled services, many home care agencies provide in-home respite care. This option can be a solution for family caregivers who need time away for various reasons. With in-home respite care, a home care attendant visits the individual's home to provide services such as companionship, help with household chores, meal preparation and personal care. Seniors may arrange for respite care on an intermittent basis, or they may schedule weekly or monthly care.