Florida's well-deserved reputation as a great place to retire probably explains why an increasing number of seniors are moving there. The 2020 Census revealed over 4.5 million of its residents are aged 65+, an increase of almost 1.25 million since 2010. The Sunshine State doesn't tax its residents' incomes, allowing seniors to hold on to more of their pensions, Social Security benefits and other earnings. It also boasts many nationally ranked medical facilities, such as the Mayo Clinic-Jacksonville and Adventhealth Orlando.
With so many seniors choosing to live there, it isn't surprising Florida has numerous in-home care and home health care agencies dedicated to helping them age comfortably. In-home care is a nonmedical service focused on custodial services and companionship, which typically includes light housekeeping and assistance with personal care. Home health care adds basic medical support to those services, often delivered by skilled nurses and occupational therapists. Florida's average monthly fee for both options is $4,767.
This guide explains what in-home care offers seniors who want the advantages of care services without relocating to an institution. It also covers likely costs and how Medicare and Medicaid can help, in addition to listing some senior-friendly resources.
The Cost of In-Home Care in Florida
Florida's in-home care costs published in the 2021 Genworth Cost of Care Survey, are a pleasant surprise. On average, the typical Floridian pays $190 per month less than the typical American, who pays $4,957. Costs don't compare so well with neighboring states, however. For example, Alabama and Mississippi both average $3,813 per month, Louisiana costs $3,623 and South Carolina averages $4,433. Despite this, Florida is the only one of the six states not to tax incomes, which may offset its costlier in-home care fees.
Many factors influence in-home care fees, including location. In Crestview, the average is $5,005, while in Jacksonville, it's a more welcome $4,481. The Villages can be costly, with fees averaging $5,720, while Sebastian, although above the state median, is more affordable, at $5,100. Seniors in and around Punta Gorda can expect to pay about $4,767 for in-home care, while their peers down in Naples typically pay $953 more per month. It's possible to find significantly below-average costs too, such as in Miami, where they're around $4,195 — an annual savings of $6,864 when compared to the state's median fee.
Prices for different care types are mostly dictated by the level and quantity of services and the provider's costs. This is why Florida's adult day health care facilities, with lower overhead per senior, can offer care for $1,517 per month. Compare this with in-home care and home health care agencies, whose fees average $4,767. They provide one-on-one care within the senior's home and, in the case of home health care, qualified professionals to deliver limited medical support. Assisted living is more affordable at $4,000 per month because all services are contained within one location. Nursing homes typically charge $8,654, reflecting narrower staff-to-resident ratios and care administered by physicians and skilled nurses.
Nursing Home Facility (semiprivate room)
Does Medicaid Cover Home Care in Florida?
Medicaid doesn't directly cover home care costs but the Statewide Medicaid Managed Care Long-Term Care Program can. Its purpose is to provide all the assistance a senior would receive in a nursing home but within their own home, including non-medical services. Another waiver, the Program of All-Inclusive Care for the Elderly, also aids seniors at home by combining elements of Medicaid and Medicare to cover all care needs.
The Home Care for the Elderly waiver provides a basic subsidy to all applicants and tailored subsidies to cover needs specific to each senior enrolled in the program. The final waiver is Community Care for the Elderly, which is available to all seniors whose needs fall within its scope, although it is primarily focused on those at risk of elder abuse.
Home Care Waiver Programs in Florida
The following waivers can help Florida seniors receive the help they need at home, including personal care, medical assistance, counseling and subsidies.
How to Know if You're Eligible for Medicaid in Florida
As of 2022, single adults applying for assistance must provide proof their countable income doesn't exceed $11,964 per year and their assets are worth no more than $5,000. If both spouses in the household apply, the figures are $16,116 annually for income and $6,000 for assets. Be aware that there is likely to be a check on your sale of assets for the previous 5 years to determine if they've been undersold in anticipation of your application.
2022 Medicaid Income Limits for Seniors in Florida
Income Limits*
Asset Limits
*per year
Other eligibility requirements include:
Aged 65 years or older
U.S. citizen or legal permanent resident
Florida resident
Require care provided in a nursing home facility
How to Apply for Medicaid in Florida
Seniors without Medicaid should apply via ACCESS Florida or visit their nearest ACCESS Florida Service Center to apply in person. Alternatively, they can call (850) 300-4323 to request an application form, which should be completed and mailed to their nearest ACCESS center.
What Information You Will Need
You'll need to provide evidence to support your application. This typically includes Social Security and Medicare cards as proof of identity, wage stubs and 60 months of bank statements as proof of income and life insurance policy numbers. You may also need to provide property deeds and pre-need burial contract documents.
How to Get Help Applying for Medicaid
Some people may become confused and stressed about applying for Medicaid. Fortunately, there are several organizations that can help guide applicants through the process or simply provide information and links to nearby advisors.
Does Medicare Cover In-Home Care in Florida?
In general, Medicare does not cover the cost of non-medical home care. That being said, there are situations in which Medicare provides some coverage for medical home care, referred to as "Home Healthcare." There are several eligibility restrictions for coverage, including that individuals must be homebound and have a referral from their doctor specifically for home healthcare services.
Below is an overview of some of the skilled medical professionals whose in-home services are typically covered by Medicare – for more in-depth information, refer to our Guide to Home Healthcare.
Physical Therapists: Physical therapy is used to help patients recover from injuries (broken bones, knee injuries, etc.), treat ongoing conditions such as arthritis, and assist in recovery from surgeries and procedures such as a knee or hip replacement.
Visiting Nurses: Licensed nurses can provide a number of medical services for those who don't need to stay in the hospital, but do need regular medical services such as wound care, changing feeding tubes, etc.
Occupational Therapists: Occupational therapists help seniors regain or maintain the ability to accomplish normal, daily tasks, such as bathing, dressing, eating, and other daily activities.
Speech Therapists: Speech therapists help seniors who are struggling to adequately communicate due to a stroke, dementia, or any other cause regain the ability to functionally communicate using a variety of means. Additionally, speech therapists help to keep seniors independent by modifying diets, teaching special techniques to swallow safely, and retraining associated muscles.
As mentioned above, in-home care is distinctly different from home healthcare. But, there can be some overlap in services between the two types of care. So, while Medicare doesn't cover non-medical in-home care, there are in-home care services that may be covered in special circumstances when they're provided in conjunction with home healthcare (such as an occupational therapist helping with eating or dressing)
Other Financial Assistance Options for In-Home Care in Florida
While the above programs help many people finance in-home care, they will not cover all costs for everyone. There are other ways to pay for in-home care, including out-of-pocket arrangements with siblings, annuities, reverse mortgages, private insurance and more. Read Caring.com's Guide to In-Home Care Costs to learn more about these alternative payment options.
Free and Low-Cost Resources for Seniors in Florida
Floridian seniors can access a wealth of free and low-cost resources to help them age safely and comfortably in their own homes. Those listed here can pay some energy bills, make homes more energy-efficient, deliver nutritious meals and support caregivers too.
COVID-19 Rules for In-Home Care Providers in Florida
As of February 28, 2022, all medical and non-medical staff caring for Floridians in their homes must be fully vaccinated against COVID-19. The only exceptions are those granted exemptions or whose vaccines must be temporarily delayed, as recommended by the CDC. Seniors should check with their nearest Area Agency on Aging if they're unsure about the latest practices because the state and federal governments can change rules at short notice. Also, each care agency may have additional policies and procedures in place to keep their clients and staff as safe as possible, so it's prudent to check with the appropriate provider too.
In-Home Care Laws and Regulations in Florida
The Florida Division of Health Quality Assurance regulates senior care in the state. The division inspects residential care facilities and takes reports from the public about conditions at the sites it oversees. The table below contains an overview of the laws for senior home care in Florida.
In-Home Care Laws and Regulations in Florida
Scope of Care
Home care agencies may provide assistance with activities of daily living, personal care, homemaking, companionship, respite, and any other non-skilled services that a patient may need.
Care Plan Requirements
Home care agencies must provide patients with information about their services, the identity of the person providing care and all costs and fees associated with care at least 48 hours in advance of the onset of treatment. Patients have a right to be involved in the care planning process.
Medication Management Requirements
Home care providers may, consistent with a dispensed prescription's label or the package directions of an over-the-counter medication, assist a patient whose condition is medically stable with the self-administration of routine, regularly scheduled medications that are intended to be self-administered. Written permission is required in advance.
Staff Screening Requirements
All staff must undergo a level 2 background screening by scanned fingerprints.
Staff Training Requirements
None
Medicaid Coverage
Florida Medicaid reimburses beneficiaries for home health services rendered by a licensed, Medicaid-participating home health agency and Medicaid-enrolled or registered personal care providers.
Reporting Abuse
Abuse should be reported to the office of the Complaint Administration Unit at (888) 419-3456 or CAU@ahca.myflorida.com.
Frequently Asked Questions
Does Florida Medicaid pay for in-home care?
Florida Medicaid does not usually issue direct payments for in-home care, but it can and does reimburse beneficiaries for eligible and pre-approved services.
Are there programs to cover home modifications in Florida?
Florida Home Care for the Elderly (HCE) pays for approved home access modifications. This can include the installation or modification of ramps, doorways and other fixtures. Homes must be inspected and work approved in advance.
Are there transportation assistance programs in Florida?
Find a Ride Florida helps seniors aged 60 and over in each of Florida's 67 counties find low-cost and free transportation services for medical and personal trips.
What does it mean to age in place?
Aging in place means a senior remains in the home of their choice for as long as they safely can. This may be a private residence, the home of a family member or another arrangement. The term can also include the necessary services and support needed to help seniors stay independent.
What are "Activities of Daily Living?"
Activities of daily living (ADLs) are routine personal tasks that in-home caregivers frequently assist seniors with completing. Examples include bathing, dressing and preparing meals. ADLs do not include instrumental activities, such as managing finances or making medical decisions.
How to Find an In-Home Care Provider in Florida
Whether you are looking for yourself or a loved one, finding a quality home care provider can be a stressful process. When you hire an in-home care aide you're placing a lot of trust in the hands of the person by inviting them into your home, so you'll want to be diligent in your search. At Caring.com, we're here to help – we've created a helpful checklist below that can help guide you through the process of both determining your needs and finding a home care agency that will provide the best care possible.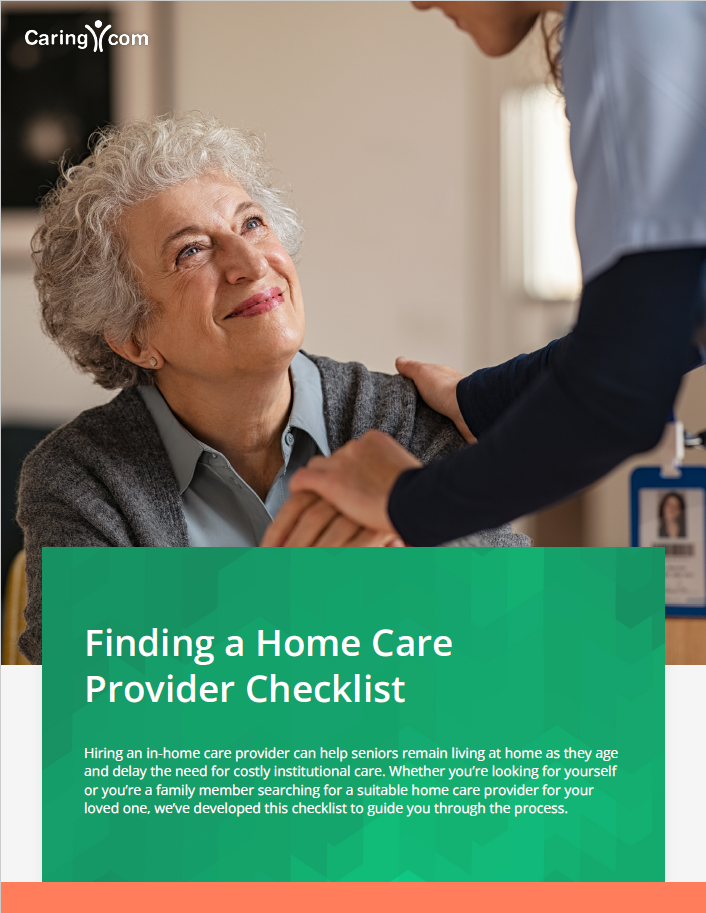 Find Home Care Agencies Near You
To find quality home care providers near you, simply input the zip code or city where you would like to start your search. We have an extensive directory of home care agencies all across the nation that includes in-depth information about each provider and hundreds of thousands of reviews from seniors and their loved ones.
Home Care Services in Florida (477)