Home Care in Brooksville, Fl
Brooksville is a suburb of approximately 9,000 residents situated on the Gulf Coast of Florida, 45 miles north of Tampa and designated as a part of the Tampa-St. Petersburg-Clearwater metropolis. Almost 30% of the residents of the city are seniors, nearly double the national percentage of 16.5%. Brooksville has a pleasant climate, low cost of living and high-quality health care. There are more than four hospitals located in Brooksville, including HCA Florida Oak Hill, nationally recognized for its focus on patient safety. For in-home care, seniors in Brooksville pay $5,720 per month. In contrast to home health care which provides in-home health services, home care cares for seniors by assisting with cleaning and personal tasks.
Below we've compiled a comprehensive directory of every home care provider in the Brooksville area – complete with services offered and reviews from families who've actually used the service. In addition to our in-depth provider listings, we've compiled resources to help seniors and their families to access all the tools they need to age in place safely and gracefully.
Paying for Home Care in Brooksville, FL
The Cost of Home Care in Brooksville, FL
In Brooksville, seniors pay more than $5,700 per month for in-home care. This cost is higher than both the Florida state average and the national average, amounting to $950 more and $760 more, respectively. The cost for home care in Brooksville is also more expensive than it is in any of the surrounding cities, an amount that is about $950 higher than its southern neighbor Tampa, $1,100 higher than Lakeland and Ocala, and nearly $1,450 higher than Homosassa Springs.
Home Care vs. Other Types of Care in Brooksville, FL
The cost of home care for Brooksville seniors averages $5,720 per month, which is the same as that of home health care, a form of home-based care that includes the administration of medical treatments and therapies by registered nurses or other health professionals. In-home care is nearly $4,000 per month more than adult day health care in the area and approximately $500 more per month than assisted living services. Seniors who need more medical supervision and care than they can receive at home might find the need to enter the care of a nursing home. These seniors will pay almost $8,700 per month for a semi-private room in a nursing home, almost $3,000 more per month than they would for in-home care.
Nursing Home Facility (semiprivate room)
Note: Data for Brooksville was unavailable, so data for the nearest city, The Villages, was used instead.
Financial Assistance for Home Care in Brooksville, FL
Given the high cost of in-home care, many people use one or more forms of financial assistance to cover the expenses. Below, we explain some of the most common sources of financial help for paying for in-home care. If none of these options are available to you, you can reach out to your Area Agency on Aging or Aging and Disability Resource Center to learn about local resources.
Free & Low-Cost Home Care Resources in Brooksville, FL
Although Brooksville is statistically considered part of the Tampa Bay metro area, many of Tampa's senior programs do not extend to seniors in Hernando County. Fortunately, seniors who live here have plenty of assistance options specifically designed for residents of Hernando and the surrounding area. The table below provides a short but comprehensive list of resources available to seniors in Brooksville, including contact information and an overview of the services available.
Determining Your Loved One's Need for In-Home Care
Aging can be a difficult process, and loved ones may not always ask for help – oftentimes it's up to their family to evaluate their need for help around the house. While no two situations are exactly alike, this checklist can help you and your loved ones determine when it's time to start the search for a home care provider.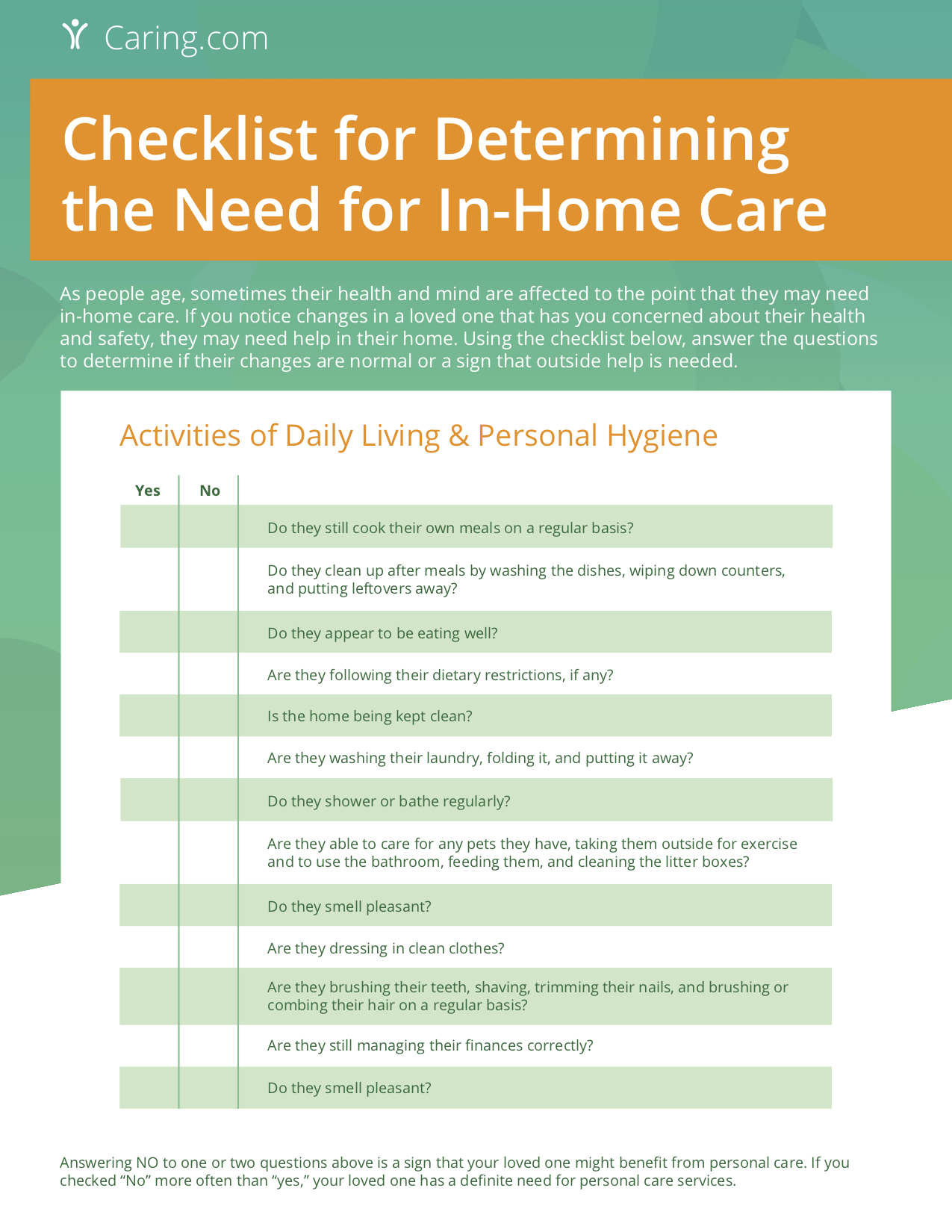 Guidelines for Talking About In-Home Care
If you've determined that your loved one needs the assistance of a care provider in their home, it may be time for a difficult conversation. Handled correctly, however, this process can bring a family together and ensure that everyone's concerns are addressed. Use this PDF as a starting point to help the conversation stay as positive and productive as possible.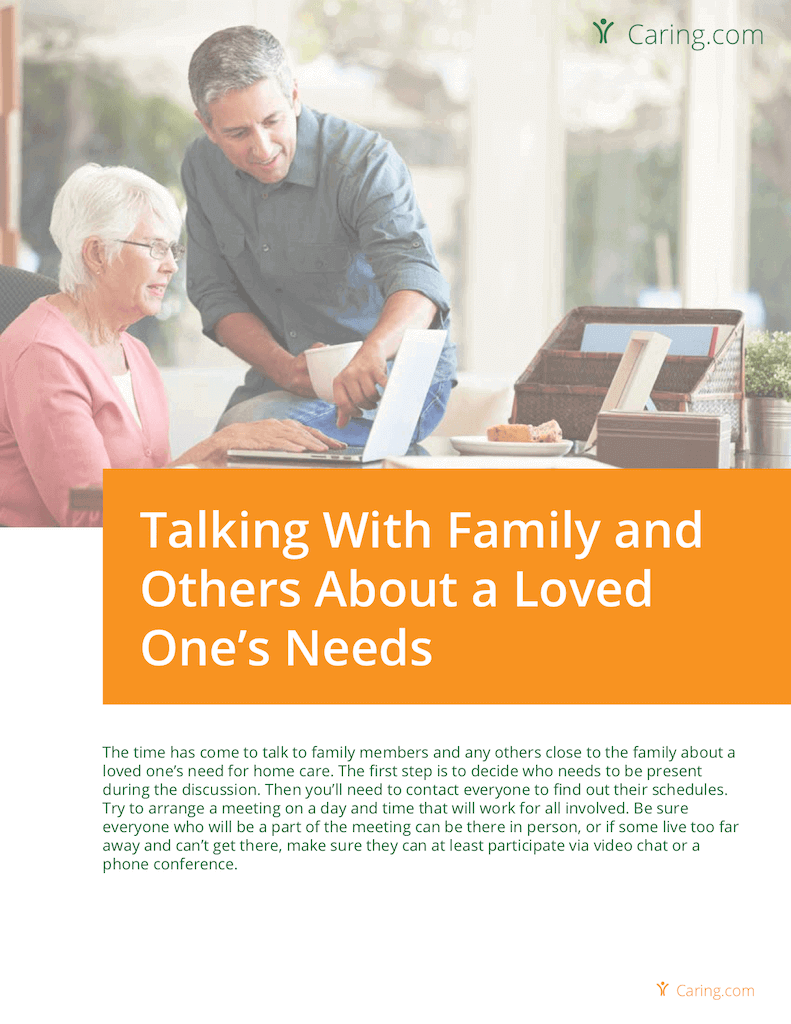 Frequently Asked Questions
What is in-home respite care?

Families utilize in-home respite care to allow weary caretakers a break from the responsibility and challenges associated with caring for an elderly parent or loved one. In-home respite providers step in to supervise seniors, assist them with personal care tasks and in some cases, administer minor medical treatments. They also keep track of vitals and provide a safe, pleasant environment for those with dementia.
What types of services can a home care agency in Brooksville provide?

A home care agency located in Brooksville provides the same services as most in-home care agencies across the state, including house cleaning, laundry service, help caring for pets and other tasks that seniors often need help with around the home. The services that home care agencies provide make it possible for seniors to age in place at home, rather than facing the possibility of being placed into a community-based care center such as an assisted living facility or nursing home.
What is the difference between in-home care and home health care?

In-home care differs from home health care in one subtle way: home health care providers focus on maintaining a senior's physical health by administering medical treatments or assisting with the completion of necessary therapy. These caregivers are certified medical professionals. On the other hand, in-home care does not usually include medical treatments, although some agencies may offer wellness checks. Home care providers help seniors with household tasks and mobility around the house and provide transportation so that they can run errands.
What is the average cost for in-home elderly care in Brooksville, FL?

In Brooksville, seniors pay approximately $5,720 per month for in-home elderly care. This is higher than the cost for in-home care and home health care in the counties surrounding Brooksville. In-home care offers seniors in Hernando County an opportunity to age in place by assisting with personal care and household management tasks.
What is private pay home care?

Simply put, private pay home care is home care paid directly from a senior's private assets. Seniors who pay out-of-pocket for in-home care may utilize a savings account, trust or IRA distributions to pay a company directly. Alternatively, they may also fund their home care through a reverse mortgage or other loan services.