Home Care in Delafield, WI
Delafield is a quiet city on the banks of the Bark River with about 7,200 residents, and its senior community makes up nearly a quarter of the population. The city has numerous benefits for older adults, including a low crime rate and high access to health care services. There are approximately 389 doctors per 100,000 people compared to the U.S. average of 210, and area hospitals, such as Aurora Medical Center Summit and Waukesha Memorial Hospital, provide a full range of geriatric services. Home care, which includes non-medical services, such as personal care and companionship, costs $6,101 per month in Delafield. For older adults who need skilled nursing services, home health care may be a suitable alternative.
Below we've compiled a comprehensive directory of every home care provider in the Delafield area – complete with services offered and reviews from families who've actually used the service. In addition to our in-depth provider listings, we've compiled resources to help seniors and their families to access all the tools they need to age in place safely and gracefully.
Paying for Home Care in Delafield, WI
The Cost of Home Care in Delafield, WI 
Home care agencies in Delafield charge $6,101 per month for services. This is nearly $600 higher than Wisconsin's median rate of $5,529, and it's over $1,000 higher than the national average of $4,957. Delafield is one of the most expensive places in Wisconsin to obtain this type of care. In Racine, rates exceed the state median but are more budget-friendly than Delafield's average at $5,720 per month. Seniors in Oshkosh pay $5,339, and in Green Bay, monthly rates come in closer to the national median at $5,053.
The Cost of Home Care vs. Other Senior Care Options in Delafield
Seniors in Delafield have several long-term care options to consider. Adult day health care, which provides daytime care in a community setting, is the most affordable option at $1,322 per month. Assisted living, which provides personal care, housing and meals, costs $5,324 per month. Older adults who opt for care in their own homes pay $6,101 for home care and home health care, and those living in nursing homes pay $5,324 for semiprivate accommodations.
Nursing Home Facility (semiprivate room)
Note: Data for Delafield was unavailable, so data for the nearest city, Milwaukee, was used instead.
Financial Assistance for Home Care in Delafield, WI
Given the high cost of in-home care, many people use one or more forms of financial assistance to cover the expenses. Below, we explain some of the most common sources of financial help for paying for in-home care. If none of these options are available to you, you can reach out to your Area Agency on Aging or Aging and Disability Resource Center to learn about local resources.
Free & Low-Cost Home Care Resources in Delafield, WI
In Delafield, there are several agencies and programs seniors can access for the support and services they need to remain safely in their home. The following table highlights organizations that provide free and low-cost case management, home-delivered meals, transportation and respite services.
Determining Your Loved One's Need for In-Home Care
Aging can be a difficult process, and loved ones may not always ask for help – oftentimes it's up to their family to evaluate their need for help around the house. While no two situations are exactly alike, this checklist can help you and your loved ones determine when it's time to start the search for a home care provider.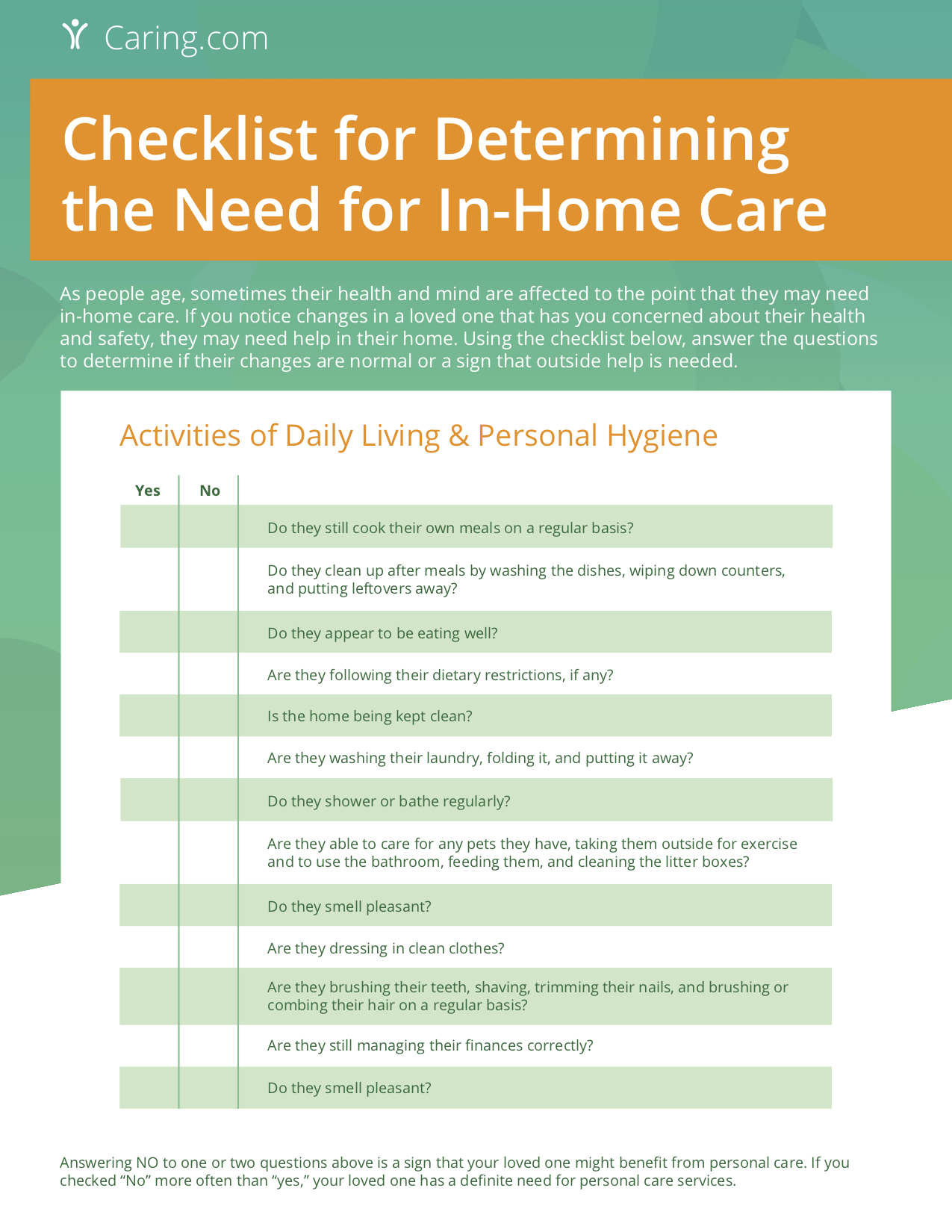 Guidelines for Talking About In-Home Care
If you've determined that your loved one needs the assistance of a care provider in their home, it may be time for a difficult conversation. Handled correctly, however, this process can bring a family together and ensure that everyone's concerns are addressed. Use this PDF as a starting point to help the conversation stay as positive and productive as possible.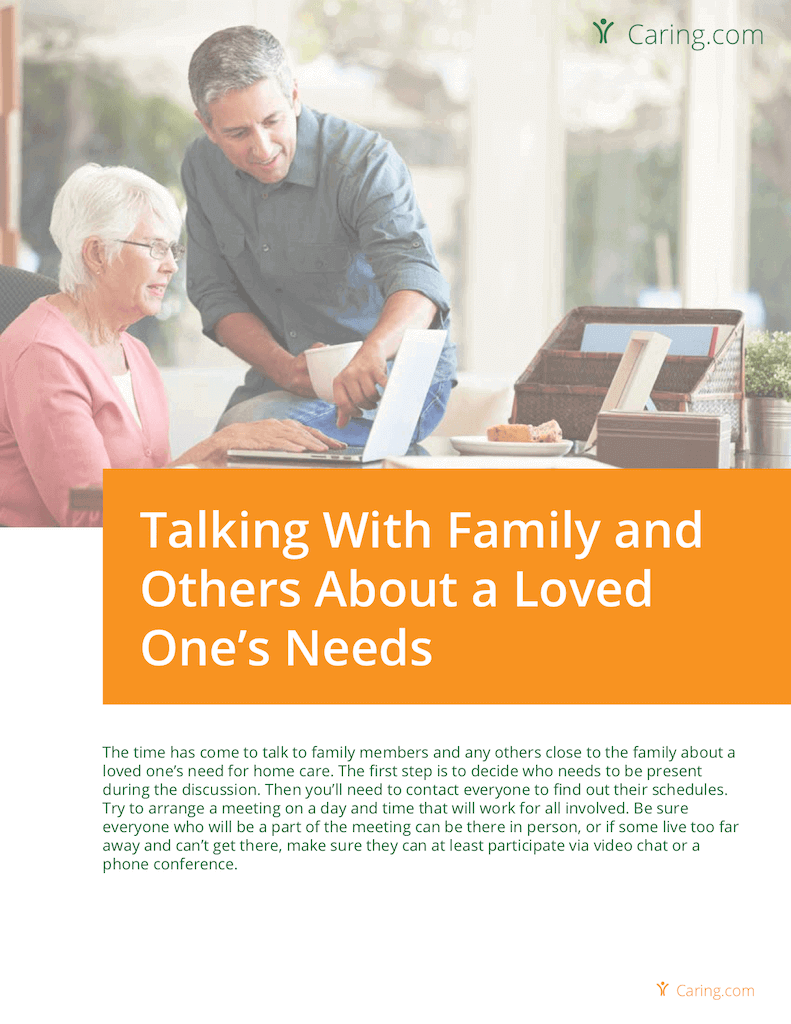 Frequently Asked Questions
How many home care agencies are there near Delafield? 

Despite its relatively small population, the Delafield region is home to six home care agencies. Overall, these agencies have a rating of 4.7 out of 5 stars based on 231 reviews, meaning that seniors are generally satisfied with the quality of care they receive. When choosing the right facility for a senior's needs, it's helpful to consider customer reviews, along with pricing, the range of services an agency provides and its availability.  
What is the difference between in-home care and home health care? 

In-home care provides non-specialized services that seniors would be able to perform themselves if functional impairment wasn't an issue. This type of care is typically provided by unlicensed personal care attendants and may include services, such as transportation for medical appointments, grocery shopping assistance, help with bathing and dressing, meal preparation and mobility assistance. Home health care is for those who need skilled nursing services. These services are generally provided by licensed or certified health care professionals. Common services include physical or occupational therapy, medication administration and certain types of complex disease management. 
What is the average cost for in-home elderly care in Delafield? 

In Delafield, seniors typically pay $6,101 per month for home care. This cost estimate is based on an hourly rate of $32 for 44 hours of care per week. If seniors need more than 9 hours of care per weekday, especially if they need evening or weekend care, the monthly rate they pay may exceed the average. Older adults may be able to save money by relying on help from friends and family or accessing free and low-cost services through nonprofit organizations, such as the local Aging and Disability Resource Center.
Assisted living homes vs. home care: how to decide? 

Lifestyle preferences and budget are two important factors to consider when deciding between assisted living and home care. Assisted living provides housing, daily meals and snacks and personal care, along with social and recreational programs to promote lifelong learning and prevent isolation. In Delafield, this option costs $5,324 per month, making it relatively affordable. Home care is for those who want to remain in the comfort and privacy of their own homes. With this care option, seniors can select their own caregivers and have greater control over their schedule and environment. It's costlier than assisted living at $6,101 per month, not including living expenses, such as food, housing and utilities. 
What is a home care assessment? 

When a senior first contacts a home care agency, the agency conducts an in-home assessment that determines their challenges, lifestyle goals and other factors, such as their social support system, whether they drive and whether they qualify for public benefits. Based on this, the agency creates a home care assessment that addresses their care needs. The assessment typically includes information on the services they need, who will provide those services and when and how many hours per week a caregiver will be at their home.