Warm weather and excellent tax breaks for seniors are two reasons why Georgia was ranked one of the top states in the country to retire. As of 2021, over 1.5 million seniors call the state home. This could be in part because seniors aged 65 and older receive a tax exclusion of $65,000 per person, and Social Security isn't taxed.
Atlanta is home to one of the top ranked hospitals in the nation and the number one hospital in the state: Emory University Hospital, which specializes in cardiac ICU, orthopedics and geriatrics. In Gainesville, Northeast Georgia Medical Center is also top ranked in Georgia for its cardiac care. For long-term care at home, seniors can choose in-home care, which offers nonclinical at-home assistance. Home health aides offer the same service with skilled nursing and medical care included. As of 2021, the cost of in-home care in Georgia was $4,290 per month.
This guide covers the cost of in-home care throughout the state and an overview of other long-term care costs. It also includes a list of resources for seniors who want to age in place.
The Cost of In-Home Care in Georgia
When it comes to the cost of in-home care, Georgia has one of the lowest rates in the region at $4,290 per month, according to Genworth's 2021 Cost of Care Survey. The national average is $4,957. South Carolina has a median cost of $4,433, and Tennessee residents pay around $4,576. Florida has one of the highest costs of neighboring states at $4,767, and Alabama has one of the lowest costs at $3,813.
In-home care costs in Georgia vary depending on the location and the needs of the individual. Rome and Augusta have similar costs at $4,576 and $4,528 per month, respectively, while seniors in Brunswick pay slightly less at $4,481. Atlanta and Valdosta residents can expect to pay more than the state average at $4,290 and $4,195, respectively. Along the east coast in Savannah, seniors pay approximately $4,767 per month.
In-home care is ideal for seniors who own their own home and prefer to age in place for as long as possible. This option for long-term care costs seniors in Georgia around $4,290 per month. For home care that includes skilled nursing, the cost goes up to around $4,385. Adult day health care, at $1,300, is the least expensive option for those who only need help during the day, and an assisted living community costs around $3,535. Nursing homes are the most expensive type of long-term care, with a semiprivate room costing around $7,011 per month.
Does Medicaid Cover Home Care in Georgia?
Georgia Medicaid doesn't cover the cost of in-home care directly, but there are three separate waiver programs that help seniors pay for specific services regarding in-home care. These waivers include the Elderly and Disabled Waiver program, the Service Options Using Resources in a Community and the Non-Medicaid Home and Community-Based Services program.
Home Care Waiver Programs in Georgia
Georgia home and community-based waiver programs help seniors and those with disabilities live in their homes or within the community instead of being admitted into a nursing home. These waivers pay for a variety of services from meals to transportation.
How to Know if You're Eligible for Medicaid in Georgia
Eligibility for Medicaid in Georgia requires seniors to meet income and asset limits set by the state. This limit is based on 300% of the federal poverty level. For individuals, the income limit is $30,276 per year with assets totaling no more than $2,000. In a two-person household, the income limit is $60,552 or $30,276 per person with assets of $3,000.
2022 Medicaid Income Limits for Seniors in Georgia
Income Limits*
Asset Limits
$3,000 
$137,400 for non-applicant
*per year

Georgia applicants must also meet the following eligibility requirements.
Must be 65 years of age or older
Citizen of Georgia
Permanent resident of the United States or legal alien
Require nursing home care
How to Apply for Medicaid in Georgia
To apply for Medicaid in Georgia, submit an application online through the Georgia Gateway or over the phone at (877) 423-4746. Applications may be submitted in person through a county Division of Family Children Services Office (DFSC). Paper applications can be mailed after downloading the appropriate forms and signing and mailing them to Georgia Families, PO Box 1096, Atlanta, GA 30303-9997. They may also be faxed to (866) 482-3676.
What Information You Will Need
When applying for state Medicaid, there are documents and information you need to have on hand. This includes:
A Social Security number for each applicant and a copy of their birth certificates.
A government-issued photo ID is needed and proof of citizenship.
Paycheck stubs and other proof of income for the past four weeks for income verification
Awards letters from Social Security, veterans' benefits, retirements, pensions, unemployment and other sources.
Documents with information about assets and current insurance policies.
How to Get Help Applying for Medicaid
Seniors who need assistance applying for Medicaid can get assistance through several organizations and agencies. These agencies may also offer answers to the most popular insurance questions and provide information on other insurance options.
Does Medicare Cover In-Home Care in Georgia?
In general, Medicare does not cover the cost of non-medical home care. That being said, there are situations in which Medicare provides some coverage for medical home care, referred to as "Home Healthcare." There are several eligibility restrictions for coverage, including that individuals must be homebound and have a referral from their doctor specifically for home healthcare services.
Below is an overview of some of the skilled medical professionals whose in-home services are typically covered by Medicare – for more in-depth information, refer to our Guide to Home Healthcare.
Physical Therapists: Physical therapy is used to help patients recover from injuries (broken bones, knee injuries, etc.), treat ongoing conditions such as arthritis, and assist in recovery from surgeries and procedures such as a knee or hip replacement.
Visiting Nurses: Licensed nurses can provide a number of medical services for those who don't need to stay in the hospital, but do need regular medical services such as wound care, changing feeding tubes, etc.
Occupational Therapists: Occupational therapists help seniors regain or maintain the ability to accomplish normal, daily tasks, such as bathing, dressing, eating, and other daily activities.
Speech Therapists: Speech therapists help seniors who are struggling to adequately communicate due to a stroke, dementia, or any other cause regain the ability to functionally communicate using a variety of means. Additionally, speech therapists help to keep seniors independent by modifying diets, teaching special techniques to swallow safely, and retraining associated muscles.
As mentioned above, in-home care is distinctly different from home healthcare. But, there can be some overlap in services between the two types of care. So, while Medicare doesn't cover non-medical in-home care, there are in-home care services that may be covered in special circumstances when they're provided in conjunction with home healthcare (such as an occupational therapist helping with eating or dressing)
Other Financial Assistance Options for In-Home Care in Georgia
While the above programs help many people finance in-home care, they will not cover all costs for everyone. There are other ways to pay for in-home care, including out-of-pocket arrangements with siblings, annuities, reverse mortgages, private insurance and more. Read Caring.com's Guide to In-Home Care Costs to learn more about these alternative payment options.
Free and Low-Cost Resources for Seniors in Georgia
Seniors who prefer to remain in their homes and receive care have access to programs, services and organizations that work to improve their overall quality of life. These programs address everything from hunger to saving money on heating and cooling costs.
COVID-19 Rules for In-Home Care Providers in Georgia
The state government requires that all in-home care workers be fully vaccinated against SARS-CoV-2, the virus that causes COVID-19. These rules apply to both in-home care and home health care workers. These requirements took effect in March of 2022 but are subject to change at any time, so it's important to check regularly for changes in procedures.
For more information on current policies regarding health and safety and COVID-19, contact a local Area Agency on Aging (AAA). Trained professional caseworkers with the AAA can answer any questions and provide help with concerns about vaccinations and PPE usage.
In-Home Care Laws and Regulations in Georgia
The Healthcare Facility Regulation Division of the Department of Community Health is responsible for licensing private home care providers in the state of Georgia. The division also makes periodic inspections of each licensee, which may involve conducting interviews with the provider's clients to verify compliance with state regulations. The following table provides an overview of the rules and regulations that apply to home care providers of personal care and companion/sitter services in Georgia.
In-Home Care Laws and Regulations in Georgia
Scope of Care
Private home care providers and the personal care assistants they employ may provide a range of personal care and companion/sitter services to clients. Personal care tasks may include assistance with activities of daily living, such as bathing, grooming, dental care, transfers and ambulation, dressing and eating. They may also cover meal planning and preparation, shopping, light housekeeping and home management chores, including bill paying. Companion/sitter tasks include companionship, transportation and escort assistance and household chores related to safety and cleanliness.
Care Plan Requirements
Within seven days of an initial visit to a client's home, a home care provider must furnish the individual and/or their representative with a dated service agreement detailing a plan for their care. It must describe the functional limitations of the client, the specific care services they require, along with the frequency, duration and cost of the services to be provided. A supervisor must visit the client at least every 92 days to reevaluate their care needs and make any necessary updates to the service agreement.
Medication Management Requirements
PCAs may remind clients about taking medications and/or provide assistance with self-administration.
Staff Screening Requirements
As of 2021, all staff members of PHCP agencies must submit to a background check that includes a review of the Nurse Aide registry. PCA workers must also pass initial and annual TB screening tests.
Staff Training Requirements
PCAs who work directly with clients providing personal care and companion/sitter services must complete nurse aide training and successfully pass the corresponding exam or have already completed a personal care credentialing program. Alternatively, they may enroll in a 40-hour training program through their employer, and complete 20 hours before serving clients and the remainder within six months. Completion of a comprehensive employer-provided orientation, basic first aid and CPR training, as well as eight hours of yearly continuing education are also required.
Reporting Abuse
Concerns about abuse, exploitation or neglect of an elderly Georgian who lives in their own home should be reported to the state's Adult Protective Services agency by calling 866-552-4464 or
filing a report online
.
Frequently Asked Questions
Are There Transportation Assistance Programs in Georgia?
There are a variety of transportation assistance options available to Georgia seniors. Depending on their location, there may be door-to-door or paratransit services, city transportation service vouchers or volunteer driver programs. Residents may call ElderCare at 800-677-1116 to learn what is available in their area.
How Much Does In-Home Care Cost in Georgia?
In-home care services provided by a homemaker cost an average of $3,813 per month in Georgia. This figure from the Genworth Cost of Care Survey 2019 shows that the cost is comparable with surrounding states, and less than $100 below the average for home health care that includes skilled nursing services.
Does Georgia Medicaid Pay for In-Home Care?
Georgia Medicaid offers two waiver programs to help seniors pay for care services received in their own home. Commonly called the SOURCE and CCSP waivers, these programs have participation limits, and depending on availability, applicants may be placed on a waiting list before being enrolled.
What Does It Mean to Age in Place?
Aging in place is the ability to remain living in one's own home, safely and independently. It may require making modifications to improve the home's safety and accessibility, using assistive technologies and arranging for outside assistance with daily living activities and household tasks.
Does Medicare Pay for In-Home Care?
Medicare covers certain types of in-home care for beneficiaries who are under a doctor's care and recovering from injuries, illnesses, surgeries or hospital stays. The program pays for short-term home health aide services, intermittent skilled nursing visits or a prescribed number of physical or occupational therapy sessions.
Does Georgia Pay For In-Home Care?
Can Family Members Get Paid for Caregiving in Georgia?
Family members can get paid to serve as caregivers for seniors in Georgia through the Structured Family Caregiving (SFC) program. This program is a part of the Elderly and Disabled Waiver Program, which is funded by state Medicaid and serves as a way to help seniors stay in their own communities as long as possible. Pay is provided on a weekly basis and is deposited directly into the caregiver's account. All payments received under SFC are tax-free. Read More
How to Find an In-Home Care Provider in Georgia
Whether you are looking for yourself or a loved one, finding a quality home care provider can be a stressful process. When you hire an in-home care aide you're placing a lot of trust in the hands of the person by inviting them into your home, so you'll want to be diligent in your search. At Caring.com, we're here to help – we've created a helpful checklist below that can help guide you through the process of both determining your needs and finding a home care agency that will provide the best care possible.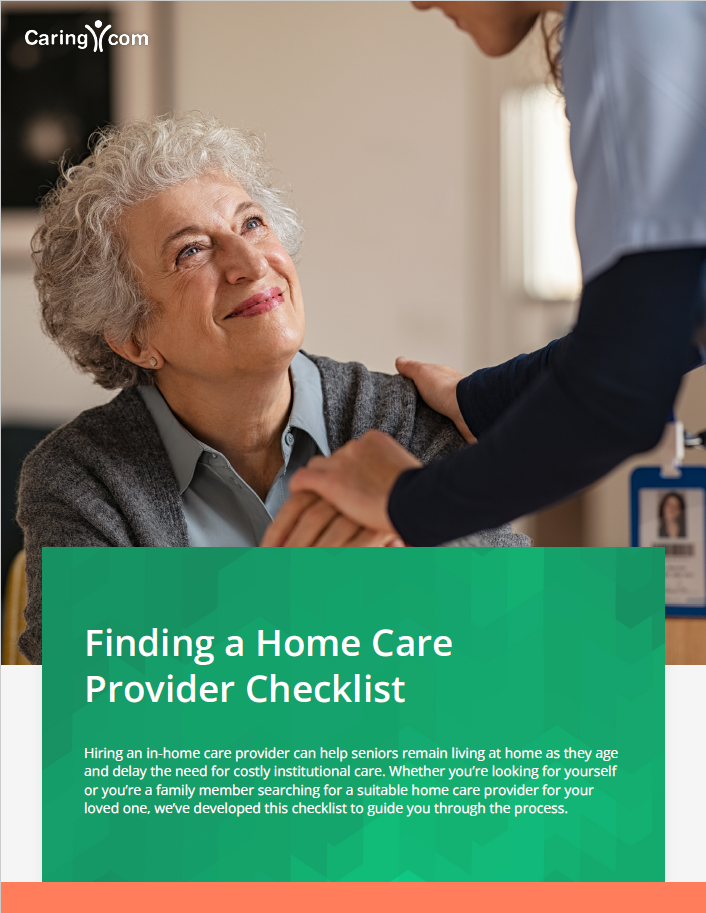 Home Care Services in Georgia (227)