In-Home Care in Pennsylvania
With 18.7% of Pennsylvania's 13-million-plus population composed of people aged 65 and older, more than 2.4 million seniors call the Keystone State home. The overall cost of living is slightly lower than the national average and the lack of state income tax on retirement income can help seniors stretch funds further. The sales tax rate is also lower than average, as are crime rates. Pennsylvania has several high-performing hospitals, including the nationally-ranked Hospitals of Pennsylvania University and Penn Presbyterian Medical Center, UPMC Presbyterian Shadyside and Lancaster General Hospital.
Seniors have varied care choices in Pennsylvania, including in-home care and home health care. In-home care refers to non-clinical care provided by an aide, whereas home health care is the provision of medical care from a nurse, rehabilitation therapist or other health care professional. In Pennsylvania, in-home care and home health care cost an average of $4,957 per month.
This guide provides an overview of in-home care in Pennsylvania. It compares the costs of long-term care and in-home care throughout Pennsylvania and in nearby states. You'll also find a section on financial assistance, including Medicaid and Medicare, and a list of affordable resources for those aging at home.

The Cost of In-Home Care in Pennsylvania
According to Genworth's 2021 Cost of Care Survey, in-home care in Pennsylvania costs an average of $4,957 per month. Neighboring Ohio shares the same median cost, and both states are on par with the U.S. average. Individuals receiving in-home care in West Virginia typically pay around $3,527 per month. Average fees increase to $5,148 in Maryland. Rates rise further in New Jersey and New York, where in-home care costs $5,529 and $5,339, respectively.
Throughout Pennsylvania, the costs of in-home care vary widely. Pittsburgh and Lancaster share the same average monthly cost of $5,339, representing the state's highest rates for in-home care. At $5,329 per month, average rates are similar in Philadelphia. Prices drop slightly in Gettysburg, where seniors can expect to pay $5,291 each month. There are further savings in the state capital of Harrisburg and Scranton, where in-home care costs $4,767 and $4,576 per month respectively. At $3,813 per month, Johnstown has some of the state's most affordable costs for in-home care.

In Pennsylvania, in-home care is more affordable than nursing home care, with average monthly rates of $4,957 and $10,403, respectively. Home health care costs the same as in-home care. At $4,100 per month, assisted living is a little more affordable than in-home care. However, seniors must live in a residential community rather than at home. In common with most states, adult day health care is the most affordable long-term care option in Pennsylvania, with an average cost of $1,625 per month.
Does Medicaid Cover Home Care in Pennsylvania?
Traditional Pennsylvania Medicaid, known as Medical Assistance, doesn't cover non-medical home care. However, there is a Medicaid waiver program that pays for supportive services to enable older adults to remain at home. This program is known as the Community HealthChoices (CHC) Waiver.
Home Care Waiver Programs in Pennsylvania
Community HealthChoices Waiver
The Community HealthChoices Waiver replaced or absorbed the previous Aging Waiver, Attendant Care Program and Independence Waiver. The managed care program provides supportive services to enable eligible seniors to receive care at home rather than in an institutional setting. Care is personalized to meet individual needs and services may include:
Assistance with activities of daily living
Help with personal care
Home modifications
Assistive technology
Respite care
Nursing
Rehabilitation therapies
Counseling
Nutritional consultation
Home-delivered meals
Transportation
Seniors can choose their own managed care organization (MCO) for the provision of services and, in some situations, family members may be paid to provide care.
To qualify, individuals must be aged 60 or above and need a nursing home level of care. They must also be permanent residents of Pennsylvania and be either a U.S. citizen or qualifying non-citizen. There are income and asset limits too. An applicant's annual income mustn't exceed $30,276. Single seniors are subject to an asset limit of $2,000, while for joint-applicant couples the asset cap is doubled to $4,000. For couples where only one spouse applies for waiver services, the claimant spouse has an asset limit of $2,000 and the non-applicant spouse has an enhanced limit of $137,400.
You can contact the Health Care Coverage Consumer Service Center at 866-550-4355 to apply for waiver services.
How to Know if You're Eligible for Medicaid in Pennsylvania
To be eligible for Medical Assistance, applicants must satisfy income and asset requirements. For single claimants, the maximum permitted income is $10,357.20 per year. Applicants from two-person households have an annual income limit of $15,531.60. Asset caps are $2,000 and $3,000 for those from one- and two-person households, respectively.
2022 Medicaid Income Limits for Seniors in Pennsylvania
Income Limits*
Asset Limits
Single Person
$10,357.20
$2,000
Two-Person Household
$15,531.60
$3,000
*Per year
Further eligibility requirements apply for Pennsylvania Medicaid. Applicants must:
Be a U.S. citizen, permanent resident or legal alien
Live in Pennsylvania on a permanent basis
How to Apply for Medicaid in Pennsylvania
Seniors can conveniently apply for Pennsylvania Medicaid online via the COMPASS portal. You can also download an application form and return it by post or hand it to your local County Assistance Office (CAO). If you prefer, you can also visit a CAO to complete an in-person application. Alternatively, call the Consumer Service Center for Health Care Coverage at (866) 550-4355 to apply over the telephone.
What Information You Will Need
Medicaid has strict eligibility requirements and applicants must provide detailed information in support of their applications. You'll need to include information about all income and countable assets. For your convenience, gather pay stubs, tax returns, recent bank statements, benefit award letters, health insurance policies and details of assets to hand. You'll also need your Social Security number, and may be asked to provide proof of identity, citizenship status and in-state residency.
How to Get Help Applying for Medicaid
If you need assistance completing an application form or wish to check eligibility or claim statuses, Pennsylvania has several resources that can help. You can also obtain information about services and advice related to service provision. Contact these resources for assistance:
Does Medicare Cover In-Home Care in Pennsylvania?
In general, Medicare does not cover the cost of non-medical home care. That being said, there are situations in which Medicare provides some coverage for medical home care, referred to as "Home Healthcare." There are several eligibility restrictions for coverage, including that individuals must be homebound and have a referral from their doctor specifically for home healthcare services.
Below is an overview of some of the skilled medical professionals whose in-home services are typically covered by Medicare – for more in-depth information, refer to our Guide to Home Healthcare.
Physical Therapists: Physical therapy is used to help patients recover from injuries (broken bones, knee injuries, etc.), treat ongoing conditions such as arthritis, and assist in recovery from surgeries and procedures such as a knee or hip replacement.
Visiting Nurses: Licensed nurses can provide a number of medical services for those who don't need to stay in the hospital, but do need regular medical services such as wound care, changing feeding tubes, etc.
Occupational Therapists: Occupational therapists help seniors regain or maintain the ability to accomplish normal, daily tasks, such as bathing, dressing, eating, and other daily activities.
Speech Therapists: Speech therapists help seniors who are struggling to adequately communicate due to a stroke, dementia, or any other cause regain the ability to functionally communicate using a variety of means. Additionally, speech therapists help to keep seniors independent by modifying diets, teaching special techniques to swallow safely, and retraining associated muscles.
As mentioned above, in-home care is distinctly different from home healthcare. But, there can be some overlap in services between the two types of care. So, while Medicare doesn't cover non-medical in-home care, there are in-home care services that may be covered in special circumstances when they're provided in conjunction with home healthcare (such as an occupational therapist helping with eating or dressing)
Other Financial Assistance Options for In-Home Care in Pennsylvania
While the above programs help many people finance in-home care, they will not cover all costs for everyone. There are other ways to pay for in-home care, including out-of-pocket arrangements with siblings, annuities, reverse mortgages, private insurance and more. Read Caring.com's Guide to In-Home Care Costs to learn more about these alternative payment options.
Free and Low-Cost Resources for Seniors in Pennsylvania
Although aging at home provides diverse benefits for older adults, living alone can present challenges for seniors. Several organizations in Pennsylvania offer free or affordable programs and services to help older adults maintain a good quality of life and overcome challenges associated with aging in place.
COVID-19 Rules for In-Home Care Providers in Pennsylvania
Unless exempt, all workers who provide in-home care in the United States must be vaccinated against Sars-CoV-2, the virus responsible for the worldwide COVID-19 pandemic. Vaccine mandates cover both home care aides and home health care workers. Regulations are current as of April 2022, but new rules may be introduced by national or state governments at any time. Your local Area Agency on Aging can provide information about updated requirements. Service providers may implement further requirements for employees, such as more stringent vaccination requirements and stricter use of PPE. Contact your service provider agency if you wish to discuss any concerns or have any questions about agency practices.
In-Home Care Laws and Regulations in Pennsylvania
The Pennsylvania Department of Health is responsible for regulating home care providers in the state. The DOH conducts on-site compliance checks and interviews with staff and patients to ensure continued compliance. The table below gives an overview of the rules and regulations in the State of Pennsylvania.

In-Home Care Laws and Regulations in Pennsylvania
Scope of Care
Home care agencies may provide assistance with activities of daily living, personal care, homemaking, companionship, respite, and any other non-skilled services that a patient may need. 
Care Plan Requirements
Prior to administering service, home care agencies must provide patients with information regarding the services they will receive, the identity of the person providing care, all costs and fees associated with care, and the hours when care will be administered. Patients have a right to be involved in the care planning process.
Medication Management Requirements
Home care providers may assist patients with self-administered medications. 
Staff Screening Requirements
All staff must undergo a criminal background check and child abuse screening. Those who will have direct contact with patients must be screened for tuberculosis. 
Staff Training Requirements
Care providers must either have a nursing license or pass a competency exam. Those who do not have a nursing license must also complete the Department of Health nurse aide certification or a training program approved by the state. Administrators should review staff competency at least once per year. 
Medicaid Coverage
The Community HealthChoices and LIFE waiver programs will cover some or all of the cost of in-home care for those who qualify. 
Reporting Abuse
Abuse should be reported to the office of the long-term care ombudsman at 717-783-8975 or LTC-ombudsman@pa.gov. 
How to Find an In-Home Care Provider in Pennsylvania
Whether you are looking for yourself or a loved one, finding a quality home care provider can be a stressful process. When you hire an in-home care aide you're placing a lot of trust in the hands of the person by inviting them into your home, so you'll want to be diligent in your search. At Caring.com, we're here to help – we've created a helpful checklist below that can help guide you through the process of both determining your needs and finding a home care agency that will provide the best care possible.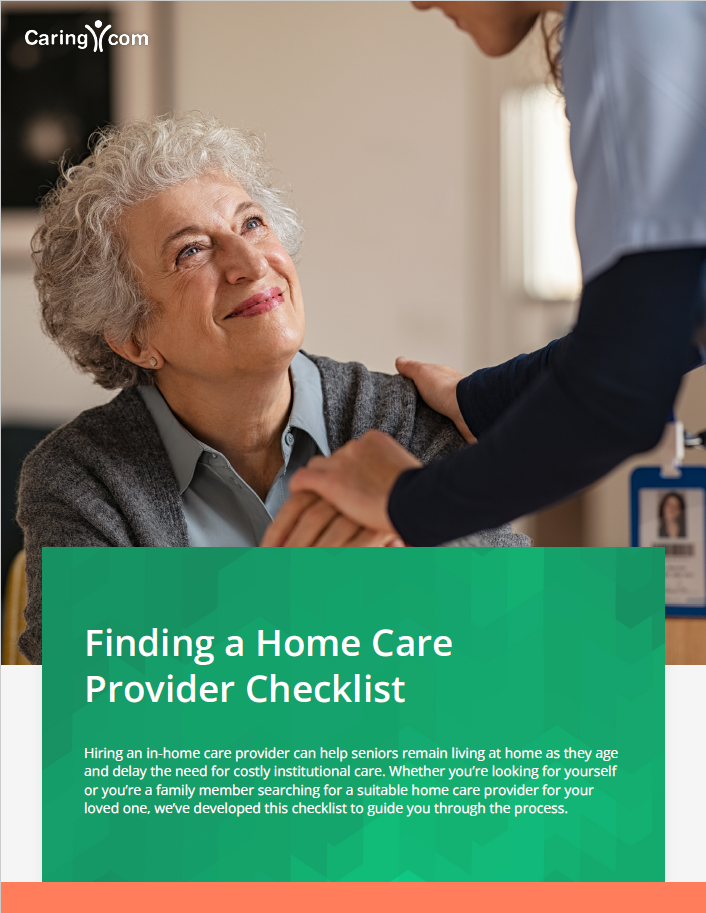 Find Home Care Agencies Near You
To find quality home care providers near you, simply input the zip code or city where you would like to start your search. We have an extensive directory of home care agencies all across the nation that includes in-depth information about each provider and hundreds of thousands of reviews from seniors and their loved ones.
Home Care Services in Pennsylvania (1139)