The 10 Best In-Home Care Services in Jenkintown, PA for 2023
Jenkintown, Pennsylvania is a small community of 4,433 residents in Montgomery County, where 18.2% of the seniors are aged 65 and older. It scored a 7.3/10 on the Best Places Comfort Index, making it one of Pennsylvania's most comfortable places to live. There are 62 hospitals within the community's proximity, including the Einstein Elkins Park Hospital. Seniors in Jenkintown pay $4,767 a month for home care, according to the Genworth Cost of Care Survey 2020. Home care providers assist seniors who need help with the activities of daily living such as personal care. Home health care is similar but better for seniors who also need medical help.
Below we've compiled a comprehensive directory of every home care provider in the Jenkintown area — complete with services offered and reviews from families who've actually used the service. In addition to our in-depth provider listings, we've compiled resources to help seniors and their families to access all the tools they need to age in place safely and gracefully.

Paying for Home Care in Jenkintown, PA
The Cost of Home Care in Hampton, VA
The cost of in-home care in Jenkintown, according to the Genworth Cost of Care Survey 2020, is about $200 a month more than the Pennsylvania average of $4,576 a month and approximately $300 more expensive than the national average of $4,481 a month. In Pennsylvania Dutch Country, Lancaster is $4,576 a month, the same as the state average. Meanwhile, Reading averages $4,481 a month. Lebanon costs $4,385 a month, while Chambersburg has one of the lower costs in the region at $4,267.

The Cost of Home Care vs. Other Senior Care Options in Jenkintown, PA
Seniors can age in place in Jenkintown, but they do have other care options. Home health care, like in-home care but includes medical support, also averages $4,767 a month. Assisted living averages $5,550 a month, while adult day care is the least expensive option at $1,842 a month. The option with the highest cost remains a semiprivate room in a nursing facility, averaging $11,285 a month.

Nursing Home Care (Semiprivate room)
Note: Data for Jenkintown was unavailable, so data for the nearest city, Philadelphia, was used instead.
Financial Assistance for Home Care in Jenkintown, PA
Given the high cost of in-home care, many people use one or more forms of financial assistance to cover the expenses. Below, we explain some of the most common sources of financial help for paying for in-home care. If none of these options are available to you, you can reach out to your Area Agency on Aging or Aging and Disability Resource Center to learn about local resources.

Free & Low-Cost Home Care Resources in Jenkintown, PA
When seniors age in place, it's often essential to find resources and information that help save money and improve their independence and security. Some of the resources listed below offer free legal help. Some operate senior centers that provide a variety of programs and activities. Others can help low-income seniors pay for the cost of in-home care.

Determining Your Loved One's Need for In-Home Care
Aging can be a difficult process, and loved ones may not always ask for help – often times it's up to their family to evaluate their need for help around the house. While no two situations are exactly alike, this checklist can help you and your loved ones determine when it's time to start the search for a home care provider.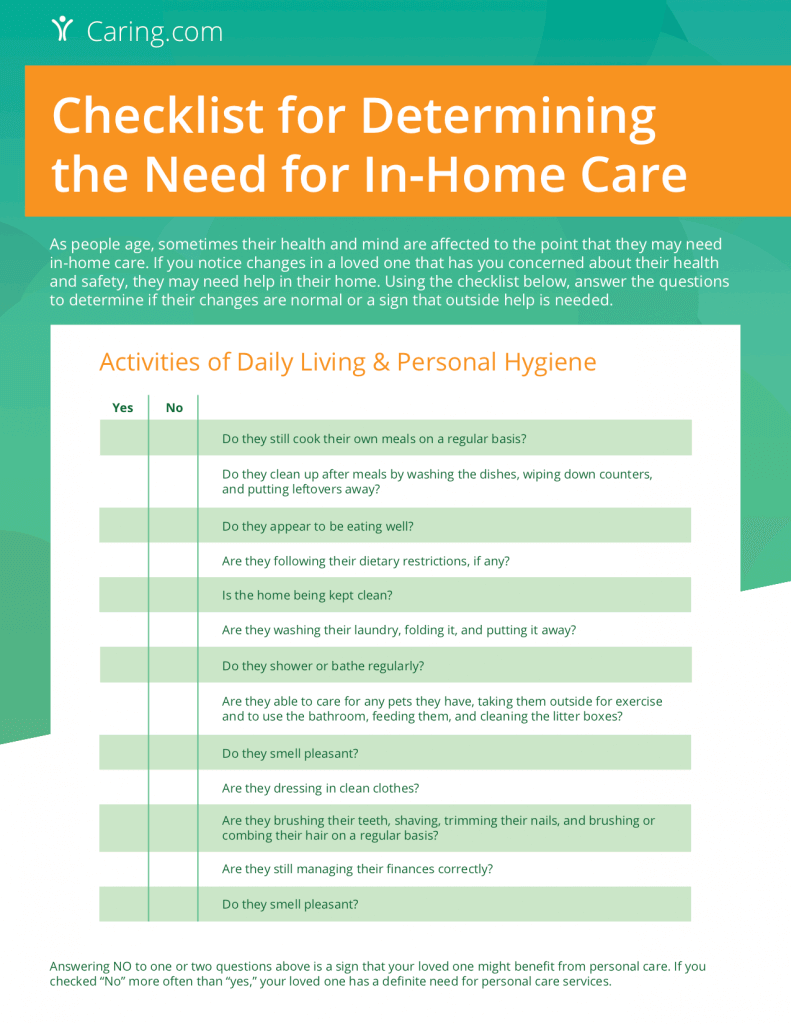 Guidelines for Talking About In-Home Care
If you've determined that your loved one needs the assistance of a care provider in their home, it may be time for a difficult conversation. Handled correctly, however, this process can bring a family together and ensure that everyone's concerns are addressed. Use this PDF as a starting point to help the conversation stay as positive and productive as possible.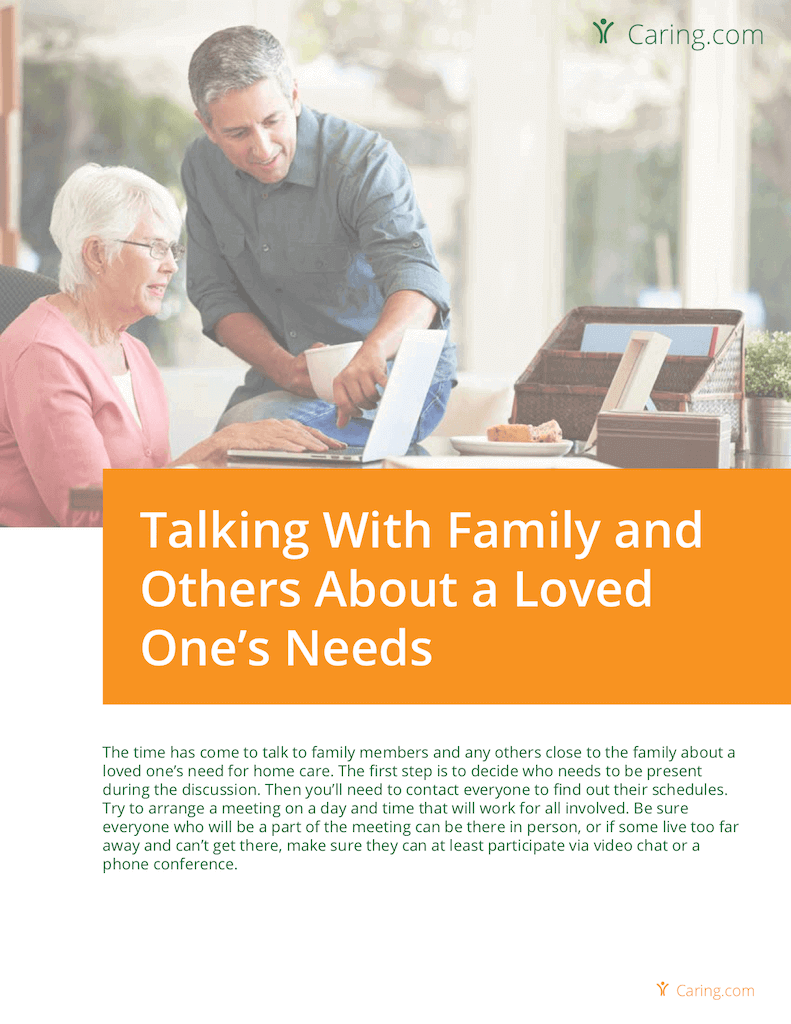 Frequently Asked Questions
What types of services can a home care agency in Jenkintown, PA, provide?

In-home care provides a variety of services. First, however, it's essential to determine what services a senior needs and how often they need them. Some seniors may need assistance with the activities of daily living, such as grooming, bathing and cooking. Other seniors may need a few hours of companionship each week. Older residents may need someone to do light housekeeping like laundry, running errands, or providing transportation. In-home caregivers can also help provide respite care for unpaid caregivers. 

What is the difference between in-home care and home health care?

In-home care and home health care provide similar services, but home health care includes assistance with medical issues such as medication management, psychotherapy, dressing or cleaning wounds and administering IV medicines if needed. Typically medical professionals work in-home health care. In-home care providers help with the activities of daily living that involve personal, nonmedical care like cooking, bathing, running errands or doing laundry,

What is the average cost for in-home elderly care in Jenkintown?

Jenkintown averages $4,767 a month for in-home care, according to the Genworth Cost of Care Survey 2020. Genworth bases these costs on an average of 44 hours a week at $25 an hour. Seniors may pay more or less for in-home care services depending upon how many hours a week they need assistance.

Assisted living homes vs. home care: How to decide?

When a senior and caregivers decide if the senior can age in place independently and safely or if they need the extra help available in an assisted living facility, several factors need to be considered. The age and health of the senior is always the most important factor. Do they live alone, or do they have a spouse or a companion? What about the budget? Assisted living in Jenkintown is approximately $800 a month more expensive than in-home care. Can the senior afford this difference? Assisted living may still be the best option if the senior is healthy but is lonely and isolated.
What is in-home respite care?

Several organizations in the Jenkintown area and across the state provide in-home respite care aimed at helping unpaid caregivers. Local Area Agencies on Aging or Montgomery County Senior Services offer programs where in-home respite care can be provided either free or for a low cost for a few hours each week. This help will enable unpaid caregivers to attend medical appointments, participate in important meetings or even have a break. Also, home care agencies can offer in-home respite care.