With around 17.7% of Michigan's 10-million-plus population made up of people aged 65 and above, the Great Lakes State is home to more than 1.7 million seniors. The overall cost of living is lower than the nationwide average, and sales and income tax rates are slightly lower than national averages. The University of Michigan Health Michigan Medicine ranked number 11 on U.S. News & World Report's Best Hospitals Honor Roll 2021–2022. The hospital ranks in 13 adult specialties, including geriatrics, diabetes, cancer and neurology. Other high-performing hospitals in Michigan include the Beaumont Hospitals of Royal Oak, Troy and Grosse Pointe.
Michigan seniors appreciate the various options for senior care, including in-home care and home health care. In-home care is non-medical care provided by an aide, whereas home health care involves clinical care from a licensed nurse or other healthcare professional. In-home care and home healthcare both cost an average of $5,529 per month in Michigan.
This guide compares the costs of Michigan's long-term care options and costs of in-home care throughout the state and in nearby states. You'll find information about financial assistance, including Medicaid and Medicare, and there's a table of resources to support seniors aging in place.
The Cost of In-Home Care in Michigan
According to Genworth's 2021 Cost of Care Survey, the median monthly cost of in-home care in Michigan is $5,529. Wisconsin shares the same average cost. Seniors in both states pay roughly $572 more than the national average of $4,957. Those receiving in-home care in Ohio can expect to pay the same as the national average, with monthly costs of around $4,957. South of Michigan, in-home care costs around $4,767 in Indiana and $5,339 in Illinois.
Costing on average $6,340 per month, lakeside Muskegon has some of the state's highest rates for in-home care. Approximately 45 miles southeast in Grand Rapids, average prices drop to $5,529. With an average monthly cost of $4,195, Saginaw's seniors typically enjoy the state's lowest rates. Prices increase to $4,957 to the north in Bay City. Moving southeast to Michigan's largest city, in-home care runs around $5,720 per month. Fees are almost $100 more affordable in the state capital of Lansing, where the same type of care costs around $5,625 per month. At $6,101 median per month, Ann Arbor is among the costliest cities for in-home care.
In Michigan, in-home care is approximately $3,566 per month cheaper than nursing care, with average costs of $5,529 and $9,095 respectively. Home health care shares the average cost as in-home care. At around $4,250 per month, assisted living is a little more affordable, although seniors can't remain in their own homes. As in most states, adult day health care is the least expensive long-term care option, with an average monthly cost of $1,733.
Does Medicaid Cover Home Care in Michigan?
The traditional Michigan Medicaid program directly covers in-home care through the Home Help Program.
Assistance is available for those who qualify for Medicaid and need hands-on help with at least one activity of daily living. An adult services worker will visit you in your home to assess your eligibility and needs.
Services are tailored to individual requirements and may include:
Assistance bathing, grooming, dressing, toileting, transferring and eating
Medication administration
Complex care, such as respiratory treatment, catheter changes, injections and wound care
Light housework and laundry
Meal preparation
The Home Help Program does not cover supervision or 24/7 monitoring, transportation, heavy housework, home repairs or yard work.
While Medicaid covers the costs of relevant services, recipients must source and hire their own service providers. Adult relatives, except a spouse, and friends may receive payment for services, but they must have passed a criminal background check and be registered with the Community Health Automated Medicaid Processing System (CHAMPS).
Ineligible seniors may alternatively qualify for assistance under a Medicaid waiver program. Funding is available via the MI CHOICE Waiver Program for support services to help seniors remain at home rather than moving into an institutional care facility.
Home Care Waiver Programs in Michigan
MI CHOICE Waiver Program
The MI CHOICE Waiver Program is designed to delay admission into institutional care settings through the provision of supportive services in a person's home or in the community. In addition to basic Medicaid services, such as home health care, medical supplies, rehabilitation therapies and personal care, personalized waiver services may include:
Community living supports
Home-delivered meals
Specialized medical supplies and equipment
Transportation
Emergency response systems
Accessibility adaptations
Adult day healthcare
Homemaking and chores
Respite care
Services are provided by approved agencies as chosen by seniors. Family members, except a spouse, can be paid to provide certain services.
To qualify, seniors must be at least 65 years old or disabled and require a nursing home level of care. There are income and asset limits that also apply. An applicant's yearly income must be lower than $30,276. Single claimants have an asset cap of $2,000. For joint-applicant couples, the increased asset limit is $3,000. For two-person households where only one person applies for Medicaid, the applicant's asset limit is $2,000 while their spouse has an enhanced limit of $137,400.
Individuals should contact one of Michigan's 22 waiver agencies to enroll in the program, and they must have a telephone assessment to evaluate eligibility and waiting list placement.
How to Know if You're Eligible for Medicaid in Michigan
Applicants must meet income and asset criteria to be eligible for Michigan Medicaid. For single applicants, the annual income limit is $13,596. Those applying from a two-person household have a higher limit of $18,312. Assets are capped at $2,000 for single applicants and $3,000 for seniors who live with another person.
2022 Medicaid Income Limits for Seniors in Michigan
Income Limits*
Asset Limits
*Per year
Additional eligibility requirements apply for Medicaid in Michigan. Applicants must:
Be permanent residents of Michigan
Be a U.S. citizen or legal non-citizen
How to Apply for Medicaid in Michigan
Individuals can conveniently submit regular Medicaid applications online via the MI Bridges portal. Alternatively, you can download form DHC-1426, complete and mail to:
Michigan Department of Health and Human Services
Health Insurance Affordability Program
PO Box 8123
Royal Oak, MI 48068-9985
What Information You Will Need
When you complete a Medicaid application, you'll need to include full details about your income and any assets. You'll probably find it helpful to gather your bank statements, benefit award letters, pay stubs, tax returns, details about assets and any insurance policies before filling in the application. You'll also need to provide your Social Security number, and may be asked to show proof of identity, local residency and citizenship status.
How to Get Help Applying for Medicaid
If you want to check whether you're eligible for Michigan Medicaid, update your personal details, get help completing an application form or check the status of pending claims, there are several resources to help you. You can also obtain detailed information about services included in Medicaid programs. Contact the following resources for assistance:
Does Medicare Cover In-Home Care in Michigan?
In general, Medicare does not cover the cost of non-medical home care. That being said, there are situations in which Medicare provides some coverage for medical home care, referred to as "Home Healthcare." There are several eligibility restrictions for coverage, including that individuals must be homebound and have a referral from their doctor specifically for home healthcare services.
Below is an overview of some of the skilled medical professionals whose in-home services are typically covered by Medicare – for more in-depth information, refer to our Guide to Home Healthcare.
Physical Therapists: Physical therapy is used to help patients recover from injuries (broken bones, knee injuries, etc.), treat ongoing conditions such as arthritis, and assist in recovery from surgeries and procedures such as a knee or hip replacement.
Visiting Nurses: Licensed nurses can provide a number of medical services for those who don't need to stay in the hospital, but do need regular medical services such as wound care, changing feeding tubes, etc.
Occupational Therapists: Occupational therapists help seniors regain or maintain the ability to accomplish normal, daily tasks, such as bathing, dressing, eating, and other daily activities.
Speech Therapists: Speech therapists help seniors who are struggling to adequately communicate due to a stroke, dementia, or any other cause regain the ability to functionally communicate using a variety of means. Additionally, speech therapists help to keep seniors independent by modifying diets, teaching special techniques to swallow safely, and retraining associated muscles.
As mentioned above, in-home care is distinctly different from home healthcare. But, there can be some overlap in services between the two types of care. So, while Medicare doesn't cover non-medical in-home care, there are in-home care services that may be covered in special circumstances when they're provided in conjunction with home healthcare (such as an occupational therapist helping with eating or dressing)
Other Financial Assistance Options for In-Home Care in Michigan
While the above programs help many people finance in-home care, they will not cover all costs for everyone. There are other ways to pay for in-home care, including out-of-pocket arrangements with siblings, annuities, reverse mortgages, private insurance and more. Read Caring.com's Guide to In-Home Care Costs to learn more about these alternative payment options.
Free and Low-Cost Resources for Seniors in Michigan
While aging in place provides many benefits for seniors, such as being in close contact with friends and family and living in a familiar environment, elders may encounter day-to-day challenges when living alone. They may have difficulties completing household tasks and performing everyday personal care. Meal preparation may be difficult, seniors may have issues accessing transportation and older adults may not have the necessary funds for home maintenance or adaptations. Several organizations in Michigan offer free and low-cost services to help seniors age comfortably and safely in place.
COVID-19 Rules for In-Home Care Providers in Michigan
Unless exempt, all home care workers throughout the United States must be vaccinated against SARS-CoV-2, the virus that caused the COVID-19 pandemic. Vaccination requirements extend to both home healthcare professionals and in-home aides. Although regulations are up-to-date as at April 2022, new rules may be implemented at any time by either the national or state government. Contact your local Area Agency on Aging for updates. Service agencies may have additional requirements for staff, such as stricter vaccination requirements and more stringent use of personal protective equipment (PPE). Agency representatives can provide further information about practices and discuss any concerns you may have.
In-Home Care Laws and Regulations in Michigan
The state of Michigan has strict regulations and licensing requirements for home health agencies that provide medical services, including skilled nursing and rehabilitative therapy. Licensing is not required for home care providers who offer nonmedical services to private-pay clients. There are limited guidelines in place for providers who offer in-home personal care services to seniors enrolled in Michigan Medicaid programs. The following table provides an overview of the guidelines for nonmedical home care providers in Michigan.
In-Home Care Laws and Regulations in Michigan
Scope of Care
Home care providers of nonmedical services can offer clients companionship, provide personal care and complete various tasks, such as meal preparation, housekeeping and laundry, as well as accompany clients to appointments and when shopping or running errands.
Care Plan Requirements
Nonmedical home care providers are not required to develop care plans for clients. However, a senior may request a written agreement that describes the services caregivers will provide and how often, along with the cost.
Medication Management Requirements
Only nurses and certified medication aides employed by licensed home health agencies are authorized to administer medications. Caregivers working for nonmedical providers may only assist seniors with self-administration and provide reminders about taking medications.
Staff Screening Requirements
Staff of nonmedical providers who offer in-home care services to Medicaid program beneficiaries must submit to a criminal background check and a face-to-face interview.
Staff Training Requirements
There are no state-mandated training requirements for staff of nonmedical home care providers. Those who provide services to seniors through Michigan Medicaid programs must be willing to complete any training programs required by MDHHS.
Medicaid Coverage
Michigan Medicaid provides in-home care services through one of several programs. Seniors may be eligible for assistance through Home Help, the Health Link or PACE program or the MI Choice waiver.
Reporting Abuse
Concerns about abuse, exploitation or neglect of a Michigan senior, aged 60 or older, can be reported to Adult Protective Services by calling the agency's 24-hour hotline at 855-444-3911.
Frequently Asked Questions
Does Michigan Medicaid Pay for In-Home Care?
Michigan Medicaid provides in-home care through entitlement and waiver programs. Seniors may apply for assistance through the Home Help, Health Link or PACE program or the MI Choice waiver. Participation in the MI Choice program is capped, and applicants may be placed on a waiting list. Read More
How Much Does In-Home Care Cost in Michigan?
In-home care in Michigan costs an average of $4,385 per month, according to the Genworth Cost of Care Survey 2019. This is approximately $100 more than the national average, and roughly $100 less than the cost of home health care, which provides skilled nursing services.
Are There Programs to Cover Home Modifications in Michigan?
Financial assistance is available to help eligible seniors pay for necessary home accessibility and safety modifications through Michigan Medicaid's MI Choice waiver and Health Link program. Applicants must meet Medicaid's eligibility guidelines to qualify, and they can receive many other benefits once approved.
Does Medicare Pay for In-Home Care?
Medicare only pays for certain types of in-home care for beneficiaries who are under a physician's care and recovering from an injury, illness, surgery or hospital stay. Services Medicare covers in-home typically include a certain number of skilled nursing, home health aide or physical/occupational therapy visits.
What Does It Mean to Age in Place?
Aging in place is an individual's ability to retain their independence by continuing to live at home. Doing so may require hiring outside help for personal care and activities of daily living, using assistive technologies and/or making safety and accessibility modifications to the home.
Can Family Members Get Paid for Caregiving in Michigan?
Family members can get paid for caregiving in Michigan. The individual receiving the care can qualify for the Home Help program, which is administered through Medicaid. If they are considered qualified for the program and for in-home care, a family member can be appointed to provide the care necessary. Read More
How to Find an In-Home Care Provider in Michigan
Whether you are looking for yourself or a loved one, finding a quality home care provider can be a stressful process. When you hire an in-home care aide you're placing a lot of trust in the hands of the person by inviting them into your home, so you'll want to be diligent in your search. At Caring.com, we're here to help – we've created a helpful checklist below that can help guide you through the process of both determining your needs and finding a home care agency that will provide the best care possible.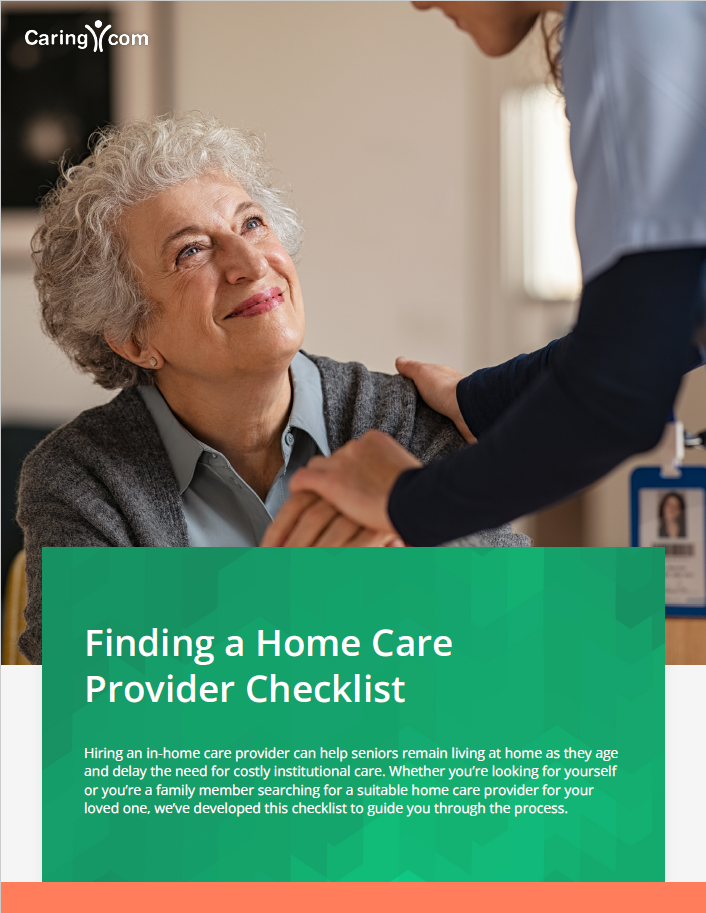 Find Home Care Agencies Near You
To find quality home care providers near you, simply input the zip code or city where you would like to start your search. We have an extensive directory of home care agencies all across the nation that includes in-depth information about each provider and hundreds of thousands of reviews from seniors and their loved ones.
Home Care Services in Michigan (470)