In-Home Care in Louisiana
Louisiana has a relatively large senior population, as 15.9% of its more than 4.6 million residents are 65 and over. There are multiple reasons Louisiana may appeal to older adults, including financial benefits. Social Security and public pension income isn't taxed, and the cost of living in Louisiana is lower than the national average. There are top-rated hospitals in the state, including Our Lady of the Lake Regional Medical Center in Baton Rouge and Willis Knighton Medical Center in Shreveport.
The average cost of home care in Louisiana is $3,623 per month. Home care — also called in-home care — differs from home health care in multiple ways. In-home caregivers provide companionship and help with activities of daily living (ADLs) and instrumental activities of daily living (IADLs), which include companionship, bathing, dressing, meal preparation and shopping — among other tasks. Home health care is a medical service; caregivers may dress wounds, administer medications and therapies, monitor vital signs and provide other health-related services.
This guide provides costs and comparisons for home care in Louisiana. You'll also find information about applying for Medicaid and a list of free resources for seniors.
The Cost of In-Home Care in Louisiana
As reported by the 2021 Genworth Cost of Care Survey, in-home care costs $3,623 per month in Louisiana. The national median cost is higher at $4,957, as is Oklahoma's estimated cost of $4,862 per month. Other states also have a higher average monthly cost for in-home care, including Texas ($4,576) and Arkansas ($4,185). Mississippi and Alabama both have an average monthly cost of $3,813 for home care, which is about $200 more than the Louisiana average.
Louisiana's cities vary when it comes to in-home care costs. New Orleans' cost is the highest on our list at $4,195, while Lake Charles is close behind with an estimated monthly cost of $3,909 for in-home care. Baton Rouge and Lafayette share an estimated cost of $3,813, while seniors in Shreveport can expect to pay $3,241 for home care.
There are other care types for older adults to consider. In addition to in-home care ($3,623), there's home health care ($3,718) for seniors aging in place who need medical services. Adult day health care is less expensive ($1,788) and is an option for seniors in need of daytime medical care. Assisted living ($3,748) is an option for seniors who need assistance with daily activities and prefer to live in a senior community, while nursing home care ($5,759) in a semiprivate room is the most comprehensive and costly care type.
Does Medicaid Cover Home Care in Louisiana?
Louisiana Medicaid covers in-home care through several waiver programs. Seniors who receive Medicaid may also qualify for additional services through one or more of these programs, which provide in-home assistance with ADLs and related tasks.
The Long-Term Personal Care Services Program (LT-PCS) is for Medicaid recipients in need of at-home assistance with everyday tasks. The Community Choices Waiver (CCW) is similar but also provides health-based services as well. Another program through which seniors can receive home care is the Program of All-Inclusive Care for the Elderly (PACE), which provides a wide variety of other care types including skilled nursing and adult day health care.
Home Care Waiver Programs in Louisiana
Seniors in need of home care have several options when it comes to coverage. As mentioned, Medicaid recipients may qualify for these waiver programs, which are geared towards the elderly and/or disabled. They provide in-home care, including help with ADLs, and the CCW and PACE programs also provide certain types of medical care.
How to Know if You're Eligible for Medicaid in Louisiana
In order to qualify for Louisiana Medicaid, there are income and asset limits based on household size. For single seniors, the annual income limit is $10,092 and assets can't total more than $2,000 in value. Couples can't have a yearly income in excess of $15,132 or assets worth more than $3,000.
Income Limits*
Asset Limits
* per year
There are various other requirements that must be met to receive Medicaid. Senior applicants must:
Be age 65 or older, or
Blind and/or disabled
A Louisiana resident
A United States citizen or qualified non-citizen
How to Apply for Medicaid in Louisiana
Seniors can apply for Medicaid online through the Louisiana Department of Health's self-service webpage. If you prefer in-person help, visit a Medicaid application center. Some of these centers serve residents on a walk-in basis while others require appointments, so call ahead. Telephone applications can be taken through Healthy Louisiana Enrollment at (855) 229-6848. Paper applications can be printed and mailed, faxed or delivered to your local Medicaid application center.
What Information You Will Need
There are certain documents you'll need to include with your Medicaid application. This includes:
Identification
Social Security card
Proof of income
Employer information
Copies of insurance policies
How to Get Help Applying for Medicaid
There are various offices and agencies that provide Medicaid application assistance. Services are free of charge, and there may be various other senior-oriented services available.
Does Medicare Cover In-Home Care in Louisiana?
In general, Medicare does not cover the cost of non-medical home care. That being said, there are situations in which Medicare provides some coverage for medical home care, referred to as "Home Healthcare." There are several eligibility restrictions for coverage, including that individuals must be homebound and have a referral from their doctor specifically for home healthcare services.
Below is an overview of some of the skilled medical professionals whose in-home services are typically covered by Medicare – for more in-depth information, refer to our Guide to Home Healthcare.
Physical Therapists: Physical therapy is used to help patients recover from injuries (broken bones, knee injuries, etc.), treat ongoing conditions such as arthritis, and assist in recovery from surgeries and procedures such as a knee or hip replacement.
Visiting Nurses: Licensed nurses can provide a number of medical services for those who don't need to stay in the hospital, but do need regular medical services such as wound care, changing feeding tubes, etc.
Occupational Therapists: Occupational therapists help seniors regain or maintain the ability to accomplish normal, daily tasks, such as bathing, dressing, eating, and other daily activities.
Speech Therapists: Speech therapists help seniors who are struggling to adequately communicate due to a stroke, dementia, or any other cause regain the ability to functionally communicate using a variety of means. Additionally, speech therapists help to keep seniors independent by modifying diets, teaching special techniques to swallow safely, and retraining associated muscles.
As mentioned above, in-home care is distinctly different from home healthcare. But, there can be some overlap in services between the two types of care. So, while Medicare doesn't cover non-medical in-home care, there are in-home care services that may be covered in special circumstances when they're provided in conjunction with home healthcare (such as an occupational therapist helping with eating or dressing)
Other Financial Assistance Options for In-Home Care in Louisiana
While the above programs help many people finance in-home care, they will not cover all costs for everyone. There are other ways to pay for in-home care, including out-of-pocket arrangements with siblings, annuities, reverse mortgages, private insurance and more. Read Caring.com's Guide to In-Home Care Costs to learn more about these alternative payment options.
Free and Low-Cost Resources for Seniors in Louisiana
There are free services for Louisiana seniors, including energy assistance and home repair programs. Older adults can access nutritional programs and even receive free transportation through various government and nonprofit agencies. Most of these resources are statewide, although some only cover certain areas.
COVID-19 Rules for In-Home Care Providers in Louisiana
In-home care providers in Louisiana must be vaccinated against COVID-19 unless determined exempt. This information is accurate as of April 2022; however, rules and regulations change frequently, so it's important to check with the Louisiana Health Department for the most recent state guidelines. You can also call your Medicaid caseworker if you have questions about COVID-19 requirements for home care providers.
Different home care agencies may have different rules regarding vaccines and personal protective equipment (PPE). This equipment may include but isn't limited to face masks and gloves, which can be currently expected as a standard requirement for all health care workers and even in-home care providers.
In-Home Care Laws and Regulations in Louisiana
In an effort to protect those who require in-home care, the state of Louisiana maintains strict regulations regarding who can provide care.
In-Home Care Laws and Regulations in Louisiana
Scope of Care
A home care provider is defined as a company, either for profit or not-for-profit, that provides home care services for individuals in need.
Care Plan Requirements
Caregivers must put together individual service plans for each client that meet their goals and objectives based on the individual's strengths and areas of need.
Medication Management
Medication management is considered an instrumental activity of daily living and is included in care plans as necessary.
Staff Screening Requirements
Staff members are required to undergo background checks prior to hiring. Those hired cannot have a criminal record or appear on sex offender registries.
Staff Training Requirements
Staff members must undergo comprehensive training before being permitted to work with clients.
Medicaid Coverage
Medicaid programs can be used to cover care where eligible or applicable.
Reporting Abuse
Elder abuse can be reported to Elderly Protective Services at 1-833-577-6532 or (225) 342-0144, 24 hours a day.
Frequently Asked Questions
How Much Does In-Home Care Cost in Louisiana?
In Louisiana, in-home care is quite affordable, averaging $3,218 per month. This cost is nearly $1,000 lower than the national average of $4,200. However, some cities in Louisiana, such as Baton Rouge, do demand a higher price for full-service home care. For people who require additional nursing resources, home health care is available for several dollars more a month, with a monthly average of $3,241.
Does Medicaid Pay for In-Home Care?
Yes, Medicaid can pay for in-home care for those who qualify in Louisiana. Care under the Program of All-Inclusive Care for the Elderly, the Louisiana Community Choices Waiver and Long Term – Personal Care Services can all be covered by Medicaid. Some programs, such as Long Term – Personal Care Services, require Medicaid coverage for eligibility.
Are There Financial Assistance Programs for In-Home Care in Louisiana?
Yes, there are several financial assistance programs for in-home care in Louisiana, including the Program of All-Inclusive Care for the Elderly, the Louisiana Community Choices Waiver and Long Term – Personal Care Services. These programs can provide support to seniors who meet income and eligibility guidelines, making in-home care affordable for those living on a fixed income.
What Are "Activities of Daily Living"?
Activities of daily living, or ADL, are tasks that are essential to live a normal life. These include things like washing, dressing, eating, cleaning and transferring. ADL are the primary duties performed by in-home caregivers. These individuals can also provide things like companionship, cleaning and food preparation for seniors unable to accomplish these tasks solo. Caregivers providing ADL assistance don't offer comprehensive medical care; they're limited to basic first aid.
What Is the Difference Between In-Home Care and Home Health Care?
The primary difference between in-home care and home health care relates to the number of health care responsibilities required. In-home care focuses on activities of daily living rather than nursing care, and caregivers are limited to basic first aid and medication management. Home health care involves nursing assistance and provides sophisticated care for those with more complex medical issues.
How to Find an In-Home Care Provider in Louisiana
Whether you are looking for yourself or a loved one, finding a quality home care provider can be a stressful process. When you hire an in-home care aide you're placing a lot of trust in the hands of the person by inviting them into your home, so you'll want to be diligent in your search. At Caring.com, we're here to help – we've created a helpful checklist below that can help guide you through the process of both determining your needs and finding a home care agency that will provide the best care possible.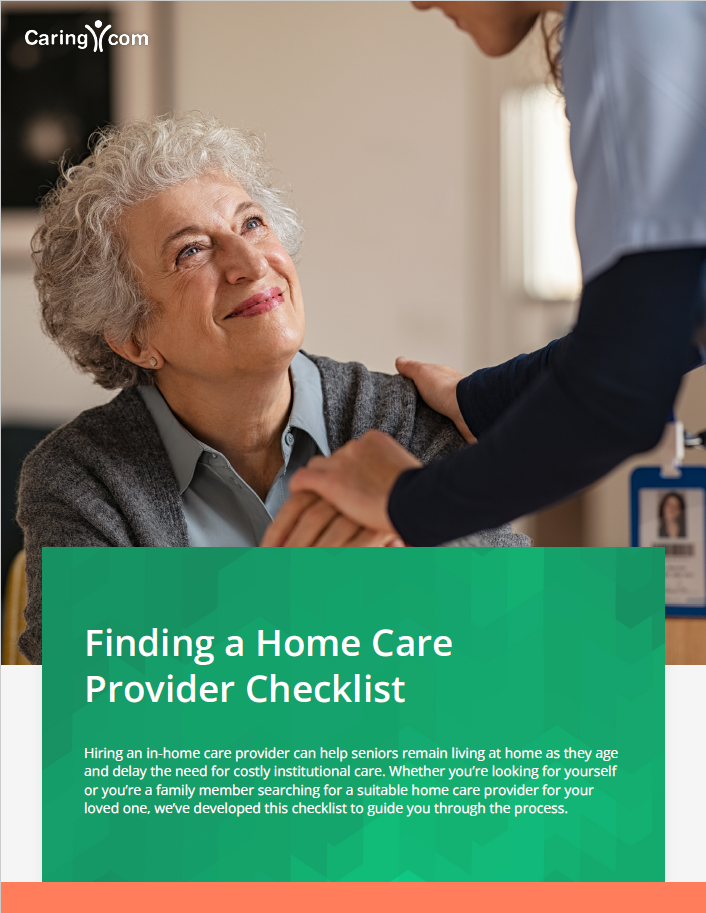 Find Home Care Agencies Near You
To find quality home care providers near you, simply input the zip code or city where you would like to start your search. We have an extensive directory of home care agencies all across the nation that includes in-depth information about each provider and hundreds of thousands of reviews from seniors and their loved ones.
Home Care Services in Louisiana (100)