Slidell is a city of close to 29,000 people situated on the opposite shore of Lake Pontchartrain from New Orleans. According to the 2020 Census, an above-average 20% of its residents are aged 65 and older, many of which are likely to require senior care at some point in their futures. The city's home care agencies deliver non-medical care, typically charging $4,195 per month, which, although above the norm for Louisiana, is below the national average. Slidell's home health care agencies, which specialize in medical services, charge similar fees. The city is also home to numerous medical facilities, such as Slidell Memorial Hospital and Our Lady of the Lake Surgical Hospital.
Below we've compiled a comprehensive directory of every home care provider in the CITY area – complete with services offered and reviews from families who've actually used the service. In addition to our in-depth provider listings, we've compiled resources to help seniors and their families to access all the tools they need to age in place safely and gracefully.
Paying for Home Care in Slidell, LA
The Cost of Home Care in Slidell
Slidell's home care costs are at the high end of the spectrum for Louisiana, with residents typically paying $572 per month more than the state median of $3,623, although they save $762 when compared to the national average. However, it's more common to find lower fees elsewhere, such as in Houma at $3,813, Hammond at $3,623 and Alexandria at $3,527 per month. Louisiana's least costly city is Shreveport, at $3,241.
The Cost of Home Care vs. Other Senior Care Options in Slidell
Slidell's home and home health care agencies charge similar fees for their services, which, at $4,195, compete favorably with assisted living's average of $3,973, particularly since both agencies provide one-on-one care and support seniors' independence at home. The most affordable option is the $1,408 average provided by adult day centers, although the staff-to-senior ratio is wider and patrons need to travel daily for their care services. Nursing homes are the costliest option, typically charging $5,931 per month for semiprivate rooms, which is their most affordable choice.
Nursing Home Facility (semiprivate room)
Note: Data for Slidell was unavailable, so data for the nearest city, New Orleans, was used instead.
Financial Assistance for Home Care in Slidell, LA
Given the high cost of in-home care, many people use one or more forms of financial assistance to cover the expenses. Below, we explain some of the most common sources of financial help for paying for in-home care. If none of these options are available to you, you can reach out to your Area Agency on Aging or Aging and Disability Resource Center to learn about local resources.
Free & Low-Cost Home Care Resources in Slidell, LA
Slidell's seniors can get assistance from numerous agencies and nonprofits whose purpose is to make living at home easier for older citizens. The providers listed here can help make homes safer and reduce the cost of heating and cooling them, as well as support seniors in legal matters and connect others with organizations looking for volunteers.
Determining Your Loved One's Need for In-Home Care
Aging can be a difficult process, and loved ones may not always ask for help – oftentimes it's up to their family to evaluate their need for help around the house. While no two situations are exactly alike, this checklist can help you and your loved ones determine when it's time to start the search for a home care provider.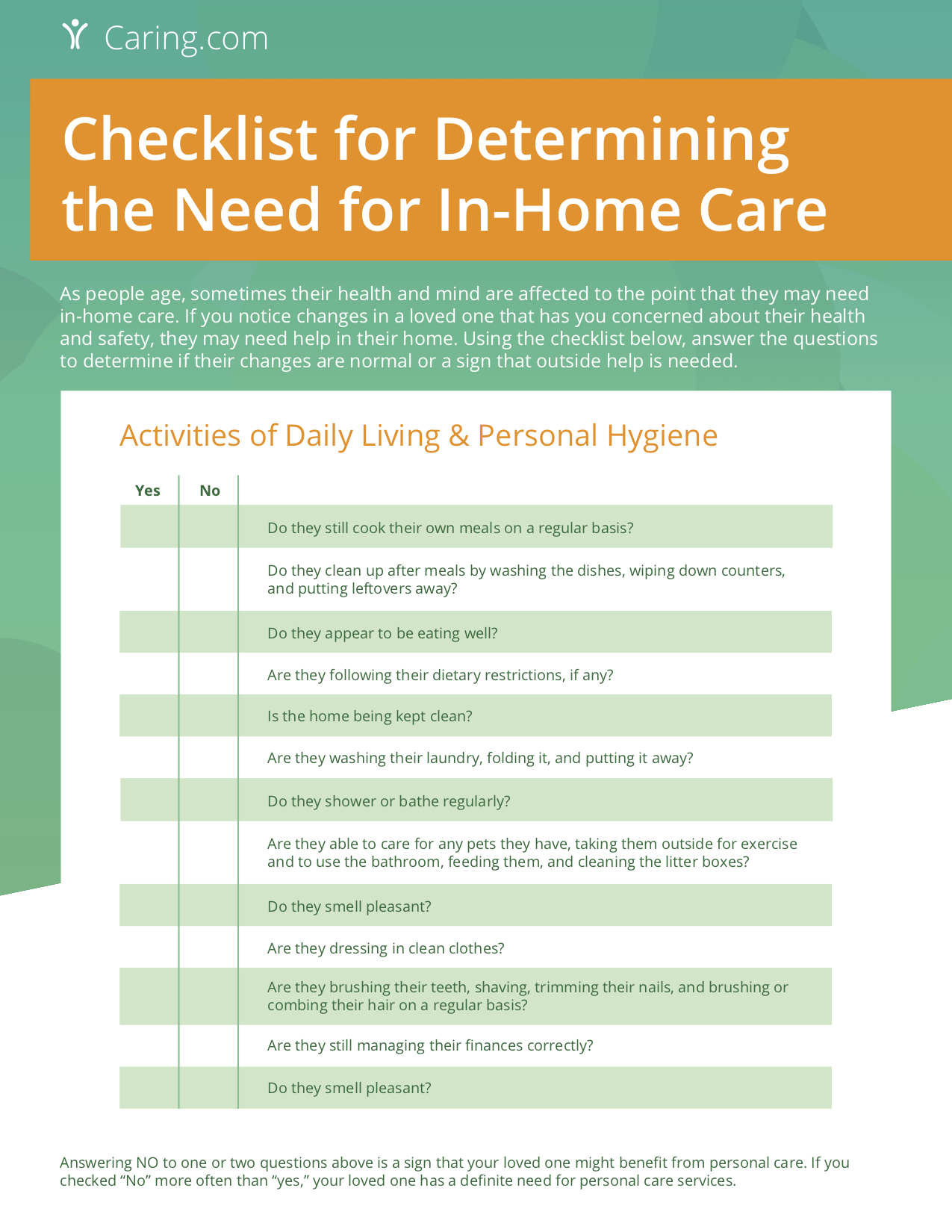 Guidelines for Talking About In-Home Care
If you've determined that your loved one needs the assistance of a care provider in their home, it may be time for a difficult conversation. Handled correctly, however, this process can bring a family together and ensure that everyone's concerns are addressed. Use this PDF as a starting point to help the conversation stay as positive and productive as possible.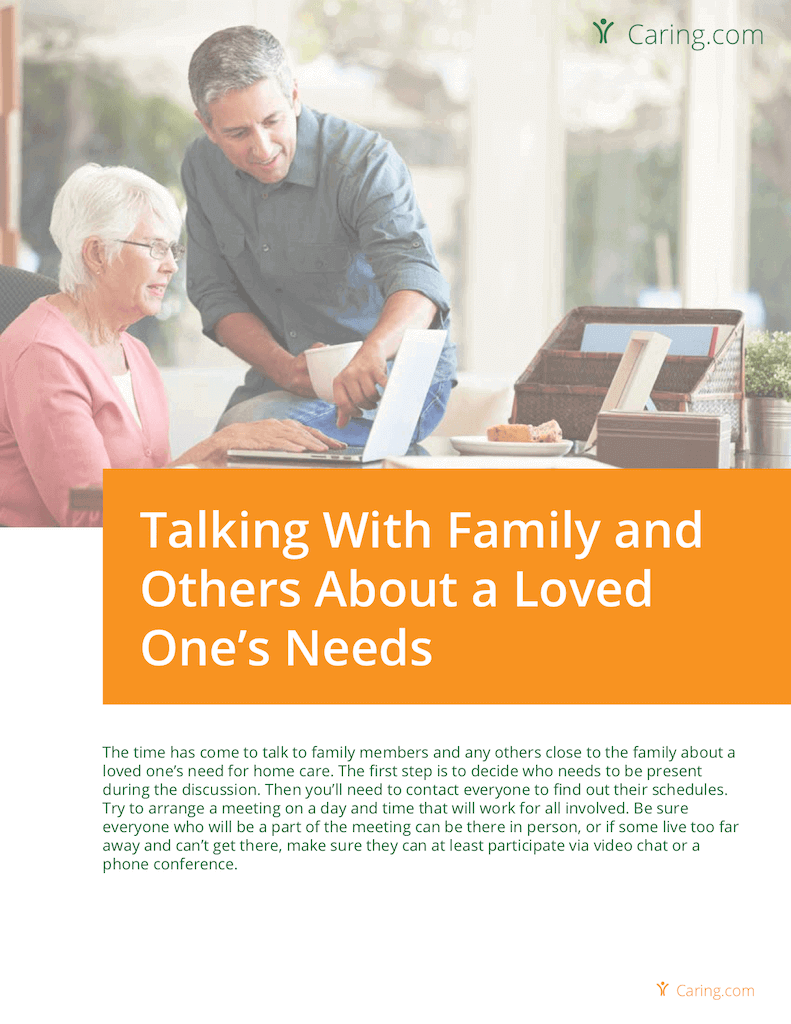 Frequently Asked Questions
What types of services can a home care agency in Slidell provide?

Home care agencies concentrate on non-medical services, with staff visiting seniors at home once or more during the day, depending on their needs. Caregivers can provide limited services, such as companionship or grocery shopping, as well as more personal care, including assisting with bathing, dressing and toileting. Home care agencies don't provide medical services. 
What should I look for in a good home care agency near me in Slidell?

A good home care agency will always treat you with dignity and respect, will put in the work to build a trusting relationship with you and will have clear policies and procedures that the staff will know in detail. These will include strict recruitment practices that focus on the quality of its service and the safety of its customers, such as checks on qualifications and criminal records. A good agency should also be able to provide a staff member with experience that matches your needs and not just whoever is available. It will communicate with you regularly and warn you in advance if, for example, your regular caregiver has been temporarily replaced. 
How can I find home care agencies near me with availability?


The quickest and most convenient way is to visit the Caring.com page for Slidell. You'll be presented with an easy-to-read list of the agencies operating in your area and links to peer reviews and pricing. Click on the links for each agency and you'll see another link that will take you to an up-to-date availability record. The agency's page will also include payment options and more detailed info about its services. 
What is a home care plan?

A home care plan is a document created by the home care provider and the senior (or someone acting on their behalf). It provides detail on the types of care the agency will deliver, including frequency and how it will handle changes in care delivery, such as when the caregiver can't visit. The plan also holds personal information for the agency's benefit, such as details of the senior's next of kin, social worker and family doctor.
Who is eligible for the veterans' home care program?

Most beneficiaries of the veterans' home care program are U.S. military vets who qualify for VA health care benefits. You can check if you're within one of the eight priority groups. Not all groups are eligible for the program but vets can move between them, depending on their current circumstances, so you may find you become eligible at some point if you're not already. If you don't qualify, you may still be entitled to assistance through the VA Family Caregiver Assistance Program, which provides financial help to vets supported by unpaid caregivers, such as their spouses or children.