Oregon has a total population of 4,246,155, with 18.2% aged 65 and over. The state has multiple advantages that may appeal to older adults, including world-class health care facilities such as the top-ranked OSHU Hospital and Providence St. Vincent Medical Center. Oregon is somewhat tax-friendly for senior citizens, as there's no tax on Social Security benefits.
Seniors can expect to pay $6,006 per month for home care. This type of care — also called in-home care — assists with activities of daily living (ADLs) such as bathing and dressing, along with light housekeeping, laundry and shopping services. Home health care, on the other hand, provides medical services for seniors aging in place. These services may include but aren't limited to physical therapy, wound care and preventative medical care.
This guide contains cost information and comparisons for home care in Oregon, as well as information about applying for Medicaid and COVID-19 regulations for health care providers. A list of free resources for Oregon seniors is also included.
The Cost of In-Home Care in Oregon
The Genworth 2021 Cost of Care Survey reports the cost of home care in Oregon as $6,006 per month. Although this is slightly higher than the national average of $4,957, it's less expensive than Washington's monthly average cost of $6,547 for in-home care. California is also costlier at $6,101 per month for home care, while Idaho is a bit lower at $5,434. Nevada is one of the least expensive states in the area with a cost of $5,148 per month for in-home care.
Oregon's cities have varying home care costs. Portland is the most expensive locale at $7,146 per month for home care, while Bend is hundreds of dollars less at $6,435. Salem and Corvallis both have a monthly average cost of $6,101 for in-home care. Albany and Eugene have an estimated per-month cost of $5,911 for home care, while Grants Pass is about $500 less at $5,482 for in-home care per month.
Seniors in Oregon have different care types from which to choose. In addition to in-home care ($6,006), there's home health care ($6,101) for those who need medical services. Assisted living ($5,045) delivers assistance with daily tasks in a homelike setting, often with multiple amenities. For seniors who need care during the day, adult day health care may be an option ($2,654). Nursing home care in a semiprivate room, which is the most expensive care type at $10,342 per month, is for seniors who need 24/7 supervision and skilled nursing care.
Does Medicaid Cover Home Care in Oregon?
Oregon Medicaid — which is called the Oregon Health Plan (OHP) — covers in-home care through the Section 1115 Demonstration Waiver. This waiver is for senior Medicaid recipients who need help with activities of daily living (ADLs) and aren't currently receiving long-term care services, such as nursing home facility care. This program also provides a monthly benefit to seniors aging in place who receive unpaid care from family members.
Home Care Waiver Programs in Oregon
Older adults in Oregon who receive Medicaid may also qualify for the Section 1115 Demonstration Waiver. In addition to regular Oregon Health Plan benefits such as preventative care, prescriptions and emergency services, seniors can receive in-home care that provides help with everyday activities.
Section 1115 Demonstration Waiver
The Section 1115 Demonstration Waiver is for seniors who don't currently receive long-term services through Medicaid and need assistance with activities of daily living (ADLs). This waiver may also cover instrumental activities of daily living (IADLs). These services include but aren't limited to:
Toileting
Bathing
Dressing
Mobility
Housekeeping
Meal Preparation
Shopping
To apply for this waiver or find out more about eligibility and what's covered, contact your local Oregon Department of Human Services (ODHS) Aging and People with Disabilities Office (APD) or Area Agency on Aging (AAA).
How to Know if You're Eligible for Medicaid in Oregon
In order to qualify for the Oregon Health Plan, your household income must not exceed certain amounts. Single seniors can't make more than $10,092 in a year, while couples can't earn a combined income in excess of $15,132. There are also asset limits — for singles, the asset limit is $2,000. Couples' assets can't exceed $3,000 in value.
Income Limits*
Asset Limits
* per year
Oregon seniors must also meet additional requirements in order to receive Medicaid, such as:
Must be age 65 or older, or
Blind and/or disabled
Must be an Oregon resident
Must be a U.S. citizen or qualified non-citizen
How to Apply for Medicaid in Oregon
There are multiple ways to apply for the Oregon Health Plan (OHP). Apply online through the Oregon Eligibility (ONE) website, which is also where you can report changes and renew coverage.
You can also apply with a paper application. They're available in many languages, and they can be printed and faxed, mailed or delivered in person to your local Oregon DHS office. Call OHP Customer Service at 800-699-9075 to have a paper application mailed to you or apply by phone.
What Information You Will Need
All Medicaid applicants must provide documentation when applying for coverage. Some of the verifications you'll be asked to submit when applying for Oregon Medicaid include:
Identification
Social Security card
Citizenship documents if applicable
Proof of all income
Copies of insurance policies
Documentation of all assets
How to Get Help Applying for Medicaid
Oregon seniors who need help with their Medicaid application have multiple options. In addition to the main OHP location, assistance is available through the national Medicaid site. In addition, Area Agencies on Aging (AAA) throughout the state also help with OHP applications and provide other free services for older adults.
Does Medicare Cover In-Home Care in Oregon?
In general, Medicare does not cover the cost of non-medical home care. That being said, there are situations in which Medicare provides some coverage for medical home care, referred to as "Home Healthcare." There are several eligibility restrictions for coverage, including that individuals must be homebound and have a referral from their doctor specifically for home healthcare services.
Below is an overview of some of the skilled medical professionals whose in-home services are typically covered by Medicare – for more in-depth information, refer to our Guide to Home Healthcare.
Physical Therapists: Physical therapy is used to help patients recover from injuries (broken bones, knee injuries, etc.), treat ongoing conditions such as arthritis, and assist in recovery from surgeries and procedures such as a knee or hip replacement.
Visiting Nurses: Licensed nurses can provide a number of medical services for those who don't need to stay in the hospital, but do need regular medical services such as wound care, changing feeding tubes, etc.
Occupational Therapists: Occupational therapists help seniors regain or maintain the ability to accomplish normal, daily tasks, such as bathing, dressing, eating, and other daily activities.
Speech Therapists: Speech therapists help seniors who are struggling to adequately communicate due to a stroke, dementia, or any other cause regain the ability to functionally communicate using a variety of means. Additionally, speech therapists help to keep seniors independent by modifying diets, teaching special techniques to swallow safely, and retraining associated muscles.
As mentioned above, in-home care is distinctly different from home healthcare. But, there can be some overlap in services between the two types of care. So, while Medicare doesn't cover non-medical in-home care, there are in-home care services that may be covered in special circumstances when they're provided in conjunction with home healthcare (such as an occupational therapist helping with eating or dressing)
Other Financial Assistance Options for In-Home Care in Oregon
While the above programs help many people finance in-home care, they will not cover all costs for everyone. There are other ways to pay for in-home care, including out-of-pocket arrangements with siblings, annuities, reverse mortgages, private insurance and more. Read Caring.com's Guide to In-Home Care Costs to learn more about these alternative payment options.
Free and Low-Cost Resources for Seniors in Oregon
Oregon seniors who receive in-home care — or those considering it — have ample free resources at their disposal, including free legal aid services, transportation and meal delivery. Low-income seniors can also receive home repair grants and help with rental costs, among other helpful services.
COVID-19 Rules for In-Home Care Providers in Oregon
The most recent documentation regarding Oregon COVID-19 regulations states that in-home care providers are exempt from Oregon's COVID-19 vaccine mandates, although requirements may differ from provider to provider. Home health care providers are subject to the same rules as in-home care providers. Caregivers who are unvaccinated must take regular COVID-19 tests to confirm their virus-free status.
Some home care companies may require employees to be vaccinated while others may not. This information is current as of April 2022. Because regulations are subject to change at any time, inquire with your home care agency or the local DHS office for up-to-date mandate information.
In-Home Care Laws and Regulations in Oregon
Throughout Oregon, home care providers are regulated by the Oregon Health Authority. This organization oversees the licensing of all in-home care agencies and conducts regular compliance checks. The table below provides an overview of the rules and regulations that in-home care agencies in Oregon are required to follow.
In-Home Care Laws and Regulations in Oregon
Scope of Care
In-home care agencies may provide assistance with personal care services such as bathing, grooming, mobility, feeding and medication reminding.
Care Plan Requirements
In-home care agencies in Oregon are required to provide clients with a detailed schedule of care entailing the services they are to receive and who will be providing them.
Medication Management Requirements
Care aides may provide medication reminders but are not permitted to administer medication unless they've undergone an Oregon In-Home Care Agency Medication Training program.
Staff Screening Requirements
All employees and volunteers who work with in-home care agencies must submit to a criminal records check.
Staff Training Requirements
All staff must be provided with a comprehensive orientation and in-house training, as well as a competency evaluation, prior to providing care.
Medicaid Coverage
There are three Medicaid programs in Oregon that help seniors pay for long-term care: the Community First Choice program, the Independent Choices Program and the Client-Employed Provider Program.
Frequently Asked Questions
Are there financial assistance programs for in-home care in Oregon?
Are there transportation assistance programs in Oregon?
The Aging and Disability Resource Center of Oregon connects seniors with transportation services such as subsidized or free public transportation, group vans, dial-a-ride services and door-to-door taxi service.
How much does in-home care cost in Oregon?
What types of services does a home care aide provide?
Home care aides help with activities of daily living such as grooming, bathing, dressing and toileting. They also provide companionship and in some cases, assistance with light housekeeping duties, errands and meal preparation.
What does it mean to age in place?
Aging in place is a term that's when a senior continues to live at home for as long as they're able to, often with the help of supports such as in-home care.
How to Find an In-Home Care Provider in Oregon
Whether you are looking for yourself or a loved one, finding a quality home care provider can be a stressful process. When you hire an in-home care aide you're placing a lot of trust in the hands of the person by inviting them into your home, so you'll want to be diligent in your search. At Caring.com, we're here to help – we've created a helpful checklist below that can help guide you through the process of both determining your needs and finding a home care agency that will provide the best care possible.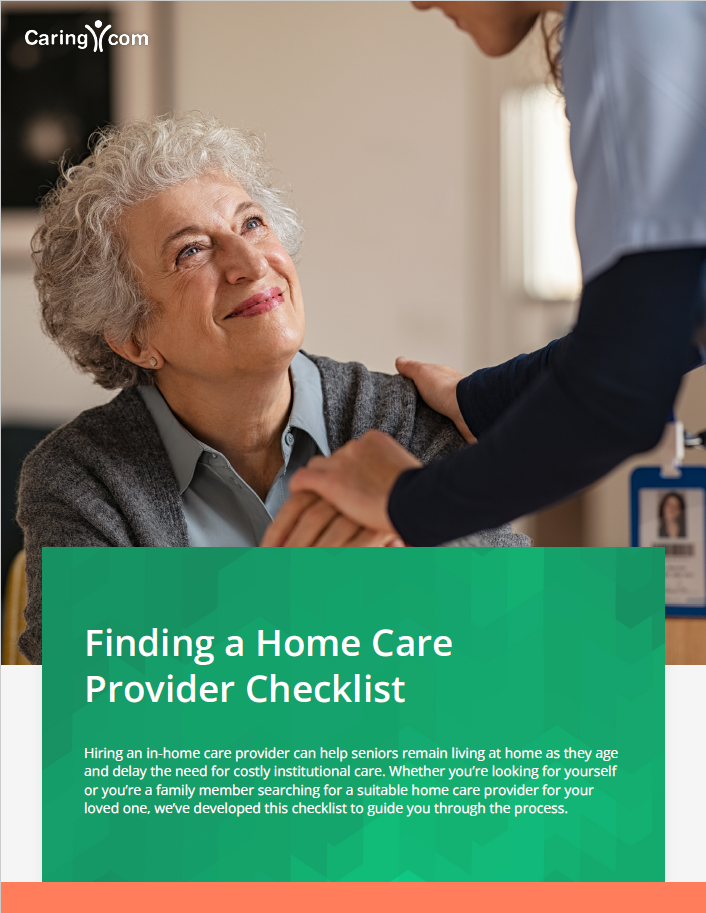 Find Home Care Agencies Near You
To find quality home care providers near you, simply input the zip code or city where you would like to start your search. We have an extensive directory of home care agencies all across the nation that includes in-depth information about each provider and hundreds of thousands of reviews from seniors and their loved ones.
Home Care Services in Oregon (138)