Kansas has a rapidly growing senior population that the U.S. Census Bureau estimates will comprise 25% of the state's residents by 2030. The state is also home to several highly ranked hospitals, including the University of Kansas Hospital in Kansas City and Stormont Vail Hospital in Topeka. These assets, in addition to in-home care costs that hover about $500 per month below the national average, make Kansas an attractive destination for people over 60 years old. In-home care provides assistance with grocery shopping, housekeeping and other daily living activities but is less intensive than home health care, which includes services such as physical and occupational therapy.
This guide covers the cost of in-home care in Kansas, what Medicare and Medicaid do and don't cover, the other financial assistance options available for seniors in Kansas needing in-home care, free and low-cost resources for seniors in Kansas, and the Covid-19 rules for Kansas in-home care providers.
The Cost of In-Home Care in Kansas
According to the Genworth Cost of Care Survey that looked at health care costs in 2021, in-home care in Kansas costs an average of $4,576, making it less expensive than in any of the bordering states. Colorado's costs are the most expensive at $6,387, followed by Nebraska at $5,148, Oklahoma at $4,862 and Missouri at $4,767. Kansas's in-home care costs are also below the national median of $4,957.
The cost of in-home care in Kansas varies from city to city. Of the largest metropolitan areas in Kansas, the state capital of Topeka has the highest average costs at $5,625 per month. Next is Kansas City at $4,957 per month. The lowest costs in any of Kansas's large cities — $4,767 per month — are found in Wichita.
In-home care is not the only kind of care available to seniors in Kansas who need assistance with activities of daily living. Depending on the level of care needed and the person's budget, several other options exist. The most expensive option that also offers the highest level of care is a nursing home facility, where a semiprivate room averages $6,296 per month. Next is home health care, which is similar to in-home care but provides a slightly higher tier of medical services and averages $4,671 per month compared to in-home care at $4,576 per month. Also in the same price tier is an assisted living facility, which costs $4,580 per month on average. Seniors needing a lower level of care and wanting to save money might opt for adult day health care, which averages only $1,788 per month.
Does Medicaid Cover Home Care in Kansas?
KanCare, the name of Kansas's Medicaid program, covers certain in-home care costs in Kansas through the waiver programs Senior Care Act (SCA) and Older Americans Act (OAA). Because KanCare pays for nursing home care for eligible seniors, its waiver programs will often cover in-home care costs if they are deemed medically necessary and they cost the same as or less than nursing home care.
The SCA covers in-home services for seniors who have a demonstrated need for them. Recipients of the waiver are expected to contribute to the cost of their care on a sliding, income-based scale. The OAA provides assistance with in-home care, along with other benefits such as legal assistance and nutrition counseling.
Home Care Waiver Programs in Kansas
Senior Care Act (SCA)
To qualify for benefits under the SCA, Kansas residents must be 60 or older, meet income guidelines and undergo a functional assessment to determine their physical needs. The program covers services that may include respite care, attendant care, homemaker services, chore services and adult day care, but the specific benefits can vary by county. Seniors interested in applying for SCA benefits should contact the Area Agencies on Aging at (855) 200-2372.
Older Americans Act (OAA)
To qualify for OAA benefits, Kansas residents must be at least 60 years old and have a demonstrated need for services. Services provided include in-home care along with nutritional assistance, legal aid, transportation and information on an array of senior services. OAA benefits may be free or require a monetary contribution, depending on the service and the level of need. To apply for OAA services, seniors should contact the Area Agencies on Aging at (855) 200-2372.
How to Know If You're Eligible for Medicaid in Kansas
To receive Medicaid benefits in Kansas, known as KanCare, seniors must meet certain financial requirements. Although there is no set income limit to receive KanCare, any income in excess of $2,523 per month must go toward care costs. In addition, residents who receive Supplemental Security Income (SSI) automatically qualify for KanCare. The income limits for SSI are $841 per month for a single person and $1,261 per month for a married couple. KanCare also has asset limits: $2,000 for a single applicant and $3,000 for a couple applying together.
2022 Medicaid Income Limits for Seniors in Kansas
Income Limits
Asset Limits
Two-Person Household
(Both Persons Applying)
Two-Person Household
(One Person Applying)
$2,000 (Applicant)
$137,400 (Non-applicant)
In addition to qualifying based on income and assets, KanCare applicants must meet the following criteria:
Kansas resident at time of application
U.S. citizen, permanent resident or legal alien
In need of healthcare assistance
At least one of the following:
65 or older
Pregnant
Blind
Disabled, or caring for a disabled family member
Responsible for a child 18 or younger
How to Apply for Medicaid in Kansas
The easiest way to apply for KanCare is to do it online. Applicants can also apply by phone at (800) 792-4884. Those who prefer to fill out a paper application can download one from the website, fill it out and send it to:
KanCare Clearinghouse
PO Box 3599
Topeka, KS 66601-9738
What Information You Will Need
When you apply for KanCare, you will need a few items. Make sure you have your ID cards on hand, including a photo ID such as a passport or driver's license, and your Social Security card. You will also need your most recent tax return and bank statements, along with your health insurance information.
How to Get Help Applying for Medicaid
The KanCare application process can get complex, and the requirements are lengthy and somewhat strict. These factors might make it difficult to apply or may at least prompt questions throughout the process. If you need help applying for Medicaid in Kansas, you can use the following resources:
Does Medicare Cover In-Home Care in Kansas?
In general, Medicare does not cover the cost of non-medical home care. That being said, there are situations in which Medicare provides some coverage for medical home care, referred to as "Home Healthcare." There are several eligibility restrictions for coverage, including that individuals must be homebound and have a referral from their doctor specifically for home healthcare services.
Below is an overview of some of the skilled medical professionals whose in-home services are typically covered by Medicare – for more in-depth information, refer to our Guide to Home Healthcare.
Physical Therapists: Physical therapy is used to help patients recover from injuries (broken bones, knee injuries, etc.), treat ongoing conditions such as arthritis, and assist in recovery from surgeries and procedures such as a knee or hip replacement.
Visiting Nurses: Licensed nurses can provide a number of medical services for those who don't need to stay in the hospital, but do need regular medical services such as wound care, changing feeding tubes, etc.
Occupational Therapists: Occupational therapists help seniors regain or maintain the ability to accomplish normal, daily tasks, such as bathing, dressing, eating, and other daily activities.
Speech Therapists: Speech therapists help seniors who are struggling to adequately communicate due to a stroke, dementia, or any other cause regain the ability to functionally communicate using a variety of means. Additionally, speech therapists help to keep seniors independent by modifying diets, teaching special techniques to swallow safely, and retraining associated muscles.
As mentioned above, in-home care is distinctly different from home healthcare. But, there can be some overlap in services between the two types of care. So, while Medicare doesn't cover non-medical in-home care, there are in-home care services that may be covered in special circumstances when they're provided in conjunction with home healthcare (such as an occupational therapist helping with eating or dressing)
Other Financial Assistance Options for In-Home Care in Kansas
While the above programs help many people finance in-home care, they will not cover all costs for everyone. There are other ways to pay for in-home care, including out-of-pocket arrangements with siblings, annuities, reverse mortgages, private insurance and more. Read Caring.com's Guide to In-Home Care Costs to learn more about these alternative payment options.
Free and Low-Cost Resources for Seniors in Kansas
While aging in place lets Kansas seniors maintain their present lifestyle and routine, stay close to friends and family and enjoy the freedom and autonomy of living independently, it comes with a number of challenges. Fortunately, seniors in Kansas have a number of resources they can turn to for help with difficulties as they arise.
COVID-19 Rules for In-Home Care Providers in Kansas
All home care workers in Kansas, including home health care providers and in-home care personnel, must be vaccinated against COVID-19 unless they qualify for a medical or religious exemption. This rule applies as of April 2022, but given that many policies and mandates surrounding COVID-19 are evolving in states around the country, the Kansas rule should be considered fluid and capable of changing at any time. The Area Agencies on Aging can provide up-to-date COVID-19 information. If you have concerns about COVID-19, it is a good idea to ask the specific agency you're considering using about their policies.
In-Home Care Laws and Regulations in Kansas
In Kansas, in-home care is officially called attendant care services. Agencies that provide in-home care services are governed by the Department of Health and Environment, but are not required to be licensed by the department.
In-Home Care Laws and Regulations in Kansas
Scope of Care
The extent of home care services depends on the degree and nature of a senior's needs. Services typically include light housekeeping, pet care, shopping, companionship, financial planning, medical transportation and assistance with activities of daily living. In-home care providers may also complete health-related tasks that don't include professional nursing or medical services, such as medication reminders and preparing meals that are consistent with physician-ordered diets.
Care Plan Requirements
The home health services team must create personalized care plans for patients based on their diagnosis and their immediate and long-term care needs. If any services in the care plan require a physician's authorization, then the care plan must be signed and renewed by a physician every 62 days.
Medication Management Requirements
In-home care providers are able to administer medications, enemas and suppositories if, in the opinion of a senior's physician or a licensed professional nurse, they could be self-administered if the individual were physically able to do so and if it can be done safely at home.
Staff Screening Requirements
Home health agencies in Kansas must ensure that caregivers are in good health and have a negative tuberculin skin test or chest x-ray upon employment. Periodic health assessments should be conducted throughout the course of the caregiver's employment. The agency must also document reference checks and a personal interview prior to employment.
Staff Training Requirements
In Kansas, there are no training requirements for agencies that only provide attendant care services.
Medicaid Coverage
In-home care in Kansas is covered by KanCare through the state's Frail and Elderly waiver program. This waiver pays for home care and home support services for those who require nursing home-level care but wish to remain at home.
Reporting Abuse
All in-home care employees are mandated reporters and must report witnessed or suspected abuse. Cases of abuse or neglect should be reported to the Kansas Department for Aging and Disability Services at 1-800-842-0078. All investigations are confidential and provided free of charge.
Frequently Asked Questions
How much does in-home care cost in Kansas?
On average, in-home care in Kansas costs $4,004 per month, which is lower than the national average. Across the state's major cities, monthly fees range from $3,718 to $4,576.
Does Kansas Pay For In-home Care?
Kansas pays for some in-home care services through Medicaid called KanCare. The Senior Care Act provides in-home care for eligible seniors with a demonstrated need, and recipients may contribute to costs based on their income. The Older Americans Act also offers in-home care and additional benefits such as legal aid and nutrition counseling. Read More
Are there programs to cover home modifications in Kansas?
Kansas seniors may have home modifications covered through the Frail and Elderly waiver, which is a program under KanCare, the state's Medicaid program. This waiver covers home modifications for mobility purposes, such as walk-in showers and wheelchair ramps.
Are there financial assistance programs for in-home care in Kansas?
Kansas seniors who wish to receive services at home instead of a community-based setting have access to several financial programs that may help pay for services, including the FE waiver program, the Kansas SCA and PACE. Income and asset limits may apply, and seniors may have to meet functional need thresholds to qualify for assistance.
What are Activities of Daily Living?
Activities of daily living are tasks a person completes daily for comfort, health and safety. In-home caregivers provide assistance with ADLs, such as grooming, dressing, toileting, mobility and eating.
What is the difference between in-home care and home health care?
While in-home care and home health care providers both offer personal care services in a senior's home, home health care providers offer skilled nursing services, such as catheter care and monitoring vital signs. In Kansas, in-home care providers may only offer the health services a senior would be able to do on their own if they weren't disabled.
Can Family Members Get Paid for Caregiving in Kansas?
Yes, there are several ways that the state of Kansas pays family members for caregiving services. Low-income seniors can pay their family members for home care through the state's Medicaid waivers, Senior Care Act or Veterans Affairs. The person receiving care must meet certain eligibility requirements before a family member can begin receiving payment for their services. Read More
How to Find an In-Home Care Provider in Kansas
Whether you are looking for yourself or a loved one, finding a quality home care provider can be a stressful process. When you hire an in-home care aide you're placing a lot of trust in the hands of the person by inviting them into your home, so you'll want to be diligent in your search. At Caring.com, we're here to help – we've created a helpful checklist below that can help guide you through the process of both determining your needs and finding a home care agency that will provide the best care possible.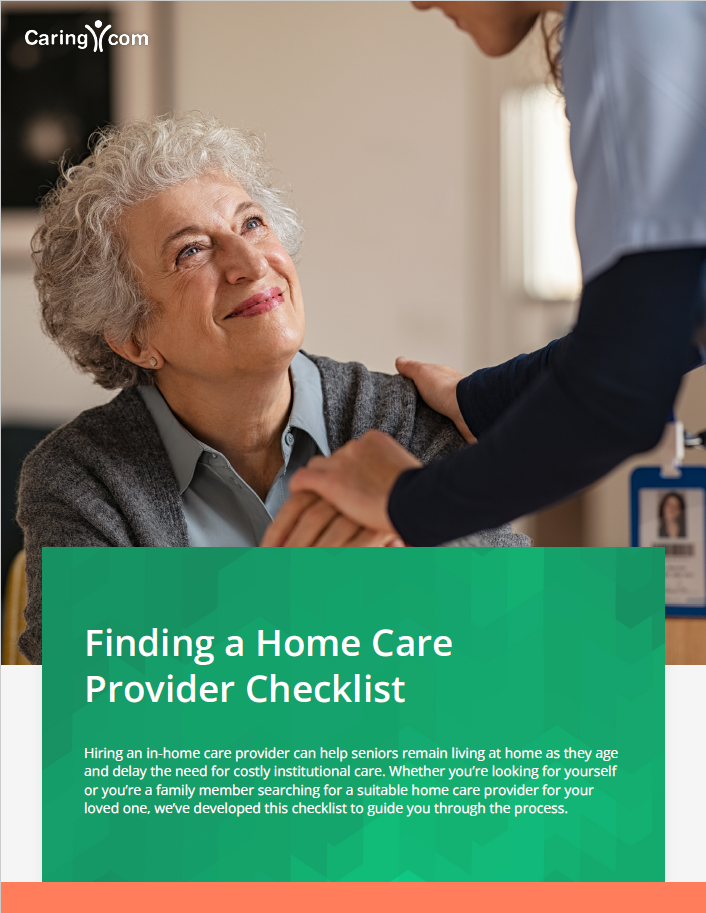 Find Home Care Agencies Near You
To find quality home care providers near you, simply input the zip code or city where you would like to start your search. We have an extensive directory of home care agencies all across the nation that includes in-depth information about each provider and hundreds of thousands of reviews from seniors and their loved ones.
Home Care Services in Kansas (58)