Arizona's senior-friendly climate isn't the only reason an above-average 18% of its almost 7.3 million residents are in the 65+ age group. The state offers generous property tax credits for seniors with incomes below the minimum thresholds and doesn't tax Social Security benefits. Arizona also boasts several nationally ranked hospitals, including Mayo Clinic-Phoenix and the Banner Boswell Medical Center in Sun City.
Excellent care isn't restricted to hospitals. Many agencies help seniors age safely and comfortably at home. The average cost of In-Home Care in Arizona is $5,339. A bit more on average, Home Health Care fees are $5,434 per month. In-Home Care is a non-medical service that typically involves supporting seniors with dressing, bathing and cleaning their homes. Home Health Care is a medical service delivered by skilled nurses and therapists who deal with clinical issues, such as seniors recovering from surgery or managing long-term health issues such as arthritis.
This guide reviews home care costs in and around Arizona and the roles played by Medicaid and Medicare. It also lists some useful resources for homebound seniors and their families.
The Cost of In-Home Care in Arizona
Figures published in the 2021 Genworth Cost of Care Survey show Arizona to be mid-range in cost terms for In-Home Care services. It's costlier than the national average of $4,957 by around $382 per month, although not as expensive as some neighboring states. For example, a senior in Utah is likely to pay around $5,625 per month for In-Home Care services, while in California, fees rise to $6,101. Nevada is a more affordable alternative to Arizona, with fees averaging $5,148. New Mexico is even more competitive, with a median fee of $4,605.
Location is a factor in fees for In-Home Care services in Arizona. In Yuma, for example, it's common for agencies to charge around $4,290 per month for their services, while in Flagstaff, it's $6,673 for generally similar services. Phoenix is at the costlier end of the spectrum too, at $5,958, while in Tucson, fees drop to around $5,434 and in Prescott Valley, $5,053.
In addition to location, the frequency of services provided and the type of care delivered also factor in overall costs. Adult day health care facilities have the lowest expenditure so they offer care for around $2,102. Assisted living facilities provide accommodation and care for approximately $4,000 per month in Arizona. Agencies are more costly at $5,339 for In-Home Care and $5,434 for Home Health Care. At $6,540 per month, nursing home care is the most expensive due to the hospital-level care and narrower staff-to-resident ratios than those found in assisted living facilities.
Nursing Home Facility (semiprivate room)
Does Medicaid Cover Home Care in Arizona?
Arizona has a Medicaid program officially known as the Arizona Health Care Cost Containment System (AHCCCS), which can help pay home care costs for qualifying Arizona residents. Seniors have access to the AHCCCS through a program called Arizona Long Term Care Services, which is also known as the Elderly and Physical Disability Program.
Home Waiver Programs in Arizona
Arizona Long Term Care Services (ALTCS)
You will often find Arizona Long Term Care Services referred to by its acronym, ALTCS (pronounced ALL-TECS). Its purpose is to pay for long-term care services for seniors who meet the financial eligibility requirements and score 60 points or more on their medical assessments (which are designed to determine the senior's ability to perform everyday activities without assistance). Although the program can pay for nursing home care, it can also pay for In-Home and Home Health Care services, such as home-delivered meals and skilled nursing. Everyone who satisfies the eligibility criteria qualifies for support.
Successful applicants develop long-term care plans with caseworkers. This approach has some flexibility as the senior can choose what's known as an 'Agency of Choice' or opt for 'Self-Directed Attendant Care'. The former option lets seniors choose their own caregivers from an authorized agency without needing to be their caregiver's employer. The latter option effectively makes the senior the employer, with the ability to hire, fire and train their caregiver. A Fiscal Employer Agent is assigned by the Department of Economic Security to help the senior negotiate the complexities of being an employer. The Self-Directed Attendant Care option is popular with seniors as it allows a family member to be the paid caregiver.
To be eligible for ALTCS, the applicant must be aged 65 or older and have a recognized physical or mental disability that would justify nursing home care. The applicant must also have an income no greater than 300% of the Federal Benefit Rate. To apply, seniors can either call (888) 621-6880 or contact their nearest ALTCS office.
How to Know If You're Eligible for Medicaid in Arizona
As of 2022, a single applicant's annual income can't exceed $30,276 in Arizona. If both spouses in a two-person household apply, it's $60,552. Countable income includes social security pensions, SSI payments, Veterans' pension and compensation, disability income and immediate annuities. Countable assets include checking and savings accounts, real property (although not the applicant's current address, unless its value exceeds $603,000), the cash value of insurance policies, stocks and non-exempt vehicles. There is a 60-month look-back period for all assets to determine if the applicant has undersold or gifted assets in anticipation of a future Medicaid claim.
2022 Medicaid Income Limits for Seniors in Arizona
Income Limits*
Asset Limits
*Per year
In addition to income and assets, Arizona's Medicaid program requires applicants to also satisfy other eligibility requirements. These are:
Being a U.S. citizen or non-citizen with a qualifying residency status
A resident of Arizona
Having a medical need for care and support to perform everyday activities
How to Apply for Medicaid in Arizona
There are several options that make it easier for seniors to apply for Medicaid in Arizona. They are:
Online: Visit Health-e-Arizona PLUS
By phone: Call (855) 432-7587 to request a paper copy of the application form be mailed to you
In-Person: Find your nearest DES office and make an appointment to speak to an advisor
By mail: Download and print Form FAA-001A and mail a completed copy with documents supporting the claim to the Arizona Department of Economic Security, Family Assistance Administration, P.O. Box 19009, Phoenix, AZ 85005-9009
What Information You Will Need
The following list of needed items applies to all applicants, including occasions when more than one person from the household applies.
Proof of U.S. citizenship and identity
An Alien Registration Card, if an immigrant
Social Security number, or proof of applying for a number
Birth certificate
The name, address and daytime phone number of a landlord or neighbor
A signed and dated statement by a non-relative who doesn't live with the applicant confirming the applicant's address and the names of everyone in their household
Proof of all money received in the current month and previous month
Verification of any medical insurance policies
Proof of last day of employment, if applicable
How to Get Help Applying for Medicaid
The most helpful free resource for potential Medicaid applicants in Arizona is AHCCCS. However, some seniors might want to get information elsewhere and others may need legal advice, so we've compiled this shortlist of organizations that may be able to assist.
Does Medicare Cover In-Home Care in Arizona?
In general, Medicare does not cover the cost of non-medical home care. That being said, there are situations in which Medicare provides some coverage for medical home care, referred to as "Home Healthcare." There are several eligibility restrictions for coverage, including that individuals must be homebound and have a referral from their doctor specifically for home healthcare services.
Below is an overview of some of the skilled medical professionals whose in-home services are typically covered by Medicare – for more in-depth information, refer to our Guide to Home Healthcare.
Physical Therapists: Physical therapy is used to help patients recover from injuries (broken bones, knee injuries, etc.), treat ongoing conditions such as arthritis, and assist in recovery from surgeries and procedures such as a knee or hip replacement.
Visiting Nurses: Licensed nurses can provide a number of medical services for those who don't need to stay in the hospital, but do need regular medical services such as wound care, changing feeding tubes, etc.
Occupational Therapists: Occupational therapists help seniors regain or maintain the ability to accomplish normal, daily tasks, such as bathing, dressing, eating, and other daily activities.
Speech Therapists: Speech therapists help seniors who are struggling to adequately communicate due to a stroke, dementia, or any other cause regain the ability to functionally communicate using a variety of means. Additionally, speech therapists help to keep seniors independent by modifying diets, teaching special techniques to swallow safely, and retraining associated muscles.
As mentioned above, in-home care is distinctly different from home healthcare. But, there can be some overlap in services between the two types of care. So, while Medicare doesn't cover non-medical in-home care, there are in-home care services that may be covered in special circumstances when they're provided in conjunction with home healthcare (such as an occupational therapist helping with eating or dressing)
Other Financial Assistance Options for In-Home Care in Arizona
While the above programs help many people finance in-home care, they will not cover all costs for everyone. There are other ways to pay for in-home care, including out-of-pocket arrangements with siblings, annuities, reverse mortgages, private insurance and more. Read Caring.com's Guide to In-Home Care Costs to learn more about these alternative payment options.
Free and Low-Cost Resources for Seniors in Arizona
There are many government agencies and nonprofit organizations in Arizona dedicated to helping seniors age safely in place. The agencies listed here can help with transportation, meal deliveries, home repairs and reducing household energy costs.
COVID-19 Rules for In-Home Care Providers in Arizona
The Centers for Medicaid and Medicare have mandated that all health care workers in Arizona be fully vaccinated against COVID-19 and have initiated an enforcement policy with a final cut-off date of April 14, 2022. Seniors in Arizona may recall Governor Doug Ducey signed an executive order banning government employees from COVID-19 mandates, but this order does not include home care workers. It may be prudent for seniors and family members concerned about the vaccination status of home care workers to contact their agency for confirmation. Generally, it's good to ask for regular updates, as some agencies may have additional safety measures in place and COVID-19 rules and regulations are still evolving.
In-Home Care Laws and Regulations in Arizona
The state of Arizona does not license home care agencies. Provided the services offered by agency caregivers is nonmedical in nature, agencies are not subject to direct state oversight. Nonmedical home care agencies in the state may voluntarily seek certification from the Arizona In-Home Care Association (AIHCA), a private industry organization that maintains quality of care standards. In addition to AIHCA requirements, individual caregivers are still subject to state laws for background screening and training.
In-Home Care Laws and Regulations in Arizona
Scope of Care
Caregivers in Arizona are permitted to assist seniors with activities of daily living and other routine needs, both inside and outside the home. Caregivers may provide seniors with personal care, companionship, shopping and meal preparation assistance and other nonclinical services with the consent of their client.
Care Plan Requirements
Caregivers and home care agencies in Arizona are required to develop a care plan with seniors and responsible family members prior to administering service. Agencies are expected to provide accurate information about care options and likely costs, as well as the identity and availability of the individuals providing care. Seniors have a right to be involved with all care decisions and an expectation that their information will be kept confidential.
Medication Management Requirements
Caregivers in Arizona are permitted to assist with the administration of over-the-counter medications and prescription drugs that are indicated for assisted administration. Caregivers are not allowed to initiate medical interventions of their own without medical professional direction.
Staff Screening Requirements
Applicants for caregiver certification must be at least 18 years old and able to communicate in English. They must test negative on a pretraining TB test or submit proof of vaccination. Caregivers in Arizona must, prior to accreditation, submit and pass an AZ DPS fingerprint screening and background check.
Staff Training Requirements
Caregivers in Arizona must complete 20 hours of online instruction and 42 hours of classroom instruction in an accredited training program. Students must pass all courses with a minimum score of 80%. A passing grade is required on the state exam for permitting. A CPR/AED card is required for new caregivers and must be maintained for as long as certification lasts. Caregivers must also meet the requirements for obtaining an Arizona Food Handlers' card.
Medicaid Coverage
The AHCCCS Medicaid program pays for many of the secondary costs of in-home care, such as medication and medical supplies. Direct payments to caregivers are made through either of two state Medicaid programs, Agency With Choice or Self-Directed Attendant Care..
Reporting Abuse
Suspected cases of elder abuse or neglect may be reported to either local law enforcement or Adult Protective Services at 877-767-2385.
Frequently Asked Questions
How Much Does In-Home Care Cost in Arizona?
In-home care in Arizona costs an average of $4,767 per month. Home health care, which is a different but related type of in-home service for seniors, also averages $4,767 per month in Arizona. Both of these costs are significantly lower than the average cost of skilled nursing care in the state.
Does Arizona Medicaid Pay for In-Home Care?
Arizona's Medicaid program pays for the medical costs associated with in-home care through two programs that seniors can use to hire and manage a caregiver of their choice. Detailed information about the AWS and SCAC programs is available on the Arizona Health Care Cost Containment System website.
Are There Financial Assistance Programs for In-Home Care in Arizona?
Several nongovernment programs exist to help seniors in Arizona manage the costs of in-home care. In addition to the local Area Agencies on Aging, which provide a wealth of services for seniors on a regional basis, various nonprofits in Arizona offer help with nutrition assistance, transportation and health screenings.
Does Medicare Pay for In-Home Care?
Medicare does not directly pay for home care services, but both Original Medicare and Medicare Advantage plans have provisions to pay for certain short-term outpatient services after an illness, injury or hospitalization, such as nursing visits and physical, occupational and speech therapy sessions.
What Are Activities of Daily Living?
Activities of daily living are the routine tasks seniors sometimes need help to get done. Caregivers are assisting with activities of daily living when they help seniors bathe, dress, eat, move about and take care of other personal care needs.
How to Find an In-Home Care Provider in Arizona
Whether you are looking for yourself or a loved one, finding a quality home care provider can be a stressful process. When you hire an in-home care aide you're placing a lot of trust in the hands of the person by inviting them into your home, so you'll want to be diligent in your search. At Caring.com, we're here to help – we've created a helpful checklist below that can help guide you through the process of both determining your needs and finding a home care agency that will provide the best care possible.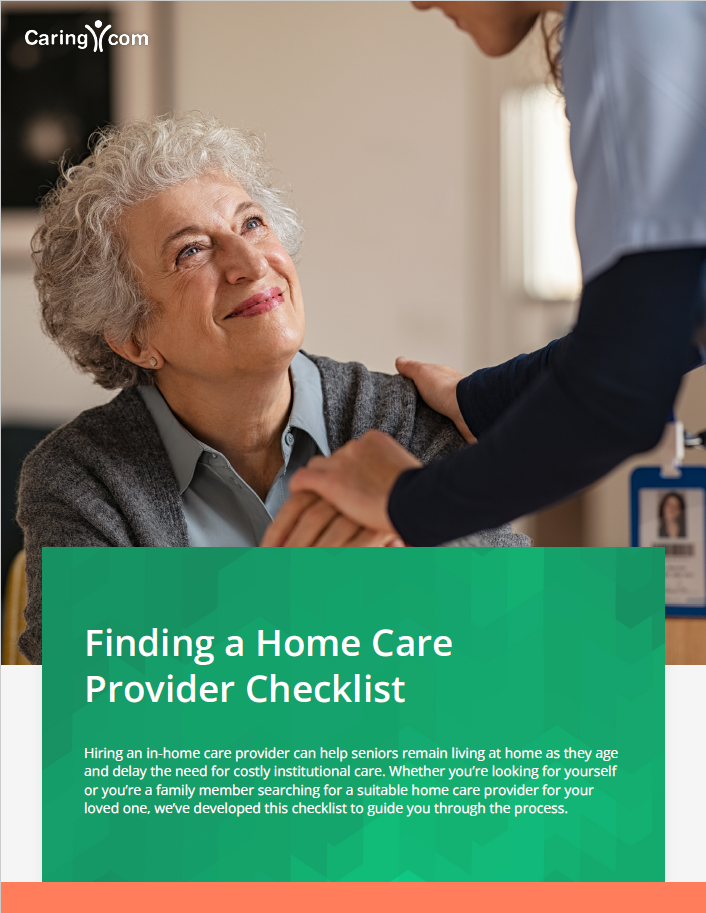 Find Home Care Agencies Near You
To find quality home care providers near you, simply input the zip code or city where you would like to start your search. We have an extensive directory of home care agencies all across the nation that includes in-depth information about each provider and hundreds of thousands of reviews from seniors and their loved ones.
Home Care Services in Arizona (112)