The Commonwealth of Virginia was home to more than 1.3 million adults aged 65 and older in 2021, and the population of seniors 60 and older is expected to grow to 24% by 2030. The state is appealing to retirees due to its combination of big-city amenities, beach communities, beautiful landscapes and warm weather. Virginia is also considered one of the best states for health care. It has four nationally ranked hospitals, including the University of Virginia Medical Center and Inova Fairfax Hospital.
Virginia's great health care is complemented by an array of home care services resources to help seniors live at home while promoting their health, dignity and independence. In-home care is a nonclinical service that helps seniors with their daily activities, such as housekeeping, meal preparation and grooming. It costs an average of $4,767 per month. Home health care is a clinical service provided by a skilled nurse or other medical professionals. Due to this higher level of care, this service costs $4,954 per month.
This guide compares the cost of home care in Virginia with nearby states and with other types of available care. It also covers how to pay for services and resources available to seniors throughout the state.
The Cost of In-Home Care in Virginia
According to the Genworth Cost of Care Survey for 2021, the average cost of home care in Virginia is $4,767 per month, which is about $200 less than the national average. Compared to other states in the Midatlantic region, the Commonwealth has relatively inexpensive rates. Both Delaware ($5,339) and Maryland ($5,148) have median prices higher than $5,000, and Pennsylvania is not far behind with a monthly average of $4,957. North Carolina has an average rate of $4,385. Inland in the Appalachian country, Kentucky ($4,767) and West Virginia ($3,527) have home care costs lower than Virginia.
Economically, Virginia is a diverse state with a wide range of home care costs. Lynchburg ($4,185) has the most affordable prices, and Charlottesville ($6,292) has the most expensive. Fairfax County, which is part of the Washington D.C. suburbs, has an average rate of $5,339. Only the state capital, Richmond, has more expensive home care costs. Blacksburg and Winchester have similar median prices. In Virginia Beach, which includes the Norfolk area, the average rate for home care is identical to the state average.
In Virginia, in-home care costs $4,767, and home health care costs $4,954. These costs account for 40 hours of service per week. A possible alternative to home health care is adult day health care, which is much less expensive at an average of $1,690. Assisted living facilities also provide help with daily activities in a community setting, and they cost an average of $5,250 per month. Seniors who require a high degree of medical attention and supervision pay an average of $8,213 per month for nursing homes.
Does Medicaid Cover Home Care in Virginia?
Yes, Medicaid in Virginia can cover the cost of some home care services for seniors who require a nursing home level of care. State and federal funds reimburse home care providers through a 1915 (c) waiver program called Commonwealth Coordinated Care Plus (CCC). It covers personal care, respite, private duty nursing and transition services. Since this is not an entitlement program under standard Virginia Medicaid, you are subject to some service limitations.
Home Care Waiver Programs in Virginia
Commonwealth Coordinated Care Plus (CCC)
The CCC waiver program pays for home care services so that seniors at risk for nursing facilities or other specialized care placement can stay in their own homes. The program pays for personal emergency response systems, assistive technology, private duty nursing, environmental modifications and transition services. It also covers agency and consumer-directed personal care services. There is a soft cap of 56 hours per week for personal care services and 112 hours per week for private duty nursing.
To be eligible for the CCC program, you must complete a screening that demonstrates your need for a nursing home level of care and your ability to receive care within your home safely. In addition, the critical services provided by the program must be the factor that keeps you from being placed in a nursing facility. The CCC program provides care for about 40,000 seniors in Virginia every year.
How to Know if You're Eligible for Medicaid in Virginia
Apart from the CCC screening, Medicaid beneficiaries must not exceed certain income and asset limits. A single applicant can earn no more than $30,276 per year or own more than $2,000 in assets, excluding the home where they live. Married couples applying for coverage cannot earn more than $60,552 and own more than $4,000.
2022 Medicaid Income Limits for Seniors in Virginia
Income Limits*
Asset Limits
*Per year
Virginia Medicaid also requires each applicant to:
Be citizens of the U.S. or documented legal residents
Be residents of Virginia
Have a Social Security Number
How to Apply for Medicaid in Virginia
You can apply for Virginia Medicaid in three different ways. Fill out an online application by visiting the CommonHelp website at any time. Apply over the phone by calling the Cover Virginia Call Center at (888) 221-1590, Monday through Friday, or print an application and fill it out by hand, then mail it or drop it off at the nearest Department of Social Services location.
What Information You Will Need
When applying for Medicaid using any method, you'll be required to provide some personal information. This includes:
Address, phone numbers and other contact information for you and other household members
Social Security number
Bank and other financial statements
Deeds, trusts and other records of assets
Record of all asset transfers within the past five years
Information about other health insurance policies you may have
How to Get Help Applying for Medicaid
If you or someone you know needs help applying for Medicaid coverage, you can contact the following resources for assistance:
Does Medicare Cover In-Home Care in Virginia?
In general, Medicare does not cover the cost of non-medical home care. That being said, there are situations in which Medicare provides some coverage for medical home care, referred to as "Home Healthcare." There are several eligibility restrictions for coverage, including that individuals must be homebound and have a referral from their doctor specifically for home healthcare services.
Below is an overview of some of the skilled medical professionals whose in-home services are typically covered by Medicare – for more in-depth information, refer to our Guide to Home Healthcare.
Physical Therapists: Physical therapy is used to help patients recover from injuries (broken bones, knee injuries, etc.), treat ongoing conditions such as arthritis, and assist in recovery from surgeries and procedures such as a knee or hip replacement.
Visiting Nurses: Licensed nurses can provide a number of medical services for those who don't need to stay in the hospital, but do need regular medical services such as wound care, changing feeding tubes, etc.
Occupational Therapists: Occupational therapists help seniors regain or maintain the ability to accomplish normal, daily tasks, such as bathing, dressing, eating, and other daily activities.
Speech Therapists: Speech therapists help seniors who are struggling to adequately communicate due to a stroke, dementia, or any other cause regain the ability to functionally communicate using a variety of means. Additionally, speech therapists help to keep seniors independent by modifying diets, teaching special techniques to swallow safely, and retraining associated muscles.
As mentioned above, in-home care is distinctly different from home healthcare. But, there can be some overlap in services between the two types of care. So, while Medicare doesn't cover non-medical in-home care, there are in-home care services that may be covered in special circumstances when they're provided in conjunction with home healthcare (such as an occupational therapist helping with eating or dressing)
Other Financial Assistance Options for In-Home Care in Virginia
While the above programs help many people finance in-home care, they will not cover all costs for everyone. There are other ways to pay for in-home care, including out-of-pocket arrangements with siblings, annuities, reverse mortgages, private insurance and more. Read Caring.com's Guide to In-Home Care Costs to learn more about these alternative payment options.
Free and Low-Cost Resources for Seniors in Virginia
Virginia seniors have access to an array of free and low-cost resources that can improve their lives. Several of these resources can save homeowners money to afford home care services.
COVID-19 Rules for In-Home Care Providers in Virginia
The Centers for Medicare & Medicaid Services (CMS) mandates that all in-home care aides and home health care workers in Virginia must be vaccinated for the SARS-CoV-2 virus, which is the disease responsible for the COVID-19 pandemic. Some workers are exempt from vaccination under qualifying circumstances. These rules are current as of April 2022, so check with your local area agency on aging to get up-to-date information about vaccination requirements in your area if you're reading this after April. Your jurisdiction may have more strict protection rules for home care workers than what CMS mandates, such as masking and other personal protection equipment.
In-Home Care Laws and Regulations in Virginia
The Virginia Department of Health – Office of Licensure and Certification is responsible for the licensing and oversight of home care organizations operating in the state. Any organization that provides hands-on personal care to clients, such as assistance with bathing, grooming, ambulation or eating, must be licensed. The office also investigates any complaints filed against providers and conducts unannounced on-site inspections to ensure compliance with state regulations. The table that follows offers an overview of the rules and regulations governing home care organizations in Virginia.
In-Home Care Laws and Regulations in Virginia
Scope of Care
Home care organizations may offer various nonmedical services to seniors, including assistance with the five activities of daily living and medication self-administration. Homemaker tasks, such as preparing meals, performing household chores, accompanying seniors to appointments and running errands may also be provided.
Care Plan Requirements
Organizations must provide each senior receiving personal care services with a written care plan developed by an RN. This plan must include an assessment of the client's needs, their functional limitations and special dietary requirements, along with the specific services provided and their frequency.
Medication Management Requirements
Home care aides may provide reminders and assist seniors with the self-administration of physician-prescribed medications.
Staff Screening Requirements
A criminal background check must be obtained for new staff members within 30 days of employment. Until the report is received, the person may not work directly with clients, unless under the supervision of another employee.
Staff Training Requirements
Home care aides who provide personal care services must have completed a nurse aide education course or passed a state-approved competency evaluation program. Aides must also complete a minimum of 12 hours of ongoing training annually.
Reporting Abuse
Virginia's Adult Protective Services Division investigates reports of neglect, exploitation and abuse of adults aged 60 and over. Concerned individuals can report an incident by calling the APS hotline at 888-832-3858, or contacting the nearest
Department of Social Services
office.
Frequently Asked Questions
Are There Programs to Cover Home Modifications in Virginia?
How Much Does In-Home Care Cost in Virginia?
According to the Genworth Cost of Care Survey 2019, the cost of home care in Virginia averages $4,195 per month. This is about $100 below the national median, and almost $200 less than the average cost of home health services, which include skilled nursing care.
Does Virginia Medicaid Pay for In-Home Care?
In Virginia, regular Medicaid only covers the cost of care in a nursing home. However, the program does offer the Commonwealth Coordinated Care Plus Waiver that pays for a range of in-home services and supports for individuals who meet Medicaid's financial and functional eligibility guidelines.
What Are Activities of Daily Living?

Activities of daily living, which are commonly referred to as ADLs, are the self-care tasks an individual routinely completes on a daily basis. They include bathing, grooming, dressing, elimination, moving/walking and eating. ADLs are not the same as instrumental activities of daily living, which are more complex.
What Types of Services Does a Home Care Aide Provide?
In Virginia, home care attendants can assist seniors with daily personal care tasks, such as bathing, grooming and dressing, provide medication reminders, help them self-administer medications and furnish transportation to medical appointments. They may also perform housekeeping chores, prepare meals and run errands.
How to Find an In-Home Care Provider in Virginia
Whether you are looking for yourself or a loved one, finding a quality home care provider can be a stressful process. When you hire an in-home care aide you're placing a lot of trust in the hands of the person by inviting them into your home, so you'll want to be diligent in your search. At Caring.com, we're here to help – we've created a helpful checklist below that can help guide you through the process of both determining your needs and finding a home care agency that will provide the best care possible.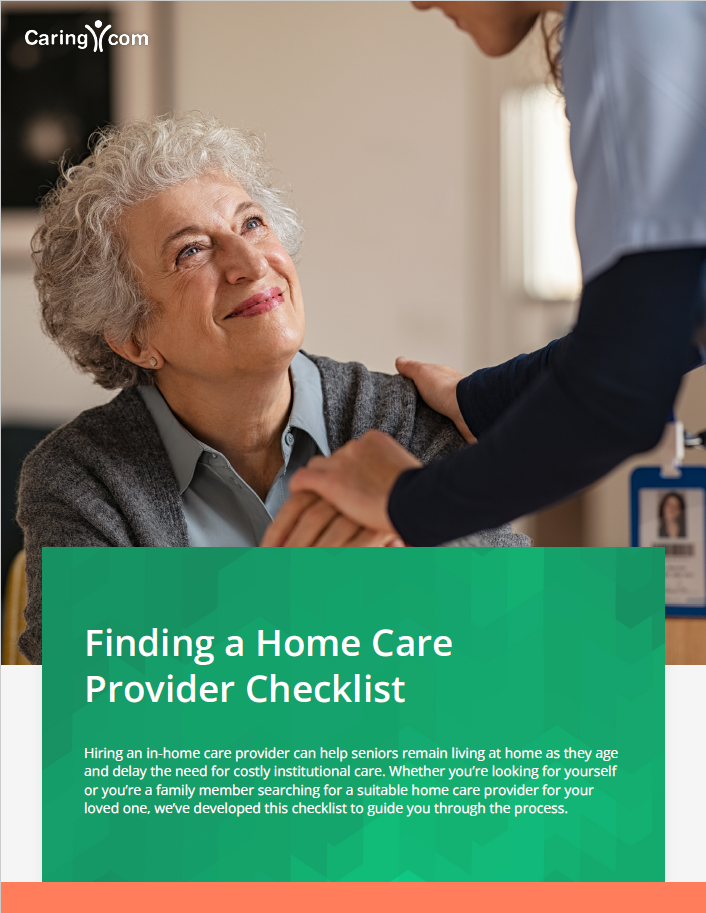 Find Home Care Agencies Near You
To find quality home care providers near you, simply input the zip code or city where you would like to start your search. We have an extensive directory of home care agencies all across the nation that includes in-depth information about each provider and hundreds of thousands of reviews from seniors and their loved ones.
Home Care Services in Virginia (386)