The 10 Best In-Home Care Services in Richmond, VA for 2023
Ranking 84th out of 302 on the Caring.com 2022 Senior Living Report, Richmond is a dynamic city that offers a range of benefits for seniors. It's among the more affordable cities on the report with comparatively low housing prices, enabling many seniors to maintain their standard of living throughout retirement. Good air quality and a low crime rate make it a safe community for older residents, and nearly 80% of houses offer zero-step entrances, making them convenient for those who rely on mobility aids. On average, home care agencies in Richmond charge $5,148 per month for services. Home health care, which is similar but includes skilled nursing services, is a little costlier.
Below we've compiled a comprehensive directory of every home care provider in the Richmond area – complete with services offered and reviews from families who've actually used the service. In addition to our in-depth provider listings, we've compiled resources to help seniors and their families to access all the tools they need to age in place safely and gracefully.
Paying for Home Care in Richmond, VA
The Cost of Home Care in Richmond, VA
The Genworth 2021 Cost of Care Survey, which highlights long-term care rates in communities across the country, reports that home care agencies in Richmond charge $5,148 per month for services. This is high compared to the state rate of $4,767 and the national average of $4,957. Even so, home care rates in Richmond are competitive compared to care costs in Charlottesville, where older adults pay $6,292, and Staunton, where fees come in at $5,339. In Virginia Beach, rates are consistent with the state rate at $4,767, and in Lynchburg, care costs are roughly $1,000 lower than in Richmond at $4,185.
The Cost of Home Care vs. Other Senior Care Options in Richmond, VA
Home care agencies in Richmond charge $5,148 for basic personal care, and agencies that provide skilled nursing services charge $5,243. Seniors may save a couple hundred dollars per month by opting for assisted living, which costs $4,901 per month, and those seeking the most affordable care may be good candidates for adult day health care, where seniors pay $1,712. Nursing homes charge the highest rates locally of $8,654.
Nursing Home Care (semiprivate room)
Financial Assistance for Home Care in Richmond, VA
Given the high cost of in-home care, many people use one or more forms of financial assistance to cover the expenses. Below, we explain some of the most common sources of financial help for paying for in-home care. If none of these options are available to you, you can reach out to your Area Agency on Aging or Aging and Disability Resource Center to learn about local resources.
Free & Low-Cost Home Care Resources in Richmond, VA
Seniors in Richmond who need an extra hand throughout the day may be able to find the services they need through community-based programs and state agencies. The following table includes resources such as the Area Agency on Aging, the local senior center and the veterans' service office, which may help older adults find the care they need in the community.
Determining Your Loved One's Need for In-Home Care
Aging can be a difficult process, and loved ones may not always ask for help – oftentimes it's up to their family to evaluate their need for help around the house. While no two situations are exactly alike, this checklist can help you and your loved ones determine when it's time to start the search for a home care provider.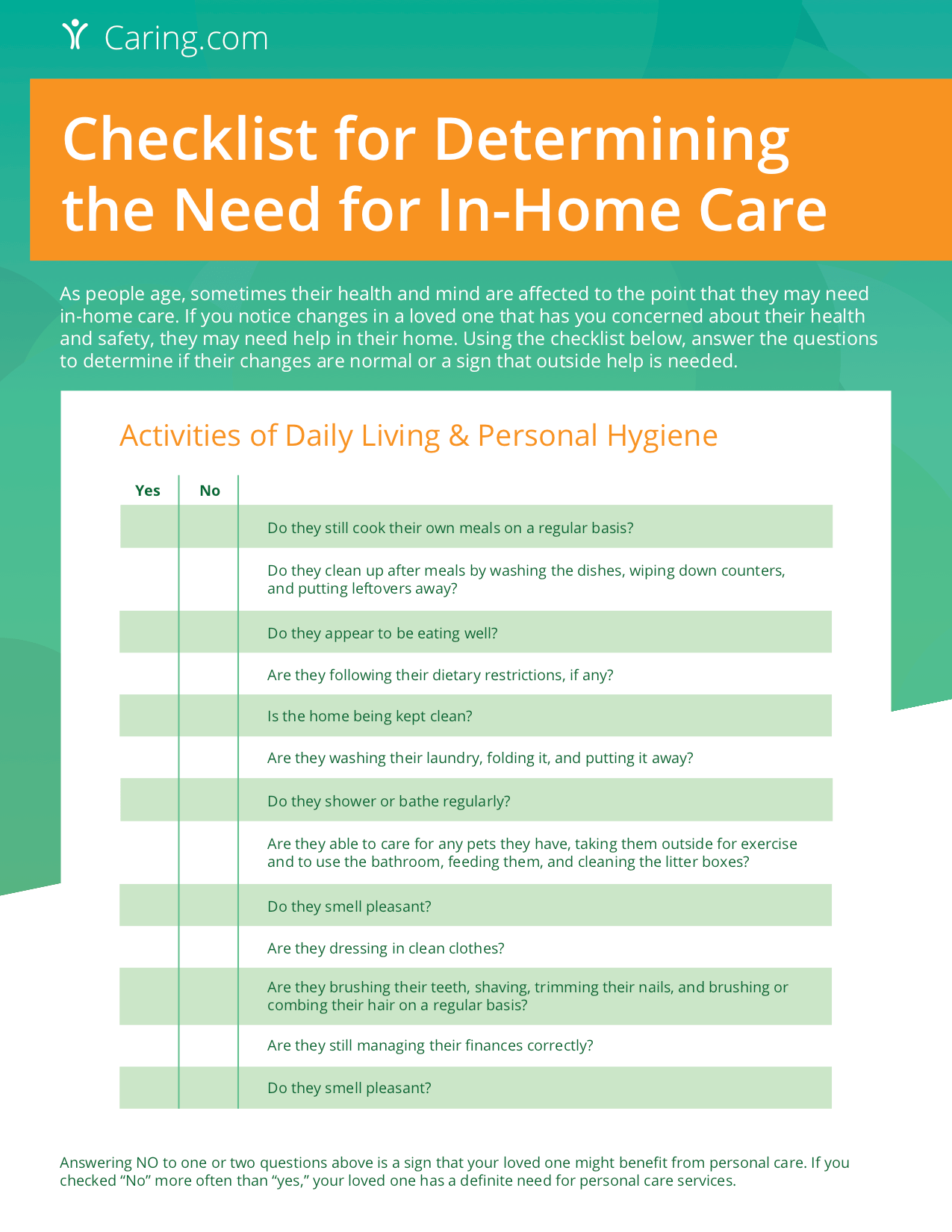 Guidelines for Talking About In-Home Care
If you've determined that your loved one needs the assistance of a care provider in their home, it may be time for a difficult conversation. Handled correctly, however, this process can bring a family together and ensure that everyone's concerns are addressed. Use this PDF as a starting point to help the conversation stay as positive and productive as possible.
Frequently Asked Questions
How many home care agencies are there near Richmond?

Seniors in Richmond have 37 home care agencies to choose from. When looking for the right agency for your needs, it's helpful to consider a range of factors, including what services an agency offers, what qualifications its caregivers have and whether its pricing fits your budget. It's also a good idea to research an agency's reviews, noting whether the majority of reviews are positive and whether the company publicly addresses negative reviews.
What is the difference between in-home care and home health care?

In-home care is non-medical care seniors obtain in their own homes. It includes custodial care, including help with eating, bathing, dressing and toileting, depending on the needs of the individual. It may also include companion services, such as transportation for errands and doctor's appointments, assistance with physician-ordered exercises and conversation. However, it doesn't include skilled nursing services. For this, seniors need home health care. This level of care is administered by certified or licensed aides and may include medication administration, disease monitoring and management, wound care and physical or occupational therapies.
What is the average cost of in-home elderly care in Richmond?

Home care rates vary from one agency to another, but on average, seniors pay $5,148 per month for services. This rate is based on receiving 44 hours of care per week. This works out to 8.8 hours per weekday at $27 per hour. If you supplement paid services with subsidized services through local resources such as the Area Agency on Aging, you may be able to reduce your monthly care expenses. Seniors who need care outside of normal operating hours, such as those who require weekend care, may pay more than the average rate.
What is a home care assessment?

Home care agencies conduct assessments that evaluate your strengths and needs in order to create a personalized care plan. The assessment may cover topics such as whether you have a medical diagnosis, what medications you're taking, your medical history, whether you qualify for state or federal benefits and what services you need. It may also include a walkthrough of your home to identify potential hazards.
Assisted living homes vs. home care: how to decide?

Assisted living facilities and home care agencies provide the same services but in different environments. Assisted living facilities provide housing, meals and recreational activities along with personalized care services. These agencies are ideal for older adults who may otherwise be isolated or don't want the hassles of living independently. Home care offers personal care in the individual's own home, making it a great option for older adults who want to maintain optimal privacy and independence. When choosing the right option, it's helpful to consider factors such as what you can afford and whether you prefer to live alone or in a community setting.