Kentucky is home to more than 750,000 seniors, representing 16.8% of the state's population. With access to top hospitals, including the Albert B. Chandler Hospital at the University of Kentucky and Baptist Health Lexington, and a median home price under $170,000 as of 2020, Kentucky has much to offer its senior residents, which is why many older adults are flocking to the state for retirement.
For a small state, Kentucky also has abundant options for in-home care and home health care. In-home care consists of nonclinical services such as help with grocery shopping, errands, cooking and other daily living activities. Home health care includes clinical services such as physical and occupational therapy. According to the 2021 Genworth Cost of Care Survey, in-home care and home health care cost an average of $4,767 per month in Kentucky.
This guide provides an overview of what to expect when seeking in-home care or home health care in Kentucky, including average costs, Medicare and Medicaid coverage, eligibility requirements and COVID-19 policies for providers. Also covered are state-specific resources for seniors who wish to retain their independence and age in place.
The Cost of In-Home Care in Kentucky
According to the Genworth 2021 Cost of Care Survey, the cost of in-home care in Kentucky averages $4,767 per month. This is less than the national average of $4,957 and comparable to many of the surrounding states. Of Kentucky's closest neighbors, Illinois has the highest in-home care costs at $5,339 per month, followed by Ohio at $4,957. Indiana's costs are the same as Kentucky's at $4,767 per month, while Tennessee, with average monthly costs of $4,576, offers the least-expensive in-home care in the region.
The cost of care in Kentucky can vary from city to city, sometimes substantially. Louisville, the state's largest metropolitan area, has costs that sit right at the state median of $4,767. The median costs in Lexington are slightly higher at $4,957 per month. The smaller city of Paducah on the state's western edge has median in-home care costs of $4,767 per month, while Covington, a large suburb of Cincinnati, OH, is moderately more expensive at $5,148.
Kentucky seniors needing personal or medical assistance have options beyond in-home care. The highest level of care, but also the most expensive, is a nursing home facility, where a semiprivate room costs an average of $7,178 per month in Kentucky. Other options are much less expensive than either skilled nursing care or in-home care. These include an assisted living facility at an average of $3,448 per month and adult day health care at $1,690 per month.
Nursing home care (semiprivate room)
Does Medicaid Cover Home Care in Kentucky?
While Medicaid covers certain in-home medical costs in Kentucky, it does not cover non-medical in-home care. However, the state has several waiver programs to help defray many of the costs associated with aging in place. These programs include the Home and Community Based Waiver, a benefit program for seniors over 65 who need home care; the Homecare Program, for seniors unable to perform certain daily living activities; the Hart-Supported Living Program, which promotes rights and autonomy for Kentucky's older population; and the Personal Care Attendant Program, which helps subsidize the cost of in-home care.
Home Care Waiver Programs in Kentucky
Kentucky offers four waiver programs to help seniors with various expenses associated with in-home care and aging in place. Each program has different benefits and eligibility requirements.
How to Know if You're Eligible for Medicaid in Kentucky
Medicaid applicants in Kentucky must meet certain income and asset limits. A single applicant may not make more than $10,092 per year or have more than $2,000 in assets. A married couple applying together may not make more than $15,132 per year or have more than $3,000 in assets. A married person applying without their spouse may not make more than $10,092 per year or have more than $4,000 in assets.
Income Limits*
Asset Limits
Two-Person Household
(Both People Applying)
Two-Person Household
(One Person Applying)
*Per year
Kentucky Medicaid applicants must meet these additional requirements as well:
Be a resident of Kentucky at time of application
Be a U.S. citizen or legal alien
Have a low income
Be in need of health insurance or health care assistance
How to Apply for Medicaid in Kentucky
Kentucky residents can apply for Medicaid online using the KYnect portal, over the phone by calling (855) 306-8959 or in person at a Department for Community Based Services (DCBS) office.
What Information You Will Need
You will need several pieces of documentation when applying for Medicaid in Kentucky. You should have:
Multiple forms of ID, such as your driver's license, passport or Social Security card
Information about your finances, including tax returns, bank statements and income documents
Information regarding current insurance or health care coverage
How to Get Help Applying for Medicaid
Because the Medicaid application process can get confusing, you might choose to seek assistance from a nonprofit organization or government resource that can help you determine your eligibility and apply. Kentucky offers several such programs to give you the assistance you need.
Does Medicare Cover In-Home Care in Kentucky?
In general, Medicare does not cover the cost of non-medical home care. That being said, there are situations in which Medicare provides some coverage for medical home care, referred to as "Home Healthcare." There are several eligibility restrictions for coverage, including that individuals must be homebound and have a referral from their doctor specifically for home healthcare services.
Below is an overview of some of the skilled medical professionals whose in-home services are typically covered by Medicare – for more in-depth information, refer to our Guide to Home Healthcare.
Physical Therapists: Physical therapy is used to help patients recover from injuries (broken bones, knee injuries, etc.), treat ongoing conditions such as arthritis, and assist in recovery from surgeries and procedures such as a knee or hip replacement.
Visiting Nurses: Licensed nurses can provide a number of medical services for those who don't need to stay in the hospital, but do need regular medical services such as wound care, changing feeding tubes, etc.
Occupational Therapists: Occupational therapists help seniors regain or maintain the ability to accomplish normal, daily tasks, such as bathing, dressing, eating, and other daily activities.
Speech Therapists: Speech therapists help seniors who are struggling to adequately communicate due to a stroke, dementia, or any other cause regain the ability to functionally communicate using a variety of means. Additionally, speech therapists help to keep seniors independent by modifying diets, teaching special techniques to swallow safely, and retraining associated muscles.
As mentioned above, in-home care is distinctly different from home healthcare. But, there can be some overlap in services between the two types of care. So, while Medicare doesn't cover non-medical in-home care, there are in-home care services that may be covered in special circumstances when they're provided in conjunction with home healthcare (such as an occupational therapist helping with eating or dressing)
Other Financial Assistance Options for In-Home Care in Kentucky
While the above programs help many people finance in-home care, they will not cover all costs for everyone. There are other ways to pay for in-home care, including out-of-pocket arrangements with siblings, annuities, reverse mortgages, private insurance and more. Read Caring.com's Guide to In-Home Care Costs to learn more about these alternative payment options.
Free and Low-Cost Resources for Seniors in Kentucky
Aging in place offers a number of benefits over residential centers, but it can also present challenges, particularly when physical limitations make it difficult to carry out certain activities of daily living. Seniors in Kentucky who want to age in place but need a little help can find it through the following free and low-cost resources.
COVID-19 Rules for In-Home Care Providers in Kentucky
Kentucky requires all in-home care and home health care workers to be vaccinated against COVID-19 unless they qualify for a medical or religious exemption. As of April 2022, Kentucky's vaccine mandate for home health workers is in effect, though it is subject to change in the future, as has been seen recently with numerous federal and state laws surrounding the virus.
The Kentucky Area Agencies on Aging are good resources for the most up-to-date COVID-19 laws for health care workers. You might also consider reaching out to a representative of the specific in-home care agency you're considering. They can inform you of their current policies.
In-Home Care Laws and Regulations in Kentucky
The Kentucky Division of Health Care implements and enforces the regulations that apply to personal service agencies, home health services, personal care homes and skilled-nursing facilities in the state.
In-Home Care Laws and Regulations in Kentucky
Scope of Care
Personal service agencies are permitted to provide attendant care that aims to help older adults perform activities of daily living and maintain their independence. Nursing, medical services and other health-related services are excluded from this type of care.
Care Plan Requirements
Personal service agencies are required to accept input from their clients when developing care plans. Each client should receive a written plan with details regarding the services to be provided, the fees that will be charged for each service and the days and times the services will be provided.
Medication Management Requirements
Employees of personal service agencies are permitted to help clients with self-administered medications.
Staff Screening Requirements
Any personal services agency that provides direct services to clients must conduct criminal background checks on applicants. An employment offer should not be made until the applicant's background check has been completed. Personal services agencies aren't permitted to hire applicants or retain employees convicted of the following crimes: sex crimes; abuse, neglect or exploitation of a child or disabled adult; abuse or sale of illicit drugs; or felony offenses involving theft.
Staff Training Requirements
In Kentucky, home health aides must satisfy the minimum training requirements established by the federal government. These requirements include 75 hours of training, including 16 hours of hands-on clinical training, and 12 hours of continuing education for every 12 months of employment. To work for a Medicare-certified home health agency, a home aide must also be certified.
Medicaid Coverage
The Home and Community Based Services waiver program covers part or all of the cost of hiring a personal care attendant for qualified individuals.
Reporting Abuse
Abuse should be reported to Kentucky Adult Protective Services by calling the 24-hour hotline at (800) 752-6200. Adult Protective Services accepts anonymous reports.
Frequently Asked Questions
How much does in-home care cost in Kentucky?
According to Genworth Financial's 2019 Cost of Care Survey, in-home care costs an average of $3,813 per month in Kentucky, about $300 less than the national average of $4,290. The cost of in-home care is lower in Kentucky than it is in the nearby states of Illinois, Indiana and Ohio. Out of the five most populous cities in Kentucky, Owensboro and Covington have the lowest monthly costs, averaging $3,623 and $3,146, respectively.
Does Kentucky Medicaid pay for in-home care?
In Kentucky, the Home and Community Based Services Medicaid Waiver can be used to pay for in-home care. Medicaid pays for these services to ensure that older adults can age in place while maintaining their safety and independence. The Home and Community Based Services Medicaid Waiver can be used by seniors remaining in their own homes, living with family members or living in adult foster homes.
Are there transportation assistance programs in Kentucky?
Transportation assistance programs are available in some regions of Kentucky, including Jefferson, Shelby, Bullitt, Henry, Spencer, Trimble and Oldham Counties. Senior transportation is available to adults who are at least 60 years old and do not qualify for other forms of public transport. Transportation may be available to and from nutrition sites, non-emergent medical appointments and senior centers. In some cases, transportation vouchers are available to reimburse care providers for transporting their clients to non-emergency medical appointments.
What does it mean to age in place?
Seniors who age in place choose to remain in their homes instead of moving to nursing homes, personal care homes or assisted-living facilities. Many seniors choose aging in place because it allows them to maintain important community connections, remain independent for as long as possible and spend as much time as they can in familiar surroundings.
What are "Activities of Daily Living"?
Activities of daily living are the routine activities that people should be able to do each day without assistance. Using the toilet, getting dressed, bathing and eating are some of the most important ADLs. For seniors with mobility problems, balance problems or other health issues, it may be necessary to hire a personal care attendant to assist with some of these activities. For example, an older person with poor balance may have a personal care attendant assist with showering to reduce the risk of falls.
How to Find an In-Home Care Provider in Kentucky
Whether you are looking for yourself or a loved one, finding a quality home care provider can be a stressful process. When you hire an in-home care aide you're placing a lot of trust in the hands of the person by inviting them into your home, so you'll want to be diligent in your search. At Caring.com, we're here to help – we've created a helpful checklist below that can help guide you through the process of both determining your needs and finding a home care agency that will provide the best care possible.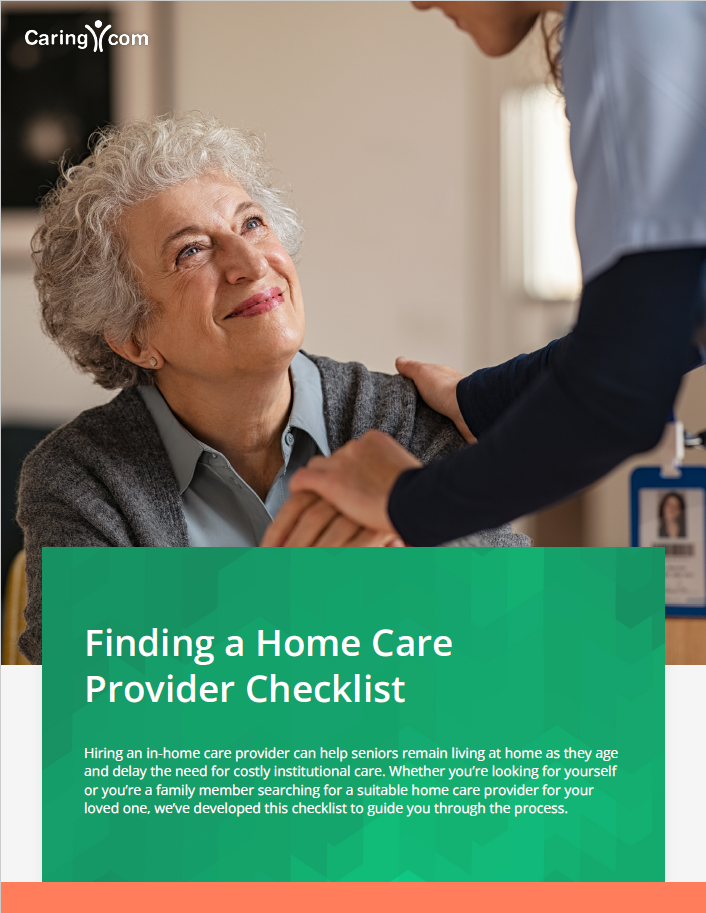 Find Home Care Agencies Near You
To find quality home care providers near you, simply input the zip code or city where you would like to start your search. We have an extensive directory of home care agencies all across the nation that includes in-depth information about each provider and hundreds of thousands of reviews from seniors and their loved ones.
Home Care Services in Kentucky (67)