In-Home Care in Tennessee
With a low cost of living and a slower-paced lifestyle, Tennessee is a popular place for seniors to retire. Close to 17% of the population is aged 65 and older, attributed to housing costs that are nearly 30% lower than the national average. Vanderbilt University Medical Center is a high-performance hospital that's nationally ranked and noted as the best hospital in the state. Other hospitals that provide quality care include the Baptist Memorial Hospital in Memphis and CHI Memorial Hospital in Chattanooga.
Seniors in Texas who prefer to receive treatment around family and friends in their own homes can choose from in-home care and home health care. Home care provides companionship and personal care, including dressing, toileting, bathing, meals and housekeeping. Home health care offers home care with skilled medical care. As of 2021, in-home care and home health care in Tennessee costs seniors an average of $4,576 per month.
This guide briefly covers in-home care prices in Tennessee and surrounding states as well as in-home care price comparisons between local cities. You'll also discover useful information that helps you apply for benefits through Medicaid and other state-based programs.
The Cost of In-Home Care in Tennessee
Genworth's 2021 Cost of Care Survey determined the average monthly cost of in-home care in Tennessee is $4,576 per month. This is $381 less than the national average of $4,957. To the north of Tennessee, home care in Kentucky is $4,767 per month. To the southeast, in Georgia, home care is $4,290. To the south of Tennessee, Mississippi and Alabama have an in-home care cost of $3,813 per month.
Typical in-home care costs vary depending on where you live, the number of hours you need assistance and your daily care needs. Johnson City and Morristown have the lowest monthly costs for in-home care in Tennessee at $4,004. On the other side of the state, in Memphis, in-home care costs seniors around $4,242 per month. Chattanooga and Nashville seniors pay the same monthly average at $4,767, while those in Knoxville pay $4,757.
Nursing home care generally costs more than other types of senior care. In Tennessee, a semiprivate room costs on average $7,148 per month. In-home care and home health care are the second highest in cost, but give seniors the convenience of aging in place for as long as possible. Both have a median cost of $4,576 per month. Assisted living is $4,105 per month as a residential care option in Tennessee. The least expensive option for long-term care is adult day health care at $1,733 per month. Adult day health care provides assistance to seniors during the daytime hours only, typically when loved ones are working.
Does Medicaid Cover Home Care in Tennessee?
TennCare or Tennessee Medicaid helps seniors pay for services in in-home care indirectly through two Medicaid waivers: the CHOICES waiver program and Program for All-Inclusive Care for the Elderly (PACE). While regular Medicaid doesn't cover non-medical care, these waivers pay for personal care services ranging from meals to housekeeping.
Home Care Waiver Programs in Tennessee
CHOICES Waiver Program
The CHOICES Waiver Program pays for home and community-based services for seniors aged 65 and older and those with disabilities. The program covers one-on-one assistance with housekeeping, transportation, therapy, medication administration, meals and grooming.
Eligible seniors must meet the same Medicaid eligibility criteria and must agree to a personal needs assessment. To apply, seniors should contact their local Area Agency on Aging and Disability.
Program for All-Inclusive Care for the Elderly (PACE)
PACE provides comprehensive medical and social services to seniors who prefer to age in place. The waiver helps pay for adult daycare, dental services, emergency services, home care, medical equipment, medical specialty services and nutritional services.
To qualify for PACE, seniors must be 55 years of age and older, meet the nursing home level of care requirement, live in Hamilton County and prefer to live at home or in a community setting.
How to Know if You're Eligible for Medicaid in Tennessee
Individuals applying for Tennessee Medicaid must meet the income and asset criteria set by the state. These limits are based on a percentage of the federal poverty level or $30,276 per year. In a single-person household, the income limit is $30,276 per year with assets totaling no more than $2,000. In a two-person household, the income limit is $60,552 per year or $30,276 per person and assets totaling no more than $4,000.
2022 Medicaid Income Limits for Seniors in Tennessee
Yearly Income Limits
Asset Limits
Additional TennCare eligibility includes:
Must be 65 years of age or older
Require the nursing home level of care
Citizen of the United State or legal alien
Tennessee resident
How to Apply for Medicaid in Tennessee
TennCare applications may be submitted online at TennCare Connect or by calling (855) 259-0701. To apply by mail, download a paper application and sign and submit it to TennCare Connect, P.O. Box 305240, Nashville, TN 37230-5240. Applications may also be faxed to (855) 315-0669. Those who prefer to apply in person can search for a nearby Department of Human Services office online or by calling TennCare Connect.
What Information You Will Need
Before starting your Medicaid application, gather the needed information about assets and income. Some required documents include pay stubs, tax returns and bank statements. It's also important to have a copy of your driver's license or government-issued ID and Social Security card for each applicant. Additional required information includes proof of property ownership and copies of insurance accounts and retirements.
How to Get Help Applying for Medicaid
TennCare applications can be difficult for seniors to navigate and understanding eligibility requirements can be tricky. The state has several resources that help seniors get the answers to the most popular Medicaid questions.
Does Medicare Cover In-Home Care in Tennessee?
In general, Medicare does not cover the cost of non-medical home care. That being said, there are situations in which Medicare provides some coverage for medical home care, referred to as "Home Healthcare." There are several eligibility restrictions for coverage, including that individuals must be homebound and have a referral from their doctor specifically for home healthcare services.
Below is an overview of some of the skilled medical professionals whose in-home services are typically covered by Medicare – for more in-depth information, refer to our Guide to Home Healthcare.
Physical Therapists: Physical therapy is used to help patients recover from injuries (broken bones, knee injuries, etc.), treat ongoing conditions such as arthritis, and assist in recovery from surgeries and procedures such as a knee or hip replacement.
Visiting Nurses: Licensed nurses can provide a number of medical services for those who don't need to stay in the hospital, but do need regular medical services such as wound care, changing feeding tubes, etc.
Occupational Therapists: Occupational therapists help seniors regain or maintain the ability to accomplish normal, daily tasks, such as bathing, dressing, eating, and other daily activities.
Speech Therapists: Speech therapists help seniors who are struggling to adequately communicate due to a stroke, dementia, or any other cause regain the ability to functionally communicate using a variety of means. Additionally, speech therapists help to keep seniors independent by modifying diets, teaching special techniques to swallow safely, and retraining associated muscles.
As mentioned above, in-home care is distinctly different from home healthcare. But, there can be some overlap in services between the two types of care. So, while Medicare doesn't cover non-medical in-home care, there are in-home care services that may be covered in special circumstances when they're provided in conjunction with home healthcare (such as an occupational therapist helping with eating or dressing)
Other Financial Assistance Options for In-Home Care in Tennessee
While the above programs help many people finance in-home care, they will not cover all costs for everyone. There are other ways to pay for in-home care, including out-of-pocket arrangements with siblings, annuities, reverse mortgages, private insurance and more. Read Caring.com's Guide to In-Home Care Costs to learn more about these alternative payment options.
Free and Low-Cost Resources for Seniors in Tennessee
Tennessee is home to numerous government agencies and nonprofits offering help to seniors who receive in-home care. These organizations provide assistance with services such as fitness, meals and insurance counseling.
COVID-19 Rules for In-Home Care Providers in Tennessee
As of April 2022, the state of Tennessee mandated that all home care workers and home health care workers must be completely vaccinated against SARS-CoV-2 unless they qualify for an exemption. State and local government officials are prohibited from asking individuals to present their vaccination records before entering a state or local building, however, private agencies have the ability to require customers to be vaccinated prior to entry. Different states have different vaccination mandates, and these regulations can change frequently and at any time. For up-to-date information, it's important to check with your local Area Agency on Aging to determine the current protocol.
In-Home Care Laws and Regulations in Tennessee
In Tennessee, nonmedical home care is provided by personal support services agencies, which are regulated and licensed by the Tennessee Department of Mental Health. The department's Licensing Division oversees the licensing application process, conducts compliance inspections of licensed agencies and investigates complaints. The following table provides an overview of the rules and regulations governing personal support services agencies in Tennessee.
How to Find an In-Home Care Provider in Tennessee
Scope of Care
Personal support services agencies may provide clients with a wide range of in-home care services. These may include assistance with self-care to maintain the client's health and wellness, such as bathing, dressing, eating, mobility and toileting. Household assistance may also be provided, such as housekeeping, meal planning and preparation, laundry and bill paying. Workers may also provide personal assistance, such as transportation to appointments and activities within the community.
Care Plan Requirements
Personal support services agencies must prepare a written service plan for each client, based on an assessment of their needs. The plan must detail the types of services agency workers will provide, as well as their frequency and duration.
Medication Management Requirements
Personal support services workers may provide medication assistance to clients, but may not administer prescription medication or injections. Assistance may include opening packaging, putting medication within the client's reach, steadying their hand while they take medications and applying nonprescription creams or lotions externally.
Staff Screening Requirements
Personal support services workers who will have direct contact with clients must submit to a criminal background check within 10 days of being hired and every two years going forward. Their employer must also verify that a worker is not listed on the state's abuse and sexual offender registries.
Staff Training Requirements
Direct-care workers must have documented training that relates to the services they provide to clients, as well as continual training on an annual basis. Those who provide medication assistance must complete relevant training under the supervision of a registered nurse.
Medicaid Coverage
Tennessee Medicaid may help cover the cost of in-home care for eligible seniors through two programs: The
CHOICES in Long-Term Care
program, which is available statewide, and the
PACE
program, which is only available in Hamilton County.
Reporting Abuse
Suspected abuse, neglect or exploitation of a senior may be reported to the Tennessee Department of Human Services' Adult Protective Services unit by calling 888-277-8366.
Frequently Asked Questions
Does Tennessee Medicaid Pay for In-Home Care?
TennCare offers a waiver program to eligible state residents called CHOICES in Long-Term Care, which helps pay for in-home care. The state Medicaid plan may also contribute to the cost of services provided through the PACE program for seniors who reside in Hamilton County.
How Much Does In-Home Care Cost in Tennessee?
In Tennessee, nonmedical in-home care costs an average of $3,813 per month, based on data from the Genworth Cost of Care Survey 2019. This is almost $500 below the national median, and about $80 less than the monthly state average for home health care services.
Are There Programs to Cover Home Modifications in Tennessee?
Medicaid-eligible seniors who qualify for the CHOICES in Long-Term Care program may receive help paying for safety- and accessibility-related home modifications. Funding may also be available in specific counties through the Senior Trust/Elder Trust grant project, administered by the Tennessee Commission on Aging and Disability.
Does Medicare Pay for In-Home Care?
The Medicare program only covers specific kinds of in-home care for beneficiaries recovering from illnesses, injuries, surgeries and in-patient hospital stays and under a doctor's care. These typically include home health aide and skilled nursing visits and a certain number of occupational or physical therapy treatments.
What Does It Mean to Age in Place?
Aging in place refers to a person's choice to live independently in their own home as they age. To accomplish this, seniors may need to make safety- and accessibility-wise home modifications, begin using assistive technologies and arrange for outside assistance with activities of daily living.

How to Find an In-Home Care Provider in Virginia
Whether you are looking for yourself or a loved one, finding a quality home care provider can be a stressful process. When you hire an in-home care aide you're placing a lot of trust in the hands of the person by inviting them into your home, so you'll want to be diligent in your search. At Caring.com, we're here to help – we've created a helpful checklist below that can help guide you through the process of both determining your needs and finding a home care agency that will provide the best care possible.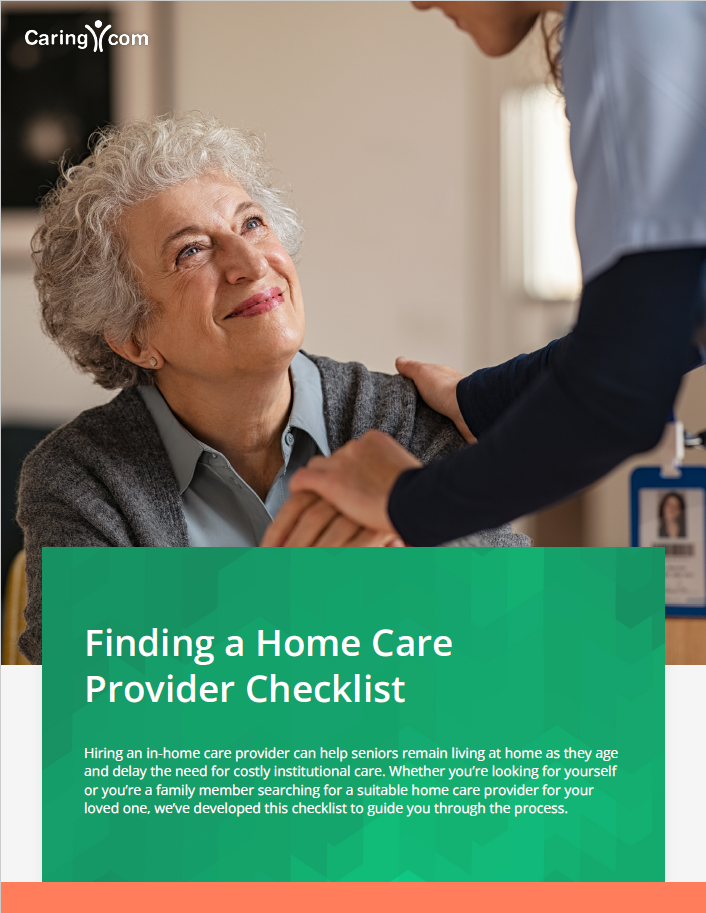 Find Home Care Agencies Near You
To find quality home care providers near you, simply input the zip code or city where you would like to start your search. We have an extensive directory of home care agencies all across the nation that includes in-depth information about each provider and hundreds of thousands of reviews from seniors and their loved ones.
Home Care Services in Tennessee (326)