In-Home Care in Minnesota
he most recent census reveals that Minnesota's older population has grown significantly from the 12.9% recorded in the 2010 census to 16.3%. This statistic strongly suggests seniors are moving there in greater numbers. The reason may be Minnesota's reputation as one of the healthiest states in the country, or the numerous high-quality medical facilities, including the internationally renowned Mayo Clinic.
Senior Minnesotans have numerous home care options to ease the day-to-day of older living. Home health care offers basic support delivered by medical professionals, allowing at-risk seniors to avoid institutional facilities. In-home care focuses on non-medical services, such as light housekeeping, shopping and personal care, including assistance with bathing and dressing. The average costs for each service reflect the providers' skills, with in-home care typically charging $6,673 per month and home health care setting rates at $6,912 per month.
This guide considers average costs for home care and other types of care in Minnesota and the roles Medicaid and Medicare play. It also lists some potentially helpful senior-friendly resources.
The Cost of In-Home Care in Minnesota
In-home care's national median is $4,957 per month, although this figure hides the wide fee variations often influenced by location. The 2021 Genworth Cost of Care Survey found Minnesota's in-home care prices the costliest in the Midwest at $6,673 per month — a monthly increase of $1,716 compared to the national median. Although also above-average, South Dakota's median fee is a more affordable $5,911, although not as much as North Dakota's $5,689. Seniors in Iowa and Wisconsin typically pay $5,529 for in-home care, while their peers in Illinois pay $5,339 for similar services.
In-home care costs vary greatly in Minnesota, from Mankato's $5,720 per month average to Rochester's $7,627 monthly fee. In Duluth, it's not unusual to find in-home care agencies charging about $5,815 per month for their services, while in St. Cloud, the norm is $6,038 per month. Although more affordable than Rochester, agency fees in Minneapolis are still above the state average, at $7,055 per month.
Although location influences care provider fees, the service level is also a factor in Minnesota. Consider nursing home fees, which average $11,601 per month. These facilities are expensive because care comes from qualified professionals operating at almost the same levels as hospitals. Compare this to an assisted living facility at $4,508 per month, also providing care and accommodation, but with fewer health care professionals and less medical equipment. In-home care and home health care agencies offer similar services as assisted living facilities, but in the senior's home, so their fees reflect this, at $6,673 and $6,912, respectively. Adult day health care centers offer the most affordable monthly option at $2,167.
Does Medicaid Cover Home Care in Minnesota?
Medicaid, known in Minnesota as Medical Assistance, can pay for medical and non-medical home care services, although strictly enforced criteria determine who is eligible and the services they can apply for. There are four programs designed to help frail seniors avoid institutional care. The Elderly Waiver is a multi-option program that includes home and residential care services; Personal Care Assistance provides non-medical services; Home Care Services focuses on medical care and Minnesota Senior Health Options blends Medicaid and Medicare to provide a full range of services.
Home Care Waiver Programs in Minnesota
Minnesota's Medicaid provides several programs for seniors disadvantaged by varying function levels. The programs listed here cover medical and non-medical needs, allow seniors to direct their care, and, in some cases, pay for hospital services.
How to Know If You're Eligible for Medicaid in Minnesota
Minnesota establishes income and asset limits for Medicaid to ensure available funds go to the neediest. Its set income limits are at 133% of the Federal Poverty Level, which, as of 2022, makes the annual limit for a single applicant $13,596 and $18,324 when both spouses in a two-person household apply. Assets are limited to $3,000 per applicant.
2022 Medicaid Income Limits for Seniors in Minnesota
Income Limits*
Asset Limits
*Per year
**Plus $200 for each dependent
Medical Assistance applicants must satisfy other eligibility conditions for support consideration. The senior must be:
A U.S. citizen or legal noncitizen
A Minnesota resident
In need of care because of at least one qualifying functional impairment
How to Apply for Medicaid in Minnesota
Regardless of the senior's contact method, every Minnesota Medical Assistance applicant must complete a paper application form.
What Information You Will Need
Birth certificate
Social Security card
All health insurance policy numbers
Proof of income/assets, such as bank account statements, copies of bonds, real property tax statements, etc.
Proof of items sold, traded or gifted in the previous 60 months
How to Get Help Applying for Medicaid
There are several resources open to seniors who want assistance applying for Medical Assistance. This list includes two sources of free assistance as well as legal support for seniors who can't resolve Medicaid issues without an attorney's help.
Does Medicare Cover In-Home Care in Minnesota?
In general, Medicare does not cover the cost of non-medical home care. That being said, there are situations in which Medicare provides some coverage for medical home care, referred to as "Home Healthcare." There are several eligibility restrictions for coverage, including that individuals must be homebound and have a referral from their doctor specifically for home healthcare services.
Below is an overview of some of the skilled medical professionals whose in-home services are typically covered by Medicare – for more in-depth information, refer to our Guide to Home Healthcare.
Physical Therapists: Physical therapy is used to help patients recover from injuries (broken bones, knee injuries, etc.), treat ongoing conditions such as arthritis, and assist in recovery from surgeries and procedures such as a knee or hip replacement.
Visiting Nurses: Licensed nurses can provide a number of medical services for those who don't need to stay in the hospital, but do need regular medical services such as wound care, changing feeding tubes, etc.
Occupational Therapists: Occupational therapists help seniors regain or maintain the ability to accomplish normal, daily tasks, such as bathing, dressing, eating, and other daily activities.
Speech Therapists: Speech therapists help seniors who are struggling to adequately communicate due to a stroke, dementia, or any other cause regain the ability to functionally communicate using a variety of means. Additionally, speech therapists help to keep seniors independent by modifying diets, teaching special techniques to swallow safely, and retraining associated muscles.
As mentioned above, in-home care is distinctly different from home healthcare. But, there can be some overlap in services between the two types of care. So, while Medicare doesn't cover non-medical in-home care, there are in-home care services that may be covered in special circumstances when they're provided in conjunction with home healthcare (such as an occupational therapist helping with eating or dressing)
Other Financial Assistance Options for In-Home Care in Minnesota
While the above programs help many people finance in-home care, they will not cover all costs for everyone. There are other ways to pay for in-home care, including out-of-pocket arrangements with siblings, annuities, reverse mortgages, private insurance and more. Read Caring.com's Guide to In-Home Care Costs to learn more about these alternative payment options.
Free and Low-Cost Resources for Seniors in Minnesota
There are many government agencies and nonprofit organizations assisting Minnesotan seniors daily. Those listed here can help reduce energy costs, make homes safer and more fuel-efficient and reduce the senior's tax burden. There's also support for unpaid caregivers.
COVID-19 Rules for In-Home Care Providers in Minnesota
The Centers for Medicare & Medicaid Services (CMS) issued a COVID-19 vaccine mandate requiring all Minnesota Medicaid and Medicare health care providers to comply fully by February 28, 2022. As compliance is a condition to remain in the Medicaid and Medicare programs, home health agencies must ensure 100% of their medical and non-medical staff have received mandatory doses of a CDC-approved COVID-19 vaccine and those exempted get tested weekly. If you're concerned your home care worker is unvaccinated, contact your care provider.
This information is current as of April 2022. As COVID-19 rules and regulations are subject to change at short notice and your provider may have additional policies for your safety, it's generally good practice to get the latest information from your provider.
In-Home Care Laws and Regulations in Minnesota
Home care providers in Minnesota are regulated through the Home Care and Assisted Living Program (HCALP), operated by the Health Regulation Division of the Minnesota Department of Health. The HCALP oversees the licensing and registration of basic providers that offer nonmedical services, conducts on-site surveys to ensure compliance with state regulations and investigates complaints. This table offers an overview of the rules and regulations that apply to home care providers in Minnesota.
In-Home Care Laws and Regulations in Minnesota
Scope of Care
Providers licensed to offer basic, nonmedical in-home care may deliver a range of services to clients. The scope of care may include assisting with activities of daily living, including completing personal care tasks such as bathing, toileting, grooming, dressing, ambulation and eating. Staff may also prepare meals and prescribed modified diets, complete housekeeping and laundry chores and shop for the household.
Care Plan Requirements
Within 30 days of initiating service, basic home care providers must conduct an assessment of a new client's needs and preferences and develop a care plan that details the specific services and personnel to meet these needs. This plan must be agreed upon and signed by the provider and the client or their representative. Ongoing evaluations of the client's condition and needs must be performed every 90 days, and their care plan updated accordingly.
Medication Management Requirements
Providers with basic licenses may not offer medication management services to clients. A provider's direct care staff may offer visual or verbal clues to assist clients in taking medications or supply food or liquids to accompany medications.
Staff Screening Requirements
Home care providers must have background checks and tuberculosis screenings conducted as part of their hiring process.
Staff Training Requirements
Staff of nonmedical providers delivering direct care services to clients must undergo a training and competency assessment, and pass a skills test related to their duties. Each staff member also must complete eight hours of relevant training every 12 months.
Medicaid Coverage
The Minnesota Medicaid program, Medical Assistance, covers the cost of various in-home services through its
Elderly Waiver
. This is not a Medicaid entitlement program, so participation is capped, and there may be a waiting list to receive covered services.
Reporting Abuse
Concerned individuals may report suspected mistreatment of a vulnerable senior to the Minnesota Adult Abuse Reporting Center by calling 844-880-1574. Reports are confidential and can be made 24/7.
Frequently Asked Questions
Does Minnesota Medicaid Pay for In-Home Care?
Minnesota's state Medicaid plan only pays for care in a nursing facility. MA does offer an Elderly Waiver that covers the cost of a number of in-home supports and services for state residents aged 65 and older who meet the program's functional and financial criteria. Read More
Are There Programs to Cover Home Modifications in Minnesota?
How Much Does In-Home Care Cost in Minnesota?
Nonmedical home care costs an average of $5,529 per month in Minnesota, according to the Genworth Cost of Care Survey 2019. This is over $1,200 above the national monthly median but $286 below the state's average cost for home health care services, which include skilled nursing care.
Does Medicare Pay for In-Home Care?
Medicare does not pay for full-time in-home care. It does cover specific in-home services for beneficiaries recovering from surgeries, hospital stays, illnesses and injuries who are under a physician's care. These include short-term skilled nursing care, home health aide services and occupational and physical therapy sessions.
What Are Activities of Daily Living?
Activities of daily living, which are commonly referred to as ADLs, are the basic self-care tasks a person normally completes each day. These six tasks include bathing, dressing, grooming, ambulation, elimination and eating. ADLs differ from instrumental activities of daily living, which involve more complex skills.
Can Family Members Get Paid for Caregiving in Minnesota?
Family members can get paid for caregiving in Minnesota under the Personal Care Assistance program. Family members and personal care recipients must meet certain qualifications. This in-home care option is designed for seniors who want to remain in their own homes but need some extra help. Seniors who live in a senior living community may also qualify for personal care assistance. Read More
How to Find an In-Home Care Provider in Minnesota
Whether you are looking for yourself or a loved one, finding a quality home care provider can be a stressful process. When you hire an in-home care aide you're placing a lot of trust in the hands of the person by inviting them into your home, so you'll want to be diligent in your search. At Caring.com, we're here to help – we've created a helpful checklist below that can help guide you through the process of both determining your needs and finding a home care agency that will provide the best care possible.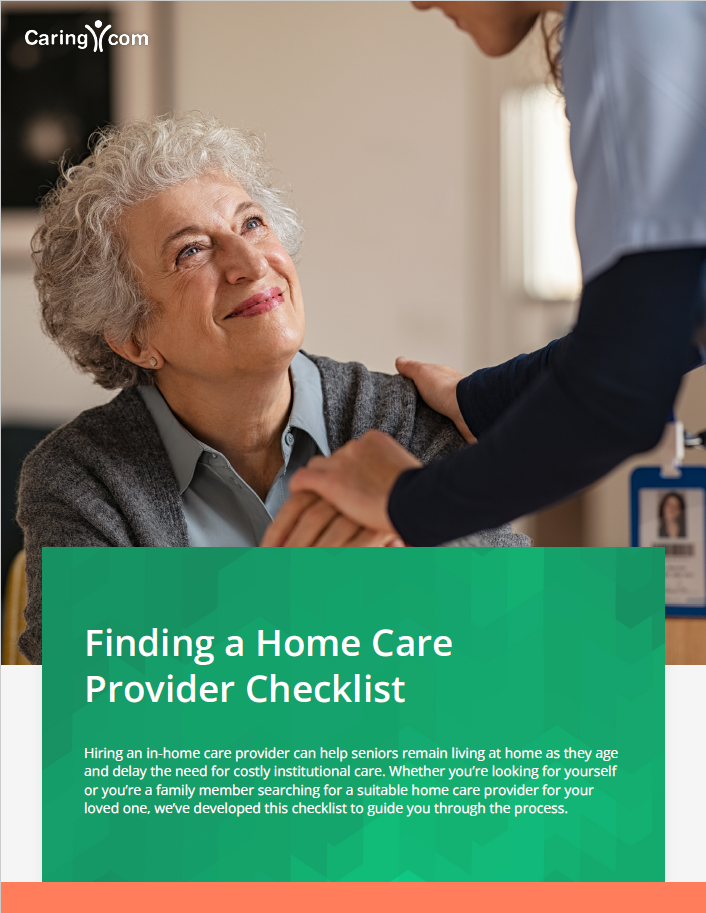 Find Home Care Agencies Near You
To find quality home care providers near you, simply input the zip code or city where you would like to start your search. We have an extensive directory of home care agencies all across the nation that includes in-depth information about each provider and hundreds of thousands of reviews from seniors and their loved ones.
Home Care Services in Minnesota (162)