Missouri is an appealing location for older adults who are considering in-home care. The state has a pleasant Midwestern climate, and the cost of living is about 15% lower than the national average. Residents can choose from nine metropolitan areas and many charming cities and towns that are home to more than 1 million seniors. According to estimates, more than 20% of the state's population will be aged 65 or older by 2030. This surge is increasing the demand for in-home care and supportive services.
With a median cost of $4,767 per month, home care in Missouri costs less than the national average. Agencies may offer in-home medical care, skilled nursing and physical therapy or help with errands, chores and nonmedical tasks.
This guide provides information about long-term care costs in Missouri and the state's Medicaid financial assistance programs. We've also included some free resources to help you learn more about aging in place.
The Cost of In-Home Care in Missouri
In Missouri, home health care and non-medical in-home care cost $4,767 per month, which is $200 lower than the national average. According to data from Genworth Financial's 2021 Cost of Care Survey, these rates are typical for the region. Seniors in Illinois pay $5,339 per month for in-home chore assistance and personal care. Prices in Iowa are even higher at $5,529, an increase of $762. Home care prices drop below the national average to $4,576 in Kansas, and seniors in Arkansas pay just $4,185, which saves them $580 compared to Missouri.
In Missouri's largest cities, the cost of in-home care ranges from a low of $3,813 in Jefferson City to a high of $5,482 in St. Louis. Prices are on par with the state median in St. Joseph and Springfield at $4,767. Seniors in Kansas City pay $4,957, which is slightly more than average, and median rates rise to $5,053 in Columbia. Joplin also offers a competitive value at $4,481, which could save you $286 on the state average.
Missouri's long-term care prices vary significantly depending on how much assistance you require and where you receive these services. Prices start at $1,907 for community-based daytime health care programs. Assisted living is significantly more affordable than the national average of $3,000. Medical and nonmedical care costs $1,767 more at $4,767. Nursing homes are more expensive yet with an average of $5,262.
Does Medicaid Cover Home Care in Missouri?
Missouri covers in-home care through its Medicaid State Plan and several home- and community-based services waivers. Basic Personal Care Services are available to Medicaid-eligible adults aged 18 and older who require a nursing home level of care. The program covers medically oriented services to help recipients with activities of daily living, including bathing, grooming, toileting, mobility and medications. There are limitations on how much care may be provided relative to the cost of nursing home care. Advanced Personal Care is available to individuals who have greater functional limitations. Medicaid members may also be eligible for nursing visits and home health care through the Medicaid State Plan. You must apply for regular Medicaid and qualify based on your income and assets to be considered for these programs.
Home Care Waiver Programs in Missouri
Missouri offers several home-based and community-based services waivers depending on your age and health. Eligibility is based on medical and financial needs. The following programs cover in-home care and chore assistance and some more advanced services.
How to Know if You're Eligible for Medicaid in Missouri
Medicaid is a group of programs available to various individuals based on their medical and financial needs, so it may be difficult to determine which programs you qualify for without applying. To receive regular Medicaid for the aged, blind or disabled in Missouri, your monthly income can't exceed $963 ($11,556 yearly) if you're applying individually or $1,297 ($15,564 yearly) if you're applying as a couple. Assets are limited to $5,035 per person. Income limits are slightly higher for applicants who are blind and for certain programs that require a nursing home level of care.
2022 Medicaid Income Limits for Seniors in Missouri
Income Limits*
Asset Limits
*Per year
As part of the Medicaid application process, you may be asked to prove your:
Age and disability
Citizenship and state residency
The clinical need for long-term care for some programs
Financial need for assistance
How to Apply for Medicaid in Missouri
If you need long-term care and think that you may qualify for financial assistance, you can apply for Medicaid online using the state's secure application portal. For assistance over the phone, call the Medicaid call center at (855) 373-9994. You may also complete a paper application or have someone help you complete this step. Signed applications should be submitted to the Family Support Division by mail, email or fax.
Family Support Division
615 E. 13th St.
Kansas City, MO 64106
Email: FSD.Documents@dss.mo.gov
Fax: 573-526-9400
If you're aged 65 or older, disabled, live in a long-term care facility or receive other government benefits, such as Social Security, Medicare or VA health care, make sure to submit the Supplemental Form when you apply.
What Information You Will Need
Missouri's Medicaid application asks for a variety of personal and financial information. To simplify the process, make sure to have the following items on hand.
Name and address
Household members
Birth dates
Social Security numbers
Citizenship and residency information
Federal tax status
Income and employment
Monthly expenses
Vehicles
Property
Assets and resources
Insurance policies
Medical needs
How to Get Help Applying for Medicaid
Applying for Medicaid is designed to be a simple process. If you have questions or need extra help, contact these government agencies for assistance.
Does Medicare Cover In-Home Care in Missouri?
In general, Medicare does not cover the cost of non-medical home care. That being said, there are situations in which Medicare provides some coverage for medical home care, referred to as "Home Healthcare." There are several eligibility restrictions for coverage, including that individuals must be homebound and have a referral from their doctor specifically for home healthcare services.
Below is an overview of some of the skilled medical professionals whose in-home services are typically covered by Medicare – for more in-depth information, refer to our Guide to Home Healthcare.
Physical Therapists: Physical therapy is used to help patients recover from injuries (broken bones, knee injuries, etc.), treat ongoing conditions such as arthritis, and assist in recovery from surgeries and procedures such as a knee or hip replacement.
Visiting Nurses: Licensed nurses can provide a number of medical services for those who don't need to stay in the hospital, but do need regular medical services such as wound care, changing feeding tubes, etc.
Occupational Therapists: Occupational therapists help seniors regain or maintain the ability to accomplish normal, daily tasks, such as bathing, dressing, eating, and other daily activities.
Speech Therapists: Speech therapists help seniors who are struggling to adequately communicate due to a stroke, dementia, or any other cause regain the ability to functionally communicate using a variety of means. Additionally, speech therapists help to keep seniors independent by modifying diets, teaching special techniques to swallow safely, and retraining associated muscles.
As mentioned above, in-home care is distinctly different from home healthcare. But, there can be some overlap in services between the two types of care. So, while Medicare doesn't cover non-medical in-home care, there are in-home care services that may be covered in special circumstances when they're provided in conjunction with home healthcare (such as an occupational therapist helping with eating or dressing)
Other Financial Assistance Options for In-Home Care in Missouri
While the above programs help many people finance in-home care, they will not cover all costs for everyone. There are other ways to pay for in-home care, including out-of-pocket arrangements with siblings, annuities, reverse mortgages, private insurance and more. Read Caring.com's Guide to In-Home Care Costs to learn more about these alternative payment options.
Free and Low-Cost Resources for Seniors in Missouri
If you live in Missouri and want to maintain your independence, check out the following resources to find services in your area. Many programs are free to residents aged 60 or older.
COVID-19 Rules for In-Home Care Providers in Missouri
Starting in 2022, the Centers for Medicare and Medicaid Services is requiring home health aides and other direct care workers to be fully vaccinated to prevent the spread of COVID-19. These rules apply to home health agencies in Missouri and all 50 states. However, workers may request an exemption for certain reasons. If you're concerned about being exposed to COVID-19 through a health care worker, contact your provider to learn more about the company's policies for vaccinations, masking and routine testing. These regulations are current as of April 2022. However, they are subject to change. Contact your Area Agency on Aging for more information about this issue.
In-Home Care Laws and Regulations in Missouri
Missouri Department of Health and Senior Services oversees Home Care and Rehabilitative Standards to safeguard services provided through home health agencies. The MDHSS conducts on-site inspections for Medicare certification and/or state licensure compliance and issues state licenses for the operation of these agencies. It also investigates allegations of inappropriate patient care, verifies the training and credentials of agency staff, visits patients and reviews quality assurance programs. The table below provides an overview of the rules and regulations in the State of Missouri.
In-Home Care Laws and Regulations in Missouri
Scope of Care
Home care agencies may provide assistance with activities of daily living, personal care, homemaking, companionship, respite, self-administered medications that don't require a licensed nurse and other non-skilled services a patient might need.



Care Plan Requirements
Patients must receive an individualized written plan of care that specifies the care, services and equipment necessary to meet their specific needs as identified in a comprehensive assessment, plus the frequency and duration of visits, nutritional requirements and patient and caregiver education and training. All services must be furnished in accordance with accepted standards of practice.
Medication Management Requirements
Home care providers may assist patients with self-administered medications that don't require the skills of a licensed nurse.
Staff Screening Requirements
In-home services providers, home health agencies and consumer directed services providers must conduct background screenings prior to hiring an employee, including a criminal background check and an Employee Disqualification List check. Individuals cannot have been found guilty of abuse, neglect, mistreating residents or misappropriation of residents' property. Eldercare workers hired on or after January 1, 2001, must register with the Family Care Safety Registry.
Staff Training Requirements
Home health aides must complete a state-approved training and competency evaluation program that includes classroom and supervised practical training. Home health aides also must receive at least 12 hours of in-service training during each 12-month period, which may occur while caring for a patient.
Medicaid Coverage
The Missouri Care Options, Aged and Disabled Waiver and Independent Living Waiver programs will cover some or all the cost of in-home care for those who qualify.
Reporting Abuse
Abuse, neglect, bullying and financial exploitation of individuals age 60 and older should be reported to the Adult Abuse and Neglect Hotline 1-800-392-0210 or
make an online report
.
Frequently Asked Questions
How much does in-home care cost in Missouri?
According to Genworth Financial's 2019 Cost of Care Survey, Missouri residents pay an average of $4,195 for in-home care services whether the service is non-medical care provided by a homemaker or skilled nursing care provided by a home health aide.
Does Missouri Medicaid pay for in-home care?
Missouri's Medicaid program is called MO HealthNet and covers some home-based and community-based services for individuals who meet eligibility requirements through its Missouri Care Options, which provides personal care assistance, homemaker services, nursing services, adult day care and respite care. Missouri also has two Medicaid waiver programs in place. The Aged and Disabled Waiver provides in-home services for seniors age 63 or older who need assistance with homemaker services, chore services, adult day care, respite care and home delivered meals and the Independent Living Waiver helps with personal care services, home modifications, specialized medical supplies and equipment, financial management services and case management.
Are there programs to cover home modifications in Missouri?
Missouri's Independent Living Waiver helps cover environmental accessibility adaptations; home modifications like ramps, grab bars and specialized electric systems; and specialized medical equipment, such as lift chairs and shower benches.
What is the difference between in-home care and home health care?
In-home care providers are non-medical caregivers that provide assistance with activities of daily living, meal preparation, housecleaning, transportation, shopping and other non-clinical services, while also offering companionship. Home health care must be provided by licensed medical professionals who supply skilled nursing services, which may include rehabilitation therapy, medication administration, wound care, pain management and other medical care assistance.
What are Activities of Daily Living
Activities of daily living (ADLs) are fundamental tasks individuals do everyday to care for themselves and maintain their independence. ADLs include all types of routine personal care tasks, including bathing, grooming, dressing, eating, going to the bathroom, walking and getting in and out of a chair or bed.
How to Find an In-Home Care Provider in Missouri
Whether you are looking for yourself or a loved one, finding a quality home care provider can be a stressful process. When you hire an in-home care aide you're placing a lot of trust in the hands of the person by inviting them into your home, so you'll want to be diligent in your search. At Caring.com, we're here to help – we've created a helpful checklist below that can help guide you through the process of both determining your needs and finding a home care agency that will provide the best care possible.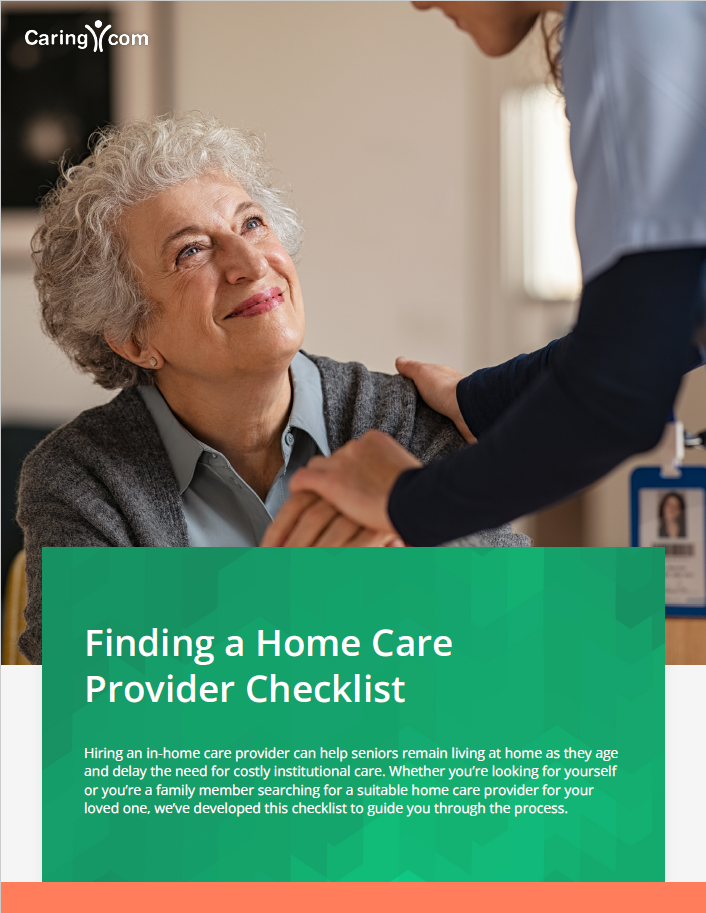 Find Home Care Agencies Near You
To find quality home care providers near you, simply input the zip code or city where you would like to start your search. We have an extensive directory of home care agencies all across the nation that includes in-depth information about each provider and hundreds of thousands of reviews from seniors and their loved ones.
Home Care Services in Missouri (301)