Home Care in Kansas City, MO
Caring.com's Senior Living Report places Kansas city third among the best places to live in Missouri and 161st nationally. Factors that influenced the score include excellent air quality and plenty of options for food lovers, culture, parks and outdoor exercise. The 2021 Genworth Cost of Care Survey shows the typical senior in Kansas City pays $4,957 per month for their home care, a non-medical service for frail but otherwise healthy seniors. Home health care is the equivalent for seniors who need limited medical care, while those who require more assistance have many highly-regarded facilities to choose from, including the University of Kansas Hospital and Saint Luke's Hospital of Kansas City.
Below we've compiled a comprehensive directory of every home care provider in the Kansas City area – complete with services offered and reviews from families who've actually used the service. In addition to our in-depth provider listings, we've compiled resources to help seniors and their families to access all the tools they need to age in place safely and gracefully.
Paying for Home Care in Kansas City, MO
The Cost of Home Care in Kansas City
According to the 2021 Genworth Cost of Care Survey, home care services in Kansas City cost around $4,957 per month. Although this is around $190 per month more than Missouri's median, it's average for the country. The state's costliest city is St. Louis, where seniors are likely to pay around $5,482, while the most affordable is Cape Girardeau, at $3,756. Columbia typically costs more than Kansas City, at $5,053, while St. Joseph may interest those with tighter budgets, as its average is $4,767 per month.
The Cost of Home Care vs. Other Senior Care Options in Kansas City
Despite home care offering non-medical services and home health care's limited medical support, both have the same average fee of $4,957 per month. The agencies supplying both services typically charge another $372 per month than assisted living facilities, but it should be noted their services are one-on-one. The most affordable type of senior care in Kansas City is adult daycare, where costs average $1,733, while the most expensive option is nursing home care, where the median fee for a semiprivate room is $6,464 per month.
Nursing Home Facility (semiprivate room)
Financial Assistance for Home Care in Kansas City, MO
Given the high cost of in-home care, many people use one or more forms of financial assistance to cover the expenses. Below, we explain some of the most common sources of financial help for paying for in-home care. If none of these options are available to you, you can reach out to your Area Agency on Aging or Aging and Disability Resource Center to learn about local resources.
Free & Low-Cost Home Care Resources in Kansas City, MO
Kansas City is home to many non-profits and government agencies that offer support for local seniors. The following resources help cover costs for home repairs, pay emergency heating bills, deliver fresh and healthy meals and reduce the tax burden.
Determining Your Loved One's Need for In-Home Care
Aging can be a difficult process, and loved ones may not always ask for help – oftentimes it's up to their family to evaluate their need for help around the house. While no two situations are exactly alike, this checklist can help you and your loved ones determine when it's time to start the search for a home care provider.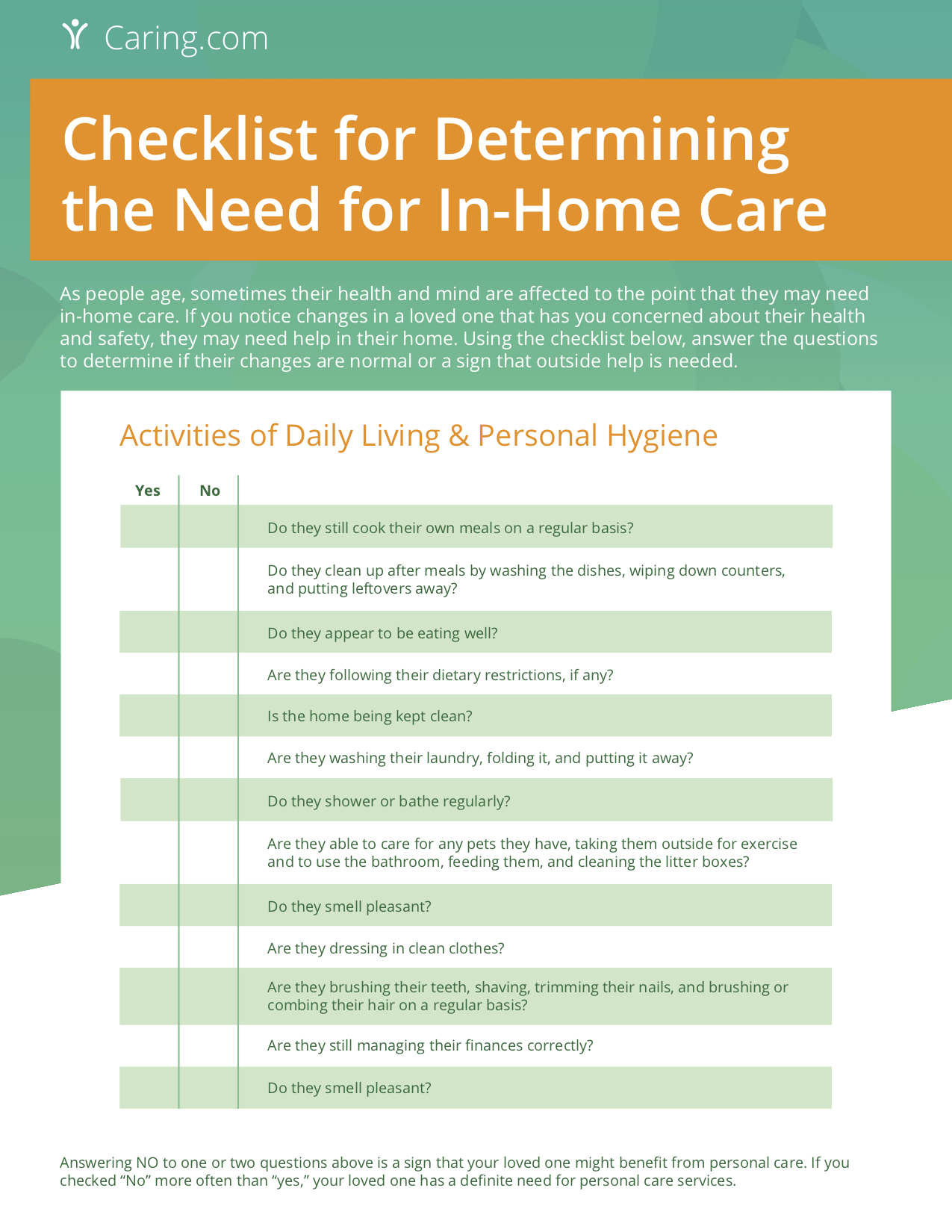 Guidelines for Talking About In-Home Care
If you've determined that your loved one needs the assistance of a care provider in their home, it may be time for a difficult conversation. Handled correctly, however, this process can bring a family together and ensure that everyone's concerns are addressed. Use this PDF as a starting point to help the conversation stay as positive and productive as possible.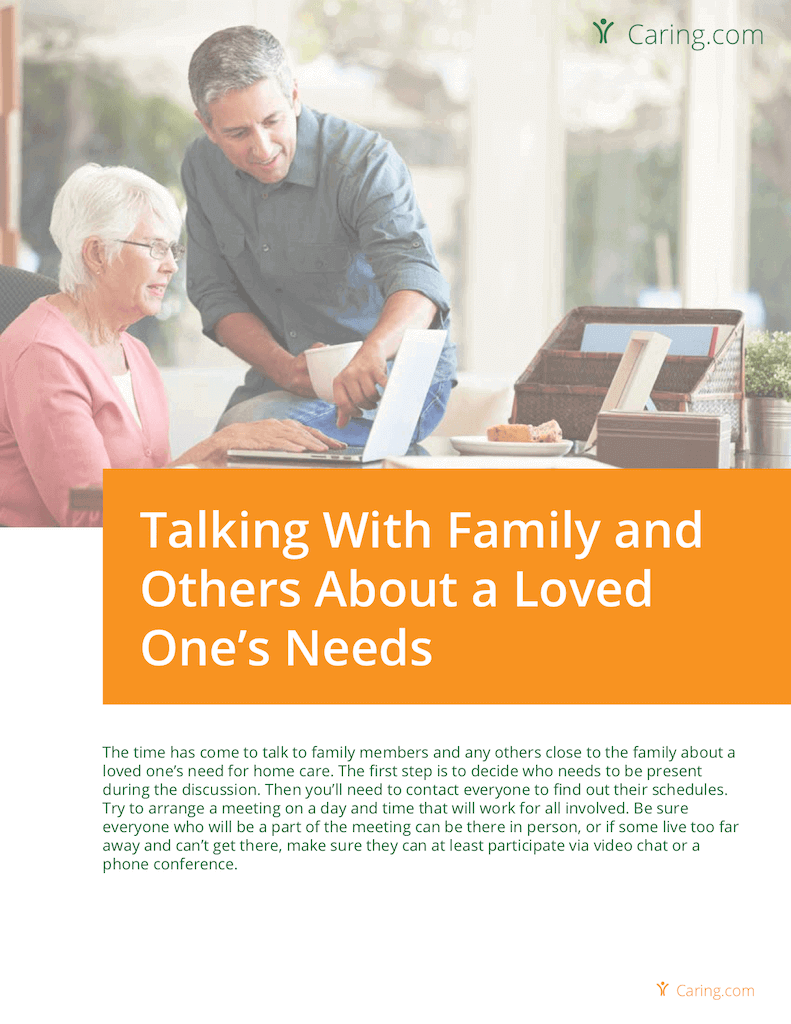 Frequently Asked Questions
What types of services can a home care agency in Kansas City provide?

Although home care agencies generally deliver the same services, it's prudent to check before signing a contract as some may not offer all potential services, such as overnight stays. However, help with daily tasks (such as getting in and out of bed), personal care (including bathing, toileting, and hairstyling) and housekeeping are common to all. Many agencies also offer grocery shopping, transportation and companionship services, while some specialize in respite support.
What should I look for in a good home care agency near me in Kansas City?

The first step should be creating a list of the services required and comparing it to what your chosen agencies offer. Check with friends as they may be able to recommend agencies they have had good experiences with, and check Caring.com's home care services page for Kansas City, as this provides extensive information about each provider, including user reviews. When you call an agency, ask lots of questions about their policies and procedures, particularly relating to staff recruitment and training. A good agency should be able to answer these questions immediately without having to get back to you.
What is the difference between in-home care and home health care?

In-home care is a non-medical support service that provides general assistance with daily living tasks, such as housekeeping, grocery shopping, transportation and getting in and out of bed. Personal care services are also an option, with caregivers helping seniors bathe, dress and access toilet facilities. Home health care is a medical service with qualified professionals, such as registered nurses and therapists delivering limited medical support in the home. It may also involve staff using home-appropriate medical equipment and visits from doctors.
What is a home care plan?

A home care plan is a document detailing the services to be delivered by the agency for the senior. Its contents are generally the result of agreements between the senior and the provider, sometimes with input from family members and occasionally a medical professional. It's effectively a contract that states the services to be delivered and their frequency. It should also include emergency contact details so the agency knows who to call should the need arise.
Assisted living homes vs. home care: how to decide

The answer mostly comes down to the senior's living preferences — staying at home or residing with other seniors in a facility. Both services provide housekeeping, personal care and transportation services, although home care agencies offer more scope for personalization (which will impact fees). A major difference can be human contact, as assisted living facilities encourage socializing between residents and staff on-site 24/7, while home care involves visits from caregivers, with seniors otherwise on their own or sharing time with friends and family.