The 2010 Census found almost 394,500 Nevadans were in the 65 and over age group. Leap forward a decade and the 2020 Census reveals seniors comprise 16.1% of the population, an increase of over 105,300. The weather is a factor, as Nevada offers plenty of warmth without the same levels of heat found more often in neighboring Arizona. However, the most appealing aspect is the probable financial incentives for living in Nevada, which doesn't tax its residents' incomes. Nevada doesn't collect taxes from estates, inheritances, withdrawals from retirement accounts, or public and private pensions.
Nevada has many in-home care agencies providing non-medical services for seniors needing help with everyday activities, such as getting dressed, bathing and housekeeping. There are also home health care agencies dispatching skilled nurses and therapists to homes across the state, delivering basic medical care, such as pain management and speech therapy. Despite the differences in the two home care services, the state's average fee is the same for both, at $5,148 per month.
This guide discusses Nevada senior care costs in relation to neighboring states. It also describes how Medicaid and Medicare help pay for home care services. Finally, we list some useful senior-friendly resources.
The Cost of In-Home Care in Nevada
According to the 2021 Genworth Cost of Care Survey, the typical Nevadan pays another $191 per month for in-home care when compared to the average American, who pays $4,957. Despite this, the median fee in Nevada is more affordable than in all the states that share its borders. In Arizona, in-home care typically costs $5,339 per month, while in Idaho, $5,434 is the norm. Utah's costs are higher still, at $5,625, although not as high as Oregon, where seniors can expect to pay around $6,006, which is still $95 per month below California's average fees.
Nevada's most affordable city for in-home care services is Las Vegas, which has a median fee of $4,767. In St. George, Utah, the average is $5,148, which roughly reflects the average cost difference between the two states. Nevada's next most affordable city is Reno, where seniors typically pay $5,720, while in Carson City, they pay around $6,101.
Although in-home care and home health care agencies specialize in different services, they share an average fee of $5,148. This isn't as affordable as either assisted living ($3,750) or adult day health care ($1,788), but seniors receiving care at home can benefit from one-on-one support from caregivers they often come to know personally. Despite its high costs when compared to other senior care services, home care fees aren't as expensive as those of nursing homes, where Nevada's average fee for a semiprivate room is $9,216 per month.
Nursing Home Facility (semiprivate room)
Does Medicaid Cover Home Care in Nevada?
Medicaid doesn't directly pay for home care in Nevada but the state's Long Term Support Services and Home and Community Based Services divisions can help. The Waiver for the Frail Elderly can pay for medical and non-medical services, as can the Waiver for Persons with Physical Disabilities, while Personal Care Services concentrates solely on non-medical assistance and the Waiver for Persons with Physical Disabilities helps those most in need. Nevada's waivers, unlike Medicaid, are not entitlement programs, so successful applicants may need to join a waiting list as spaces are limited.
Home Waiver Programs in Nevada
The following waivers are designed to help seniors with varying levels of need and different qualifying criteria get the assistance they require to continue living safely and comfortably at home.
How to Know If You're Eligible for Medicaid in Nevada
Nevada's Medicaid program has strict guidelines that prioritize the neediest. For a single person, annual income shouldn't exceed $10,092, and assets, $2,000. If both spouses in a two-person household apply, the combined income limit is $15,132, and assets, $3,000. Supplemental Security Income recipients are already eligible for Medicaid in Nevada. You should know part of the review process will cover 5 years of your financial history to check if assets were knowingly gifted or undersold to prepare for a future Medicaid claim.
2022 Medicaid Income Limits for Seniors in Nevada
Income Limits*
Asset Limits
*Per year
In addition to satisfying the income and asset limits, applicants must also be able to prove they fall within the program's other guidelines. These include:
Being a U.S. citizen, or legal resident
Being a Nevada resident
Being at risk of entering an institutional care facility
How to Apply for Medicaid in Nevada
There are three ways to apply for Medicaid in Nevada. They are:
Online: The fastest method is to visit ACCESS Nevada, which has a pre-screening tool to accelerate the process
By phone: Call the Division of Welfare and Supportive Services at (800) 992-0900
What Information You Will Need
Proof of citizenship, such as a birth certificate or a permanent residency ID card
Social Security card
Policy number for all health insurance plans
Proof of income and assets, such as bank statements and documents relating to stocks, bonds, etc.
How to Get Help Applying for Medicaid
Several organizations can answer questions about Medicaid. In some cases, information can be accessed online, in others, such as when legal help is available, it's face-to-face.
Does Medicare Cover In-Home Care in Nevada?
In general, Medicare does not cover the cost of non-medical home care. That being said, there are situations in which Medicare provides some coverage for medical home care, referred to as "Home Healthcare." There are several eligibility restrictions for coverage, including that individuals must be homebound and have a referral from their doctor specifically for home healthcare services.
Below is an overview of some of the skilled medical professionals whose in-home services are typically covered by Medicare – for more in-depth information, refer to our Guide to Home Healthcare.
Physical Therapists: Physical therapy is used to help patients recover from injuries (broken bones, knee injuries, etc.), treat ongoing conditions such as arthritis, and assist in recovery from surgeries and procedures such as a knee or hip replacement.
Visiting Nurses: Licensed nurses can provide a number of medical services for those who don't need to stay in the hospital, but do need regular medical services such as wound care, changing feeding tubes, etc.
Occupational Therapists: Occupational therapists help seniors regain or maintain the ability to accomplish normal, daily tasks, such as bathing, dressing, eating, and other daily activities.
Speech Therapists: Speech therapists help seniors who are struggling to adequately communicate due to a stroke, dementia, or any other cause regain the ability to functionally communicate using a variety of means. Additionally, speech therapists help to keep seniors independent by modifying diets, teaching special techniques to swallow safely, and retraining associated muscles.
As mentioned above, in-home care is distinctly different from home healthcare. But, there can be some overlap in services between the two types of care. So, while Medicare doesn't cover non-medical in-home care, there are in-home care services that may be covered in special circumstances when they're provided in conjunction with home healthcare (such as an occupational therapist helping with eating or dressing)
Other Financial Assistance Options for In-Home Care in Nevada
While the above programs help many people finance in-home care, they will not cover all costs for everyone. There are other ways to pay for in-home care, including out-of-pocket arrangements with siblings, annuities, reverse mortgages, private insurance and more. Read Caring.com's Guide to In-Home Care Costs to learn more about these alternative payment options.
Free and Low-Cost Resources for Seniors in Nevada
Seniors living in Nevada can request free and low-cost assistance from a wide range of government agencies and nonprofit organizations. The resources listed here can help cover home repair costs, reduce energy bills, make filing taxes less stressful and support caregivers.
COVID-19 Rules for In-Home Care Providers in Nevada
Home health care agencies in Nevada that accept payments through Medicaid and Medicare must comply with the CMS mandate on COVID-19 vaccinations. The CMS has directed agencies to ensure all staff receive the first dose of a CDC-approved COVID-19 vaccine by January 27, 2002, and the second by February 28, 2022. All agencies operating in Nevada must fully comply with the mandate by March 28, 2022. If you're concerned about the vaccination status of you or your loved one's caregiver, you should contact the agency for clarification.
In-Home Care Laws and Regulations in Nevada
Agencies and individuals that provide in-home care services in Nevada are required to follow the rules and regulations outlined in the Nevada Administrative Code Ch. 449.749. These regulations are designed to protect seniors and vulnerable adults who require homemaker services.
In-Home Care Laws and Regulations in Nevada
Scope of Care
Home care agencies may provide non-medical assistance with activities of daily living, including light housekeeping, grooming and supervision.
Care Plan Requirements
Home care clients and/or their legal representatives must be provided with a plan of care, including details regarding costs, prior to receiving service from a home care provider.
Medication Management Requirements
Home care providers are prohibited from administering prescription and non-prescription medications.
Staff Screening Requirements
All direct care staff must complete a background check, including a criminal record check, prior to providing service to clients.
Staff Training Requirements
Home care agencies must provide adequate training for direct care staff in accordance with licensing requirements.
Medicaid Coverage
Home care agencies are not required to accept Medicaid-funded clients.
Reporting Abuse
Concerns about abuse should be reported to local law enforcement.
Frequently Asked Questions
How Much Does In-Home Care Cost in Nevada?
According to the Genworth 2019 Cost of Care Survey, the average cost of in-home care in Nevada is $4,290 per month, based on 44 hours of service weekly. Actual costs may be higher or lower than the state average depending on the location and the number of service hours needed.
Are There Programs to Cover Home Modifications in Nevada?
Seniors who need home modifications such as a wheelchair ramp, lowered counters or grab bars may qualify for financial assistance through the statewide Assistive Technology for Independent Living Program. This program is geared towards Nevadans of all ages who live with a disability that causes significant functional impairment, and who also lack the financial resources needed to pay for their home accessibility modifications.
Are There Financial Assistance Programs for In-Home Care in Nevada?
Yes. Nevada's Aging and Disability Services Division offers a Homemaker Program. This program funds homemaker services for low-income seniors who require in-home support to delay or prevent institutionalization and promote healthy aging.
What Does It Mean to Age in Place?
Aging in place means growing old in one's own home, rather than moving to an institutional setting such as a nursing facility. In-home care can help seniors age in place by providing critical assistance with day-to-day tasks such as running errands, preparing meals, helping with pet care and performing light housekeeping.
What Are "Activities of Daily Living"?
Activities of daily living are all the tasks one needs to perform daily to maintain basic hygiene, health and wellness. These tasks include getting dressed, bathing and using the toilet, grooming, eating and moving about one's home. ADLs can also include doing laundry, preparing meals and light housekeeping.
How to Find an In-Home Care Provider in Nevada
Whether you are looking for yourself or a loved one, finding a quality home care provider can be a stressful process. When you hire an in-home care aide you're placing a lot of trust in the hands of the person by inviting them into your home, so you'll want to be diligent in your search. At Caring.com, we're here to help – we've created a helpful checklist below that can help guide you through the process of both determining your needs and finding a home care agency that will provide the best care possible.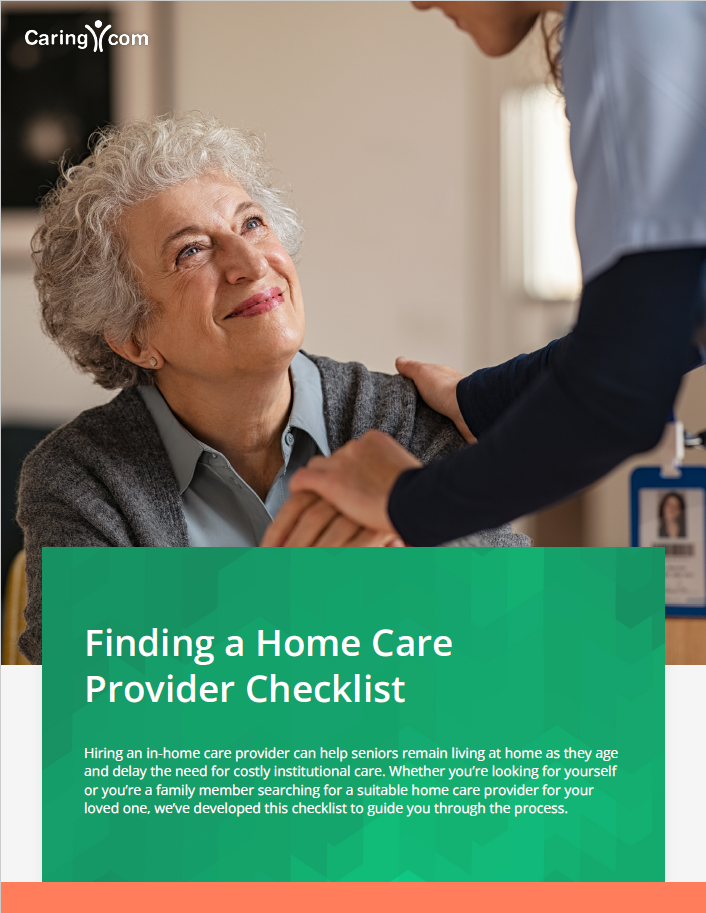 Find Home Care Agencies Near You
To find quality home care providers near you, simply input the zip code or city where you would like to start your search. We have an extensive directory of home care agencies all across the nation that includes in-depth information about each provider and hundreds of thousands of reviews from seniors and their loved ones.
Home Care Services in Nevada (37)