Delaware may be one of the smallest states in the country, but it's also home to a large senior population. As of July 2021, nearly 195,000 of the state's just over 1 million residents were aged 65 and over. Besides the miles of coastline, one of the main attractions for seniors retiring in Delaware is the state's senior-friendly tax policies. Seniors can enjoy tax-free shopping, low property taxes and a state income tax exemption on the first $12,500 of retirement pay. Delaware is also home to several fine hospitals, including the ChristianaCare Hospital and Beebe Healthcare – Lewes.
Delaware offers a variety of senior care options, including in-home and home health care. Both of these care options allow seniors to remain in their homes longer. The difference is that in-home care provides non-clinical services, while home health care does offer medical care provided by a licensed professional, such as an RN, physician or physical therapist. In Delaware, the average cost for both in-home and home health care is $5,339 per month.
This guide provides more information regarding in-home care costs and Medicaid and Medicare coverage. It also provides a list of free and low-cost resources for seniors.
The Cost of In-Home Care in Delaware
In-home care costs in Delaware are slightly higher than the national average and costs in most of its nearby states. According to the 2021 Genworth Cost of Care Survey, average in-home care costs in Delaware are $382 higher per month than the national average of $4,957. Average monthly in-home care costs in Delaware are also more expensive than in the following neighboring states, Virginia at $4,767 per month, Pennsylvania at $4,957 and Maryland at $5,148 per month. The state's average monthly in-home care costs are exactly the same as those in New York at $5,339 and $190 cheaper per month than in New Jersey at $5,529 per month.
Average in-home care costs in various cities in Delaware and neighboring states vary based on location. In-home care costs in Dover are $5,339 and are, on average, $190 cheaper per month than the average costs in the New Jersey cities of Ocean City at $5,529 and Atlantic City at $5,529 per month. Dover's average in-home costs per month are just $10 higher than the average costs in Philadelphia at $5,329. Additionally, Dover's average in-home care costs are $382 higher than several nearby cities in Maryland, including Baltimore at $4,957 and Salisbury at $4,957 per month.
At $5,339 per month, In-home care and home health care costs are among the state's most affordable senior care options. Only adult day health care services at $1,661 are less expensive. On average, assisted living costs are $5,995 per month, or $656 more expensive per month than in-home care. Nursing home care is $12,273 per month, which on average is $6,934 more expensive per month.
Adult Day Health Services
Does Medicaid Cover Home Care in Delaware?
Medicaid in Delaware doesn't directly cover in-home care costs for seniors. However, the state does offer a Medicaid waiver program, called Home and Community-Based Services, designed to help seniors remain living in their homes longer. This waivers program may cover some costs associated with in-home care.
Home Care Waiver Program in Delaware
Home and Community-Based Services
Home and Community-Based Services is a Medicaid waiver program designed to promote aging in place. It covers both attendant services and personal care services to provide seniors with in-home support. The waiver program may also cover the costs of congregate or home-delivered meals, home modifications, personal emergency response systems, respite care and assistive devices. This waiver program is specifically for seniors aged 65 and over who without these in-home services would require care provided by a nursing home.
How to Know if your Eligible for Medicaid in Delaware
Eligibility for Medicaid is based on income guidelines. So, seniors must meet income eligibility guidelines to qualify for Medicaid coverage. For instance, single applicants must have an annual income level of $25,230 or lower, whereas married couples can have an income up to $50,460 to qualify for benefits.
Applicants also must meet the asset limit of $2,000 for single applicants and $3,000 for married applicants. In cases where only one spouse is applying for benefits, the non-applying spouse can have assets up to $137,400. Seniors should check their state's website for more information about qualifying assets.
2022 Medicaid Income Limits for Seniors in Delaware
Income Limits*
Asset Limits
Married with One Spouse Applying for Benefits
$2,000 applicant/$137,400 non-applying spouse
* per year
Delaware residents applying for Medicaid must also meet a variety of other requirements. Applicants must be:
A legal resident of Delaware
A U.S. citizen, legal immigrant or lawful alien
How to Apply for Medicaid in Delaware
The fastest and easiest way to apply for Medicaid benefits in the state of Delaware is to use the state's online portal Delaware ASSIST. This portal takes seniors step-by-step through the application to make the process as easy as possible. Seniors can also apply for benefits in person by visiting their local Division of Social Services or they can call (866) 843-7212 to request an application by mail.
What Information You Will Need
Before starting the application process, seniors should gather all required information, including:
State-issued driver's license or ID card
Date of birth for all applicants
Social security numbers for all applicants
Proof all income for all applicants
How to Get Help Applying for Medicaid
There are several agencies within the state of Delaware that can assist seniors in completing their Medicaid applications.
Does Medicare Cover In-Home Care in Delaware?
In general, Medicare does not cover the cost of non-medical home care. That being said, there are situations in which Medicare provides some coverage for medical home care, referred to as "Home Healthcare." There are several eligibility restrictions for coverage, including that individuals must be homebound and have a referral from their doctor specifically for home healthcare services.
Below is an overview of some of the skilled medical professionals whose in-home services are typically covered by Medicare – for more in-depth information, refer to our Guide to Home Healthcare.
Physical Therapists: Physical therapy is used to help patients recover from injuries (broken bones, knee injuries, etc.), treat ongoing conditions such as arthritis, and assist in recovery from surgeries and procedures such as a knee or hip replacement.
Visiting Nurses: Licensed nurses can provide a number of medical services for those who don't need to stay in the hospital, but do need regular medical services such as wound care, changing feeding tubes, etc.
Occupational Therapists: Occupational therapists help seniors regain or maintain the ability to accomplish normal, daily tasks, such as bathing, dressing, eating, and other daily activities.
Speech Therapists: Speech therapists help seniors who are struggling to adequately communicate due to a stroke, dementia, or any other cause regain the ability to functionally communicate using a variety of means. Additionally, speech therapists help to keep seniors independent by modifying diets, teaching special techniques to swallow safely, and retraining associated muscles.
As mentioned above, in-home care is distinctly different from home healthcare. But, there can be some overlap in services between the two types of care. So, while Medicare doesn't cover non-medical in-home care, there are in-home care services that may be covered in special circumstances when they're provided in conjunction with home healthcare (such as an occupational therapist helping with eating or dressing)
Other Financial Assistance Options for In-Home Care in Delaware
While the above programs help many people finance in-home care, they will not cover all costs for everyone. There are other ways to pay for in-home care, including out-of-pocket arrangements with siblings, annuities, reverse mortgages, private insurance and more. Read Caring.com's Guide to In-Home Care Costs to learn more about these alternative payment options.
Free and Low-Cost Resources for Seniors in Delaware
The state of Delaware offers a variety of free and low-cost resources that can help seniors remain in their homes longer.
COVID-19 Rules for In-Home Care Providers in Delaware
All health care workers in the state of Delaware must receive the SARS-CoV-2 vaccination and booster unless they meet the stringent exemption rules. This mandate includes all in-home and home health care providers. These requirements have been in effect since December 2021, but the federal or state government could change these requirements at any time. It's recommended to contact your local Area Agency on Aging for more information regarding the most up-to-date COVID-19 requirements. Additionally, each health care agency may also have its own rules and regulations, such as the use of PPE or COVID-19 testing policies, that go beyond state and federal mandates. Seniors should check with each agency regarding its specific rules and regulations.
In-Home Care Laws and Regulations in Delaware
Delaware Health and Social Services regulates home health care providers throughout the state. The agency periodically conducts on-site compliance checks to ensure all laws and regulations are upheld. The following table describes a list of rules and regulations in-home care providers must follow.
In-Home Care Laws and Regulations in Delaware
Scope of Care
In-home health care providers assist with activities of daily living. This includes non-skilled services like grooming, bathing, meals, housekeeping and transportation.
Staffing Requirements
Home health aids must have at least one year of practical experience in a Department licensed facility, such as a hospital or nursing home. These individuals must also complete a home health care course or must be an individual who is currently pursuing a degree in nursing and has completed the clinical practicum.
Care Plan Requirements
Before providing in-home care to a patient, staff members or the agency must provide the senior with a detailed list regarding the types of care offered and the fees that will be charged. Patients have a right to help provide their own treatment plan.
Medication Management
In-home providers may help patients in developing a medication schedule and keep patients educated on the types of medications they take, how often it should be taken and any side effects that could occur.
Medicare Coverage
The Elderly and Disabled Home and Community-Based waiver helps seniors who require assistance paying for in-home care.
Reporting Abuse
The Health and Social Services department investigates and analyzes any issues that arise in regard to elder abuse in home care or within any long-term care facility. To report abuse, contact the Division of Health Care Quality at 1-877-453-0012.
Frequently Asked Questions
How much does in-home care cost in Delaware?
According to the 2019 Genworth Cost of Care Survey, the average cost of in-home care in Delaware is $4,671. In-home care services means a caregiver comes to the home and provides services like medication administration and assists with grooming and meals. This option for seniors is less expensive than moving to an assisted living community, which costs on average $6,035 per month.
Are there transportation assistance programs?
Delaware's statewide public transportation provider, the Delaware Transit Corporation (DTC), provides rides at reduced or for free for seniors and those with disabilities to and from medical appointments. Rides must be scheduled at least a day in advance and include features like wheelchair lifts and low-floor buses for easy access.
Does Delaware state Medicaid pay for in-home care?
In Delaware, the Diamond State Health Plan Plus (DSHP+) helps pay for some services provided by in-home care. Individuals who qualify receive all the benefits provided by Medicaid, including housekeeping, a social day care center, respite care and an emergency response system.
What does it mean to age in place?
Aging in place refers to individuals who prefer to live in their home as they get older instead of moving into an assisted living community or nursing home. Assistive technology and in-home care makes this possible for many seniors. Assistive technology refers to any products or devices that help seniors improve or maintain their quality of life while they age.
What is the difference between in-home care and home health care?
The main difference in in-home care and home health care is home care services are typically any non-medical service that provides assistance with daily living, including companionship, grooming assistance, light housekeeping and transportation. Home health care is usually doctor prescribed and requires a nurse who can provide wound care, IV care, injections and administer medications.
How to Find an In-Home Care Provider in Delaware
Whether you are looking for yourself or a loved one, finding a quality home care provider can be a stressful process. When you hire an in-home care aide you're placing a lot of trust in the hands of the person by inviting them into your home, so you'll want to be diligent in your search. At Caring.com, we're here to help – we've created a helpful checklist below that can help guide you through the process of both determining your needs and finding a home care agency that will provide the best care possible.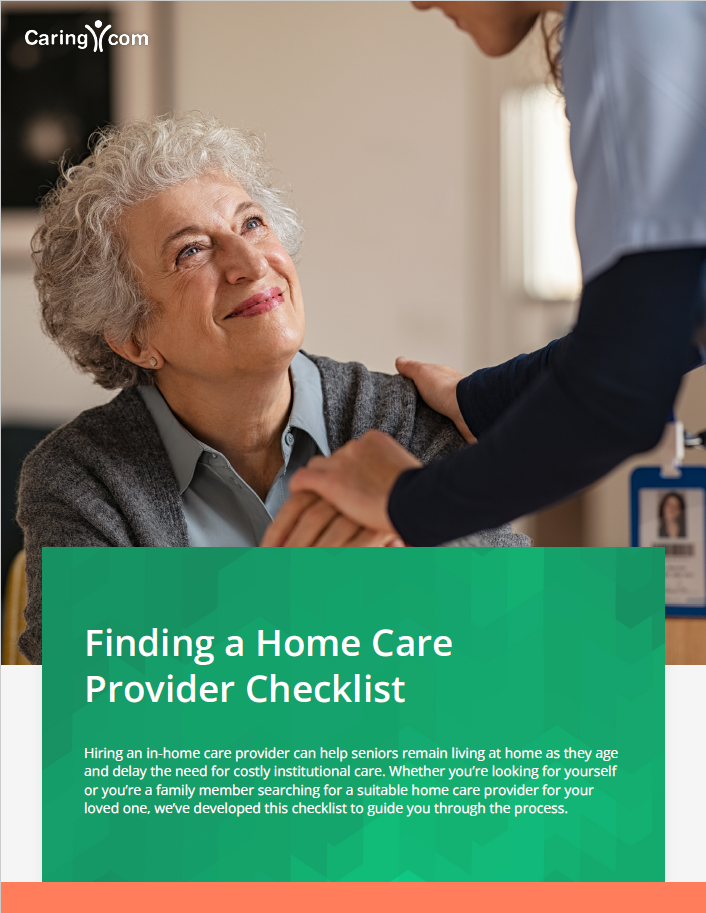 Find Home Care Agencies Near You
To find quality home care providers near you, simply input the zip code or city where you would like to start your search. We have an extensive directory of home care agencies all across the nation that includes in-depth information about each provider and hundreds of thousands of reviews from seniors and their loved ones.
Home Care Services in Delaware (60)