In-Home Care in Connecticut
Connecticut may not be the first state that springs to mind when thinking of great places to retire, but the 2020 Census found an above-average 17.7% of its 3.6 million residents are aged 65 and older. Numerous charming towns and extensive countryside bursting with greens in the summer and many shades of yellow and brown in the fall are clearly appealing to older adults. Medical care is also a likely factor due to its high standard, exemplified by well-regarded facilities, such as Yale New Haven Hospital and Hartford Hospital.
Many in-home care and home health care agencies serve Connecticut's seniors. The former specializes in non-medical care services, such as light housekeeping, companionship and assistance with daily activities, including bathing and dressing. The latter is a medical service that tailors support based on need, such as skilled nursing, physical therapy and maintaining on-site medical equipment. In-home care typically costs $5,243 per month in Connecticut, while home health care fees average $5,339.
This guide considers the costs of varying types of senior care in the region, particularly in relation to Medicaid and Medicare. It also lists some useful resources for Connecticut seniors being cared for in their homes.
The Cost of In-Home Care in Connecticut
Although Connecticut's average in-home care fee of $5,243 is $286 per month above the national median, it's more affordable than the surrounding states' fees for similar services. The results of the 2021 Genworth Cost of Care Survey reveal New Yorkers pay, on average, $5,339 for in-home care, while in New Jersey, seniors expect to pay around $5,529. Fees increase significantly in New England states, such as Rhode Island ($5,720), and Massachusetts ($5,911).
Location can play a big role in the costs for in-home care, as the variations in fees across Connecticut reveal. The state's most affordable city is New Haven, where the average fee is $5,243 per month. Only $10 separates the median fees for Hartford and Bridgeport, which are $5,329 and $5,339, respectively. Connecticut's costliest city for in-home care is Norwich, where seniors can expect to pay around $5,506 per month.
There are direct links between the type of care provided, the caregiver's expertise and the agency's fees, as Connecticut's varying senior care costs clearly reveal. There's an average difference of $8,635 between nursing home care fees ($13,764 per month) and assisted living ($5,129) — both of which are accommodation and care services, but with the former providing almost hospital levels of support. This is also true of in-home care and home health care agencies. The former typically charges $5,243 per month, while the latter usually costs another $96 for the addition of basic medical care. The most affordable option is adult day health care, which, although providing limited medical assistance, delivers it in an environment with lower overheads, reflected in an average fee of $1,842.
Nursing Home Facility (semiprivate room)
Does Medicaid Cover Home Care in Connecticut?
The short answer is yes, but it won't cover all costs. HUSKY C, Connecticut's Medicaid program for seniors, doesn't directly pay for home care but does fund all medical and some non-medical services through two waiver programs, the Connecticut Home Care Program for Elders and the Individual and Family Supports Waiver. The former waiver offers the most comprehensive range of home care services delivered by professional agencies, while the latter offers limited support that can be delivered by a caregiver nominated by the senior.
Home Waiver Programs in Connecticut
Connecticut Home Care Program for Elders
Beneficiaries of this waiver receive tailored medical and non-medical support services, which may be delivered by more than one agency. A needs assessment places the senior in one of five categories, which determines the type and frequency of support delivered. Categories may include home-delivered meals, housekeeping, personal care, assistive technologies and chronic disease self-management support.
Several factors determine eligibility, in addition to passing the functional needs assessment. They include being aged 65 or older and having an annual income and total countable assets not exceeding the program's parameters. To apply for the waiver, seniors should download an application form from the Department of Social Services website, and complete and return it with documents supporting the claim. Application forms can be faxed to (860) 424-4963, or mailed to:
Department of Social Services
Community Options
9th floor, 55 Farmington Avenue,
Hartford, CT 06105-3725
Individual and Family Supports Waiver
The Individual and Family Supports Waiver concentrates on social forms of care for seniors living at home or with their families, providing them with as much non-medical assistance as their circumstances warrant. This may include covering costs for personal care services, such as assistance with bathing, in addition to providing an emergency response system and some assistive technologies. The primary difference between this waiver and the Connecticut Home Care Program for Elders, is the provision for paying family members to assist, including as live-in companions. The waiver can also pay for respite care to give the caregiver a break from their duties.
Eligible seniors are on low incomes, have social care needs and live at home or with their caregiver but are still able to direct their own care. Seniors should request an application form from the main office for their DSS region and complete and return it with supporting documentation to the address printed on the form.
How to Know If You're Eligible for Medicaid in Connecticut
Traditionally, Medicaid income limits apply across a state, making Connecticut's separation of the Southwestern area unusual. Single seniors living in this area applying for Medicaid shouldn't have an annual income of more than $7,716, or $9,804, in the case of both spouses in a two-person household. Elsewhere in Connecticut, the income limits are $6,384 for an individual and $8,496 for a couple. Location doesn't influence asset limits, which are $1,600 for a single applicant and $2,400 for a couple.
2022 Medicaid Income Limits for Seniors in Connecticut
IncomeLimits*
Asset Limits
$12,624 (Southwestern CT)
$11,292 (Northern, Eastern and Western CT)
$19,620 (Southwestern CT)
$18,312 (Northern Eastern and Western CT)
*Per year
In addition to presenting documents verifying income and asset limits, an applicant must also provide evidence of fulfilling other criteria. They must show the senior is:
A U.S. citizen or legal resident
A Connecticut resident
In need of assistance with daily tasks, such as getting dressed
How to Apply for Medicaid in Connecticut
Connecticut's Department of Social Services provides four ways for seniors to apply for Medicaid.
Online: The quickest way is via ConneCT
By phone: Seniors who prefer to call, should contact (855) 626-6632
In-Person: Those who prefer face-to-face conversations can make an appointment with the nearest DSS field office
By mail: Seniors who don't need assistance with their applications should complete a copy of Form W-1 LTC and mail it to the nearest DSS field office
What Information You Will Need
Seniors should expect the DSS to look back over the previous five years of their financial histories. Although each case is unique, it's common for applicants to provide:
Proof of their citizenship status and Connecticut residency
Their Social Security number
Banks statements to verify income
Health insurance policy numbers
Proof of assets, such as retirement accounts, stocks and bonds
How to Get Help Applying for Medicaid
Although speaking to an eligibility services worker at the nearest DDS field office is recommended, seniors may have other reasons for getting more information about Medicaid. The organizations listed here can help those who prefer to do their own research before applying and those who may need legal assistance. 
Does Medicare Cover In-Home Care in Connecticut?
In general, Medicare does not cover the cost of non-medical home care. That being said, there are situations in which Medicare provides some coverage for medical home care, referred to as "Home Healthcare." There are several eligibility restrictions for coverage, including that individuals must be homebound and have a referral from their doctor specifically for home healthcare services.
Below is an overview of some of the skilled medical professionals whose in-home services are typically covered by Medicare – for more in-depth information, refer to our Guide to Home Healthcare.
Physical Therapists: Physical therapy is used to help patients recover from injuries (broken bones, knee injuries, etc.), treat ongoing conditions such as arthritis, and assist in recovery from surgeries and procedures such as a knee or hip replacement.
Visiting Nurses: Licensed nurses can provide a number of medical services for those who don't need to stay in the hospital, but do need regular medical services such as wound care, changing feeding tubes, etc.
Occupational Therapists: Occupational therapists help seniors regain or maintain the ability to accomplish normal, daily tasks, such as bathing, dressing, eating, and other daily activities.
Speech Therapists: Speech therapists help seniors who are struggling to adequately communicate due to a stroke, dementia, or any other cause regain the ability to functionally communicate using a variety of means. Additionally, speech therapists help to keep seniors independent by modifying diets, teaching special techniques to swallow safely, and retraining associated muscles.
As mentioned above, in-home care is distinctly different from home healthcare. But, there can be some overlap in services between the two types of care. So, while Medicare doesn't cover non-medical in-home care, there are in-home care services that may be covered in special circumstances when they're provided in conjunction with home healthcare (such as an occupational therapist helping with eating or dressing)
Other Financial Assistance Options for In-Home Care in Connecticut
While the above programs help many people finance in-home care, they will not cover all costs for everyone. There are other ways to pay for in-home care, including out-of-pocket arrangements with siblings, annuities, reverse mortgages, private insurance and more. Read Caring.com's Guide to In-Home Care Costs to learn more about these alternative payment options.
Free and Low-Cost Resources for Seniors in Connecticut
There are many free and low-cost resources available to seniors in Connecticut. They are often provided by government agencies and nonprofit organizations dedicated to helping older residents age in place. Those listed here can inform seniors about various Medicare options, assist with energy costs, enable access to healthier foods and support their caregivers.
COVID-19 Rules for In-Home Care Providers in Connecticut
As per the mandate issued by the CMS, all health care agencies in Connecticut that participate in Medicaid and Medicare must ensure their workers have received a minimum of two shots of a CDC-approved COVID-19 vaccine by April 20, 2022. The mandate also requires those who employ workers exempted due to allergy concerns or deeply held religious convictions, to test them for SARS-CoV-2 (COVID-19) every week. While this information is current as of April 2022, it's subject to change. For current regulations, check with the Connecticut Department of Public Health.
If you have concerns about your agency employing unvaccinated home care workers it may be useful to contact them for clarification, particularly since COVID-19 regulations change regularly and your agency may have additional policies and procedures in place for your safety.
In-Home Care Laws and Regulations in Connecticut
Home health care agencies are licensed by the Connecticut Department of Public Health, and homemaker-companion agencies must register with the Department of Consumer Protection. The state also has additional regulations about which services these agencies can provide.
In-Home Care Laws and Regulations in Connecticut
Scope of Care
Companion services provide basic nonmedical supervision, and homemakers assist with daily activities, such as cooking, cleaning and personal hygiene. Home health care services can provide a variety of medical services, such as registered nursing, infusion therapy and hospice.
Care Plan Requirements
Homemaker-companion agencies and home health care agencies must provide a written contract or plan of care for each client. This document must specify the type, frequency and duration of all services. Additional items, such as funding sources, are required in some cases.
Medication Management Requirements
Homemakers and home health aides may offer medication management if they have completed an appropriate certification and follow the company's written policies and procedures.
Staff Screening Requirements
Since 2016, the Connecticut Department of Consumer Protection has required background checks for all professionals employed by home health care or homemaker-companion agencies. Consumers are advised to request a copy of such documents.
Staff Training Requirements
Homemaker health aides must pass a competency exam and have at least 75 hours of training as a certified nursing assistant. There's no training requirement for professionals employed by homemaker-companion agencies.
Medicaid Coverage
Connecticut's Medicaid program HUSKY Health covers in-home care through waivers, such as the Connecticut Home Care Program for Elders. Eligibility is based on functional and financial criteria.
Reporting Abuse
Instances of elder abuse, exploitation and neglect must be reported to the Connecticut Department of Social Services, Protective Services for the Elderly. Health care professionals and other mandatory reporters can reach the agency by calling 1-888-385-4225.
Frequently Asked Questions
How much does in-home care cost in Connecticut?
In-home assistance typically costs $4,195 to $4,576 per month. These estimates are for 44 hours of weekly nonmedical service related to activities of daily living. Costs may be lower or higher depending on geographic location and the level of assistance required.
Does Connecticut Pay For In-Home Care?
Does Connecticut HUSKY Health pay for in-home care?
HUSKY Health pays for in-home care through Medicaid waivers designed especially for home- and community-based services. One such waiver is the Connecticut Home Care Program for Elders, which is available to residents who are 65 or older and have demonstrated physical and financial need. It covers the cost of personal assistance and many additional supports and services.
Are there programs to cover home modifications in Connecticut?
Minor home modifications are covered by the CHCPE Medicaid waiver. Shower grab bars, handrails and wheelchair ramps can be vital for helping seniors live safely in the community. Although there may be a waiting list for waiver-based services, seniors may be able to access similar assistance through community organizations, such as Habitat for Humanity and Rebuilding Together.
What does it mean to age in place?
According to the Centers for Disease Control and Prevention, aging in place relates to residents' ability to live safely, comfortably and independently in their own home and community regardless of their age, income or physical abilities. According to AARP, more than 87% of seniors say that they would prefer to age in place.
Can Family Members Get Paid for Caregiving in Connecticut?
In Connecticut, family members may receive payment for caregiving. This is achieved through two programs: Community First Choice and Adult Family Living. These programs provide funding seniors can use to pay family members who are caring for them at home. Read More
What supports can help me age at home?
Living at home involves a wide range of simple and complex tasks that can become more difficult over time. Seniors who want to age in place may benefit from assistance with household chores, cooking, cleaning, shopping and financial matters. Caregivers and home health agencies can also assist with medical care and activities of daily living. Community-based supports include companionship visits and programs that give older adults access to social and recreational opportunities. Many of these supports can be accessed through local senior centers and regional Area Agencies on Aging.
How to Find an In-Home Care Provider in Connecticut
Whether you are looking for yourself or a loved one, finding a quality home care provider can be a stressful process. When you hire an in-home care aide you're placing a lot of trust in the hands of the person by inviting them into your home, so you'll want to be diligent in your search. At Caring.com, we're here to help – we've created a helpful checklist below that can help guide you through the process of both determining your needs and finding a home care agency that will provide the best care possible.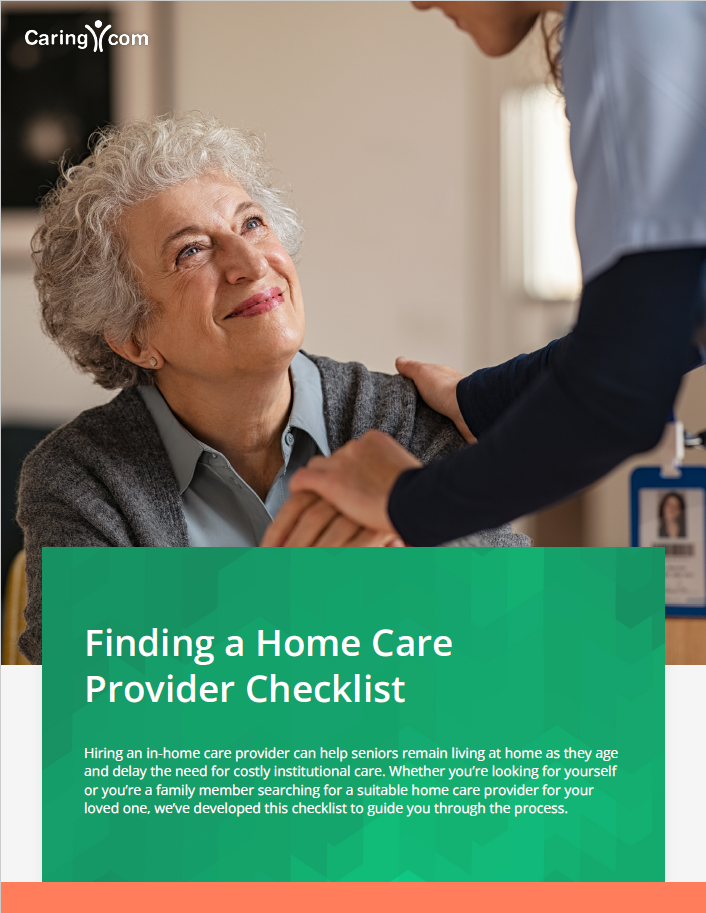 Find Home Care Agencies Near You
To find quality home care providers near you, simply input the zip code or city where you would like to start your search. We have an extensive directory of home care agencies all across the nation that includes in-depth information about each provider and hundreds of thousands of reviews from seniors and their loved ones.
Home Care Services in Connecticut (253)