If you want to maintain your health and independence well into your golden years, the Buckeye State offers a variety of services to help you stay active and age in place. According to the Ohio Department of Aging, 2.5 million state residents are aged 60 or older. This segment is growing 20 times faster than the rest of the population, so retirees are in good company. In fact, researchers at Miami University estimate that by 2025, one in four Ohioans will be in this age group.
Older adults in Ohio have access to fantastic amenities, including an excellent health care system. The Cleveland Clinic and OSU's Wexner Medical Center are nationally recognized. Additionally, approximately 800 home health agencies provide skilled care to seniors living in diverse communities. The median cost of nonmedical in-home care is $4,957. Providers that offer chore assistance and personal care, as well as skilled nursing, typically charge $5,053 per month.
This guide takes a look at home care prices in Ohio and neighboring states as well as financial assistance programs available through Medicaid. You'll also find information to help you apply for benefits and access resources in your community.
The Cost of In-Home Care in Ohio
According to Genworth Financial's 2021 Cost of Care Survey, you can expect to pay $4,957 per month for in-home care in Ohio, which is on par with the national average. Rates are identical in Pennsylvania and slightly lower in Kentucky and Indiana. Home care prices increased by about 12% in Michigan to $5,529. West Virginia offers a much better value. Median rates of $3,527 per month save residents about 28% in-home care.
In Toledo, home care prices are on par with the state median of $4,957 and about $200-$240 higher than average in Cincinnati and Cleveland. However, there are some outliers. Akron is the most affordable major city for home care with median rates of $4,052. If you live in Columbus, you'll pay about $668 more than the state median for every month of care, which adds up to more than $8,000 per year. Dayton is another costly option with rates that are $477 higher than average.
If you're considering long-term care, you want to think about cost, convenience and your personal preferences. In-home care costs about $300 more than assisted living, which averages $4,635. Seniors who live at home also incur additional monthly expenses that should be factored in. Home health care costs about $2,250 less than skilled nursing although these agencies provide some of the same medical and rehabilitative services. The main difference is that home health care agencies typically don't offer 24/7 supportive services.
Does Medicaid Cover Home Care in Ohio?
Ohio's Medicaid program covers Home Health Services through its official Medicaid State Plan. This benefit is available to all Medicaid beneficiaries regardless of age, but the services must be medically necessary. Additionally, care is limited to eight hours a day and 14 hours per week. Most visits are two hours or less. Ohio's Medicaid State Plan covers part-time Home Health Services provided by home health care, nurses and physical therapists. Private-duty nursing is available to individuals who require additional care. If you're eligible for nursing home care but want to remain in the community, you may qualify for one of the state's home-based and community-based services waivers.
Home Care Waiver Programs in Ohio
Waivers allow the state to cover services that aren't usually available through Medicaid, including chore assistance, meals and other supports. The state must receive permission from the federal government to operate these programs that are intended to help beneficiaries avoid nursing home placement.
How to Know if You're Eligible for Medicaid in Ohio
Ohio has strict income limits for regular Medicaid. Individuals who want to apply for Medicaid based on their age or disability status may earn up to $841 per month for 2022. If you're applying with a spouse, your household income cannot exceed $1,261 per month. Income limits are based on the federal benefit rate and are updated regularly. Assets are limited to $2,000 for individuals or $3,000 for couples. Different rules apply if you need a nursing home level of care and want to apply for Medicaid waivers.
2022 Medicaid Income Limits for Seniors in Ohio
Income Limits*
Asset Limits
*Per year
Ohio requires applicants meet additional age and residency requirements, apart from income and asset limits. Applicants must:
Be aged 65 or older, blind or disabled
Need health insurance or medical services
Provide proof of U.S. citizenship and legal residency
Live in the state of Ohio
How to Apply for Medicaid in Ohio
For most consumers, the easiest way to apply for Medicaid is by visiting the state's official benefits portal at Benefits.Ohio.gov. The site also lets you check your eligibility before you apply. For in-person assistance, contact your County Department of Job and Family Services. These local offices handle applications for Medicaid and other financial assistance programs. They also accept paper applications if you'd rather complete a printed form. To apply over the phone, call the state's Medicaid Consumer Hotline at (800) 324-8680.
What Information You Will Need
Be prepared to provide information about yourself and other members of your household when you complete your application. Gather the following records to save time when you're ready to apply.
Name and address
Date of birth
Social Security number
Federal tax filing status
Citizenship and/or residency information
Employment and expected income
Property, vehicles and financial resources
Existing health coverage
Medical expenses
How to Get Help Applying for Medicaid
There are a few ways to get help with Ohio's Medicaid application. The following agencies can help you get started or check on the status of an existing application.
Does Medicare Cover In-Home Care in Ohio?
In general, Medicare does not cover the cost of non-medical home care. That being said, there are situations in which Medicare provides some coverage for medical home care, referred to as "Home Healthcare." There are several eligibility restrictions for coverage, including that individuals must be homebound and have a referral from their doctor specifically for home healthcare services.
Below is an overview of some of the skilled medical professionals whose in-home services are typically covered by Medicare – for more in-depth information, refer to our Guide to Home Healthcare.
Physical Therapists: Physical therapy is used to help patients recover from injuries (broken bones, knee injuries, etc.), treat ongoing conditions such as arthritis, and assist in recovery from surgeries and procedures such as a knee or hip replacement.
Visiting Nurses: Licensed nurses can provide a number of medical services for those who don't need to stay in the hospital, but do need regular medical services such as wound care, changing feeding tubes, etc.
Occupational Therapists: Occupational therapists help seniors regain or maintain the ability to accomplish normal, daily tasks, such as bathing, dressing, eating, and other daily activities.
Speech Therapists: Speech therapists help seniors who are struggling to adequately communicate due to a stroke, dementia, or any other cause regain the ability to functionally communicate using a variety of means. Additionally, speech therapists help to keep seniors independent by modifying diets, teaching special techniques to swallow safely, and retraining associated muscles.
As mentioned above, in-home care is distinctly different from home healthcare. But, there can be some overlap in services between the two types of care. So, while Medicare doesn't cover non-medical in-home care, there are in-home care services that may be covered in special circumstances when they're provided in conjunction with home healthcare (such as an occupational therapist helping with eating or dressing)
Other Financial Assistance Options for In-Home Care in Ohio
While the above programs help many people finance in-home care, they will not cover all costs for everyone. There are other ways to pay for in-home care, including out-of-pocket arrangements with siblings, annuities, reverse mortgages, private insurance and more. Read Caring.com's Guide to In-Home Care Costs to learn more about these alternative payment options.
Free and Low-Cost Resources for Seniors in Ohio
Ohio provides a wealth of resources to help you maintain your health and independence. The following organizations can help you locate supportive services that are available in your area.
COVID-19 Rules for In-Home Care Providers in Ohio
The Centers for Medicare and Medicaid Services have issued several memos mandating COVID-19 vaccinations for home care and home health care workers starting in 2022. However, several states, including Ohio, are exempt from these requirements due to ongoing legal debates. Although there are no statewide rules, individual providers may have their own policies regarding vaccinations, masking and personal protective equipment. Discuss your concerns with your provider or case manager to see if they can accommodate your preferences. Although this information is current as of April 2022, vaccination requirements are subject to change. Contact your Area Agency on Aging for the latest information.
In-Home Care Laws and Regulations in Ohio
The Ohio Department of Health works with CMS to certify home health agencies that accept Medicare or Medicaid reimbursements. Home health and home care agencies are not licensed or registered in the state of Ohio. Certified providers must pass random on-site surveys conducted by the Bureau of Survey and Certification. Below is a table with a brief overview of the rules and regulations that govern home care agencies in Ohio.
In-Home Care Laws and Regulations in Ohio
Scope of Care
Agencies providing home care that does not include medical care, may assist with activities of daily living, homemaking, transportation, companionship and other non-skilled services needed by the patient.
Care Plan Requirements
N/A
Medication Management Requirements
Patients eligible to self-administer medications may receive assistance from a care aide that includes opening packaging, reading information or providing reminders.
Staff Screening Requirements
Any staff member that provides direct care must complete a criminal background check. An employer must first check six listed free databases for the employer and may refuse employment based on information gathered.
Staff Training Requirements
N/A
Medicaid Coverage
CMS-certified home health agencies may receive some or all of the cost of services through the PASSPORT Medicaid waiver.
Reporting Abuse
For seniors living at home, report all suspected abuse to Adult Protective Services at 1-855-644-6277. For those living in a nursing home or assisted living facility, contact the State Long-Term Care Ombudsman at 1-800-282-1206.
Frequently Asked Questions
How much does in-home care cost in Ohio?

According to the Genworth Cost of Care Survey 2019, in-home care costs an average of $4,290 per month in Ohio. This level of care does not include skilled nursing care. Home health services average slightly more at $4,385 and may include nursing care and other health services in addition to homemaking and personal care.
Does Ohio Medicaid pay for in-home care?

The PASSPORT Medicaid waiver may pay for some or all of the in-home support services needed by a senior to continue living safely at home. Financial and other eligibility restrictions apply. Seniors interested in this waiver must first obtain a letter from a physician detailing their need for assistive services and stating that with these services it will be safe for them to remain in the community.
Are there programs to cover home modifications in Ohio?

Ohio has a variety of senior service programs that may pay some or all the costs of home modifications. These programs are offered at the county level. For more information about availability, interested seniors should contact their local area agency on aging.
What does it mean to age in place?

Aging in place refers to seniors who choose to continue living in their own homes rather than transitioning to a retirement community, assisted living facility or nursing home.
What is the difference between in-home care and home health care?

In-home care covers a wide range of tasks that take no special training. For some seniors, home care might include yard work, housekeeping, laundry services, meal preparation, assistance getting dressed or simply offering companionship and supervision. Home health care may also include skilled nursing, wound care, rehabilitation therapy and other skilled healthcare services.
How to Find an In-Home Care Provider in Ohio
Whether you are looking for yourself or a loved one, finding a quality home care provider can be a stressful process. When you hire an in-home care aide you're placing a lot of trust in the hands of the person by inviting them into your home, so you'll want to be diligent in your search. At Caring.com, we're here to help – we've created a helpful checklist below that can help guide you through the process of both determining your needs and finding a home care agency that will provide the best care possible.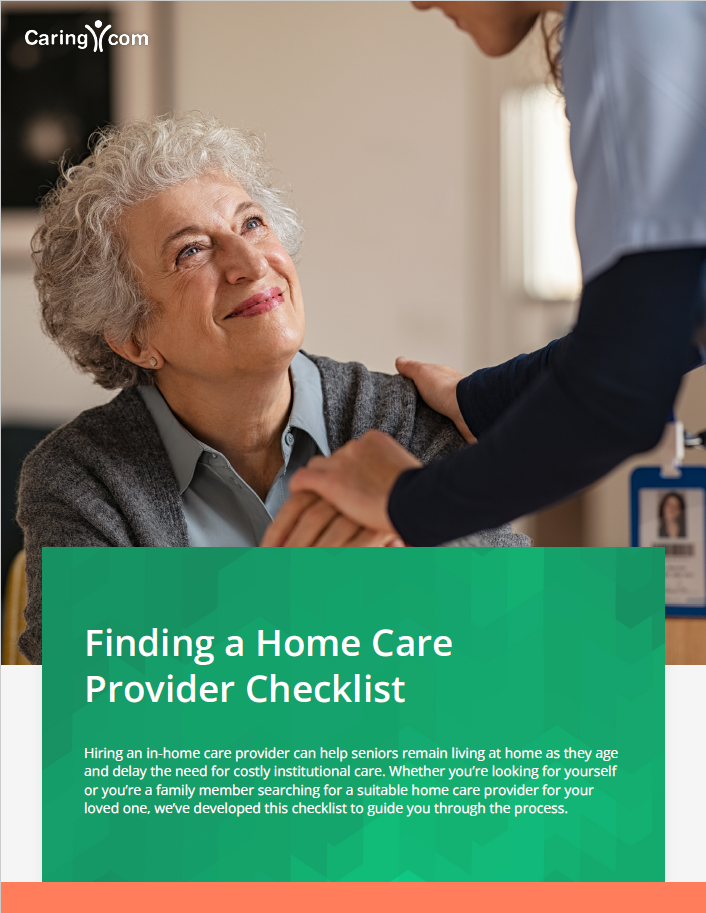 Home Care Services in Ohio (977)