More than 16% of Illinois' population is aged 65 and older. With a low cost of living and tax exemptions for 401(k)s, IRAs and pension incomes, Illinois is one state where budget-conscious seniors choose to retire. Seniors will also find savings on groceries, health care, housing and utilities when comparing costs with other cities across the country. Illinois is also home to several nationally recognized hospitals, including the Northwestern Memorial Hospital and Rush University Medical Center, both located in Chicago.
Seniors who need assistance with daily tasks and prefer to remain in their homes for as long as possible have several options for long-term care. In-home care offers nonclinical assistance, such as meal prep, companionship, grooming, bathing and housekeeping. Home health care provides skilled nursing and professional medical assistance. As of 2021, the cost of in-home care and home health care in Illinois is $5,339 per month.
This guide contains a brief overview of the cost of in-home care and other types of long-term care in Illinois. It also includes a list of resources for seniors and details about financial assistance.
The Cost of In-Home Care in Illinois
In Illinois, in-home care costs an average of $5,339 per month, which is more than the national average of $4,957 per month, according to Genworth's 2021 Cost of Care Survey. Comparing the cost of in-home care in neighboring states, Indiana and Missouri seniors pay around the same costs at $4,767 per month, and Wisconsin and Iowa seniors pay an average of $5,529 monthly.
The average cost for non-medical home care varies throughout the state of Illinois, with the median monthly cost at $5,672 in Chicago. Peoria and Bloomington seniors pay an average monthly fee of $5,053, while Springfield seniors pay $5,100. Danville has one of the highest costs for in-home care in the state, at $8,818 per month, while older adults who choose to retire in Carbondale pay around $4,576.
Long-term care is often a necessity for seniors who require assistance with daily living tasks. While there are several options to choose from, long-term care is often decided on by cost and the type of services provided. Seniors who own their own homes may opt for in-home care or home health care, which both cost around $5,339 per month in Illinois. Adult day health care, which provides general care in a supervised environment only during daytime hours, is the least expensive option at $1,885 per month. Assisted living, which offers varying degrees of assistance, costs around $4,488. A semiprivate room in a nursing home costs approximately $6,266 per month. This type of long-term care provides the most supervised medical care with skilled nursing, therapy and doctors' visits.
Does Medicaid Cover Home Care in Illinois?
Because in-home care doesn't provide any type of medical services, it isn't covered by traditional Illinois Medicaid. Instead, there are four waiver programs that provide financial assistance to seniors who choose in-home care. These programs include the Supportive Living Program (SLP), HealthChoice Illinois, Persons Who are Elderly and Managed Long-term Service and Supports. These waivers are considered home and community-based service waiver programs that allow seniors to remain in their homes instead of being admitted into a nursing home or other institution. The waivers are for seniors with similar needs, but they each provide different services. Individuals must meet all eligibility requirements, which are typically defined by citizenship and income.
Home Care Waiver Programs in Illinois
For seniors with limited financial resources, several waivers and programs help pay for some services offered in-home care. While these waivers won't assist with the cost of housing or utilities, they do provide help with most daily care.
How to Know if You're Eligible for Medicaid in Illinois
The income eligibility limits for seniors applying for Medicaid coverage in Illinois are $13,596 per year for a single applicant and $18,312 for a two-person household. Assets for an individual can't exceed more than $2,000 and for a two-person household, the amount can't exceed $3,000.
2022 Medicaid Income Limits for Seniors in Illinois
*per year
Additional eligibility requirements for Medicaid benefits include:
65 years of age or older
Resident of Illinois
U.S. citizen or permanent resident
Require nursing home level of care
How to Apply for Medicaid in Illinois
Seniors may apply for Illinois Medicaid online or through any local Department of Health Services office. Applications may also be taken over the phone by calling (800) 843-6154. To apply by mail, download the application for medical benefits and mail the completed application to the local Department of Health Services.
What Information You Will Need
Government-issued photo ID
Social Security card for all applicants
Copies of health and life insurance cards
Birth certificates or naturalization papers for immigrants
Marriage license (for married couples)
Proof of veteran's benefits
Retirement awards letters
Proof of income for the past 30 days
Bank statements for the past 30 days
Proof of property ownership
Last five years' income tax returns
How to Get Help Applying for Medicaid
Additional information is available to seniors who apply for Illinois Medicaid. Older adults and their families may also get answers to the most common Medicaid questions.
Does Medicare Cover In-Home Care in Illinois?
In general, Medicare does not cover the cost of non-medical home care. That being said, there are situations in which Medicare provides some coverage for medical home care, referred to as "Home Healthcare." There are several eligibility restrictions for coverage, including that individuals must be homebound and have a referral from their doctor specifically for home healthcare services.
Below is an overview of some of the skilled medical professionals whose in-home services are typically covered by Medicare – for more in-depth information, refer to our Guide to Home Healthcare.
Physical Therapists: Physical therapy is used to help patients recover from injuries (broken bones, knee injuries, etc.), treat ongoing conditions such as arthritis, and assist in recovery from surgeries and procedures such as a knee or hip replacement.
Visiting Nurses: Licensed nurses can provide a number of medical services for those who don't need to stay in the hospital, but do need regular medical services such as wound care, changing feeding tubes, etc.
Occupational Therapists: Occupational therapists help seniors regain or maintain the ability to accomplish normal, daily tasks, such as bathing, dressing, eating, and other daily activities.
Speech Therapists: Speech therapists help seniors who are struggling to adequately communicate due to a stroke, dementia, or any other cause regain the ability to functionally communicate using a variety of means. Additionally, speech therapists help to keep seniors independent by modifying diets, teaching special techniques to swallow safely, and retraining associated muscles.
As mentioned above, in-home care is distinctly different from home healthcare. But, there can be some overlap in services between the two types of care. So, while Medicare doesn't cover non-medical in-home care, there are in-home care services that may be covered in special circumstances when they're provided in conjunction with home healthcare (such as an occupational therapist helping with eating or dressing)
Other Financial Assistance Options for In-Home Care in Illinois
While the above programs help many people finance in-home care, they will not cover all costs for everyone. There are other ways to pay for in-home care, including out-of-pocket arrangements with siblings, annuities, reverse mortgages, private insurance and more. Read Caring.com's Guide to In-Home Care Costs to learn more about these alternative payment options.
Free and Low-Cost Resources for Seniors in Illinois
Seniors who prefer to age in place can get help improving their quality of life through a variety of programs and services. These include activities to keep seniors mobile and engaged, hot meals, home repairs, discounts and information on topics relevant to older adults.
COVID-19 Rules for In-Home Care Providers in Illinois
With the exception of individuals who qualify for an exemption, all in-home care workers must be fully vaccinated against SARS-CoV-2, often referred to as COVID-19. Both in-home care and home health workers are included in these regulations. These rules went into effect in April 2022 but are subject to change. Because state and federal agencies can implement changes at any given time, it's important to check with your local Area Agency on Aging for the most up-to-date information on vaccination rules and health and safety standards. Local agencies can also answer any questions or concerns involving COVID-19 and safety precautions.
In-Home Care Laws and Regulations in Illinois
The Health Care Facilities and Programs division of the Illinois Department of Public Health is responsible for licensing and regulating the agencies that provide in-home care services to seniors. The division also conducts investigations and inspections as deemed necessary to ensure that each agency stays in compliance with state regulations. Here is an overview of the rules and regulations that pertain to home services agencies in the state:
In-Home Care Laws and Regulations in Illinois
Scope of Care
Home services agencies in Illinois may provide a range of nonmedical services. Agency workers may assist clients with activities of daily living, provide personal care and perform housekeeping, laundry and cooking duties. Workers may also provide companionship, help a client maintain household records and act as an escort for shopping, medical appointments and other outings.
Care Plan Requirements
Agencies must develop a service plan in consultation with a client and their representative that outlines the services to be provided. It must include the type, level and scope of services, list the client's physician's name and note any functional limitations, medications and treatments being received and the individual's activity level and mental status.
Medication Management Requirements
Agency workers may provide medication reminders and assistance with self-administration, but may not administer medications.
Staff Screening Requirements
Home services agencies must perform a criminal background check before hiring a worker, and check the state's Nurse Aide registry for any history of abuse, neglect or property theft.
Staff Training Requirements
Workers must be given a competency evaluation when they are first hired, and then receive eight hours of relevant training every 12 months.
Medicaid Coverage
Illinois Medicaid offers three programs that may cover some or all of the cost of in-home care. Seniors may be eligible for assistance through HealthChoice Illinois, the Medicare-Medicaid Alignment Initiative or the Community Care Program.
Reporting Abuse
Reports of suspected abuse, neglect or exploitation of a senior aged 60 or older may be made by calling the Illinois Adult Protective Services hotline at 866-800-1409.
Frequently Asked Questions
How Much Does In-Home Care Cost in Illinois?
The cost of in-home care in Illinois averages $4,481 per month, according to the 2019 Genworth Cost of Care Survey. This is only slightly less than the cost of home health care that includes skilled nursing services, which averages $4,576 per month.
Are There Transportation Assistance Programs in Illinois?
The Illinois Department on Aging allocates funds to approved agencies throughout the state to be used for senior transportation programs. Seniors should contact a provider in their area to learn whether there are financial and/or functional requirements to qualify and how to arrange services.
Are There Programs to Cover Home Modifications in Illinois?
Funding for home accessibility and safety modifications is provided to nonprofit organizations and local government agencies by the Illinois Housing Development Authority. These Home Accessibility Program grants are available to low-income residents aged 60 and older from approved sources across the state.
What Types of Services Does a Home Care Aide Provide?
Home services agency workers in Illinois may provide various nonmedical services, such as assisting with personal care, planning and preparing meals and performing housekeeping and laundry chores. Workers may also provide companionship and medication reminders and help a senior run errands or attend appointments.
What Are Activities of Daily Living?
Activities of daily living, also called ADLs, are the routine self-care tasks an individual completes every day. ADLs include personal hygiene and grooming tasks, getting dressed and undressed, using the bathroom, walking/moving and eating. They are not the same as more complex instrumental activities of daily living.
How to Find an In-Home Care Provider in Illinois
Whether you are looking for yourself or a loved one, finding a quality home care provider can be a stressful process. When you hire an in-home care aide you're placing a lot of trust in the hands of the person by inviting them into your home, so you'll want to be diligent in your search. At Caring.com, we're here to help – we've created a helpful checklist below that can help guide you through the process of both determining your needs and finding a home care agency that will provide the best care possible.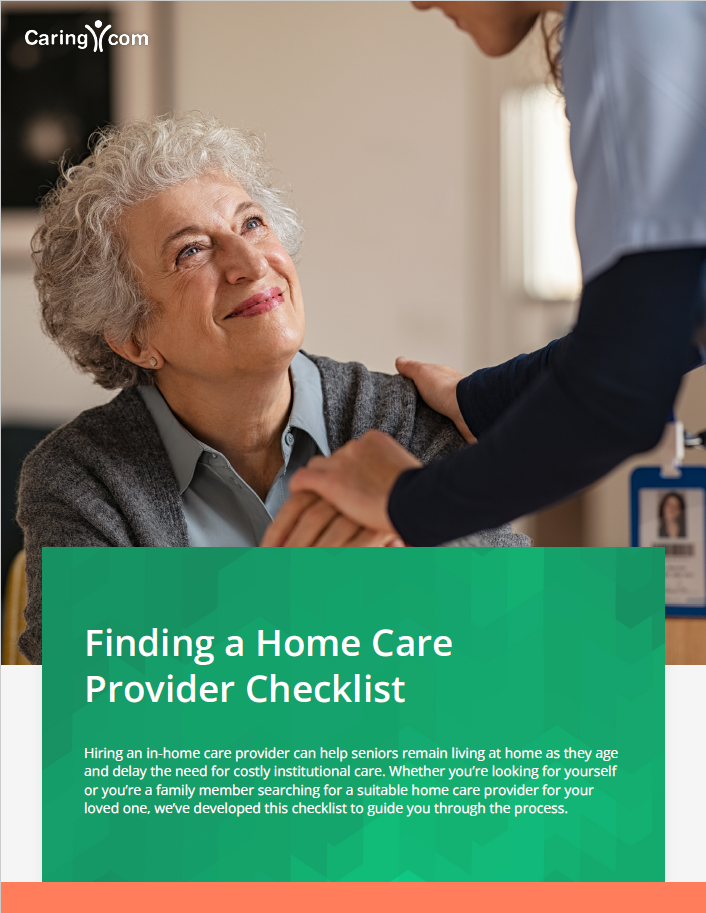 Find Home Care Agencies Near You
To find quality home care providers near you, simply input the zip code or city where you would like to start your search. We have an extensive directory of home care agencies all across the nation that includes in-depth information about each provider and hundreds of thousands of reviews from seniors and their loved ones.
Home Care Services in Illinois (491)