In-Home Care in North Dakota
Home to 775,000 people, North Dakota offers retirees wide open spaces, clean air and comfortable summer weather. Almost 16% of the population is aged 65 and above. Older North Dakotans benefit from low tax rates and quality health care from hospitals such as Sanford Health Medical Center.
North Dakota also has a low cost of living, which can help seniors budget for their care needs. Both in-home care and home health care in the state cost an average of $5,689 per month. Those who only need non-medical assistance such as help with activities of daily living may find in-home care the best option, while home health care provides medical services such as skilled nursing.
This guide has information about the cost of in-home care and other senior living options in North Dakota. It also has details about the financial assistance available to older adults in the state and resources that can help seniors age at home.
The Cost of In-Home Care in North Dakota
The Genworth 2021 Cost of Care Survey shows that the average cost of in-home care in North Dakota is $5,689 per month. This is $732 higher than the national average of $4,957. Costs are high in North Dakota when compared to its western neighbors, with Montana seniors paying just $5,339 for in-home care. Nearby Wyoming is also more affordable, with an average cost of $5,529. Other nearby states have higher costs. In South Dakota, the average is $5,911 per month. Minnesota is the least affordable of North Dakota's neighbors. The price there is $6,673, almost $1,000 more than in North Dakota.
The cost of in-home care in North Dakota can vary widely depending on where you live. Costs in the eastern part of the state are close to the North Dakota average, with seniors in Grand Forks and Fargo paying $5,690 per month. However, the state capital is significantly more expensive. Prices in Bismarck average $7,823 monthly, or $2,134 more than the state average.
Older adults in North Dakota may wish to explore other senior living options to find what works best for their needs and budgets. Adult day care and assisted living costs are similar, at $3,383 and $3,391 respectively. Like in-home care, home health costs an average of $5,689 per month. Nursing home care offers around-the-clock assistance. The price reflects this, with seniors in North Dakota nursing homes paying an average of $11,978 per month.
Does Medicaid Cover Home Care in North Dakota?
In North Dakota, home care is covered directly by Medicaid through the Medicaid State Plan – Personal Care Services program. The state also has a waiver program that funds in-home care. Both programs provide in-home care services designed to prevent or delay placement in a nursing home. This includes assistance with activities of daily living, food preparation, house cleaning and shopping. These services can be provided in a variety of living situations, including in the senior's home or the home of a relative.
Home Care Waiver Programs in North Dakota
Medicaid Waiver for Home and Community Based Services
The Medicaid Waiver for Home and Community Based Services is also known as the Aged and Disabled Waiver. It provides a range of services to help people remain living in their homes or in the community.
Applicants may be placed on a waiting list. Individuals must be financially eligible for Medicaid to be eligible for the waiver. In addition, people aged 65 and older must require a nursing home level of care. Applicants under 65 must be designated as disabled by Social Security. The state won't accept people into the program if the care provided in the home will cost more than the individual's care in a nursing home.
Seniors in the program receive case management to help with direct care and ensure they get the services they need. Benefits offered by the program include chores, personal care, transport, home-delivered meals and respite care. The waiver allows for self-direction, meaning participants can choose their own providers. North Dakota allows both spouses and adult children to be paid as caregivers through this waiver.
Seniors can apply for the program by contacting the Aging and Disability Resource LINK at 1-855-462-5465.
How to Know if You're Eligible for Medicaid in North Dakota
People applying for Medicaid first have to meet the financial eligibility criteria. The program is designed to help low-income people access health care, so the criteria consist of income and asset limits.
In North Dakota, single applicants must have an income of less than $940 per month, or $11,280 yearly, and assets of less than $3,000. For married applicants, the income limit is $1,267, or $15,204 yearly, and the asset limit is $6,000. Not all assets are counted when calculating Medicaid eligibility. Exemptions include personal belongings, an automobile and irrevocable burial trusts. Your home is also exempt if you live there and the equity interest is below the state limit.
2022 Medicaid Income Limits for Seniors in North Dakota
Income Limits*
Asset Limits
* per year
Applicants must also meet be:
A North Dakota resident
A U.S. national, citizen or legal resident
How to Apply for Medicaid in North Dakota
Medicaid applications are managed by Human Service Zone offices. You can contact your local office to receive an application by mail or print a form to return to the local office. Alternatively, applications can be completed at the state's online portal. Online applications are directed to the correct Human Service Zone office.
What Information You Will Need
In order to process your application, the state may ask for certain documentation to verify details. You may be asked to provide proof of:
Identification
Age
Citizenship or residency status
Social Security number
Income
Assets
Current health insurance
How to Get Help Applying for Medicaid
Medicaid has strict eligibility rules that may be difficult to navigate. North Dakota has a number of resources available to answer Medicaid questions and help you apply for assistance.
Does Medicare Cover In-Home Care in North Dakota?
In general, Medicare does not cover the cost of non-medical home care. That being said, there are situations in which Medicare provides some coverage for medical home care, referred to as "Home Healthcare." There are several eligibility restrictions for coverage, including that individuals must be homebound and have a referral from their doctor specifically for home healthcare services.
Below is an overview of some of the skilled medical professionals whose in-home services are typically covered by Medicare – for more in-depth information, refer to our Guide to Home Healthcare.
Physical Therapists: Physical therapy is used to help patients recover from injuries (broken bones, knee injuries, etc.), treat ongoing conditions such as arthritis, and assist in recovery from surgeries and procedures such as a knee or hip replacement.
Visiting Nurses: Licensed nurses can provide a number of medical services for those who don't need to stay in the hospital, but do need regular medical services such as wound care, changing feeding tubes, etc.
Occupational Therapists: Occupational therapists help seniors regain or maintain the ability to accomplish normal, daily tasks, such as bathing, dressing, eating, and other daily activities.
Speech Therapists: Speech therapists help seniors who are struggling to adequately communicate due to a stroke, dementia, or any other cause regain the ability to functionally communicate using a variety of means. Additionally, speech therapists help to keep seniors independent by modifying diets, teaching special techniques to swallow safely, and retraining associated muscles.
As mentioned above, in-home care is distinctly different from home healthcare. But, there can be some overlap in services between the two types of care. So, while Medicare doesn't cover non-medical in-home care, there are in-home care services that may be covered in special circumstances when they're provided in conjunction with home healthcare (such as an occupational therapist helping with eating or dressing)
Other Financial Assistance Options for In-Home Care in North Dakota
While the above programs help many people finance in-home care, they will not cover all costs for everyone. There are other ways to pay for in-home care, including out-of-pocket arrangements with siblings, annuities, reverse mortgages, private insurance and more. Read Caring.com's Guide to In-Home Care Costs to learn more about these alternative payment options.
Free and Low-Cost Resources for Seniors in North Dakota
Government and nonprofit organizations in North Dakota have an array of free and low-cost resources to assist seniors aging in place. These agencies can help older North Dakotans access transport, meals, in-home care, home modifications and financial assistance.
COVID-19 Rules for In-Home Care Providers in North Dakota
As of April 2022, the Centers for Medicare & Medicaid Oversight has stated that care providers across the country must be vaccinated against SARS-CoV-2, the virus causing the COVID pandemic. This means that unless they qualify for an exemption, all in-home and home health care workers in North Dakota have received the COVID-19 vaccination.
Vaccination requirements can change at any time, so it's important to check the current regulations with your local Area Agency on Aging. Your preferred agency may also have stricter requirements for vaccination and PPE usage. An agency representative can answer any questions you have regarding these policies.
In-Home Care Laws and Regulations in North Dakota
In-home care in North Dakota is officially referred to as supportive services, and they are provided by home health aides. This type of care is governed by the North Dakota Department of Human Services. The department has extensive laws and regulations in place to ensure high-quality care and safety for seniors.
In-Home Care Laws and Regulations in North Dakota
Scope of Care
In North Dakota, personal care services provide assistance to those who need help with activities of daily living and instrumental activities of daily living, enabling the individual to continue living at home. Caregivers are permitted to perform tasks such as bathing, dressing and undressing, feeding mobility, meal preparation, housework, and laundry shopping, medication assistance, and money management. Provided services may not include skilled services that must be performed by someone with professional training.
Care Plan Requirements
Care plans should be established and signed by the home care agency and reviewed every 62 days by a registered nurse. They must include all relevant diagnoses, short-term and long-term care goals, the types and frequency of services to be provided, permitted activities, necessary safety measures and sociopsychological needs of the patient.
Medication Management Requirements
Personal care assistants may provide medication reminders for patients.
Staff Screening Requirements
Prior to hiring a home health aide, the agency must check registries and licensure boards for inappropriate conduct, disciplinary actions and termination from previous positions. A competency evaluation must be documented at least every two years.
Staff Training Requirements
Upon employment, home health aides must complete a 75-hour training program, at least 16 hours of which are in a classroom setting and 16 hours under supervised practical training. Some topics that must be covered include communication skills, patient rights and safe techniques for personal hygiene and grooming. On an annual basis the agency must provide training that covers topics such as prevention and control of infections and safety procedures. Home health aides must also receive 12 hours of in-service education every 12-month period.
Medicaid Coverage
In-home care is covered by the Personal Care Services program, which is a part of the Medicaid State Plan. Medicaid also covers this type of care under a Home and Community-Based Services waiver program.
Reporting Abuse
Abuse and neglect should be reported to the state's Vulnerable Adult Protective Services department by calling 855-462-5465. Reports may also be filed
online
.
Frequently Asked Questions
How much does in-home care cost in North Dakota?
In North Dakota, in-home care costs $5,148 per month, which is about 18% higher than the national average of $4,290. Across the state's major cities, monthly costs range from $2,669 to $5,331.
Are there programs to cover home modifications in North Dakota?
Limited home modifications are covered under the state's Home and Community Based Services waiver program to enhance the resident's safety and independence. Modifications for eligible seniors may also be paid for by the SPED program.
Are there transportation assistance programs in North Dakota?
Medicaid-eligible seniors in North Dakota may receive non-medical transportation services through the state's Home and Community Based Services waiver. The state's Human Services Department also maintains a database of local organizations that provide services such as transportation for seniors.
What is the difference between in-home care and home health care?
In-home care includes personal care services that the senior would be able to complete if a physical impairment wasn't preventing them from doing so. Home health care generally includes personal care services along with skilled nursing care.
What types of services does a home care aide provide?
Home care aides provide assistance with daily living activities such as toileting, grooming and bathing, as well as instrumental activities of daily living such as errands, money management and homemaker services. These services are provided to support the highest degree of independence and self-reliance possible.
How to Find an In-Home Care Provider in North Dakota
Whether you are looking for yourself or a loved one, finding a quality home care provider can be a stressful process. When you hire an in-home care aide you're placing a lot of trust in the hands of the person by inviting them into your home, so you'll want to be diligent in your search. At Caring.com, we're here to help – we've created a helpful checklist below that can help guide you through the process of both determining your needs and finding a home care agency that will provide the best care possible.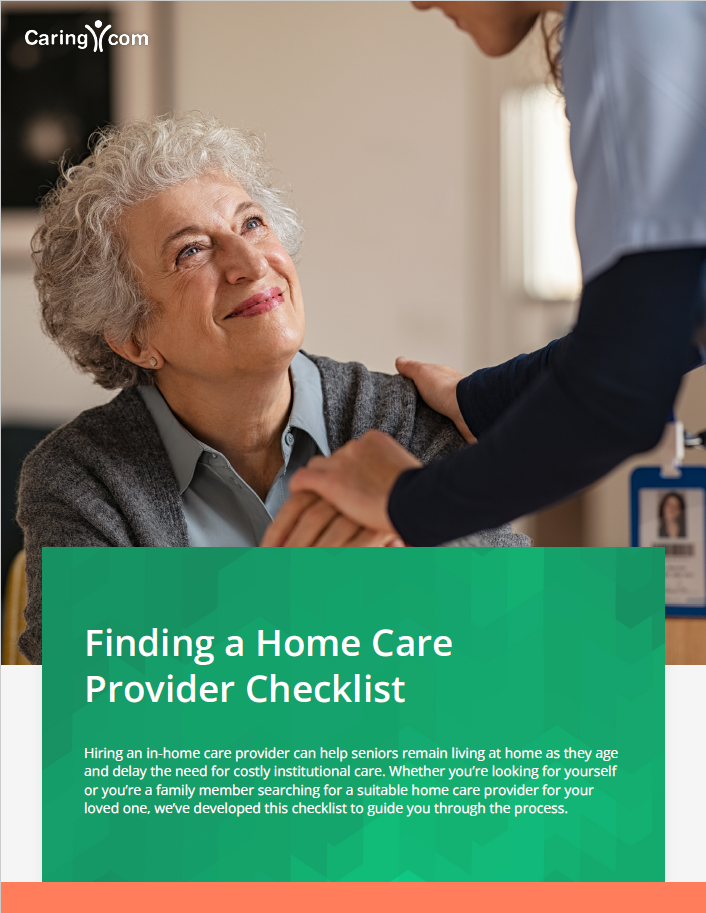 Find Home Care Agencies Near You
To find quality home care providers near you, simply input the zip code or city where you would like to start your search. We have an extensive directory of home care agencies all across the nation that includes in-depth information about each provider and hundreds of thousands of reviews from seniors and their loved ones.
Home Care Services in North Dakota (6)