As of July 2021, seniors aged 65 and over accounted for 21.2% of the Maine population. The state has a thriving population of older adults compared with the national average of 16.5%, making it an attractive prospect for retirees. U.S. News and World Report rank Maine Medical Center as number one in the state. The hospital is high-performing in 13 conditions and procedures, and the geriatrics department scores above average for patient experience, nurse staffing and patient services.
Another reason Maine is popular among older adults is its famously low crime rate. Low violent crime, robbery and burglary rates make aging in place a safe and appealing prospect for seniors in the state. There are two options for home care: In-home care and home health care, both costing $5,720 per month on average in Maine. The former includes nonmedical services such as assistance with daily activities, companionship and housekeeping. Home health care includes additional skilled nursing or therapy services.
This guide provides a comprehensive overview of what you or your loved one can expect from in-home care. Discover information about Medicaid and Medicare coverage for seniors, plus helpful resources to support aging in place.
The Cost of In-Home Care in Maine
At $5,720, the monthly average cost of in-home care in Maine is more expensive than the U.S. average of $4,957, according to the Genworth Cost of Care Survey. However, it's more affordable than New Hampshire, which is priced at $6,006 per month. Massachusetts is also a little more expensive, at $5,911. The most affordable state near Maine for home care is Connecticut, where it costs $5,243 per month on average, while Vermont and Rhode Island are priced the same, at $5,720.
When comparing the cost of home care in cities within Maine, there's not much variation from the state average, although Lewiston is notably cheaper, at $5,339. It costs the same as the state average in Bangor, at $5,720. Portland is the most expensive part of the state, with in-home care priced at $5,840 per month on average.
In-home care is usually one of the more affordable types of senior care available, although it's usually more expensive than adult day health care, which is just $2,600 per month in Maine. A nursing home is consistently the most expensive option due to the comprehensive health care provided. In Maine, the average monthly cost of nursing care is almost double the price of in-home care, at $10,494.
Assisted living offers a similar level of care to in-home services, but costs slightly more, at $5,865-and you won't be able to remain at home. The cost of home health care in Maine is the same as home care, costing $5,720 per month on average.
Does Medicaid Cover Home Care in Maine?
Medicaid is known as MaineCare in Maine, and it covers nonmedical services, including home care, to help eligible seniors age 65 and over in place. In Maine, in-home care is referred to as 'personal assistance services.' Regular Medicaid covers this service for all eligible seniors, including those who don't require nursing care.
To access MaineCare, you need to make an application and take an assessment. There are several programs offering home care services, including waivers, which you can learn more about below.
Home Care Waiver Programs in Maine
ME Consumer Directed Personal Assistance Services
Medicaid beneficiaries in Maine can get personal care assistance, which covers help with daily tasks such as dressing and bathing, household duties and medication reminders. You can opt for 'consumer-directed' services and hire a family member to perform these duties if you prefer. Eligible seniors over 65 can apply for this service, and full information about who can access the waiver is available in the MaineCare benefits manual.
ME Elderly and Adults with Disabilities Waiver
This Medicaid waiver is offered to all eligible older adults 65 and over and covers an array of services. If you qualify, you could get help with the following in-home care services:
Personal care
Home delivered meals
Assistive technology
Respite
Personal alarm system
Environmental modifications
To apply for a MaineCare waiver, visit the Office of MaineCare services website or call the Office for Family independence at 855-797-4357 for assistance.
How To Know if You're Eligible for Medicaid in Maine
Your financial situation determines eligibility for assistance from MaineCare. In 2022, the income limit for a single Medicaid applicant in Maine is $13,596 per year, with an asset limit of $10,000. For married couples, it's $18,312, and the asset limit is $15,000. 
2022 Medicaid Income Limits for Seniors in Maine
Income Limits*
Asset Limits
* per year
You must also be:
A U.S. citizen or qualifying non-citizen
A Maine resident
How To Apply for Medicaid in Maine
There are a few options for applying for MaineCare that help seniors with in-home care:
What Information You Will Need
You need to provide detailed information about your income and assets to apply for MaineCare. Ensure you have bank statements, tax returns and pay stubs for anyone in the household when making an application. Having your social security card and identification documents is necessary in case you need to prove your identity. You might also need to give details of your investments and insurance.
How to Get Help Applying for Medicaid
Applying for Medicaid can be complicated because there are often caveats and exceptions. If you don't feel confident about filling out an application or have any questions about MaineCare, there are a number of organizations that can help.
Does Medicare Cover In-Home Care in Maine?
In general, Medicare does not cover the cost of non-medical home care. That being said, there are situations in which Medicare provides some coverage for medical home care, referred to as "Home Healthcare." There are several eligibility restrictions for coverage, including that individuals must be homebound and have a referral from their doctor specifically for home healthcare services.
Below is an overview of some of the skilled medical professionals whose in-home services are typically covered by Medicare – for more in-depth information, refer to our Guide to Home Healthcare.
Physical Therapists: Physical therapy is used to help patients recover from injuries (broken bones, knee injuries, etc.), treat ongoing conditions such as arthritis, and assist in recovery from surgeries and procedures such as a knee or hip replacement.
Visiting Nurses: Licensed nurses can provide a number of medical services for those who don't need to stay in the hospital, but do need regular medical services such as wound care, changing feeding tubes, etc.
Occupational Therapists: Occupational therapists help seniors regain or maintain the ability to accomplish normal, daily tasks, such as bathing, dressing, eating, and other daily activities.
Speech Therapists: Speech therapists help seniors who are struggling to adequately communicate due to a stroke, dementia, or any other cause regain the ability to functionally communicate using a variety of means. Additionally, speech therapists help to keep seniors independent by modifying diets, teaching special techniques to swallow safely, and retraining associated muscles.
As mentioned above, in-home care is distinctly different from home healthcare. But, there can be some overlap in services between the two types of care. So, while Medicare doesn't cover non-medical in-home care, there are in-home care services that may be covered in special circumstances when they're provided in conjunction with home healthcare (such as an occupational therapist helping with eating or dressing)
Other Financial Assistance Options for In-Home Care in Maine
While the above programs help many people finance in-home care, they will not cover all costs for everyone. There are other ways to pay for in-home care, including out-of-pocket arrangements with siblings, annuities, reverse mortgages, private insurance and more. Read Caring.com's Guide to In-Home Care Costs to learn more about these alternative payment options.
Free and Low-Cost Resources for Seniors in Maine
COVID-19 Rules for In-Home Care Providers in Maine
As of April 2022, unless exempt by the CDC, all in-home care providers in Maine must be fully-vaccinated for COVID-19. However, it's important to check with your local AAA about specific rules because they're subject to frequent changes. State and federal governments constantly review scientific literature and update the requirements accordingly to ensure Maine residents are as safe as possible.
Facilities are, by law, required to have policies in place to track and record staff vaccinations, but some agencies go over and above federal requirements. Be sure to check with your home care provider to learn more about specific procedures and policies, such as PPE, sanitization and hygiene best practices.
In-Home Care Laws and Regulations in Maine
The Maine Department of Health and Human Services, Division of Licensing and Certification licenses home health care in the state. The regulations are intended to ensure seniors receive quality services that have safe outcomes.
In-Home Care Laws and Regulations in Maine
Scope of Care
Home health care providers are entities that provide health services through professional nursing or therapeutic services. They can also provide non-clinical support such as personal care services.
Care Plan Requirements
A care plan must be developed by a registered nurse or, where appropriate, by a licensed professional such as a physical therapist or social worker. Clients who are under physician supervision must have the care plan reviewed at least every 90 days.
Medication Management Requirements
Medication can be administered by licensed professionals. Records must be kept of the medication provided, the patient's response and any changes in physical or mental status.
Staff Screening Requirements
Providers must obtain criminal history information of employees and must not hire those who are prohibited from working in home care. This includes individuals who have abused, neglected or misappropriated the property of individuals in a health setting.
Staff Training Requirements
Caregivers hired to perform health services must be licensed to practice their health care discipline in the state of Maine. Home health aides and certified nursing assistants may perform personal care services and must have basic certified nursing assistant training and orientation, and receive at least 12 hours of on-the-job training annually.
Medicaid Coverage
The Community Directed Attendant Services program and the Elderly and Adults with a Disability Waiver can cover some or all of the costs associated with in-home care.
Reporting Abuse
Abuse should be reported to the Home Health Hotline on 1-800-383-2441. If an investigation is undertaken by the provider, reports must be made available to the Department upon request, and any complaints involving a certified nursing assistant must be reported to the Department.
Frequently Asked Questions
How much does in-home care cost in Maine?
The average cost of in-home care in Maine is $5,117 per month, according to Genworth Financial's Cost of Care 2019 Survey. Seniors who require skilled nursing assistance may wish to explore home health care, which also averages $5,117 in the state.
Does Maine Medicaid pay for in-home care?
Are there programs to cover home modifications in Maine?
MaineHousing, Maine's state housing authority, has a Home and Accessibility Repair Program available to low-income homeowners in the state. The program provides grants to help people make necessary home repairs and modifications. This can include a wide range of improvements designed to help people with disabilities or those with physical barriers to living independently at home, including wheelchair ramps and bathroom modifications.
What does it mean to age in place?
Aging in place is a term used to describe people who remain living in their residence of choice as they age. Most seniors need to make changes to their lifestyle or home to support their decision to age in place. This can include making modifications to the home to make it safe or using technology that allows the senior to call for help if needed. In-home care is another option that helps seniors complete tasks and stay as independent as possible as they grow older.
What Support Can Help Me Age at Home?
Each senior has unique needs, but there are tasks that commonly become more difficult with age and can make it difficult to remain living independently. Support is available to ensure that these tasks are still accomplished and help seniors age in home. Many seniors need assistance with activities of daily living, such as grooming, bathing and getting around, and personal care can help with these tasks. Seniors can also receive help with chores, such as cleaning and home maintenance, and meal preparation or delivery.
How to Find an In-Home Care Provider in Maine
Whether you are looking for yourself or a loved one, finding a quality home care provider can be a stressful process. When you hire an in-home care aide you're placing a lot of trust in the hands of the person by inviting them into your home, so you'll want to be diligent in your search. At Caring.com, we're here to help – we've created a helpful checklist below that can help guide you through the process of both determining your needs and finding a home care agency that will provide the best care possible.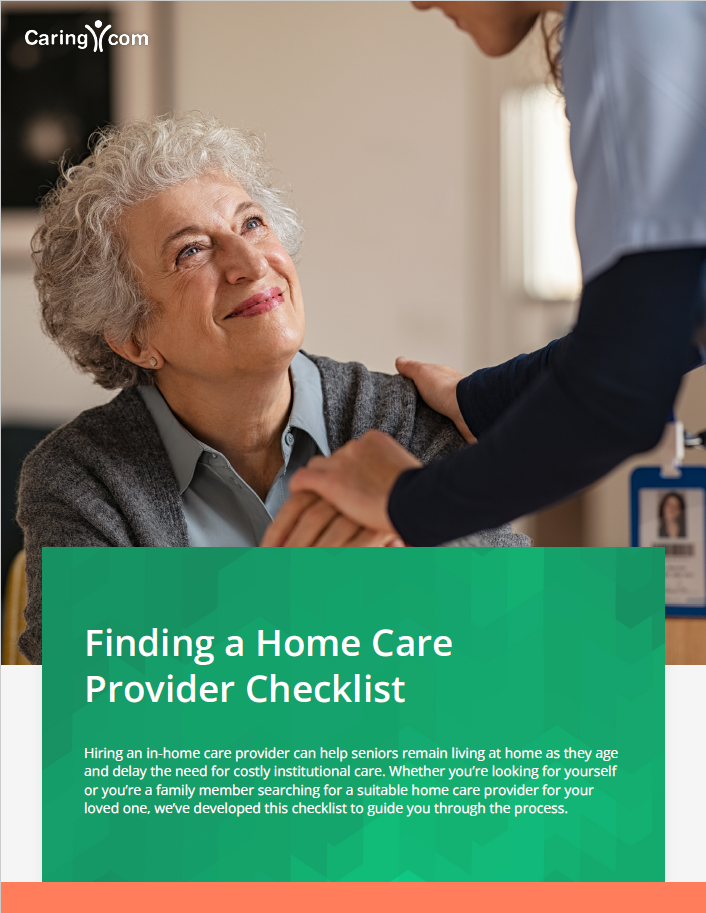 Find Home Care Agencies Near You
To find quality home care providers near you, simply input the zip code or city where you would like to start your search. We have an extensive directory of home care agencies all across the nation that includes in-depth information about each provider and hundreds of thousands of reviews from seniors and their loved ones.
Home Care Services in Maine (125)