In-Home Care in Mississippi
Bordered by the Mississippi River and the Gulf of Mexico, Mississippi is home to a rather large senior population. As of July 2021, more than 483,000 of the state's nearly 3 million residents were aged 65 and over. It's not surprising that Mississippi is a popular spot for seniors considering its senior-friendly tax policies. Residents do not pay state taxes on most types of retirement income, including social security payments, pensions and IRA and 401(k) distributions. It's also home to several fine hospitals, including the Mississippi Baptist Medical Center and North Mississippi Medical Center-Tupelo.
Mississippi offers seniors a variety of care options, including in-home care and home health care. While both care options can enable seniors to remain in their homes longer, in-home care covers non-clinical care services provided by home health aides. Home health care does provide clinical care provided by licensed professionals, such as nurses and therapists. The average cost for both in-home care and home health care in Mississippi is $3,813 per month.
This guide discusses costs associated with in-home care in Mississippi, as well as coverage options through Medicaid and Medicare. It also includes a list of free resources for seniors living in the state.
The Cost of In-Home Care in Mississippi
Mississippi offers some of the lowest in-home care costs in the region and the nation. According to the Genworth Cost of Care Survey, the state's monthly cost for in-home care averages $3,813. The state's average monthly in-home care costs are $1,144 lower than the national average of $4,975. Mississippi's in-home care costs are also $372 per month cheaper than in Arkansas ($4,185) and $763 per month lower than in Tennessee ($4,576). Average in-home care costs in Mississippi are exactly the same as in the neighboring state of Alabama, and they're just $190 per month higher than in Louisiana ($3,623).
Average in-home care costs in Mississippi vary by location. Both the Gulfport and Hattiesburg areas have average monthly in-home care costs that are higher than the state average. Average monthly in-home care costs in Gulfport ($4,195) are $382 per month higher than the state average of $3,813, whereas average monthly costs in Hattiesburg ($4,004) are $191 higher. On the other hand, average in-home care costs in Jackson ($3,432) are $381 lower per month than the state average.
Despite the difference in the type of care provided, the average monthly cost for in-home care and home health care cost in Mississippi is exactly the same at $3,813. This rate is very affordable when compared to nursing home costs, which average $7,118 per month in Mississippi, $3,305 per month higher than the average in-home care cost. When compared to other types of senior care, such as adult day health care and assisted living, in-home costs are more expensive. The average cost of assisted living in Mississippi is $3,500 per month or $313 cheaper than the average cost of in-home care. Adult day health care is the most affordable senior care option in the state at $1,408 per month, $2,405 lower than in-home care.
Does Medicaid Cover Home Care in Mississippi?
Standard Medicaid in Mississippi doesn't cover the cost of non-clinical care, but it does sometimes cover transportation costs for medical appointments as well as the cost of durable medical equipment, if deemed medically necessary. Mississippi does have a waiver program, called the Elderly and Disabled Waiver, that does cover personal care services.
Home Care Waiver Programs in Mississippi
Elderly and Disabled Waiver
The Elderly and Disabled Waiver program in Mississippi is managed by the Office of Long-Term Care. It's available to residents who are aged 21 and over who require a level of care offered in a nursing home and who meet eligibility requirements. It covers expenses associated with services that enable seniors to remain at home. These services include home meal delivery, adult day health care, case management, institutional and in-home respite services, personal care services, community transition, expanded health visits, transportation and physical and speech therapy. In some cases, it may also cover in-home repairs made to ensure a safe living environment for seniors.
How to Know if You're Eligible for Medicare in Mississippi
To be eligible for benefits under the Medicaid Elderly and Disabled Waiver program, seniors must prove their income falls at or below the SSI benefit rate or up to 300% of the SSI benefit rate. This is $30,276 per year for single applicants and married couples with only one spouse applying for benefits, or $60,552 for married couples. Seniors must also meet strict asset limits, which is $4,000 in assets per applicant. For married couples where only one spouse is applying for benefits, the non-applicants spouse's asset limit is $137,400.
2022 Medicaid Income Limits for Seniors in Mississippi
Income Limits*
Asset Limits
Two-Person Household with one applicant 
$4,000 (applicant)/$137,400 (non-applicant)
Two-Person Household with both applicants
*per year
Seniors living in Mississippi must also meet other set requirements, including:
Residency: Mississippi resident
Citizenship: U.S. citizen, lawful alien or legal immigrant
Income: Low income at or below SSI levels
How to Apply for Medicaid in Mississippi
The fastest and easiest way to apply for Medicaid benefits in Mississippi is through the state's web portal Access.ms.gov. You can also download and print an application or request one by mail by calling (800) 421-248 and then faxing the completed application to (601) 576-4164 or mailing it to:
Mississippi Division of Medicaid
500 High Street, Suite 1000
Jackson, MS 39201
Residents can also stop by one of the 30 regional offices to apply for benefits in person.
What Information You'll Need
When applying for Medicaid benefits, you'll need several items, including a driver's license or state-issued ID card, Social Security number and date of birth for all parties applying for benefits, proof of income and health insurance policy numbers. If you're also applying for the Elderly and Disabled Waiver Program, you'll also need proof of all assets.
How to Get Help Applying for Medicaid
Seniors with additional questions regarding Medicaid eligibility or who need help completing the application process can reach out to a number of agencies for support.
Does Medicare Cover In-Home Care in Mississippi?
In general, Medicare does not cover the cost of non-medical home care. That being said, there are situations in which Medicare provides some coverage for medical home care, referred to as "Home Healthcare." There are several eligibility restrictions for coverage, including that individuals must be homebound and have a referral from their doctor specifically for home healthcare services.
Below is an overview of some of the skilled medical professionals whose in-home services are typically covered by Medicare – for more in-depth information, refer to our Guide to Home Healthcare.
Physical Therapists: Physical therapy is used to help patients recover from injuries (broken bones, knee injuries, etc.), treat ongoing conditions such as arthritis, and assist in recovery from surgeries and procedures such as a knee or hip replacement.
Visiting Nurses: Licensed nurses can provide a number of medical services for those who don't need to stay in the hospital, but do need regular medical services such as wound care, changing feeding tubes, etc.
Occupational Therapists: Occupational therapists help seniors regain or maintain the ability to accomplish normal, daily tasks, such as bathing, dressing, eating, and other daily activities.
Speech Therapists: Speech therapists help seniors who are struggling to adequately communicate due to a stroke, dementia, or any other cause regain the ability to functionally communicate using a variety of means. Additionally, speech therapists help to keep seniors independent by modifying diets, teaching special techniques to swallow safely, and retraining associated muscles.
As mentioned above, in-home care is distinctly different from home healthcare. But, there can be some overlap in services between the two types of care. So, while Medicare doesn't cover non-medical in-home care, there are in-home care services that may be covered in special circumstances when they're provided in conjunction with home healthcare (such as an occupational therapist helping with eating or dressing)
Other Financial Assistance Options for In-Home Care in Mississippi
While the above programs help many people finance in-home care, they will not cover all costs for everyone. There are other ways to pay for in-home care, including out-of-pocket arrangements with siblings, annuities, reverse mortgages, private insurance and more. Read Caring.com's Guide to In-Home Care Costs to learn more about these alternative payment options.
Free and Low-Cost Resources for Seniors in Mississippi
Many seniors prefer to remain living in their homes for as long as possible. To help these seniors meet this goal, the state of Mississippi offers a range of free and low-cost resources that focus on senior safety and well-being. Below is a look at some of the state resources that are available to seniors living in Mississippi.
COVID-19 Rules for In-Home Care Providers in Mississippi
All health care workers in the state of Mississippi, including in-home care and home health care providers, are required to obtain the SARS-CoV-2 vaccination and booster to help fight against the COVID-19 pandemic unless they meet the state's stringent exemption rules. This order was issued by the U.S. Department of Health and Human Services in January 2022 and is subject to change. Additionally, each in-home care agency may have its own requirements that exceed state and government regulations, such as the use of PPE. Seniors can contact their local Area Agency on Aging to learn more about the current COVID-19 vaccination requirements for their specific area.
In-Home Care Laws and Regulations in Mississippi
In Mississippi, hired caregivers that perform non-medical in-home care are officially called home health aides. The State Department of Health governs and regulates agencies and individuals that provide this type of care and enforces regulations regarding the type of care that can be provided, training requirements and protocol for reporting abuse.
In-Home Care Laws and Regulations in Mississippi
Scope of Care
Home health aides perform personal care activities including helping the patient with personal hygiene, eating, dressing, shaving and ambulating. They may also provide services taught by a health professional employee for a specific patient, such as reinforcement of dressing, simple urine tests for sugar and measuring and preparing special diets.
Care Plan Requirements
Each patient must have a written care plan that is developed by a registered nurse based on the patient's environment, resources and care needs. Care plans must include patient problems, anticipated goals and time frames, care approaches and who is responsible for providing each service. The care plan must be updated at least every 60 days.
Medication Management Requirements
Home health aides aren't permitted to administer medications.
Staff Screening Requirements
Prior to hiring a new employee, home health agencies must conduct a criminal background check and a disciplinary check to ensure the prospective employee hasn't had disciplinary action taken against them by another agency. Staff members must also be screened by a licensed physician or nurse practitioner prior to employment and on an annual basis.
Staff Training Requirements
Agencies are responsible for developing Department-approved training programs for newly employed home health aides. This training must include topics such as the role of a home health aide as a member of the health services team, principles of good nutrition, the process of aging and what to report to a supervisor. Additionally, aides must complete 12 hours of ongoing training annually.
Medicaid Coverage
In-home care in Mississippi may be covered by Medicaid under the Independent Living waiver program, which is for those living with disabilities, or the Elderly and Disabled waiver.
Reporting Abuse
Cases of elder abuse, neglect or exploitation should be reported to the Mississippi Department of Human Services. To make a report, individuals may either call the Vulnerable Person Abuse Hotline at 844-437-6282 or fill out an online report.
Frequently Asked Questions
How much does in-home care cost in Mississippi?
In Mississippi, seniors pay $3,432 per month on average for in-home care, which is about 22% lower than the national average and comparable to care in surrounding states. Across the state's major cities, average costs vary between $3,194 and $3,432.
Does Mississippi Medicaid pay for in-home care?
Mississippi Medicaid covers in-home care services via two waiver programs, including the Independent Living waiver and the Elderly and Disabled waiver. To qualify for these programs, seniors must meet guidelines pertaining to income, assets and functional abilities. Limited funding is available, so eligible seniors may be placed on waiting lists.
Are there transportation assistance programs in Mississippi?
Mississippi's Area Agencies on Aging provide transportation assistance for older adults aged 60 and over. These transportation services are locally organized efforts to help seniors get to medical appointments, complete errands and attend local entertainment venues. To receive services, seniors should contact their local AAA.
What does it mean to age in place?
Aging in place means to be able to live in one's home without excessive medical interventions, such as 24/7 skilled nursing care. Those who age in place are typically somewhat independent and need assistance with daily tasks that may increase as the years go on. In-home care enables seniors to age in place by providing the care services they need to live at home, safely and comfortably.
Does Medicare pay for in-home care?
Original Medicare doesn't cover non-medical in-home care. However, many seniors opt for Medicare Advantage plans, which often have additional benefits such as transportation, housekeeping and personal care.
How to Find an In-Home Care Provider in Mississippi
Whether you are looking for yourself or a loved one, finding a quality home care provider can be a stressful process. When you hire an in-home care aide you're placing a lot of trust in the hands of the person by inviting them into your home, so you'll want to be diligent in your search. At Caring.com, we're here to help – we've created a helpful checklist below that can help guide you through the process of both determining your needs and finding a home care agency that will provide the best care possible.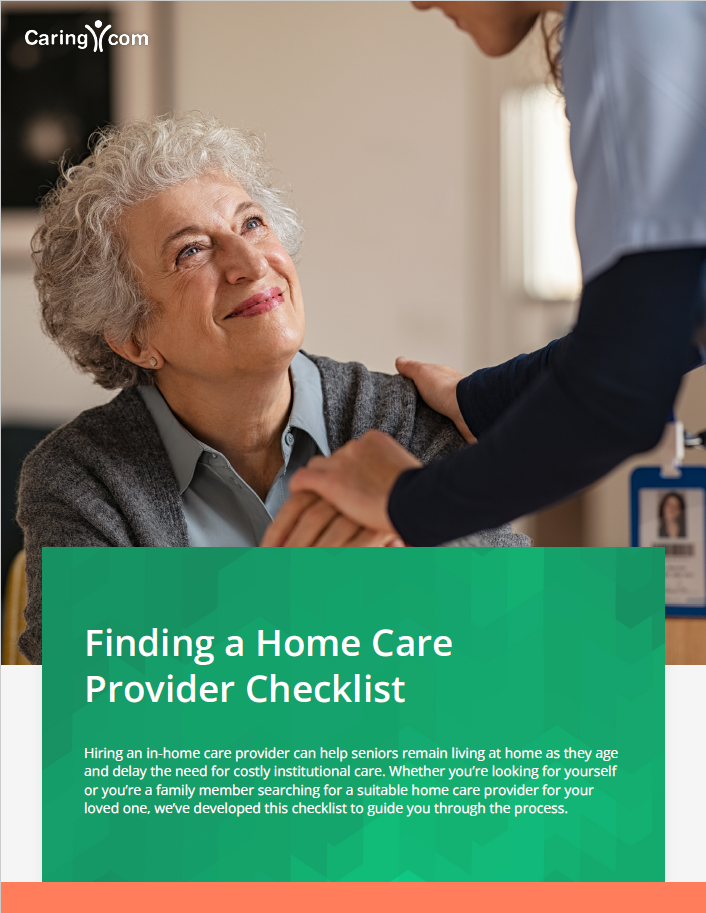 Find Home Care Agencies Near You
To find quality home care providers near you, simply input the zip code or city where you would like to start your search. We have an extensive directory of home care agencies all across the nation that includes in-depth information about each provider and hundreds of thousands of reviews from seniors and their loved ones.
Home Care Services in Mississippi (43)