The 10 Best In Home Care Service in Albuquerque, NM for 2023
Albuquerque, NM, is ranked as the best city in New Mexico for older adults and one of the top 100 cities nationwide in Caring's Senior Living Report. There are a multitude of reasons why seniors should consider settling down in the southwestern city for their golden years. Between parks, golf courses and the nearby Sandia Mountains, seniors have plentiful opportunities to take advantage of Albuquerque's abundance of sunny days. The city also has more physicians per capita than the majority of the nation, and U.S. News and World Report has rated its Presbyterian Hospital the best in the state. For assistance with daily activities and other common tasks around the home, the city's seniors can receive in-home care services, which average $4,671 a month. Though home care and home health care often provide similar services, the latter also includes light medical assistance, such as injections, wound care and vital signs monitoring.
Below we've compiled a comprehensive directory of every home care provider in Albuquerque– complete with services offered and reviews from families who've actually used the service. In addition to our in-depth provider listings, we've compiled resources to help seniors and their families to access all the tools they need to age in place safely and gracefully.
Paying for Home Care in Albuquerque, NM
The Cost of Home Care in Albuquerque, NM
The Genworth 2021 Cost of Care Survey found that Albequerque's seniors are paying an average of $4,671 a month for home care, which is $66 more than seniors are paying across the state and $286 less than nationwide. Costs are higher in some of the northern cities such as Farmington and Santa Fe, but southward, fees tend to decrease. In Las Cruces, the average monthly cost of home care is $476 less than Albuquerque's median.
The Cost of Home Care vs. Other Senior Care Options in Albuquerque, NM
Adult day care is the least expensive type of senior care in Albuquerque, followed by in-home care and home health care, which have the same median cost. Assisted living ($4,750) is a bit costlier than home care, and nursing home care is the most expensive. With a semiprivate room, most seniors in Albuquerque pay about $8,479 a month for care at a nursing facility.
Nursing Home Facility (semiprivate room)
Financial Assistance for Home Care in Albuquerque, NM
Given the high cost of in-home care, many people use one or more forms of financial assistance to cover the expenses. Below, we explain some of the most common sources of financial help for paying for in-home care. If none of these options are available to you, you can reach out to your Area Agency on Aging or Aging and Disability Resource Center to learn about local resources.
Free & Low-Cost Home Care Resources in Albuquerque, NM
The Albuquerque region has numerous agencies and programs that support seniors' independence and safety at home. This table highlights the top resources in the region to help those seeking home care to navigate the system and find budget-friendly services.
Determining Your Loved One's Need for In-Home Care
Aging can be a difficult process, and loved ones may not always ask for help – oftentimes it's up to their family to evaluate their need for help around the house. While no two situations are exactly alike, this checklist can help you and your loved ones determine when it's time to start the search for a home care provider.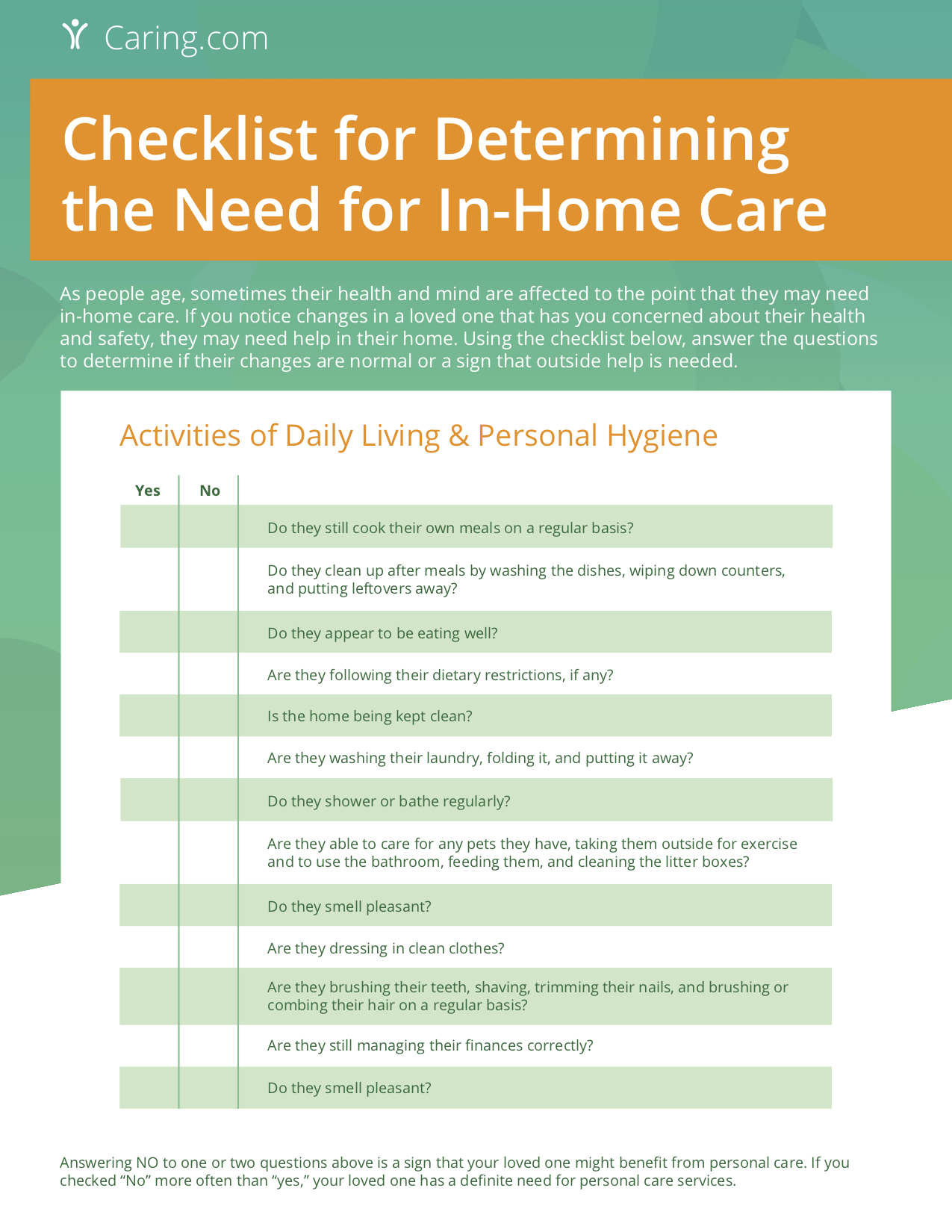 Guidelines for Talking About In-Home Care
If you've determined that your loved one needs the assistance of a care provider in their home, it may be time for a difficult conversation. Handled correctly, however, this process can bring a family together and ensure that everyone's concerns are addressed. Use this PDF as a starting point to help the conversation stay as positive and productive as possible.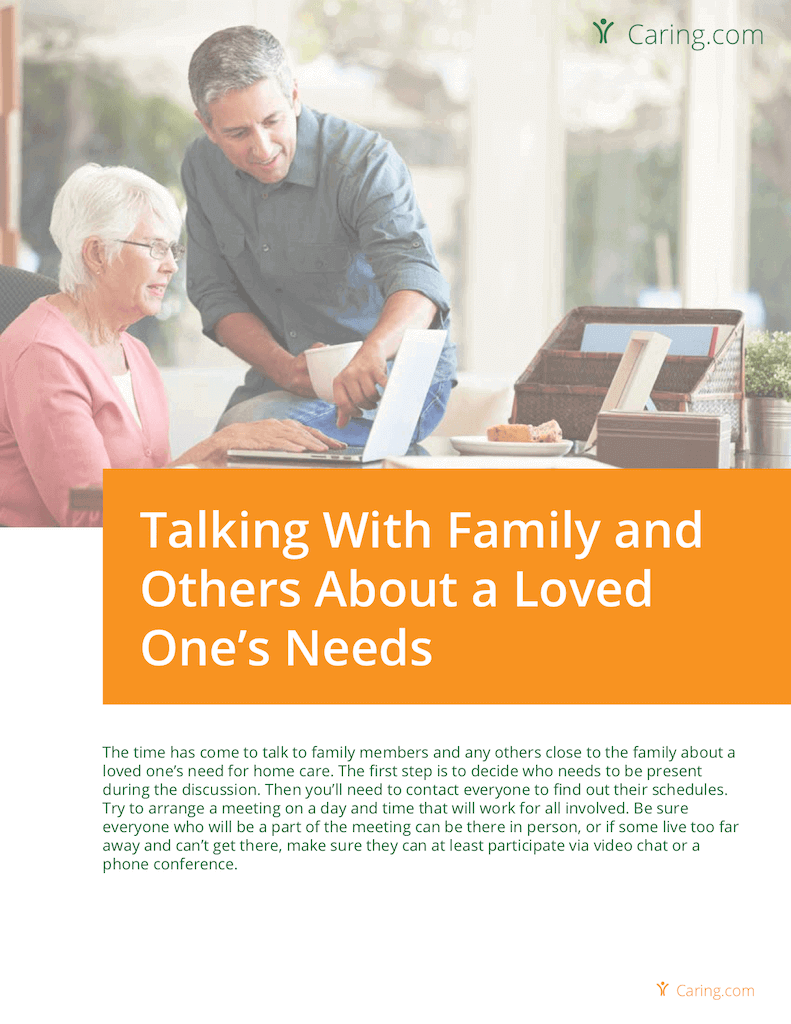 Frequently Asked Questions
What should I look for in a good home care agency near me in Albuquerque? 

When selecting a home care provider, it's helpful to consider several factors, including the number of caregivers an agency employs, how many hours per week they provide care, what services they provide and how much care costs. It's also a good idea to inquire about the screening, training and supervision processes. 
What is the difference between in-home care and home health care? 

In-home care and home health care both take place in the individual's home and can help them avoid assisted living or nursing home placement. The type of service someone receives depends on their care needs. Home care is for older adults who don't require medical care and monitoring but are experiencing challenges with basic activities, such as meal preparation, housekeeping and personal care. Home health care is provided by licensed caregivers and includes specialized services, such as medication administration, wound care and monitoring vitals. In many cases, home health care costs more than home care, although in Albuquerque, both levels of care have the same monthly average rate. 
How do you pay for senior care at home? 

There are several options for paying for home care, and most seniors use some type of financial assistance to afford services. While health insurance typically doesn't pay for non-medical care at home, long-term care insurance plans usually do. Qualifying individuals may pay for services through the New Mexico Centennial Care Community Benefit, a Medicaid program that supports independent living at home. In some cases, seniors may access their life insurance benefit to fund long-term care. Other options may include veterans' benefits, reverse mortgage loans, annuities or collective sibling agreements. 

What are some popular services in home care? 

Home care may be a solution for older adults who want to remain in their homes but experience challenges with certain activities. The most popular services offered by home care agencies include companionship, medication reminders, meal planning and preparation and transportation for errands and medical appointments. Seniors may also obtain personal care services, such as help with grooming, bathing or using the toilet, as well as housekeeping and laundry services, budgeting and scheduling appointments. 
Assisted living homes vs. home care: how to decide? 

Assisted living and home care are both viable options for older adults who want to remain as independent as possible but need help with some activities of daily living. For many seniors, cost is a primary consideration. In Albuquerque, home care costs $4,671 per month. This rate doesn't include living expenses, such as utilities, housing and meals. Assisted living is a little costlier at $4,750 but includes these living expenses, which may make it more affordable for some. Outside of cost, factors to consider include whether the individual is at risk of loneliness or isolation and whether their care needs are expected to become more significant in the near future.