The Midwestern state of Indiana features a mix of large cities and small, close-knit towns, accommodating a range of budgets and lifestyle preferences. Seniors make up the fastest-growing demographic in this state. According to recent data, those aged 60 and over are projected to account for about 23% of Indiana's population in 2030. By comparison, in 2012, seniors made up less than 18% of residents. A low cost of living, generally comfortable weather and affordable health care all play a role in why seniors are choosing to retire to Indiana.
As Indiana's senior population grows, the need for affordable long-term care solutions is also increasing. If you plan to enjoy your retirement years in the comfort of your own home but certain activities are becoming more challenging, home care may be a good solution for you. This type of care includes services such as light housekeeping, meal preparation and companionship and costs approximately $4,676 per month in Indiana. Home health care is similar but is administered by licensed legal professionals and includes services such as medication administration and physical therapy.
This guide provides more information on in-home care in Indiana, including how care costs compare to those in other states, options for paying for services and resources you can contact for free assistance.
The Cost of In-Home Care in Indiana
The 2021 Genworth Cost of Care Survey shows that seniors in Indiana pay $4,767 per month for in-home care, which is a couple of hundred dollars less than the national median of $4,957. In Kentucky, which is situated to the south of Indiana, rates are the same at $4,767 per month, and in Ohio, which lies to the east, rates are equal to the national median at $4,957. West of the state in Illinois, care costs exceed the national median at $5,339, and to the north in Michigan, rates are the highest of Indiana's bordering states at $5,529.
In-home care costs vary throughout Indiana depending on local living costs and the availability of services. The cheapest surveyed city for care is Terre Haute, where agencies charge approximately $3,623 per month. In Evansville, seniors pay $4,290, and in Muncie, fees are a little higher but still below the state median at $4,385. Seniors in Columbus pay $4,553 for in-home care, and in the capital city of Indianapolis, care costs are several hundred dollars higher at $5,053. In Fort Wayne, clients pay $5,339, and in South Bend, fees average $5,672.
In-home care is moderately priced in Indiana at $4,767 per month. Home health care, which is similar but includes specialized skilled nursing services, has the same monthly rate. Older adults who obtain this level of care in assisted living pay $4,283 per month for personal care, housing and meals. Adult day health care is the cheapest long-term care option in the state at $1,733 per month, and nursing home care is the costliest option at $7,270 for semiprivate accommodations.
Does Medicaid Cover Home Care in Indiana?
Indiana's Medicaid program provides comprehensive health insurance coverage to meet the needs of income-qualifying individuals within the state who may otherwise be unable to afford health care. While this program doesn't pay for in-home care directly, it helps Hoosier seniors pay for this type of care through a waiver program. This waiver, called the Aged and Disabled Waiver, pays for services and support necessary for avoiding nursing home placement.
Home Care Waiver Programs in Indiana
Aged and Disabled Waiver
Indiana Medicaid covers in-home care through the Aged and Disabled Waiver, which expands the regular program's coverage to meet the needs of those at risk of nursing home placement. The services a beneficiary receives depend on their care needs as determined by their case manager.
Covered services may include:
Adult day services
Adult family care
Attendant care, including self-directed care
Case management
Home and vehicle modifications
Homemaker services
Health care coordination
Home-delivered meals
Personal emergency response systems
Pest control
Respite care
Durable and disposable medical equipment
Transportation services
The A&D Waiver is open to those who are at least 65 years old, blind or disabled. Applicants must also meet income and asset limits. Unmarried applicants may have an income of up to 300% of the maximum Supplemental Security income amount. In 2022, this limit is $30,276 annually. Applicants must also require nursing home level care.
Seniors can apply for the waiver by contacting their local Area Agency on Aging or the Division on Aging by calling (888) 673-0002.
How to Know if You're Eligible for Medicaid in Indiana
To qualify for Medicaid, applicants must have limited income and assets. Single applicants may have an annual income of up to $13,596, and married applicants can have up to $18,312. Single applicants can have up to $2,000 in countable assets. If they're married but their spouse isn't applying for Medicaid, the applicant can have $2,000 in countable assets and the non-applicant can retain half their joint assets up to $137,400. If both spouses are applying for coverage, they must meet a combined asset limit of $3,000.
2022 Indiana Medicaid Income Limits
Income Limits*
Asset Limits
Two-Person Household (Only one applicant)
$2,000 for applicant
$137,400 for non-applicant
Two-Person Household (Two applicants)
*per year
Indiana's Medicaid program is open to people of all ages, regardless of disability status. Along with meeting financial criteria, applicants must also be U.S. citizens or legal residents and permanent residents of Indiana to qualify for coverage.
How to Apply for Medicaid in Indiana
Seniors have several options for applying for Indiana Medicaid. If you want to fill out an application in person and receive one-on-one assistance with the process, you can visit your local Division of Family Resources office. You can call the Family and Social Services Administration at (800) 403-0864 to apply for Medicaid coverage over the phone, or you can submit an application online through the Indiana Family and Social Services Administration portal or the Federal Health Insurance Marketplace.
Regardless of how you apply, the acceptance process takes about 90 days, though qualifying individuals may have their application accepted sooner. Seniors can follow up on their applications by calling the FSSA or viewing the application status through the website.
What Information You Will Need
To apply for Indiana Medicaid, you must have several pieces of information on hand, including:
Proof of income
Proof of assets
Birth certificate
Driver's license
Social Security card
Medicare card and proof of other insurance coverage
How to Get Help Applying for Medicaid
Seniors in Indiana can get assistance with applying for Medicaid and managing their benefits from several local agencies and helplines. These resources can answer questions you have about getting coverage, enrolling in the Aged and Disabled Waiver and appealing denied Medicaid claims.
Does Medicare Cover In-Home Care in Indiana?
In general, Medicare does not cover the cost of non-medical home care. That being said, there are situations in which Medicare provides some coverage for medical home care, referred to as "Home Healthcare." There are several eligibility restrictions for coverage, including that individuals must be homebound and have a referral from their doctor specifically for home healthcare services.
Below is an overview of some of the skilled medical professionals whose in-home services are typically covered by Medicare – for more in-depth information, refer to our Guide to Home Healthcare.
Physical Therapists: Physical therapy is used to help patients recover from injuries (broken bones, knee injuries, etc.), treat ongoing conditions such as arthritis, and assist in recovery from surgeries and procedures such as a knee or hip replacement.
Visiting Nurses: Licensed nurses can provide a number of medical services for those who don't need to stay in the hospital, but do need regular medical services such as wound care, changing feeding tubes, etc.
Occupational Therapists: Occupational therapists help seniors regain or maintain the ability to accomplish normal, daily tasks, such as bathing, dressing, eating, and other daily activities.
Speech Therapists: Speech therapists help seniors who are struggling to adequately communicate due to a stroke, dementia, or any other cause regain the ability to functionally communicate using a variety of means. Additionally, speech therapists help to keep seniors independent by modifying diets, teaching special techniques to swallow safely, and retraining associated muscles.
As mentioned above, in-home care is distinctly different from home healthcare. But, there can be some overlap in services between the two types of care. So, while Medicare doesn't cover non-medical in-home care, there are in-home care services that may be covered in special circumstances when they're provided in conjunction with home healthcare (such as an occupational therapist helping with eating or dressing)
Other Financial Assistance Options for In-Home Care in Indiana
While the above programs help many people finance in-home care, they will not cover all costs for everyone. There are other ways to pay for in-home care, including out-of-pocket arrangements with siblings, annuities, reverse mortgages, private insurance and more. Read Caring.com's Guide to In-Home Care Costs to learn more about these alternative payment options.
Free and Low-Cost Resources for Seniors in Indiana
In-home care may be a viable solution for older adults who want to remain in their homes even as their needs change. However, finding affordable care can be a challenge. Through the following resources, older adults in Indiana can find free and low-cost services to bring down the overall cost of their care. These resources can also help seniors identify ways to pay for monthly care costs.
COVID-19 Rules for In-Home Care Providers in Indiana
In Indiana, home health care aides are required to be fully vaccinated against COVID-19 unless they have an exemption. Currently, home care workers aren't required to be vaccinated. This mandate is in place as of April 2022, but because of the evolving nature of the virus, guidelines may be updated. If you have questions about current requirements, contact the Indiana Department of Health or your local Area Agency on Aging.
Additionally, while there isn't a state mandate requiring home care workers to be vaccinated, some agencies might require their caregivers to be vaccinated or undergo regular COVID testing. If you have questions or concerns regarding your exposure to the virus, you may want to contact your local home care agencies directly to learn about their policies and procedures.
In-Home Care Laws and Regulations in Indiana
Home health care providers are licensed and certified by the Indiana State Department of Health via the Home Health Agency program. The department is responsible for the oversight of all agencies that provide medical care in the recipient's home, which includes regular inspections of licensed agencies to make sure residents receive quality care. The ISDH also ensures that these agencies and their workers are in compliance with federal Medicare and Medicaid regulations, as well as state laws and rules governing the industry.
In-Home Care Laws and Regulations in Indiana
Scope of Care
Home care agencies can perform various tasks around the house, such as assistance with ADLs, homemaking and companionship. Home health agencies can provide a higher level of medical care and have highly trained staff.
Care Plan Requirements
Care plans must be ordered by a licensed physician, dentist or other registered health practitioner. These health services must be performed by health care professionals, which includes nurses and physical therapists.
Medication Management Requirements
Medication must be determined necessary by a physician and then ordered from a pharmacist. Registered nurses, licensed practical nurses and
qualified medication aides
are permitted to administer medication. All staff in the chain of command can be held legally responsible for their actions.
Staff Screening Requirements
Agencies must verify the individual's licensing status via state government records and receive a criminal background check from Indiana State Police. Cleared applicants must then undergo a competency evaluation and finally have their Home Health Aide application reviewed by the ISDH.
Staff Training Requirements
The Indiana State Department of Health registers all licensed home health aides and maintains an
online registry
. Individual home health agencies create their own requirements for qualifications and training, although there are certain minimums, and the ISDH only intervenes if
state
or
federal
laws or regulations have been broken.
Medicaid Coverage
In-home care services are covered though
Indiana Medicaid
and the additional state-run programs detailed in the financial section of this guide.
Reporting Abuse
The ISDH handles the complaint process for health care facilities in Indiana, which includes home care and home health agencies. Call the report line at (800) 246-8909 during business hours or
read more about the process
and other methods of submitting a complaint.
Frequently Asked Questions
Is a home care agency the same as a home health agency?
No. In Indiana, home health agencies are licensed to provide medical services, including skilled nursing and dietitian, and as such, the staff has undergone many years of education and training. Home care agencies are licensed to provide assistance and companionship, and the caregivers aren't permitted to provide medical care.
Are there programs to cover home modifications in Indiana?
Yes. The local Area Agencies on Aging can help connect homeowners with modification programs in their area — see the resources section for contact details. Seniors and people with disabilities can receive grant funding via the Accessibility Modifications Program to improve the functionality of the home. Residents may also be eligible for urgent home repairs funded by the state.
Are there transportation assistance programs in Indiana?
Yes. Medicaid members can request transportation for non-emergency medical trips, such as appointments and pharmacy visits, by contacting their case manager or the Area Agency on Aging in their region. These agencies may also provide taxi coupons and other transport services for non-Medicaid purposes.
What does it mean to "age in place"?
Aging in place is a care philosophy that's generally associated with facilities, such as assisted living or nursing homes, rather than in-home care. It means that the individual is expected to be able to stay where they are living now, even when their medical and other needs increase.
What are "activities of daily living"?
Activities of daily living — commonly referred to as ADLs — are a wide variety of tasks that most people do every day. This includes bathing and other hygiene issues, preparing and eating food, and transferring to and from a bed, wheelchair and so on. Seniors and people with disabilities often need assistance with ADLs, which may make them eligible for financial assistance as outlined in this guide.
How to Find an In-Home Care Provider in Indiana
Whether you are looking for yourself or a loved one, finding a quality home care provider can be a stressful process. When you hire an in-home care aide you're placing a lot of trust in the hands of the person by inviting them into your home, so you'll want to be diligent in your search. At Caring.com, we're here to help – we've created a helpful checklist below that can help guide you through the process of both determining your needs and finding a home care agency that will provide the best care possible.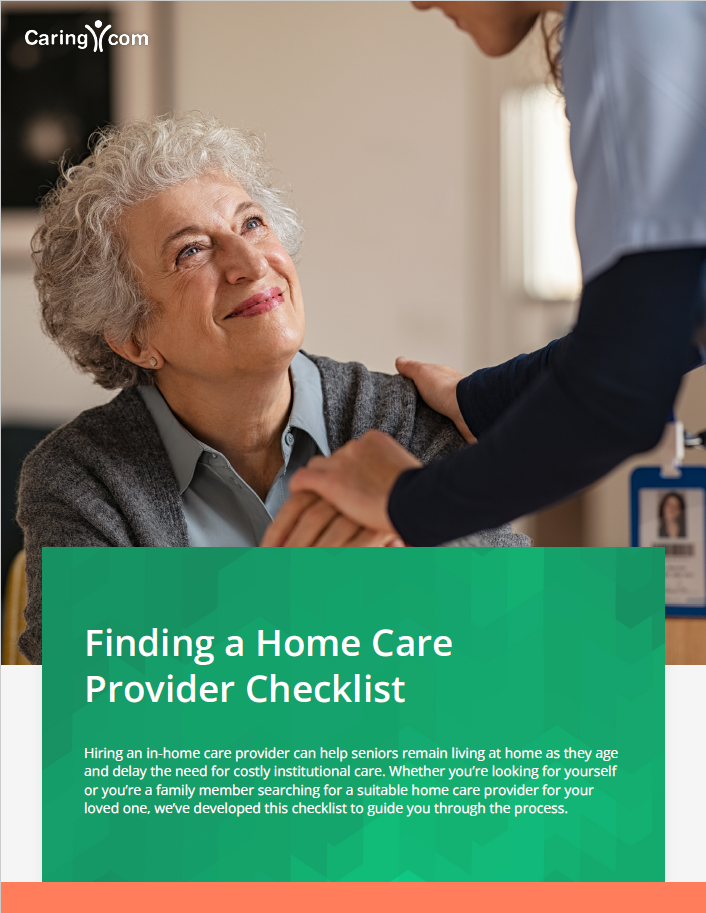 Find Home Care Agencies Near You
To find quality home care providers near you, simply input the zip code or city where you would like to start your search. We have an extensive directory of home care agencies all across the nation that includes in-depth information about each provider and hundreds of thousands of reviews from seniors and their loved ones.
Home Care Services in Indiana (142)