In-Home Care in New Jersey
The Garden State is home to nearly 9 million people, and 1.5 million of these residents are aged 65 and older. As citizens of the second-most densely populated state in the country, seniors in New Jersey benefit from a wealth of resources, including world-class health care and home support services. Hackensack University Medical Center is nationally ranked in Cardiology and Heart Surgery and Morristown Medical Center is nationally ranked in Orthopedics.
There are two types of home care available to seniors in New Jersey: in-home care and home health care. In-home care is a non-clinical service that can help seniors with their daily activities, such as housekeeping, meal preparation, grooming and dressing. It costs an average of $5,529 per month. Home health care is a medical service provided by a trained professional, such as a licensed nurse or therapist. Due to the clinical aspect of care, it costs a bit more ($5,710) per month than in-home care.
You can learn more about the costs of home care in New Jersey by digging deeper into this guide. You'll also find links to resources in your community that can make care more affordable or improve life at home in various ways.
The Cost of In-Home Care in New Jersey
According to the Genworth Cost of Care Survey for 2020, seniors in the Garden State pay an average of $5,529 per month for home care. Nationally, families pay an average of $4,957, which is about $600 less. New Jersey's home care costs are higher than nearby states, but not by a wide margin. In Delaware and New York, the median price for care is $5,339. The cost of home care in Pennsylvania ($4,957) matches the average cost for the nation. Maryland is a bit more expensive than the national average at $5,148.
There is about an $800 difference between the most expensive and least expensive cities for home care in New Jersey. Atlantic City, Ocean City and Newark, a part of the NYC area, have the same median price of $5,529 per month. The most affordable city for home care in the state is Vineland, with a monthly average of $4,767. Trenton has an average rate of $5,148.
When families in New Jersey hire caregivers for 40 hours per week, the average cost for in-home care is $5,529 per month, and the average cost for home health care is $5,710 per month. Adult day health care is significantly less expensive but may not be adequate for every family's needs. Assisted living facilities in New Jersey have a median price of $6,495. Nursing homes are the most expensive type of senior care in New Jersey because of the high level of medical care they offer. The average rate for a semiprivate room is $11,254.
Does Medicaid Cover Home Care in New Jersey?
Yes, Medicaid in New Jersey may cover the cost of home care services provided under the NJ FamilyCare managed care program. These services are referred to as Medicaid Managed Long Term Services and Supports (MLTSS), and they include home-delivered meals, respite, mental health services, home and vehicle modifications, community residential services and care management.
There are also two Medicaid waivers that may cover the cost of care at home for seniors who want to hire help outside the NJ FamilyCare network: I Choose Home and the New Jersey Personal Preference Program (PPP).
Home Care Waiver Programs in New Jersey
New Jersey Personal Preference Program (PPP)
The Personal Preference Program is an alternative to placement in a nursing home for seniors who require a Personal Care Assistant (PCA) to help with daily activities. It empowers the Medicaid recipient to choose their own home care services, including those provided by friends, family and other trusted parties. It gives you the ability to exercise your independence and gain control over your life. To be eligible for PPP, you must already have an NJ FamilyCare Plan and:
Get a doctor's order to receive service
Live in a private home or community-based setting
Have a documented need for personal care
Need these services for at least six months
Once approved, each PPP beneficiary will work with a financial consultant who will help locate resources and answer questions. The consultant is trained to respond to all critical needs and monitor your experience with caregivers to ensure your health and safety.
I Choose Home – NJ
I Choose Home is a transition program that helps seniors in nursing facilities move back into their own homes by paying for the supportive services they need. Some of the available services include home health aides, transportation, meal delivery and adult daycare. Services may vary by community. Seniors who want to choose to live at home can talk with their facility social worker or call the program office at (855) 466-3005. State representatives will decide if you are eligible for the program after assessing your financial situation and medical needs.
How to Know if You're Eligible for Medicaid in New Jersey
The financial requirements for coverage in New Jersey Medicaid are based on federal poverty guidelines. Single applicants can earn no more than $30,276 per year and not own more than $2,000 in assets. When both people in a two-person household apply, they can not earn more than $60,552 and have more than $4,000 in assets.
2022 Medicaid Income Limits for Seniors in New Jersey
Income Limits*
Asset Limits
*Per year
In order to get approved for MLTSS or one of the Medicaid waiver programs, you will need to:
Be a citizen of the United States or have legal resident status
Be a resident of New Jersey
How to Apply for Medicaid in New Jersey
To apply for an NJ Family Care plan that provides Medicaid Managed Long Term Services and Supports, the state encourages seniors to use the online application system. If you prefer to apply over the phone, you can speak with a Health Benefits Coordinator by calling (800) 701-0710. You can also visit NJ FamilyCare regional offices that are located throughout the state.
What Information You Will Need
The Department of Human Services will decide whether you receive Medicaid benefits by evaluating your personal information, including:
Social Security Number
Proof of age, such as a driver's license or passport
Bank statements and tax records
Deeds, trusts and records of other assets
Policy numbers from other insurance coverage
Information about other household members
How to Get Help Applying for Medicaid
If you're unable to complete the Medicaid application yourself, get assistance by contacting one of the following organizations. Free help is available online, over the phone or in person.
Does Medicare Cover In-Home Care in New Jersey?
In general, Medicare does not cover the cost of non-medical home care. That being said, there are situations in which Medicare provides some coverage for medical home care, referred to as "Home Healthcare." There are several eligibility restrictions for coverage, including that individuals must be homebound and have a referral from their doctor specifically for home healthcare services.
Below is an overview of some of the skilled medical professionals whose in-home services are typically covered by Medicare – for more in-depth information, refer to our Guide to Home Healthcare.
Physical Therapists: Physical therapy is used to help patients recover from injuries (broken bones, knee injuries, etc.), treat ongoing conditions such as arthritis, and assist in recovery from surgeries and procedures such as a knee or hip replacement.
Visiting Nurses: Licensed nurses can provide a number of medical services for those who don't need to stay in the hospital, but do need regular medical services such as wound care, changing feeding tubes, etc.
Occupational Therapists: Occupational therapists help seniors regain or maintain the ability to accomplish normal, daily tasks, such as bathing, dressing, eating, and other daily activities.
Speech Therapists: Speech therapists help seniors who are struggling to adequately communicate due to a stroke, dementia, or any other cause regain the ability to functionally communicate using a variety of means. Additionally, speech therapists help to keep seniors independent by modifying diets, teaching special techniques to swallow safely, and retraining associated muscles.
As mentioned above, in-home care is distinctly different from home healthcare. But, there can be some overlap in services between the two types of care. So, while Medicare doesn't cover non-medical in-home care, there are in-home care services that may be covered in special circumstances when they're provided in conjunction with home healthcare (such as an occupational therapist helping with eating or dressing)
Other Financial Assistance Options for In-Home Care in New Jersey
While the above programs help many people finance in-home care, they will not cover all costs for everyone. There are other ways to pay for in-home care, including out-of-pocket arrangements with siblings, annuities, reverse mortgages, private insurance and more. Read Caring.com's Guide to In-Home Care Costs to learn more about these alternative payment options.
Free and Low-Cost Resources for Seniors in New Jersey
The New Jersey State government and some private nonprofits help seniors living at home by providing free and low-cost services, ranging from home-delivered meals to respite care.
COVID-19 Rules for In-Home Care Providers in New Jersey
To protect the seniors they serve from the COVID-19 pandemic, home caregivers are required to get the SARS-CoV-2 vaccination. This applies to both in-home care workers and home health aides unless the caregiver qualifies for an exemption. The rule comes from a memo released by the Centers for Medicare & Medicaid Services (CMS), Quality, Safety & Oversight (QSO) Group, which is current as of April 2022.
To see if this rule still applies in your jurisdiction, contact your local Area Agency on Aging. Your AAA can also tell you if home caregivers are required to wear masks or other personal protection equipment (PPE).
In-Home Care Laws and Regulations in New Jersey
The New Jersey Department of Health regulates home care providers throughout the state. This department is responsible for issuing licenses to home care agencies, as well as conducting continual compliance checks. This table provides an overview of the rules and regulations governing home care agencies in New Jersey.
In-Home Care Laws and Regulations in New Jersey
Scope of Care
Licensed home care agencies in New Jersey may provide nonmedical care services, including personal care, assistance with activities of daily living, meal preparation, housekeeping services and companionship.
Care Plan Requirements
Home care agencies must create a detailed document outlining the scope of care clients will receive, including a schedule of services and who will be providing care, and when.
Medication Management Requirements
Home health aides may assist clients with self-administering medications, and are permitted to administer medications under the delegation of a registered nurse.
Staff Screening Requirements
All home care providers must undergo a criminal background check by the New Jersey State Police, as well as the Federal Bureau of Investigation.
Staff Training Requirements
Home health aides must complete a training course approved by the Board of Nursing and complete a competency test administered by a licensed home care agency.
Medicaid Coverage
Managed Long Term Services and Supports and the Personal Preference Program are both New Jersey Medicaid programs that cover the cost of in-home care.
Frequently Asked Questions
Are There Financial Assistance Programs for In-Home Care in New Jersey?
Are There Transportation Assistance Programs in New Jersey?
Are There Programs to Cover Home Modifications in New Jersey?
What Are Activities of Daily Living?
Activities of daily living are self-care tasks that most seniors are required to perform on a daily basis. These include grooming, bathing, toileting, eating and dressing/undressing.
What Is the Difference Between In-Home Care and Home Health Care?
While in-home care provides seniors with personal care, housekeeping and meal preparation, it doesn't include skilled medical care. Home health care aides can provide these types of services, such as medication administration, health care assessments and wound care.
How to Find an In-Home Care Provider in New Jersey
Whether you are looking for yourself or a loved one, finding a quality home care provider can be a stressful process. When you hire an in-home care aide you're placing a lot of trust in the hands of the person by inviting them into your home, so you'll want to be diligent in your search. At Caring.com, we're here to help – we've created a helpful checklist below that can help guide you through the process of both determining your needs and finding a home care agency that will provide the best care possible.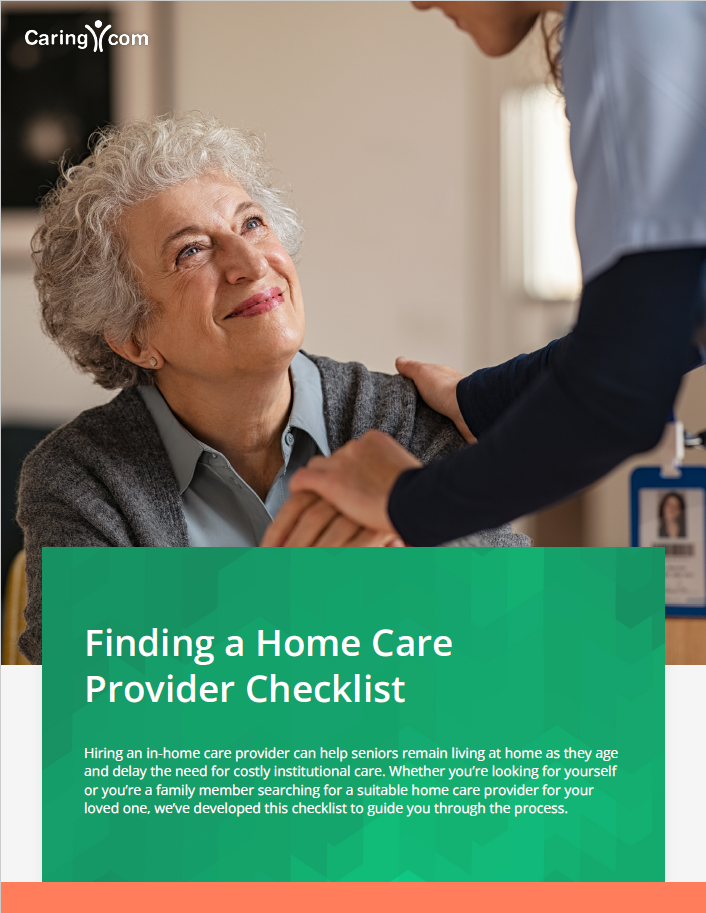 Find Home Care Agencies Near You
To find quality home care providers near you, simply input the zip code or city where you would like to start your search. We have an extensive directory of home care agencies all across the nation that includes in-depth information about each provider and hundreds of thousands of reviews from seniors and their loved ones.
Home Care Services in New Jersey (632)