In-Home Care in Massachusetts
Approximately 17% of Massachusetts's population comprises people aged 65 and above, and there are diverse reasons to retire in The Bay State. The cost of health care is lower than the national average, and there are more physicians per capita, with 306 physicians to 100,000 people compared with the U.S. average of 210. The state has several high-performing hospitals, including the nationally ranking Massachusetts General Hospital and Beth Israel Deaconess Medical Center. While overall costs of living are slightly higher than national figures, the lower-than-average sales tax can help Massachusetts retirees stretch their funds further.
Older adults value the diverse choices for senior care in Massachusetts, including options for individuals to age at home, such as home health care and in-home care. Home health care is medical care provided by a nurse, rehabilitation therapist or other clinicians. In-home care is the provision of non-clinical care by an aide, including assistance with daily activities, housekeeping and companionship. The median monthly cost of home health care and in-home care in Massachusetts is $5,911.
This guide compares the cost of in-home care around Massachusetts and with nearby states and covers funding options, such as Medicaid and Medicare. It also provides a list of low-cost resources to help elders age at home.
The Cost of In-Home Care in Massachusetts
Per Genworth's 2021 Cost of Care Survey, the average cost of in-home care in Massachusetts is $5,911 per month. This is approximately $950 more than the nationwide average of $4,957. Costs of in-home care typically run higher in Massachusetts than in most neighboring states. Seniors in Connecticut can expect to pay around $5,243 each month for in-home care. In New York, average rates increase slightly to $5,339. Vermont and Rhode Island share the same monthly median of $5,720. In-home care costs a little more in New Hampshire, where fees are around $6,006 per month.
Costs of in-home care vary throughout Massachusetts. At $5,339 per month, Springfield has the state's lowest average rates. Pittsfield is the next most-affordable city for in-home care, with a monthly median of $5,625. Fees increase slightly to $5,720 in Worcester, while seniors in the state capital of Boston typically pay around $6,292 per month. On the coast, Barnstable Town has the highest median prices, with in-home care costing roughly $6,673 per month.
In Massachusetts, aging at home is generally more affordable than residential long-term care. While in-home care and home health care each cost around $5,911 per month, average monthly prices increase significantly to $12,623 for nursing home care. Assisted living runs around $6,500 per month, costing almost $600 more each month as compared to in-home care. Costing on average $1,587 per month, adult day health care is the most affordable care option for Massachusetts seniors.
Does Medicaid Cover Home Care in Massachusetts?
Traditional Massachusetts Medicaid, known as MassHealth, provides funding for non-medical in-home care through the Adult Foster Care program. Live-in caregivers can move into the senior's home or elderly citizens can move into the private home of another person.
The program applies to those who cannot live independently because of medical or mental issues.
Medicaid pays for an adult caregiver to live with a senior and provides around-the-clock assistance and supervision. Costs of accommodation and meals are not included. Services may include:
Caregiver training
Help with daily activities
Housekeeping and laundry
Meal preparation
Medication management
Basic nursing
24-hour supervision
Transportation
Maintenance of mobility and adaptive devices
Caregivers may be friends or relatives, but a senior's spouse cannot provide care under the program. Since up to three people may live in an adult foster care home, both spouses can apply for assistance, if eligible. An ineligible spouse cannot receive assistance while living with their eligible partner and designated caregiver.
To be eligible for Adult Foster Care (AFC), seniors must need practical hands-on help with daily activities or constant supervision. However, there is no functional requirement for nursing home level of care.
Seniors who do not qualify for Adult Foster Care may be eligible for help via Medicaid waiver programs.
Home Care Waiver Programs in Massachusetts
In Massachusetts, there are also Medicaid waiver programs that may assist eligible seniors. The Frail Elder Waiver (FEW) is designed to help older adults remain at home instead of moving into an institutional care facility. Additionally, the Moving Forward Plan Community Living (MFP-CL) waiver provides assistance for those in nursing homes who want to receive support at home.
Frail Elder Waiver
The Frail Elder Waiver (FEW) provides in-home support and services to delay or prevent admission to an institutional care setting. Services are tailored to individual needs and may include:
Housekeeping and laundry
Basic nursing
Home-delivered meals
Grocery shopping
Home care aide
Home health aide
Transportation
Companion and peer support
Accessibility modifications
Dementia coaching

To qualify, seniors must be aged 65 or above or over 60 and have a disability. Applicants must also need a nursing home level of care and it must be safe for them to remain at home with additional services.
Single claimants can't exceed a yearly income of $30,276. This figure also applies to couples where only one spouse is applying for Medicaid assistance. For joint-applicant couples, the amount is doubled to $60,552 per year. Solo applicants, including single-spouse claimants, have an asset cap of $2,000. Non-applicant spouses have an enhanced limit of $137,400. For dual-applicant couples, the asset limit is $3,000.
Individuals should contact their local Aging Services Access Point (ASAP) to begin the enrollment process. The first stage is a clinical evaluation. To connect with an ASAP adviser, seniors can request a referral by calling Mass Options at (800) 243-4636 or completing an online referral form.
Moving Forward Plan Community Living
Seniors who have been residents in a nursing facility or rehabilitation unit for at least 90 days may be eligible for in-home assistance via the Moving Forward Plan Community Living (MFP-CL) waiver. The waiver is designed to provide services to help eligible individuals return home. It is not geared toward those who need 24-hour supervision.
Ongoing in-home care services may include:
Home health aide
Homemaker
Assistance with personal care and daily living activities
Rehabilitation therapies
Skilled nursing
Transportation
Specialized medical equipment
Family training
Day services
Companion and per support
To be eligible, seniors must:
Have a functional medical need for services
Be able to safely receive support at home or in the community
Have been in a nursing home for the past 90 days or more
Be aged 65 or above or disabled
Meet waiver income and asset requirements
To apply for the MFP-CL waiver, individuals should complete the relevant application form. Forms are also available in Spanish. Completed forms should be returned by post to:
UMass MFP Waiver
Unit 333 South Street
Shrewsbury, MA 01545
How to Know if You're Eligible for Medicaid in Massachusetts
To qualify for MassHealth, applicants must meet financial eligibility criteria.
For single applicants, the maximum permitted yearly income is $13,596. For those from two-person households, whether applying individually or with their spouse, the income limit is $18,312 per annum. Single seniors have an asset cap of $2,000. For couples, whether one or both spouses apply for Medicaid, the asset limit is $3,000.
2022 Medicaid Income Limits for Seniors in Massachusetts
Income Limits*
Asset Limits
*Per year
MassHealth applicants are also subject to the following requirements:
Live in Massachusetts on a full-time basis
Be a U.S. citizen or qualifying non-citizen
How to Apply for Medicaid in Massachusetts
Individuals may complete general MassHealth applications online through the Massachusetts Health Connector. However, people 65 or above and anyone applying for long-term care services must apply in person, by mail or by fax.
Seniors may apply in person at one of six MassHealth Enrollment Centers. MECs are located in Quincy, Charlestown, Chelsea, Springfield, Taunton and Tewksbury.
To apply by post, seniors should either download an application form or call (800) 497-4648 to request a form via post. Applications can be faxed to (617) 887-8799 or mailed to:
MassHealth Enrollment Center
P.O. Box 290794
Charlestown, MA 02129-0214
What Information You Will Need
Applicants must include detailed information on application forms and provide supporting evidence when claiming Medicaid. To make the application process easier, gather recent bank statements, pay stubs, tax returns, health insurance policies and assets. Claimants will need to provide their Social Security number and may be asked for proof of identity, residence and citizenship.
How to Get Help Applying for Medicaid
Massachusetts seniors have several resources at their disposal for Medicaid-related help and advice. Individuals may want to check eligibility, obtain help completing forms or appeal adverse decisions. The following resources are useful when applying for Medicaid.
Does Medicare Cover In-Home Care in Massachusetts?
In general, Medicare does not cover the cost of non-medical home care. That being said, there are situations in which Medicare provides some coverage for medical home care, referred to as "Home Healthcare." There are several eligibility restrictions for coverage, including that individuals must be homebound and have a referral from their doctor specifically for home healthcare services.
Below is an overview of some of the skilled medical professionals whose in-home services are typically covered by Medicare – for more in-depth information, refer to our Guide to Home Healthcare.
Physical Therapists: Physical therapy is used to help patients recover from injuries (broken bones, knee injuries, etc.), treat ongoing conditions such as arthritis, and assist in recovery from surgeries and procedures such as a knee or hip replacement.
Visiting Nurses: Licensed nurses can provide a number of medical services for those who don't need to stay in the hospital, but do need regular medical services such as wound care, changing feeding tubes, etc.
Occupational Therapists: Occupational therapists help seniors regain or maintain the ability to accomplish normal, daily tasks, such as bathing, dressing, eating, and other daily activities.
Speech Therapists: Speech therapists help seniors who are struggling to adequately communicate due to a stroke, dementia, or any other cause regain the ability to functionally communicate using a variety of means. Additionally, speech therapists help to keep seniors independent by modifying diets, teaching special techniques to swallow safely, and retraining associated muscles.
As mentioned above, in-home care is distinctly different from home healthcare. But, there can be some overlap in services between the two types of care. So, while Medicare doesn't cover non-medical in-home care, there are in-home care services that may be covered in special circumstances when they're provided in conjunction with home healthcare (such as an occupational therapist helping with eating or dressing)
Other Financial Assistance Options for In-Home Care in Massachusetts
While the above programs help many people finance in-home care, they will not cover all costs for everyone. There are other ways to pay for in-home care, including out-of-pocket arrangements with siblings, annuities, reverse mortgages, private insurance and more. Read Caring.com's Guide to In-Home Care Costs to learn more about these alternative payment options.
Free and Low-Cost Resources for Seniors in Massachusetts
While many seniors enjoy the diverse benefits of aging in place, older adults may face challenges in their day-to-day lives. Difficulties may include financial limitations for making home modifications and struggles with performing household chores or daily activities. The following Massachusetts resources provide free or affordable assistance to enable seniors to maintain a good quality of life while aging at home.
COVID-19 Rules for In-Home Care Providers in Massachusetts
Subject to limited exemptions, all home care workers in the United States must be vaccinated against the SARS-CoV-2 virus, which has caused the COVID-19 global pandemic. Mandatory vaccination requirements apply to home health care workers and in-home aides. The rule is current as of April 2022. However, new regulations may be implemented at the state or federal level, so you should check for any updates with your local Area Agency on Aging.
While adhering to rules, individual service providers may have varying requirements for the use of PPE, such as masks and gloves. Contact a provider representative for more information and to discuss any concerns.
In-Home Care Laws and Regulations in Massachusetts
The Massachusetts Division of Health Care Facility Licensure and Certification has jurisdiction in the commonwealth over home health services and in-home care. The state does not require licensing of in-home caregivers, though there are some requirements individuals and agencies are expected to abide by.
In-Home Care Laws and Regulations in Massachusetts
Scope of Care
In-home caregivers may assist with activities of daily living and other nonmedical services. In-home caregivers may, at the discretion of themselves and their agencies, provide lift assistance and total transfer for seniors with limited mobility.
Care Plan Requirements
Home care agencies must provide their patients and the appropriate family members with information about the services to be rendered, the name and qualifications of the caregiver, all foreseeable expenses associated with care and a range of the hours the caregiver is available for them. Seniors, or their guardians if needed, have a right to be part of the decision-making process for the care plan.
Medication Management Requirements
In-home caregivers are permitted to assist seniors with administering medications that have assisted administration indicated as part of their regimen. Medical direction is required for interventions such as IV drugs and other invasive procedures. Caregivers must not administer medication themselves, nor are they permitted to make medication decisions on behalf of seniors under their care.
Staff Screening Requirements
Massachusetts has no state laws regarding employment standards or screening requirements for caregivers. Clients are generally able to conduct pre-employment background screening on their own before work starts in the home.
Staff Training Requirements
Massachusetts mandates no preliminary training for in-home caregivers and no continuing education requirements. Professional caregivers generally have some training and accreditation from a private entity, but no state-level requirements are in place.
Medicaid Coverage
The Home and Community Based Services Waiver (HCBS) assists Massachusetts seniors with many of the costs associated with in-home care. To participate, seniors must meet Medicaid eligibility criteria and have a medical need that would otherwise qualify them for placement in a residential care setting.
Reporting Abuse
All home care agencies in Massachusetts, regardless of licensing and scope, are mandated to report incidents of suspected elder abuse and other
serious reporting events (SREs)
to the state Department of Public Health. The department can be reached by calling (800) 462-5540. For suspected abuse of a senior aged 60 and over that takes place outside of a care setting, reports can be submitted by phone to the state Elder Protective Services division at (800) 922-2275.
Frequently Asked Questions
How much does in-home care cost in Massachusetts?
In-home care costs an average of $5,186 a month for seniors in Massachusetts. This is close to the cost of similar care in several nearby states, but it is somewhat more than the average price seniors pay nationwide. The cost of in-home care in the commonwealth is competitive with other forms of senior care in the state.
Does MassHealth pay for in-home care?
MassHealth, the state Medicaid program in Massachusetts, does not pay for in-home care directly. A set of Medicaid waivers are available to beneficiaries to help pay for home care and associated expenses. Less direct assistance is available through MassHealth as a health insurance provider, such as the cost of outpatient care and prescription medications, but the program does not pay for in-home services.
Are there financial assistance programs for in-home care in Massachusetts?
Seniors and their loved ones have several options to help pay the costs associated with in-home care in Massachusetts. In addition to the MassHealth waivers and other government support, several nonprofits operate in the commonwealth to provide health services, transportation assistance and nutritional support for independent seniors on fixed incomes
Does Medicare pay for in-home care?
Medicare does not pay for all in-home care, but several services are covered under Original Medicare Parts A and B. Medicare Advantage plans also pay for such in-home services as visiting nursing care, social services and physical, occupational and speech therapy. Medicare does not pay for caregiver services, homemaker assistance or other nonmedical forms of support for seniors.
What are "activities of daily living"?
The term "activities of daily living" refers to a set of tasks caregivers can assist seniors with at home. These are typically the common personal chores of bathing, dressing and preparing meals. The term can also be used to cover some routine activities outside of the home, such as shopping for groceries.
How to Find an In-Home Care Provider in Massachusetts
Whether you are looking for yourself or a loved one, finding a quality home care provider can be a stressful process. When you hire an in-home care aide you're placing a lot of trust in the hands of the person by inviting them into your home, so you'll want to be diligent in your search. At Caring.com, we're here to help – we've created a helpful checklist below that can help guide you through the process of both determining your needs and finding a home care agency that will provide the best care possible.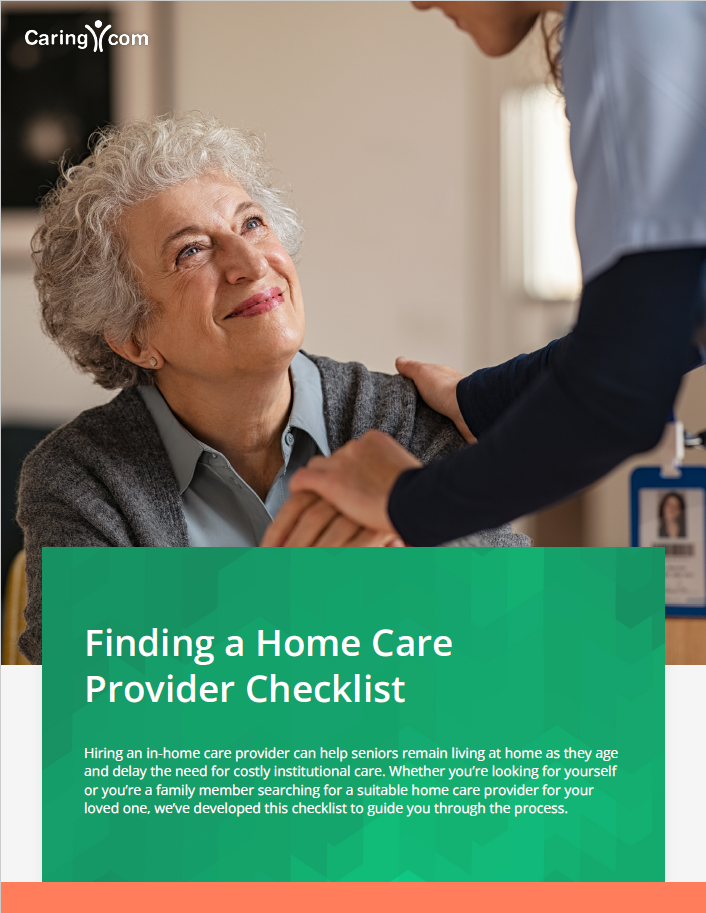 Find Home Care Agencies Near You
To find quality home care providers near you, simply input the zip code or city where you would like to start your search. We have an extensive directory of home care agencies all across the nation that includes in-depth information about each provider and hundreds of thousands of reviews from seniors and their loved ones.
Home Care Services in Massachusetts (516)