With five national parks that display Utah's abundant natural beauty and provide outdoor recreation opportunities for active senior citizens, it's easy to see why Utah is an attractive retirement destination. High-ranking hospitals in Utah include the University of Utah Hospital in Salt Lake City, which has been nationally ranked in two adult health care specialties, as well as Intermountain St. George Regional Hospital in St. George and Cache Valley Hospital in Cache.
Utah is a great location for aging in place thanks to home care options that make it easier for seniors to enjoy a good quality of life at home instead of moving to assisted living facilities or nursing homes. The options include in-home care and home health care. Although these terms sound similar, they involve different types of services. In-home care refers to routine household tasks, basic personal care and other non-clinical care, while home health care covers clinical services provided by professionals such as nurses and physical therapists. The average cost of in-home care in Utah is $5,625 per month.
This guide provides an exploratory introduction to in-home care in Utah and includes cost comparisons and available resources for seniors, who make up 11.4% of the state's population.
The Cost of In-Home Care in Utah
At an average cost of $5,625 per month, in-home care in Utah is several hundred dollars more expensive than the national average of $4,957, according to the Genworth Cost of Care Survey. In-home costs in Utah are also more expensive than those in the neighboring states of Nevada at $5,148, Idaho at $5,434 and Wyoming at $5,529. The monthly costs of in-home care in Colorado rise to $6,387.
Costs within Utah vary by location. The most expensive areas for in-home care in Utah are Provo and Ogden, where monthly costs average $5,720. Those in the northeastern corner of the state in Logan pay the least amount for in-home care at $4,957 per month, which matches the national average. At a monthly cost of $5,625, residents of the state's largest metro area, Salt Lake City, pay the same as the overall Utah average, while their counterparts in St. George, which is located in the southwestern corner of the state near the Nevada and Arizona borders, pay an average of $5,148 for in-home care.
Although in-home care in Utah is less expensive than nursing home care, it can come with a higher monthly price tag than other types of assistance. The average cost of a nursing home in Utah is $7,178 per month, which is $1,553 higher than in-home care. Those in assisted living facilities pay an average of $3,500 per month, which is $2,125 less expensive than in-home care. With a monthly cost of $1,939, adult day health care is $3,686 less than in-home care, while those opting for home health care pay an average of $5,720, which is only $95 more per month than in-home care.
Does Medicaid Cover Home Care in Utah?
Home Care Waiver Programs in Utah
Although Medicaid does not directly fund in-home care in Utah, there are two waiver programs in Utah that may help pay some of the costs of in-home care for seniors who choose to age in place. Each waiver has different requirements, including income limits for eligibility. The Aging Waiver covers non-clinical care such as homemaking and personal care. The New Choices Waiver covers residents of long-term care facilities who wish to return to community-based living and includes the costs of specific clinical services.
The Aging Waiver
The Aging Waiver is designed to provide supportive services that help recipients retain a high level of independence and a good quality of life. Covered services include basic household tasks such as light cleaning, laundry, meal preparation, household errands, medication reminders and non-medical transportation. The waiver also helps with emergency response systems and environmental accessibility adaptations.
Because the Aging Waiver is not an entitlement, services are not guaranteed. The waiver program serves a limited number of individuals, and there is typically a waiting list. Recipients can only use the services that are deemed necessary for their particular situations. Recipients must be aged 65 or over, require a nursing home level of care and be eligible for Medicaid in Utah. Those who aren't enrolled in Medicaid can apply through the Utah Department of Health.
The New Choices Waiver
Utah also has a New Choices Waiver, which is designed to allow current residents of long-term care facilities such as nursing homes, assisted living facilities and certain other licensed facilities to return to community-based living situations, including private homes. Unlike the Aging Waiver, the New Choices Waiver covers clinical services such as skilled nursing, rehabilitation services and specialized medical equipment; it may also cover costs of caregiver training, respite care and adult day health care. However, we've included it here because it also covers the costs of in-home care services such as homemaking and non-medical transportation.
Those wishing to participate in the New Choices Waiver program must have been in an institutionalized care setting for a minimum amount of time and their needs must be able to be safely met in the environment they've chosen. They must also meet the requirements for standard Medicaid in Utah. If you aren't already enrolled in Medicaid, you can apply through the Utah Department of Health.
How to Know if You're Eligible for Medicaid in Utah
Medicaid applicants have to meet financial eligibility requirements. For single applicants, the annual income limit is $13,596 and the asset limit is $2,000. In a two-person household, where both people apply for Medicaid, the income limit is more at $18,312 with a $4,000 total asset limit.
2022 Medicaid Income Limits for Seniors in Utah
Income Limits*
Asset Limits 
* per year
Applicants for Medicaid in Utah must also meet the following basic requirements:
Be 65 or over
Be a U.S. citizen or have legal immigration status
Meet income limits
How to Apply for Medicaid in Utah
You can apply for Medicaid in Utah in person, by mail or through the state's online application portal. Although people typically find the online application option the most convenient, you can download an application from the Utah Department of Health's website and either fax or mail it to the appropriate department. You can also hand-deliver your application by taking it to your local Department of Workforce Services Office. If you are unsure of where the closest one is located, enter your zip code here to find out. If you're unable to print the application, call (866) 435-7414 to have one mailed to you.
Toll-Free Fax Number: (888) 522-9505
P.O. Box 143245
Salt Lake City, UT 84114-3245
What Information You Will Need
You will need to provide information about your income and assets on your Medicaid application. Having documentation close at hand such as pay stubs, tax returns, bank statements and anything else regarding income and assets will aid in filling out the application. You should also be prepared to provide proof of citizenship or legal immigration status.
How to Get Help Applying for Medicaid
Reach out to the following resources if you have trouble filling out your application, have general questions about Medicaid, have been denied or want to file an appeal:
Does Medicare Cover In-Home Care in Utah?
In general, Medicare does not cover the cost of non-medical home care. That being said, there are situations in which Medicare provides some coverage for medical home care, referred to as "Home Healthcare." There are several eligibility restrictions for coverage, including that individuals must be homebound and have a referral from their doctor specifically for home healthcare services.
Below is an overview of some of the skilled medical professionals whose in-home services are typically covered by Medicare – for more in-depth information, refer to our Guide to Home Healthcare.
Physical Therapists: Physical therapy is used to help patients recover from injuries (broken bones, knee injuries, etc.), treat ongoing conditions such as arthritis, and assist in recovery from surgeries and procedures such as a knee or hip replacement.
Visiting Nurses: Licensed nurses can provide a number of medical services for those who don't need to stay in the hospital, but do need regular medical services such as wound care, changing feeding tubes, etc.
Occupational Therapists: Occupational therapists help seniors regain or maintain the ability to accomplish normal, daily tasks, such as bathing, dressing, eating, and other daily activities.
Speech Therapists: Speech therapists help seniors who are struggling to adequately communicate due to a stroke, dementia, or any other cause regain the ability to functionally communicate using a variety of means. Additionally, speech therapists help to keep seniors independent by modifying diets, teaching special techniques to swallow safely, and retraining associated muscles.
As mentioned above, in-home care is distinctly different from home healthcare. But, there can be some overlap in services between the two types of care. So, while Medicare doesn't cover non-medical in-home care, there are in-home care services that may be covered in special circumstances when they're provided in conjunction with home healthcare (such as an occupational therapist helping with eating or dressing)
Other Financial Assistance Options for In-Home Care in Utah
While the above programs help many people finance in-home care, they will not cover all costs for everyone. There are other ways to pay for in-home care, including out-of-pocket arrangements with siblings, annuities, reverse mortgages, private insurance and more. Read Caring.com's Guide to In-Home Care Costs to learn more about these alternative payment options.
Free and Low-Cost Resources for Seniors in Utah
There are many advantages of aging in place, including remaining connected with family and friends and living in a familiar household and neighborhood. However, there are also certain challenges involved with this option, including difficulties with transportation, routine household chores and navigating Medicare and Medicaid. The following list provides resources for seniors and their families designed to help with these challenges.
COVID-19 Rules for In-Home Care Providers in Utah
Although Utah hasn't issued a state mandate concerning COVID-19 vaccinations, Medicaid and Medicare home health care providers are required to adhere to federal law regarding vaccinations and use of personal protective equipment with the exception of those who have been granted an exemption for medical reasons or sincerely held personal and/or religious beliefs. The deadline for being fully vaccinated was March 15, 2022, and the enforcement date was April 14, 2022. Home care workers are encouraged to check with reputable sources for any changes in vaccination mandates. Employers have the right in Utah to require vaccinations and the use of personal protective equipment.
Note: This section is current as of April 2022, but since COVID-19 rules may change, contact your local Area Agency on Aging for up-to-date information.
In-Home Care Laws and Regulations in Utah
Personal care agencies in Utah are licensed, inspected and regulated by the Department of Health's Bureau of Licensing and Certification. The table below provides an overview of the rules governing PCAs in Utah.
In-Home Care Laws and Regulations in Utah
Scope of Care
Personal care agencies in Utah may provide various nonmedical in-home care services to seniors. Personal care aides employed by an agency may assist seniors with bathing, toileting, personal grooming, dressing, oral hygiene/denture care and eating. PCAs may also prepare meals, take and record a senior's temperature or weight, administer emergency first aid and provide transportation. PCAs must be supervised by a licensed nurse or certified nursing aide with a minimum of two years experience.
Care Plan Requirements
An agency must assess each prospective client to confirm that the individual's care needs can be met, and then draft a service agreement detailing the services to be provided by a personal care aide and the charges for these services.
Medication Management Requirements
Personal care aides can provide assistance to seniors with the self-administration of medications. This assistance can include providing reminders to take medications and opening mediset containers for a client. Medication must be placed in the container by a registered nurse who has completed a functional assessment and reviewed a senior's medication orders.
Staff Screening Requirements
All PCA employees who work directly with clients must be tested for tuberculosis within two weeks of being hired, in accordance with the state's communicable disease rules.
Staff Training Requirements
Personal care agencies are required to provide an orientation for all employees, which covers their job description and duties; confidentiality, ethics and client rights and the reporting requirements for suspected exploitation, abuse and neglect. Personal care aides must attend six hours of in-service training annually and be trained in first aid. A supervisor must evaluate each aide's job performance every six months.
Medicaid Coverage
Utah's state Medicaid Plan covers up to 60 hours of in-home
personal care services
per month for low-income Medicaid-eligible seniors who meet specific functional criteria. The state also covers the cost of home care services through the
Aging Waiver
and
New Choices Waiver
programs, which provide similar services but have different eligibility requirements.
Reporting Abuse
Concerned individuals can report unexplained injuries or suspected abuse or neglect of a vulnerable senior by calling Utah DHS Adult Protective Services at 1-800-371-7897. The helpline is operated Monday – Friday, from 8:00 a.m. to 5:00 p.m. Alternatively, an
abuse report form
can be completed and submitted online, 24/7.
Frequently Asked Questions
Does Utah Medicaid Pay for In-Home Care?
In-home personal care services are provided as an entitlement through the Utah state Medicaid plan. In-home care services are also covered by Utah Medicaid's Aging Waiver and New Choices Waiver programs. The state caps enrollment in these two programs, so applicants may be placed on a waiting list to receive services, based on availability.
How Much Does In-Home Care Cost in Utah?
According to Genworth Financial's 2019 Cost of Care Survey, nonmedical home care services cost $4,576 per month in Utah, on average. This is $286 more than the $4,290 U.S. monthly median for this type of care and on par with the statewide average cost of home health care services.
Are There Transportation Assistance Programs in Utah?
In Utah, senior transportation programs are coordinated through local Area Agencies on Aging. Program availability and the specific services offered vary between agencies. Depending on their location, seniors may have access to rides from volunteer drivers, Dial-A-Ride paratransit services, medical shuttles and wheelchair-accessible buses operated by fixed-route transit service providers.
What Are Activities of Daily Living?
Activities of daily living, which are commonly called ADLs, are the essential self-care tasks a person completes on a daily basis. These basic tasks include bathing, grooming, dressing, ambulation, eating and elimination. ADLs are not the same as instrumental activities of daily living, or IADLs, which require more complex skills.
Can Family Members Get Paid for Caregiving in Utah?
Family members can get paid for providing care in Utah, but this option may be temporary. Prior to 2020, family caregivers were not offered compensation for the care they provided. The impact of the COVID-19 pandemic led legislators to expand Medicaid in the state and develop a temporary compensation package that has been expanded several times. Read More
What Types of Services Does a Home Care Aide Provide?
In Utah, personal care aides may assist seniors with a variety of activities of daily living, including bathing, oral hygiene and denture care, toileting, grooming, dressing, eating and self-administering medications. Aides may also administer emergency first aid, if necessary, as well as prepare meals and provide transportation.
Does Utah Pay For In-Home Care?
Utah pays for in-home care for low-income, homebound seniors via various Medicaid Waivers. Home care providers in Utah charge an average of $29.50 per hour, and home health care providers charge around $30 an hour. This is above the national average and it can be difficult for some families to cover those fees out of their own pockets. Fortunately, those who are on a lower income can get help from the government. Read More
How to Find an In-Home Care Provider in Utah
Whether you are looking for yourself or a loved one, finding a quality home care provider can be a stressful process. When you hire an in-home care aide you're placing a lot of trust in the hands of the person by inviting them into your home, so you'll want to be diligent in your search. At Caring.com, we're here to help – we've created a helpful checklist below that can help guide you through the process of both determining your needs and finding a home care agency that will provide the best care possible.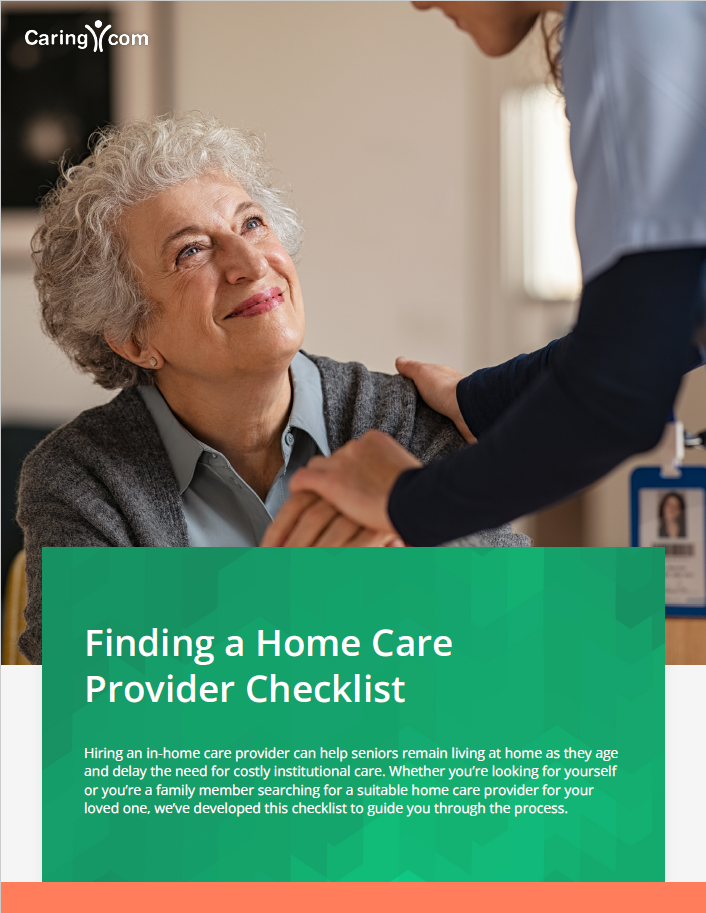 Find Home Care Agencies Near You
To find quality home care providers near you, simply input the zip code or city where you would like to start your search. We have an extensive directory of home care agencies all across the nation that includes in-depth information about each provider and hundreds of thousands of reviews from seniors and their loved ones.
Home Care Services in Utah (78)