In-Home Care in Wisconsin
Wisconsin is a vibrant state with coastlines on Lake Michigan and Lake Superior, international villages and world-class museums, providing an enriching environment for retirement living. Retirement-aged residents account for nearly 18% of the population, and this demographic is experiencing growth that outpaces any other age group.
Wisconsin is among the more affordable U.S. states to live in, with an overall cost of living that's about 10% less than the national average and housing prices that are 20% less. The number of doctors per capita is comparatively high, which may make it easier to schedule primary and specialty care services, and access to high-performing medical facilities such as University of Wisconsin Hospitals and Clinics promote lifelong health.
Wisconsin also offers high-quality long-term care options for residents, including numerous home care agencies that provide non-medical services to enable older adults to age in place. On average, seniors in Wisconsin pay $5,529 per month for this type of care. Home health care, by contrast, includes skilled nursing services and typically has higher monthly costs.
This guide provides more information on home care in Wisconsin, including what home care costs in major cities throughout the state and your options for funding services.
The Cost of In-Home Care in Wisconsin
Data compiled in the 2021 Genworth Cost of Care Survey shows that home care agencies in Wisconsin charge $5,529 per month on average for 44 hours per week of non-medical care. This is considerably higher than the national average of $4,957, but it's consistent with care costs in other states in the Upper Midwest. In Minnesota, monthly rates are much higher at $6,673. However, in Iowa and Michigan, rates are the same as in Wisconsin at $5,529. In Illinois, seniors pay $5,339 for services, and in Indiana, rates are among the lowest in the region at $4,767.
Home care rates across Wisconsin are fairly consistent with the state median, though some cities have slightly more affordable care. Green Bay has the lowest surveyed home care rates in the state at $5,053, and in Eau Claire, fees are higher but still cost-effective compared to the state average of $5,339. In Fond du Lac, seniors pay $5,720 for monthly services. In La Crosse, home care agencies charge $5,958, and in Sheboygan, care costs are the highest surveyed in the state at $6,101.
Seniors in Wisconsin have multiple long-term care options to fit their goals, budgets and lifestyle preferences. At $5,529 per month, in-home care is moderately priced compared to other options. Older adults who need skilled nursing services at home pay a slightly higher monthly rate of $5,720. Seniors who want to live at home and conserve more of their retirement income may opt for adult day health care, which is the cheapest option at $1,723 per month. Residential care is a cost-effective alternative to private in-home care, with seniors in assisted living paying $4,600 monthly. Nursing home care provides the highest degree of care outside a hospital and is several thousand dollars more per month than in-home care at $9,022.
Does Medicaid Cover Home Care in Wisconsin?
Home care can be a considerable expense, but fortunately, qualifying seniors in Wisconsin have access to several programs that may help them cover services. Wisconsin Medicaid provides coverage for medically necessary services. This includes medical home health care services and personal care. The regular Medicaid program also covers transportation services by reimbursing rides using public transportation, non-emergency ambulances and specialized motor vehicles.
Regular Medicaid's coverage for home care is limited, and the program's strict financial eligibility guidelines may block care from seniors who need services. To expand coverage and meet the needs of those who aren't on a low income but are unable to afford home care services, Wisconsin Medicaid has several programs and waivers. These include the Family Care Waiver, the Family Care Partnership Waiver, the IRIS program and the Program of All-Inclusive Care for the Elderly.
Regular Medicaid is an entitlement guaranteed to everyone who qualifies. Waiver programs, on the other hand, have enrollment caps. Even if you qualify for coverage, you may be placed on a wait list if the enrollment limit is met.
Home Care Waiver Programs in Wisconsin
There are several programs in Wisconsin that provide coverage for home care for those who don't qualify for regular Medicaid or for whom Medicaid's covered services are inadequate. With the exception of PACE, these programs are available statewide. To qualify for these services, individuals must meet income and asset guidelines.
How to Know If You're Eligible for Medicaid in Wisconsin
To qualify for Medicaid coverage, you must meet strict income and asset limits. Single applicants may have up to $11,097.36 in annual income, and married applicants may have a combined annual income of $16,716.60. This includes all income sources, including wages, withdrawals from retirement savings accounts and investment income. The asset limits are $2,000 for single applicants and $3,000 for married applicants. Some assets are excluded from this limit, including the individual's primary residence, vehicle and personal belongings.
2022 Medicaid Income Limits for Seniors in Wisconsin
Income Limits* 
Asset Limits
*Per year
Along with financial eligibility criteria, you must:
Be a resident of Wisconsin
Be a U.S. citizen or legal resident
Need the services Medicaid provides
How to Apply for Medicaid in Wisconsin
Seniors can apply for Medicaid online through ACCESS, Wisconsin's benefits portal for Medicaid and other income-based assistance programs. Alternately, seniors can fill out a paper application and fax it to (888) 409-1979 (within Milwaukee County) or (855) 293-1822 (outside Milwaukee County). Those who want to apply in person can do so at their local Income Maintenance and Tribal Agency.
What Information You Will Need
To ensure an efficient enrollment process, you should have information and supporting documents on hand to verify your eligibility. These include:
Social Security number
Birth certificate
Driver's license or state-issued ID
Proof of marital status
Proof of U.S. citizenship or immigration status
Employer information, if relevant
Proof of all income
Proof of all assets
Names and relationships to other members of your household
Information for any existing health insurance, such as Medicare
How to Get Help Applying for Medicaid
If you need help getting Medicaid coverage for home care, there are several hotlines and programs that can help. The following table highlights some free resources you can connect with for one-on-one assistance with applying for Medicaid, getting the services you need and resolving issues with your benefits.
Does Medicare Cover In-Home Care in Wisconsin?
In general, Medicare does not cover the cost of non-medical home care. That being said, there are situations in which Medicare provides some coverage for medical home care, referred to as "Home Healthcare." There are several eligibility restrictions for coverage, including that individuals must be homebound and have a referral from their doctor specifically for home healthcare services.
Below is an overview of some of the skilled medical professionals whose in-home services are typically covered by Medicare – for more in-depth information, refer to our Guide to Home Healthcare.
Physical Therapists: Physical therapy is used to help patients recover from injuries (broken bones, knee injuries, etc.), treat ongoing conditions such as arthritis, and assist in recovery from surgeries and procedures such as a knee or hip replacement.
Visiting Nurses: Licensed nurses can provide a number of medical services for those who don't need to stay in the hospital, but do need regular medical services such as wound care, changing feeding tubes, etc.
Occupational Therapists: Occupational therapists help seniors regain or maintain the ability to accomplish normal, daily tasks, such as bathing, dressing, eating, and other daily activities.
Speech Therapists: Speech therapists help seniors who are struggling to adequately communicate due to a stroke, dementia, or any other cause regain the ability to functionally communicate using a variety of means. Additionally, speech therapists help to keep seniors independent by modifying diets, teaching special techniques to swallow safely, and retraining associated muscles.
As mentioned above, in-home care is distinctly different from home healthcare. But, there can be some overlap in services between the two types of care. So, while Medicare doesn't cover non-medical in-home care, there are in-home care services that may be covered in special circumstances when they're provided in conjunction with home healthcare (such as an occupational therapist helping with eating or dressing)
Other Financial Assistance Options for In-Home Care in Wisconsin
While the above programs help many people finance in-home care, they will not cover all costs for everyone. There are other ways to pay for in-home care, including out-of-pocket arrangements with siblings, annuities, reverse mortgages, private insurance and more. Read Caring.com's Guide to In-Home Care Costs to learn more about these alternative payment options.
Free and Low-Cost Resources for Seniors in Wisconsin
If your goal is to remain in your home throughout your retirement years, Wisconsin has several agencies and programs to help. Through the following resources, you can connect with options and benefits counselors, recreational programs and community-based services that may help you reduce your out-of-pocket care and living costs. This table also includes agencies with information specialists who help you navigate the system and connect with the care you need at home.
COVID-19 Rules for In-Home Care Providers in Wisconsin
In Wisconsin, home health care providers that administer medical services are required to be fully vaccinated against COVID-19 unless they have a valid exemption. This mandate doesn't apply to home care agencies that exclusively provide non-medical services. This rule is current as of April 2022 but may change in response to trending infection rates and greater availability of COVID-19 treatment options. To find the most current information, you can contact your local health department or Aging and Disability Resource Center.
While state and federal laws don't require home care providers to be fully vaccinated, some agencies have their own rules regarding vaccine status and the use of personal protective equipment. If you have concerns regarding your exposure to viruses, you may contact your home care agencies directly to inquire about in-house policies.
In-Home Care Laws and Regulations in Wisconsin
Personal care agencies that provide nonmedical in-home services in Wisconsin are licensed and regulated by the Department of Health Services Division of Quality Assurance. The DQA also conducts scheduled and unscheduled inspections and investigates complaints filed against PCAs. The following table provides an overview of the rules and regulations governing PCAs in Wisconsin.
In-Home Care Laws and Regulations in Wisconsin
Scope of Care
PCAs may offer a number of nonmedical services for clients. An agency's personal care workers may provide assistance with personal care, such as bathing, oral hygiene, grooming and dressing. PCAs may also help with transfers and ambulation and assist with routine bodily functions and maintaining continence. Staff may also complete light housekeeping chores, prepare meals, provide companionship, accompany clients to medical appointments and perform errands, such as grocery shopping.
Care Plan Requirements
PCAs must assess each new client and draft a service plan for their care. The plan must include the specific services that the agency's PCWs will provide, as well as the frequency and duration of visits.
Medication Management Requirements
PCWs may provide reminders and assist clients with self-administration of medications. PCAs that have a written medication management policy in place and a registered nurse on staff may allow personal care workers to administer medications to clients. PCWs must receive documented training on medication administration before providing this service and be able to contact an on-call RN with questions or concerns.
Staff Screening Requirements
PCAs must have background and criminal history checks conducted on individuals applying to work directly with clients as PCWs and make hiring decisions based on the results. Prospective employees must also be screened for tuberculosis.
Staff Training Requirements
PCWs who provide direct care to clients must complete agency provided training on general care-related topics and the specific skills needed to perform the various services the agency provides. PCAs must also provide relevant ongoing training for all direct care workers.
Medicaid Coverage
Wisconsin Medicaid provides coverage for home care services through its
Family Care and Family Care Partnership
programs, as well as the
IRIS
waiver. In-home services are also covered through the
PACE
program, which is available in Milwaukee, Racine and Waukesha County.
Reporting Abuse
Concerned parties may report abuse, exploitation or neglect of a Wisconsin resident aged 60 or older by contacting the
Elder Adults-at-Risk helpline
in their county.
Frequently Asked Questions
Are There Financial Assistance Programs for In-Home Care in Wisconsin?
Seniors and disabled adults may receive help paying for in-home care through Wisconsin Medicaid's Family Care and Family Care Partnership programs or the IRIS waiver. Residents of Milwaukee, Racine or Waukesha County may also qualify for in-home services through the PACE program.
Are There Transportation Assistance Programs in Wisconsin?
The transportation services available to Wisconsin seniors vary between counties and communities and are coordinated through local tribal and county aging offices. Depending on the locale, seniors may be able to access bus or van services, rides from volunteer drivers or shared-ride taxi services.
How Much Does In-Home Care Cost in Wisconsin?
According to the Genworth Cost of Care Survey 2019, home care services cost an average of $4,767 per month in Wisconsin. This is about $475 higher than the national median, but it is on par with the monthly average for home health services, which include skilled nursing care.
What Does It Mean to Age in Place?
Aging in place refers to a senior's choice and ability to continue living at home, rather than moving to an institutional setting. Achieving this may involve making accessibility and safety home improvements, using assistive technologies and hiring outside help to accomplish activities of daily living.
What Types of Services Does a Home Care Aide Provide?
In Wisconsin, home care workers may assist with personal care tasks, including bathing, grooming, dressing and maintaining continence, provide reminders and help seniors self-administer medications. They may also complete housekeeping and cooking tasks, shop for groceries, run errands and accompany seniors to appointments.

How to Find an In-Home Care Provider in Wisconsin
Whether you are looking for yourself or a loved one, finding a quality home care provider can be a stressful process. When you hire an in-home care aide you're placing a lot of trust in the hands of the person by inviting them into your home, so you'll want to be diligent in your search. At Caring.com, we're here to help – we've created a helpful checklist below that can help guide you through the process of both determining your needs and finding a home care agency that will provide the best care possible.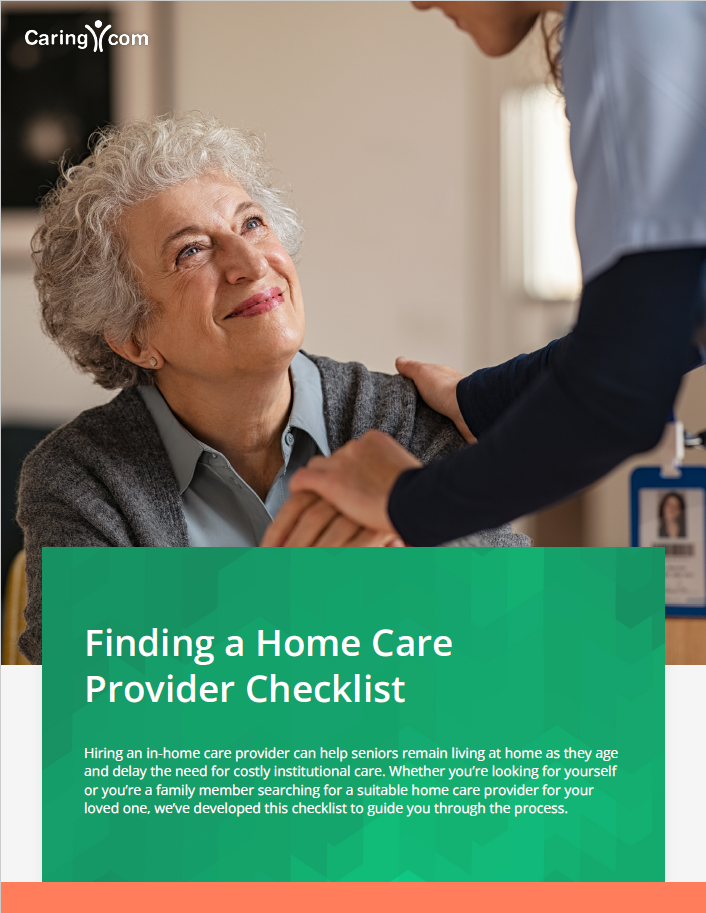 Find Home Care Agencies Near You
To find quality home care providers near you, simply input the zip code or city where you would like to start your search. We have an extensive directory of home care agencies all across the nation that includes in-depth information about each provider and hundreds of thousands of reviews from seniors and their loved ones.
Home Care Services in Wisconsin (179)