In-Home Care in North Carolina
North Carolina is home to over 10 million people, including a large senior community that makes up nearly 17% of the population. It has the ninth-largest senior community in the nation, and seniors are the fastest-growing demographic in the state. Many of North Carolina's cities and counties are listed on the AARP Network of Age-Friendly States and Communities, but no matter where you live in the state, you can find access to community-based services that help you maintain your independence and quality of life throughout your retirement years.
North Carolina is an affordable option for those seeking in-home care. Overall, the state's cost of living comes in about 10% below the national median. Seniors don't pay state taxes on their Social Security income, which may help those who rely primarily on this form of income to afford long-term care. In-home care is relatively affordable at $4,385 per month.
This guide outlines what you can expect to pay for in-home care throughout that state and how rates compare to other senior care options. It also covers some ways that you may be able to pay for care, highlights local agencies that serve seniors and provides answers to frequently asked questions regarding in-home care.
The Cost of In-Home Care in North Carolina
The 2021 Genworth Cost of Care Survey reports that seniors in North Carolina pay competitive in-home care rates of $4,385 per month. This is nearly $600 lower than the national median rate of $4,957 and cost-effective compared to most of North Carolina's bordering states. In Virginia, care costs are considerably higher at $4,767. In Tennessee, clients pay $4,576 for services, and in South Carolina, agencies charge $4,433. Only Georgia has more economically priced care, with rates averaging $4,290 per month.
In-home care costs vary throughout North Carolina, but rates in all cities are at or below the national median. Of the surveyed cities in the state, Raleigh is the costliest place to obtain care, with fees coming in at $4,957 per month. In Charlotte, care costs are considerably lower but still exceed the state median at $4,668, and in Wilmington, rates average $4,576. Seniors in Rocky Mount pay comparatively low monthly fees of $4,290, and seniors in Jacksonville pay $4,195. In Hickory, care is affordable at $4,099. Goldsboro has the lowest surveyed rates in the state of $3,813.
Seniors pay $4,385 for in-home care as well as home health care, which is similar but also includes skilled nursing services, making home-based care the second-most expensive long-term care option in North Carolina. Only nursing home care is costlier at $7,483 per month. Older adults may save money by moving into an assisted living facility, which provides personal care services along with housing, meals and recreational activities. For those who want to remain in their homes while obtaining affordable care, adult day care may be a viable option at $1,197 per month.
Does Medicaid Cover Home Care in North Carolina?
While North Carolina is a generally affordable state for in-home care, for some seniors, monthly expenses exceed what they can pay for with their retirement income. Fortunately, NC Medicaid provides coverage for in-home care for income-qualifying individuals in the state. It pays for services directly under its Personal Care Services program, which pays for an approved number of hours per month of attendant care. Because this program is part of regular Medicaid, it doesn't have enrollment caps and those who qualify are guaranteed services.
The Personal Care Services program features services provided by in-home aides who provide non-medical care to help you age in place. Services include:
Bathing/showering
Dressing
Toileting
Mobility
Eating
Housekeeping
Grocery shopping
Meal preparation
Laundry
Medication reminders
Companionship
To be eligible for services, you have to undergo an independent assessment that's conducted by or on behalf of NC Medicaid. You must need partial help with at least three activities of daily living (ADLs) or partial help with one ADL and extensive or full help with a second ADL.
NC Medicaid also covers in-home care through the Community Alternative Program for Disabled Adults program. This program provides home-based care as an alternative to nursing home care for those who need assistance due to age or disability.
Home Care Waiver Programs in North Carolina
Community Alternative Program for Disabled Adults
The CAP/DA waiver program provides additional in-home services beyond the scope of the regular Medicaid program and is for those aged 18 and over with disabilities that qualify them for nursing home level care. Program participants may have the option to self-direct their care, meaning they choose who provides the services in their care plans. In some cases, family and friends are eligible for hire. Some services this program covers include:
Adult day care
In-home aide services
Personal assistance
Case management
Money management
Respite care
Pest control
Chore services
Basic housekeeping and laundry services
Transportation for errands
Home-delivered meals
Home and vehicle modifications
To qualify for services, applicants must be at least 18 years old and they must need an institutional level of care. They must also meet Medicaid's eligibility requirements and need at least one service the waiver pays for. While regular Medicaid is an entitlement, CAP/DA has enrollment caps, and eligible applicants may be placed on a wait list until slots are available. Each county has an allotted number of waiver slots, so even if the program is at capacity in one county, other counties may have open slots.
To apply for CAP/DA, you must fax a referral request to North Carolina Medicaid at (919) 715-0052.
How to Know If You're Eligible for Medicaid in North Carolina
The primary purpose of NC Medicaid is to provide comprehensive health insurance for low-income individuals. As such, the program has strict income and asset limits. If you are single, you may have an annual income of up to $13,596. All types of earned and unearned income count towards this limit, including veterans' and public benefits, stock dividends, pensions, withdrawals from retirement accounts and wages. You may have up to $2,000 in countable assets, which include savings accounts, investments and rental or vacation properties you own. Your primary residence, vehicle and personal belongings are exempt. If you're married, the respective income and asset limits are $18,312 and $3,000.
2022 Medicaid Income Limits for Seniors in North Carolina
Income Limits*
Asset Limits
*Per year
Along with meeting financial criteria, Medicaid applicants must meet additional requirements, including:
They must be permanent North Carolina residents.
They must be legal U.S. citizens or residents.
They must need the coverage Medicaid provides.
How to Apply for Medicaid in North Carolina
You can apply for Medicaid online through ePASS or HealthCare.gov. Alternately, you can fill out a paper application and submit it to your nearest Division of Social Services office in person, by fax, through email or through the postal service. You can also contact the DSS to check on the status of your application.
What Information You Will Need
To expedite the approval process, you should ensure that you have supporting documents on hand before submitting your Medicaid application. Some documents that you should have include:
Driver's license or state-issued ID card
Policy numbers for primary health insurance, including TRICARE or Medicare
Birth certificate
Social Security card
Proof of income
Proof of assets
How to Get Help Applying for Medicaid
If you need help applying for Medicaid or understanding your benefits, several agencies and programs can assist you in navigating the system and making important decisions regarding your health insurance coverage. The following resources are open to all North Carolina residents and include specialists, legal advisors and informational services.
Does Medicare Cover In-Home Care in North Carolina?
In general, Medicare does not cover the cost of non-medical home care. That being said, there are situations in which Medicare provides some coverage for medical home care, referred to as "Home Healthcare." There are several eligibility restrictions for coverage, including that individuals must be homebound and have a referral from their doctor specifically for home healthcare services.
Below is an overview of some of the skilled medical professionals whose in-home services are typically covered by Medicare – for more in-depth information, refer to our Guide to Home Healthcare.
Physical Therapists: Physical therapy is used to help patients recover from injuries (broken bones, knee injuries, etc.), treat ongoing conditions such as arthritis, and assist in recovery from surgeries and procedures such as a knee or hip replacement.
Visiting Nurses: Licensed nurses can provide a number of medical services for those who don't need to stay in the hospital, but do need regular medical services such as wound care, changing feeding tubes, etc.
Occupational Therapists: Occupational therapists help seniors regain or maintain the ability to accomplish normal, daily tasks, such as bathing, dressing, eating, and other daily activities.
Speech Therapists: Speech therapists help seniors who are struggling to adequately communicate due to a stroke, dementia, or any other cause regain the ability to functionally communicate using a variety of means. Additionally, speech therapists help to keep seniors independent by modifying diets, teaching special techniques to swallow safely, and retraining associated muscles.
As mentioned above, in-home care is distinctly different from home healthcare. But, there can be some overlap in services between the two types of care. So, while Medicare doesn't cover non-medical in-home care, there are in-home care services that may be covered in special circumstances when they're provided in conjunction with home healthcare (such as an occupational therapist helping with eating or dressing)
Other Financial Assistance Options for In-Home Care in North Carolina
While the above programs help many people finance in-home care, they will not cover all costs for everyone. There are other ways to pay for in-home care, including out-of-pocket arrangements with siblings, annuities, reverse mortgages, private insurance and more. Read Caring.com's Guide to In-Home Care Costs to learn more about these alternative payment options.
Free and Low-Cost Resources for Seniors in North Carolina
The following table highlights resources in North Carolina that can help you obtain the services you need to age in place.
COVID-19 Rules for In-Home Care Providers in North Carolina
Unless they have an exemption, home health care aides in North Carolina must be fully vaccinated against COVID-19 before working directly with seniors. This rule is current as of April 2022, but as new information on the virus is available or variants are introduced to the population, guidelines may continue to evolve. The local Area Agency on Aging or health department may have the latest guidelines that home health care agencies are required to follow.
Currently, there are no vaccine mandates for in-home aides. However, agencies may have their own safety guidelines that exceed state and federal regulations. If you have questions or concerns about the precautions your home care agency takes against COVID, it may be a good idea to contact the agency directly.
In-Home Care Laws and Regulations in North Carolina
The North Carolina Division of Health Service Regulation regulates home care providers throughout the state. This agency is also responsible for the licensing of home care agencies. The table below gives a basic overview of the rules and regulations that home care agencies in North Carolina must follow.
In-Home Care Laws and Regulations in North Carolina
Scope of Care
Licensed home care agencies in North Carolina may provide nutrition care services, personal care and housekeeping services, and health care services, including occupational therapy, physical therapy and nursing.
Care Plan Requirements
Home care agencies must provide detailed information to clients regarding the provided services, as well as the times and days of service provision.
Medication Management Requirements
Home health aides must complete state-mandated medication administration training prior to assisting with or administering medication.
Staff Screening Requirements
All home care workers must undergo a statewide criminal background check.
Staff Training Requirements
Home health aides are required to complete a training program approved by the Division of Health Service Regulation.
Medicaid Coverage
Medicaid's Community Alternatives and Personal Care Services Programs cover the cost of in-home care services for seniors.
Reporting Abuse
Abuse can be reported to North Carolina's Long-Term Care Ombudsman by emailing Victor.orija@dhhs.nc.gov
Frequently Asked Questions
How much does in-home care cost in North Carolina?
The cost of in-home care varies throughout North Carolina, depending on the agency and location. The average cost of in-home care in the state is $3,813 per month according to the Genworth Cost of Care Survey 2019.
Are there programs to cover home modifications in North Carolina?
North Carolina Medicaid covers the cost of some home modifications. Additionally, several local agencies can provide assistance with home repairs and home modifications. These services can be accessed via local Area Agencies on Aging.
Are there transportation assistance programs in North Carolina?
Individual counties throughout North Carolina offer transportation assistance services. Seniors can contact their local Area Agencies on Aging to discover the transportation services that are available in their county.
Does North Carolina Pay For In-Home Care?
North Carolina pays for in-home care through the Medicaid Personal Care Services program. Medicaid only covers the cost of medically necessary services directly. Home and community-based services are covered by Medicaid waiver programs. According to the Genworth Cost of Care Survey, in-home care is around $4,385 per month, which is a less expensive option than nursing home care but is slightly more than assisted living. Read More
What are "Activities of Daily Living"?
Activities of daily living are self-care tasks that seniors must complete on a daily basis. This includes activities such as bathing, dressing, eating and basic mobility. It's important to note that activities of daily living are not to be confused with instrumental activities of daily living, which include tasks such as grocery shopping and financial management.
What types of services does a home care aide provide?
An in-home care aide provides personal care and assistance with activities of daily living, as well as additional services such as cleaning, cooking and companionship.
Can Family Members Get Paid for Caregiving in North Carolina?
In North Carolina, family members can be paid for in-home care of a family member or loved one via three options. First, Medicaid-eligible seniors who need nursing home level care can receive help through the Community Alternative Program for Disabled Adults. The state also offers In-Home Aide Services through the Department of Health for seniors who need in-home care, but who are not using Medicaid to pay for it. Finally, qualified veterans can use their Aid and Attendance pension to pay a family caregiver who is not their spouse. Read More
How to Find an In-Home Care Provider in North Carolina
Whether you are looking for yourself or a loved one, finding a quality home care provider can be a stressful process. When you hire an in-home care aide you're placing a lot of trust in the hands of the person by inviting them into your home, so you'll want to be diligent in your search. At Caring.com, we're here to help – we've created a helpful checklist below that can help guide you through the process of both determining your needs and finding a home care agency that will provide the best care possible.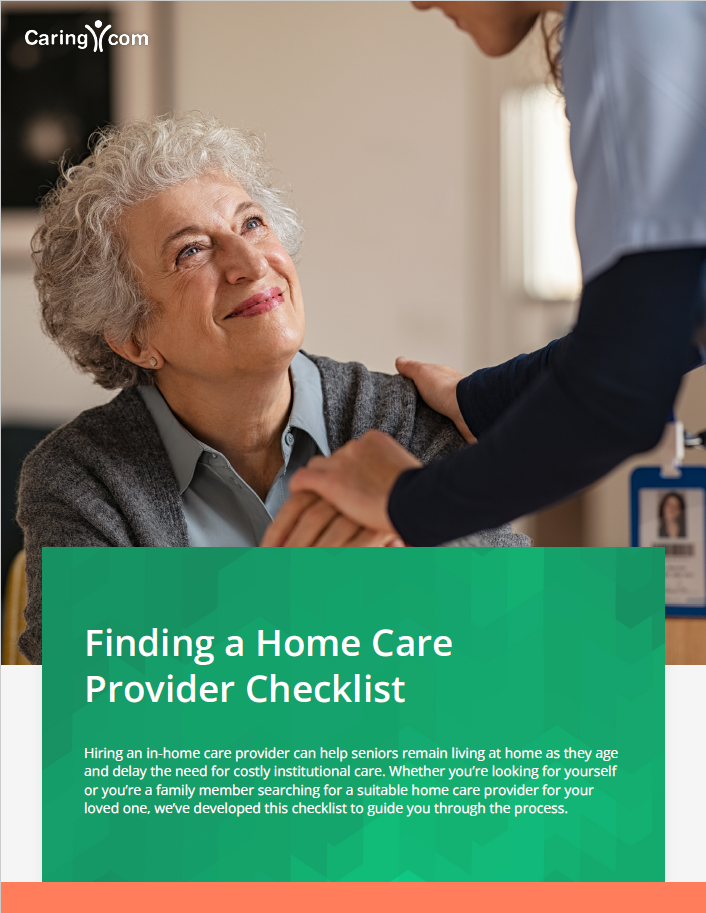 Find Home Care Agencies Near You
To find quality home care providers near you, simply input the zip code or city where you would like to start your search. We have an extensive directory of home care agencies all across the nation that includes in-depth information about each provider and hundreds of thousands of reviews from seniors and their loved ones.
Home Care Services in North Carolina (532)