The 10 Best In-Home Care Services in Charlotte, NC for 2023
Charlotte is a city in the central southern part of North Carolina. It's home to approximately 879,700 people, 10% of whom are aged 65 and over. It has a low cost of living, seasonal weather with 218 sunny days per year and a high number of physicians per capita. The Carolinas Medical Center is located near the city center to provide emergency care, surgical procedures and treatment for chronic and sudden illnesses.
Aging seniors in Charlotte have the option to remain in their homes while addressing personal care needs. Home care, which costs around $4,668 per month, is ideal for those who need non-clinical assistance, while home health provides skilled nursing and medical care.
Below we've compiled a comprehensive directory of every home care provider in the Charlotte area – complete with services offered and reviews from families who've actually used the service. In addition to our in-depth provider listings, we've compiled resources to help seniors and their families to access all the tools they need to age in place safely and gracefully.
Paying for Home Care in Charlotte, NC
The Cost of Home Care in Charlotte, NC
The monthly cost for full-time home care in Charlotte is $4,668, according to Genworth's 2021 Cost of Care Survey. This is less than the national average of $4,957 but more than the state average of $4,385. In nearby Hickory and Fayetteville, the cost is $4,099 and $4,004 per month, respectively, while seniors in Winston pay around $3,909. Asheville has one of the highest costs for home care in nearby cities with a monthly average of $4,957.
The Cost of Home Care vs. Other Senior Care Options in Charlotte, NC
Long-term care costs vary greatly in Charlotte, from $1,192 per month for adult day care to $7,756 per month for a semiprivate room in a nursing home. Assisted living in a mid-range residential care option costs $4,400 per month. Home care is around $4,668, and home health care is slightly more at $4,767.
Nursing Home Care (semiprivate room)
Financial Assistance for Home Care in Charlotte, NC
Given the high cost of in-home care, many people use one or more forms of financial assistance to cover the expenses. Below, we explain some of the most common sources of financial help for paying for in-home care. If none of these options are available to you, you can reach out to your Area Agency on Aging or Aging and Disability Resource Center to learn about local resources.
Free & Low-Cost Home Care Resources in Charlotte, NC
Local organizations are available to provide help to seniors in the Charlotte area. These resources address a wide variety of needs and make it easier for seniors to remain in their homes as long as possible.
Charlotte Home Care Resources
Home care services are only one of the pieces needed for seniors to gracefully age in place. There are many services and programs that are low-cost or free, that enable seniors to enjoy an independent lifestyle in the comfort of their own home, such as help with home modifications, meal delivery services, and more. Below, we've compiled a few of the most helpful resources in Charlotte:
Address: 2011 Mail Service Center, Raleigh, NC 27699-2101
Phone Number: (919) 855-3400
North Carolina Department of Health and Human Services strives to facilitate independence and enhance the process of aging through a community-based system of services, opportunities, protections, and benefits. Seniors, families and caregivers can find numerous options to develop care plans to help seniors remain independent and various ways to help when it is time to move toward assisted living.
Address: 9815 David Taylor Dr., Charlotte, NC 28262
Phone Number: (704) 0372-2416
Centralina AAA is committed to helping people with disabilities and older adults reside in their communities independently and with dignity. Centralina AAA offers programs to help individuals using both families and agency services and support. Services include adult day care/health, caregiver support services, home-delivered meals, housing and home improvement, information and options counseling, in-home aides, legal assistance, lunch bunch/group meals, senior centers and transportation.
Address: 320 Shamrock Drive, Charlotte, NC 28215
Phone Number: (980) 314-1175
Address: 2225 Tyvola Road, Charlotte, NC 28215
Phone Number: (980) 314-1320
Charlotte's senior centers provide an array of programs designed to improve cognitive and physical health, widen senior's support systems and provide assistance finding services to help them remain independent. The centers utilize the nationally recognized Health Promotion/Disease Prevention programs to design classes, including exercise opportunities, health programs and education programs.
Address: Housing & Neighborhood Services, 600 East Trade Street, Charlotte, NC 28202
Phone Number: (704) 336-3380
Aging in Place is an innovative program developed by the City of Charlotte to help senior homeowners continue living in their own homes independently and comfortably, despite age, income, or ability. Low-income/moderate-income senior homeowners have the opportunity to age in place" with the assistance of grants through an easy application process.
Address: Valerie C. Woodard Center Suite 1800, 3205 Freedom Drive, Charlotte, NC 28208
Phone Number: (704) 432-1111
The Mecklenburg County Department of Social Services helps eligible households through the Low Income Energy Assistance Program (LIEAP). LIEAP is a federally funded program that provides a one-time direct vendor payment of $300, $400 or $500 to prevent disconnection or account delinquency of electricity.

Determining Your Loved One's Need for In-Home Care
Aging can be a difficult process, and loved ones may not always ask for help – often times it's up to their family to evaluate their need for help around the house. While no two situations are exactly alike, this checklist can help you and your loved ones determine when it's time to start the search for a home care provider.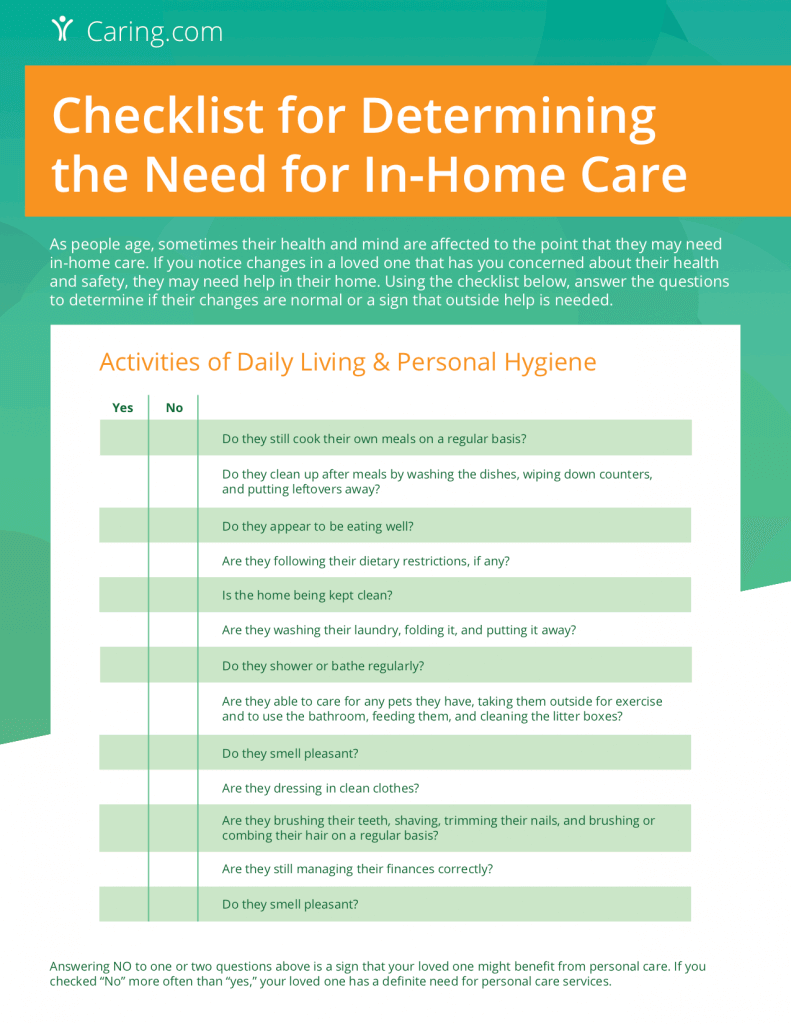 Guidelines for Talking About In-Home Care
If you've determined that your loved one needs the assistance of a care provider in their home, it may be time for a difficult conversation. Handled correctly, however, this process can bring a family together and ensure that everyone's concerns are addressed. Use this PDF as a starting point to help the conversation stay as positive and productive as possible.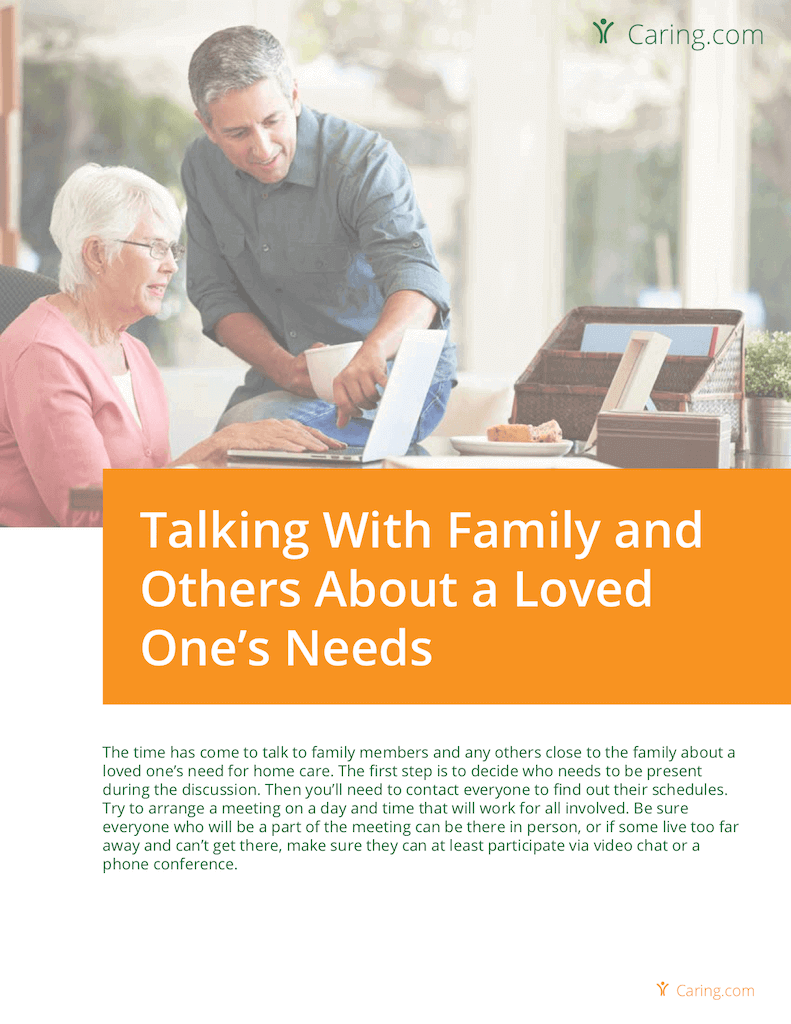 Frequently Asked Questions
What types of services can a home care agency in Charlotte provide?

Home care agencies in Charlotte provide a wide range of services to seniors who are aging in place within their own homes. Home care ranges in its non-medical care, including housekeeping, companionship, meal preparation, grooming and bathing. Home health care offers skilled nursing, therapy services and medical assistance.

How many home care agencies are there in Charlotte?

The number of home care agencies in the Charlotte area is 30, according to Caring. This database provides contact information and a brief description of what the community has to offer. It also includes a list of reviews that give seniors a good understanding of what the facility is like.

What is the average cost for in-home elderly care in Charlotte?

The average monthly cost for home care in Charlotte is $4,668. This covers non-clinical care, like grooming, light housekeeping, meals, bathing, toileting and medication reminders. This cost is based on 44 hours per week of assistance, which can be more or less depending on the exact number of hours a senior needs help.
Who is eligible for the veteran's home care program?

Men and women who've served in the nation's military and have retired or received an honorable discharge may be eligible for the home care program, provided they meet additional eligibility requirements. They must also be eligible for skilled nursing care and must not have an infectious disease or a history of behavior and psychiatric issues.

What is in-home respite care?

Respite care provides caregivers a break when caring for a homebound individual. With in-home respite, a temporary caregiver comes to a senior's home and takes over the daily assistance of the regular caregiver. Respite can be provided for a few hours, a few days or even weeks at a time and can be a regularly scheduled event or a one-time need.