Of the more than 5.8 million people who call Colorado home, 14.6% are seniors aged 65 or older. That's nearly 850,000 older adults drawn to the state's majestic mountains and abundant recreational opportunities. Colorado also boasts more than 100 hospitals, including many top-ranked facilities like the nationally ranked UCHealth University of Colorado Hospital in Aurora.
Colorado taxpayers aged 55 and older get a generous state tax exclusion on their retirement income, which gets even better at age 65. Colorado property taxes are among the lowest in the nation. Seniors may qualify for property tax exemptions of up to 50%, which is excellent for those who own their homes and want to age in place. As they get older, in-home assistance helps them remain independent. Colorado seniors have two in-home care options. Home care helps with household chores and personal care, and home health care offers medical assistance. Both types of care averaged $6,387 per month in Colorado in 2021.
This guide provides an overview of in-home care in Colorado, including average costs and how Medicaid helps cover the expense. It also offers local and statewide resources that provide free or low-cost programs to help seniors remain in their homes and communities.
The Cost of In-Home Care in Colorado
Unfortunately, the average cost of in-home care in Colorado is relatively high compared to the national average and surrounding states. According to the 2021 Genworth Cost of Care Survey, its cost of $6,387 was over $1,400 more than the national average of $4,957. Compared to adjacent states, New Mexico has the lowest price at $4,605, followed by Nebraska at $5,148 and Arizona at $5,338. Wyoming and Utah have the highest rates at $5,529 and $5,625, respectively, which is still less than Colorado's.
Cities in Colorado have a wide range of average in-home care costs, with a $1,500 difference per month between the lowest and highest. Pueblo has the lowest rate at $5,268, and Boulder and Denver have the highest at $6,769, which is even higher than the state average. In the middle, average costs include Grand Junction at $5,434, Greeley at $5,625, Colorado Springs at $5,768 and Fort Collins at $6,101.
Nursing home rates ran $8,567 in 2021 compared to $6,387 for home and home health care. Assisted living facilities had a lower average cost of $4,750, but in-home care has the bonus of remaining in familiar surroundings. Adult day health care has the lowest price at an average of $1,950, but it offers limited services in a community setting.
Does Medicaid Cover Home Care in Colorado?
Colorado's Medicaid program is called Health First Colorado. Although it doesn't directly cover home care, the state has a waiver program that does. Applicants must meet the financial, program targeting and medical criteria of Health First Colorado to access the services available under a waiver.
Home Care Waiver Programs in Colorado
Elderly, Blind and Disabled Waiver
The Home and Community-Based Services Waiver for Elderly, Blind and Disabled (HCBS-EBD) persons provides an alternative to nursing home care and allows recipients to remain in their homes. Through this waiver, recipients receive long-term supports and services not available through the Health First Colorado State Plan.
Applicants must be age 65 or older with a functional impairment, blind or aged 18 to 64 with a physical disability or HIV or AIDS diagnosis to qualify for the HCBS-EBD. They must meet financial and program criteria and be willing to receive services in their home or community. Waiver enrollees receive regular Health First Colorado benefits, as well as services specific to the HCBS-EBD waiver:
Adult day services
Alternative care facilities
Consumer-directed attendant support services
Electronic monitoring
Home-delivered meals
Home modifications
Homemaker services
In-home support services
Life skills training
Non-medical transportation
Personal care
Respite care
Applicants not enrolled in Health First Colorado must apply for Medicaid first. Those already enrolled should contact their local Single Entry Point (SEP) to start the waiver application process. Applicants with questions about the waiver program should contact their SEP agency or the Member Contact Center.
How to Know If You're Eligible for Medicaid in Colorado
Applicants must meet income and resource requirements to be eligible for Medicaid in Colorado. Income must be less than 300% or three times the monthly Supplemental Security Income (SSI) allowance. In 2022, the maximum monthly amount was $841 per month for individuals, which comes to $10,092 annually, and $1,261 per month for couples, which is equivalent to $15,137 annually. Resources must be less than $2,000 for singles and $3,000 for couples.
2022 Medicaid Income Limits for Seniors in Colorado
Income Limits*
Asset Limits
*Per year
Applicants must be at risk of placement in a nursing facility, an intermediate care facility or a hospital. Other requirements include being:
Aged 65 or older, blind or disabled
A Colorado resident
A U.S. citizen, U.S. national or eligible immigration status
How to Apply for Medicaid in Colorado
Seniors can apply for Health First Colorado at any time. There aren't any set enrollment periods like other types of medical coverage. They can apply:
Seniors applying for Aged, Blind, Disabled & Long-Term Care must also fill out Worksheet B on the Health First Colorado application.
What Information You Will Need
Along with the completed application, seniors must include a long list of information and documentation during the application process. These items include:
Names and birthdates of all applicants
Social Security numbers for citizens
Immigration document numbers for non-citizens
Employer and income information, including pay stubs or W2s
Documentation of additional income, such as Social Security benefits, SSI, public cash assistance, railroad retirement, rental income, retirement, pension and veterans benefits
Current health insurance and Medicare information, including policy numbers, of all household members
List of life insurance and burial policies
List of expenses, such as medical expenses, dependent elder care, health insurance, mortgages, prescriptions, rent and utilities
List of resources, including cash, checking and savings account, CDs, annuities, inheritance, property, proceeds from a home sale, stocks, bonds and trusts
List of property and vehicles owned
List of anything of value given away within the last 5 years
How to Get Help Applying for Medicaid
Government and nonprofit organizations offer help completing the Health First Colorado and waiver applications to ensure seniors receive the services and supports they need. Statewide assistance is available in person, over the phone and online.
Does Medicare Cover In-Home Care in Colorado?
In general, Medicare does not cover the cost of non-medical home care. That being said, there are situations in which Medicare provides some coverage for medical home care, referred to as "Home Healthcare." There are several eligibility restrictions for coverage, including that individuals must be homebound and have a referral from their doctor specifically for home healthcare services.
Below is an overview of some of the skilled medical professionals whose in-home services are typically covered by Medicare – for more in-depth information, refer to our Guide to Home Healthcare.
Physical Therapists: Physical therapy is used to help patients recover from injuries (broken bones, knee injuries, etc.), treat ongoing conditions such as arthritis, and assist in recovery from surgeries and procedures such as a knee or hip replacement.
Visiting Nurses: Licensed nurses can provide a number of medical services for those who don't need to stay in the hospital, but do need regular medical services such as wound care, changing feeding tubes, etc.
Occupational Therapists: Occupational therapists help seniors regain or maintain the ability to accomplish normal, daily tasks, such as bathing, dressing, eating, and other daily activities.
Speech Therapists: Speech therapists help seniors who are struggling to adequately communicate due to a stroke, dementia, or any other cause regain the ability to functionally communicate using a variety of means. Additionally, speech therapists help to keep seniors independent by modifying diets, teaching special techniques to swallow safely, and retraining associated muscles.
As mentioned above, in-home care is distinctly different from home healthcare. But, there can be some overlap in services between the two types of care. So, while Medicare doesn't cover non-medical in-home care, there are in-home care services that may be covered in special circumstances when they're provided in conjunction with home healthcare (such as an occupational therapist helping with eating or dressing)
Other Financial Assistance Options for In-Home Care in Colorado
While the above programs help many people finance in-home care, they will not cover all costs for everyone. There are other ways to pay for in-home care, including out-of-pocket arrangements with siblings, annuities, reverse mortgages, private insurance and more. Read Caring.com's Guide to In-Home Care Costs to learn more about these alternative payment options.
Free and Low-Cost Resources for Seniors in Colorado
Numerous government programs and nonprofit organizations strive to support the quality of life and ongoing independence of Colorado's seniors. Programs and services help ensure they have access to nutritious foods, stay safe in their homes and stretch their retirement dollars to the fullest.
COVID-19 Rules for In-Home Care Providers in Colorado
Unless they qualify for a medical or religious exemption, all home care workers must be vaccinated against COVID-19 per the vaccination mandate issued by the Centers for Medicare and Medicaid Services (CMS). The mandate includes in-home care and home health care professionals working for home health agencies that participate in Medicare or Medicaid programs. This rule is current as of April 2022, but the state or federal government could implement new requirements. Check with local Area Agencies on Aging for current regulations. Home health agencies may also have their own COVID-19-related rules. Clients should contact them directly with any questions or concerns.
In-Home Care Laws and Regulations in Colorado
In Colorado, home care agencies are regulated and licensed by the Department of Health Care Policy and Financing (HCPF). Home care providers that offer nonmedical personal care services are licensed as Class B agencies. The HCPF also investigates consumer complaints and conducts initial and periodic inspections of all licensed HCAs to ensure compliance with state regulations. This table outlines the regulations that home care agencies in Colorado must abide by.
In-Home Care Laws and Regulations in Colorado
Scope of Care
Colorado HCAs with a Class B license may provide various nonmedical personal care services to clients so they can safely and comfortably remain in their homes. These services may include providing help with activities of daily living, such as bathing, dressing, toileting, continence care, transferring, ambulation and eating. Personal care workers employed by HCAs may also perform housekeeping, laundry and meal preparation tasks, provide companionship and assist clients in completing activities outside the home, such as shopping and attending appointments.
Care Plan Requirements
Home care agencies must evaluate new clients within 48 hours of an initial service visit and develop a care plan to meet their needs. This personalized plan should detail the care services to be provided and tasks to be completed by the agency's PCWs. It must also specify when visits will occur and their length. Each client's care plan must be reevaluated and updated annually and whenever any change occurs in the individual's needs or condition.
Medication Management Requirements
PCWs employed by HCAs may not manage or administer medications to clients. A PCW may provide clients with medication reminders if this service is included in the individual's care plan.
Staff Screening Requirements
HCAs must have criminal background checks conducted on individuals seeking employment as PCWs who will have direct contact with clients.
Staff Training Requirements
PCWs hired to provide direct care to clients must receive initial training on the agency's policies and the services it provides. Staff must also receive ongoing training on 12 relevant topics every 12 months.
Frequently Asked Questions
Does Colorado Medicaid Pay for In-Home Care?
Are There Programs to Cover Home Modifications in Colorado?
How Much Does In-Home Care Cost in Colorado?
Home care averages $4,957 per month in Colorado, according to the Genworth Cost of Care Survey 2019. This is identical to the monthly average for home health care services in the state and significantly more than the $4,290 national median rate for in-home care.
What Are Activities of Daily Living?
Activities of daily living (ADLs) are the routine self-care related actions that individuals normally complete on a daily basis. The six ADLs are bathing, elimination, grooming, dressing, eating and mobility. ADLs are not the same as instrumental activities of daily living, which require more complex actions.
Does Medicare Pay for In-Home Care?
Medicare pays for in-home care services in certain situations. It covers intermittent nursing and home health aide services and a certain number of occupational or physical therapy sessions. To qualify, beneficiaries must be under a doctor's care and recovering from an illness, injury, surgery or in-patient hospital stay.
Does Colorado Pay For In-Home Care?
Colorado does pay for in-home care in some cases. Seniors who are enrolled in Medicaid can get a waiver to help them pay for in-home care. Beneficiaries enrolled in Health First Colorado, the state's Medicaid program, may be eligible to get financial assistance for their home care services through the Colorado Home and Community-Based Services Waiver for Elderly, Blind and Disabled (HCBS-EBD). Read More
Can Family Members Get Paid for Caregiving in Colorado?
Colorado pays family members for home care services provided to senior loved ones under the Home and Community-Based Services Waiver for Elderly, Blind and Disabled program. Seniors enrolled in this waiver program can select their own in-home caregiver, who may be a spouse, adult child or another relative. Beneficiaries can also designate a trusted friend to act as a caregiver or hire from an agency. Read More
How to Find an In-Home Care Provider in Colorado
Whether you are looking for yourself or a loved one, finding a quality home care provider can be a stressful process. When you hire an in-home care aide you're placing a lot of trust in the hands of the person by inviting them into your home, so you'll want to be diligent in your search. At Caring.com, we're here to help – we've created a helpful checklist below that can help guide you through the process of both determining your needs and finding a home care agency that will provide the best care possible.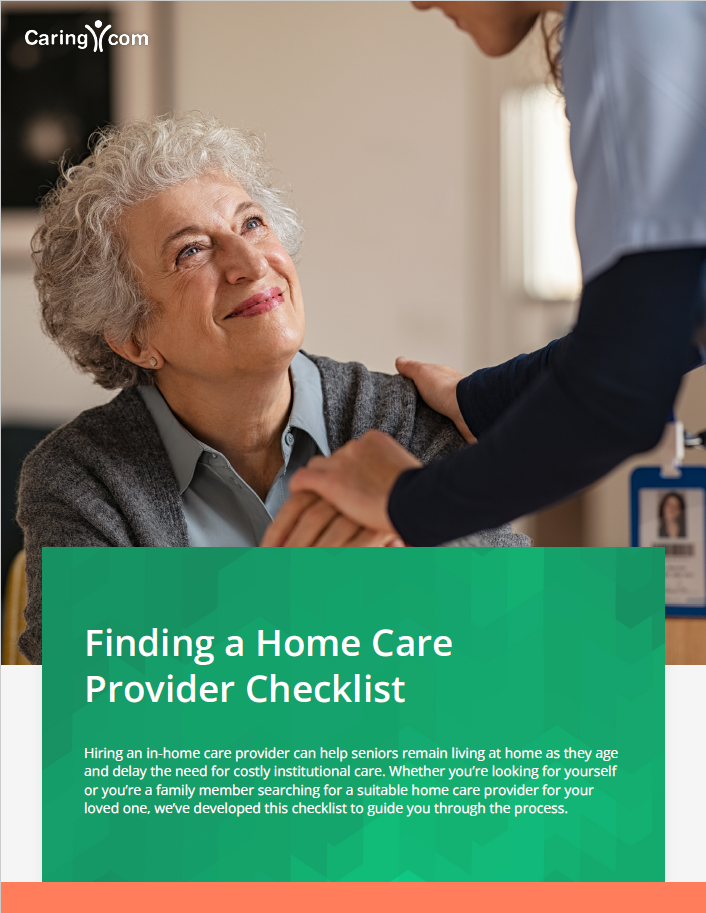 Find Home Care Agencies Near You
To find quality home care providers near you, simply input the zip code or city where you would like to start your search. We have an extensive directory of home care agencies all across the nation that includes in-depth information about each provider and hundreds of thousands of reviews from seniors and their loved ones.
Home Care Services in Colorado (120)