Senior citizens aged 65 and over make up approximately 20% of Vermont's overall population of slightly less than 646,000 residents. With its abundant natural beauty, relaxed way of life, organic food tradition and vibrant art scene, it's not hard to imagine why the state attracts a higher-than-average number of retirees. Highly rated hospitals in Vermont include Northwestern Medical Center and Burlington Lakeside VA Clinic. Although Vermont isn't considered particularly tax-friendly toward seniors, it does offer a tax credit to low-income seniors and disabled persons.
Vermont seniors have several options for care, including in-home care and home health care. Although they may sound similar, these two types of care are actually quite different. In-home care refers to non-medical personal care such as helping with getting dressed, bathing and basic grooming, light housekeeping, meal preparation, shopping and other errands, laundry and companionship. Home health care involves clinical care performed by a licensed health care professional. As of 2021, the average monthly cost of in-home care in Vermont is $5,720 per month.
This guide provides an introduction to in-home care in Vermont. Along with average costs and coverage options through Medicaid and Medicare, we included a list of resources for Vermont seniors.
The Cost of In-Home Care in Vermont
According to the 2021 Genworth Cost of Care Survey, in-home care in Vermont costs an average of $5,720 per month, which is higher than the national average of $4,957. Costs are even higher in the neighboring state of New Hampshire, at $6,006 per month, which is $286 higher than the average cost in Vermont, and in Massachusetts, where the average cost of in-home care of $5,911 is $191 more expensive than in Vermont. The average cost of in-home care is lower across Vermont's western border in New York State, residents typically pay an average of $5,339 per month for in-home care, which is $381 less than their Vermont counterparts. The most affordable state in the region is Connecticut with an average monthly cost of $5,243.
Because Vermont is a small state both in size and population, we're comparing the costs of the only Vermont community we have data on, Burlington, with similar cities in surrounding states. On the New York side of the New York/Vermont border, citizens of Glen Falls pay an average of $5,863 a month for in-home care, while those who live east of Vermont in the New Hampshire community of Manchester pay a monthly average of $6,149. Moving south to Massachusetts, costs are slightly lower in Pittsfield at an average of $5,625. Hartford, Connecticut, is the most affordable of these options for in-home care with a monthly cost of $5,329.
Although in-home care is more affordable in Vermont than nursing home care, which comes with an average monthly price tag of $10,585, other types of care are less expensive or the same. At a monthly average of $5,720, those opting for home health care pay the same as they would for in-home care. Residents of assisted living facilities pay an average of $5,250 in Vermont, which is $500 less expensive than in-home care. Adult day health care is the least expensive at $3,224.
Does Medicaid Cover Home Care in Vermont?
Medicaid does not directly fund in-home care in Vermont. However, seniors who choose to age in place may be able to receive assistance paying for some of the associated costs from Vermont's Choices for Care Waiver. The waiver covers supportive services for older persons and those with developmental disabilities in a variety of environments, including their own homes.
Home Care Waiver Programs in Vermont
The Choices for Care Waiver services differ depending on the particular setting. For home-based recipients, services include help with dressing, grooming, bathing and other types of non-medical personal care, household tasks such as light cleaning, laundry and meal preparation, respite for unpaid family caregivers, adult daycare and case management. The waiver also pays for assistive technology, personal emergency alert systems and home modifications to accommodate mobility issues.
The Choices for Care Waiver is available to residents of Vermont who are aged 65 and over, meet the financial criteria and require a nursing-home level of care.
How to Know if You're Eligible for Medicaid in Vermont
Financial eligibility for Medicaid depends on financial need, so applicants must be able to successfully show that they are within the required income limits. Income limits are set by the state rather than federally mandated. Eligible recipients must also be able to demonstrate that their assets are not above a certain limit. The annual income limit for single applicants for the Choices for Care Waiver in Vermont is $30,276, while the asset limit is $2,000. Both of those limits double in two-person households to 60,552 per year and $4,000 in assets.
2022 Medicaid Income Limits for Seniors in Vermont
Income Limits*
Asset Limits
*per year
Applicants for Medicaid in Vermont must also meet the following basic requirements. Residents must:
be a U.S. citizen, legal immigrant or legal resident status
be a resident of Vermont
be age 65 or over
require a nursing home level of care
How to Apply for Medicaid in Vermont
The most convenient way for most people to apply for Medicaid in Vermont is through the state's online portal at VermontHealthConnect.gov. Applicants can also call (855) 899-9600 to apply by telephone or download an application on the state's website and mail it to Vermont Health Connect's central processing center. Applicants can also get help from a certified assister and mail a completed paper application to:

Vermont Health Connect
Application and Document Processing Center,
280 State Drive
Waterbury, VT 05671-8100
What Information You Will Need
Having your documentation in order makes the Medicaid application process go far more smoothly. You'll need identifying information such as a driver's license, passport or state identification card, proof of income, such as pay stubs, Social Security stubs, tax returns and bank statements. You will also need documentation of any insurance that you carry.
How to Get Help Applying for Medicaid
Does Medicare Cover In-Home Care in Vermont?
In general, Medicare does not cover the cost of non-medical home care. That being said, there are situations in which Medicare provides some coverage for medical home care, referred to as "Home Healthcare." There are several eligibility restrictions for coverage, including that individuals must be homebound and have a referral from their doctor specifically for home healthcare services.
Below is an overview of some of the skilled medical professionals whose in-home services are typically covered by Medicare – for more in-depth information, refer to our Guide to Home Healthcare.
Physical Therapists: Physical therapy is used to help patients recover from injuries (broken bones, knee injuries, etc.), treat ongoing conditions such as arthritis, and assist in recovery from surgeries and procedures such as a knee or hip replacement.
Visiting Nurses: Licensed nurses can provide a number of medical services for those who don't need to stay in the hospital, but do need regular medical services such as wound care, changing feeding tubes, etc.
Occupational Therapists: Occupational therapists help seniors regain or maintain the ability to accomplish normal, daily tasks, such as bathing, dressing, eating, and other daily activities.
Speech Therapists: Speech therapists help seniors who are struggling to adequately communicate due to a stroke, dementia, or any other cause regain the ability to functionally communicate using a variety of means. Additionally, speech therapists help to keep seniors independent by modifying diets, teaching special techniques to swallow safely, and retraining associated muscles.
As mentioned above, in-home care is distinctly different from home healthcare. But, there can be some overlap in services between the two types of care. So, while Medicare doesn't cover non-medical in-home care, there are in-home care services that may be covered in special circumstances when they're provided in conjunction with home healthcare (such as an occupational therapist helping with eating or dressing)
Other Financial Assistance Options for In-Home Care in Vermont
While the above programs help many people finance in-home care, they will not cover all costs for everyone. There are other ways to pay for in-home care, including out-of-pocket arrangements with siblings, annuities, reverse mortgages, private insurance and more. Read Caring.com's Guide to In-Home Care Costs to learn more about these alternative payment options.
Free and Low-Cost Resources for Seniors in Vermont
Seniors who choose to age in place typically do so to remain in a familiar environment and retain community connections and relationships with family and friends. Aging in place has specific challenges, however, such as finding and accessing community supports, home modifications to accommodate mobility issues and keeping home interiors warm and comfortable without experiencing soaring utility bills. The following chart features some of the resources available to Vermont seniors that address these challenges.
COVID-19 Rules for In-Home Care Providers in Vermont
In Vermont, home care providers are expected to comply with all state and federal rules and regulations regarding COVID-19 vaccinations, the use of personal protective equipment, and other precautions. Medicaid and Medicare home care providers are required by federal law to be current on COVID-19 vaccinations by March 15, 2022. Vermont residents may file for exemptions due to qualifying medical conditions or deeply held spiritual beliefs. Individual employers also have the legal right to enact stricter requirements, but they may not supersede state or federal regulations. Because new regulations could be issued at any time, in-home care providers are encouraged to check with reputable sources such as their local Area Agency on Aging on a regular basis.
In-Home Care Laws and Regulations in Vermont
The Division of Licensing and Protection of the Department of Disabilities, Aging and Independent Living program regulates home care in Vermont. Both in-home and home health care are covered by the same regulations and provided by home health agencies. The table below offers insight into Vermont's state rules and regulations.
In-Home Care Laws and Regulations in Vermont
Scope of Care
Home health agencies may provide assistance with activities of daily living, homemaking services and companion care. They also provide medically necessary, intermittent skilled health services and hospice care.
Care Plan Requirements
Home health agencies must develop a plan of care that is person-centered and understandable to a layperson. Patients have a right to be involved in the care planning process. Agencies must also respond in a timely manner to any request regarding a care plan, including changes in service.
Medication Management Requirements
There are no specific regulations covering medication management services for home health agencies in Vermont.
Staff Screening Requirements
Home health agencies must conduct background checks on all employees and contractors and may not hire anyone who has a substantiated record of abuse, neglect or exploitation of a child or vulnerable adult.
Staff Training Requirements
Staff must be qualified for the role they are performing. Medically necessary skilled services must be offered directly by, or under the supervision of, skilled nursing or rehabilitation personnel. Unlicensed services, such as personal care and homemaking, may be provided by unlicensed caregivers. The home health agency is responsible for ensuring these caregivers are fully trained and appropriately supervised.
Medicaid Coverage
The Global Commitment to Health and Attendant Services Program waivers will cover some or all of the cost of in-home care for those who qualify.
Reporting Abuse
Abuse should be reported to the office of the long-term care ombudsman, which is administered by Vermont Legal Aid. Their contact number is 1-800-889-2047.
Frequently Asked Questions
How much does in-home care cost in Vermont?
In-home care in Vermont costs an average of $5,196 each month, according to Genworth Financial's 2019 Cost of Care Survey. These services are also called homemaker services. Seniors looking for skilled nursing services may wish to explore home health care, which also averages $5,196.
Does Vermont Medicaid pay for in-home care?
Vermont's Medicaid program is called Green Mountain Care and it has two programs available to seniors that can help pay for in-home care. These programs, the Global Commitment to Health Waiver and the Attendant Services Program, offer a range of services based on the needs of the participant. Their self-directed options also have opportunities for seniors to pay friends or family members to act as caregivers.
Are there programs to cover home modifications in Vermont?
The Vermont Center for Independent Living has two programs that can help pay for home modifications. The Home Access Program provides home entry and bathroom modifications and is available to low-income Vermonters who have a disability. The Sue Williams Freedom Fund helps pay for services and equipment to accommodate seniors and people with disabilities to stay in their own homes. Both programs have a waiting list, and staff will work with applicants to find alternative funding to help them get help as quickly as possible. The Global Commitment to Health Waiver may also fund some home modifications.
What Support Can Help Me Age at Home?
Each senior has unique needs, so the type of support they require will differ. Many look for help with homemaking services, such as laundry, cleaning, shopping and gardening. There are also home-delivered meal services for people who have difficulty cooking. For seniors having trouble with activities of daily living, personal care can provide assistance with bathing, grooming, eating and other activities. For seniors who require specific health care, skilled nursing care is available in the home.
What is the difference between in-home care and home health care?
In-home care provides non-clinical help and doesn't offer any professional medical assistance. It can include personal care services, such as grooming and bathroom needs. It also covers a range of other services that help people stay in the home, such as meal preparation, transportation, housekeeping and companionship. Home health care is medical supervision provided by licensed health professionals. It can include physical therapy, health monitoring, wound care and skilled nursing services.
How to Find an In-Home Care Provider in Vermont
Whether you are looking for yourself or a loved one, finding a quality home care provider can be a stressful process. When you hire an in-home care aide you're placing a lot of trust in the hands of the person by inviting them into your home, so you'll want to be diligent in your search. At Caring.com, we're here to help – we've created a helpful checklist below that can help guide you through the process of both determining your needs and finding a home care agency that will provide the best care possible.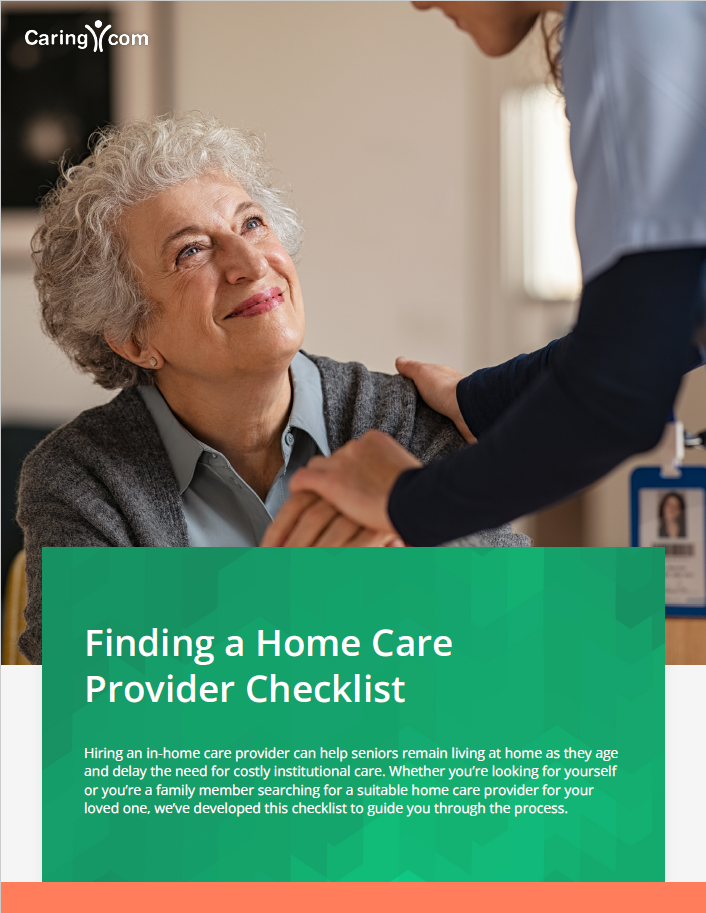 Find Home Care Agencies Near You
To find quality home care providers near you, simply input the zip code or city where you would like to start your search. We have an extensive directory of home care agencies all across the nation that includes in-depth information about each provider and hundreds of thousands of reviews from seniors and their loved ones.
Home Care Services in Vermont (56)