Although Alaska is typically considered an unusual retirement destination, retirees are sometimes drawn to the state because of its low population density, stunning natural beauty and status as one of the most tax-friendly states in the country. Because Alaska doesn't enact a personal income tax, residents don't pay state income tax on Social Security and other retirement benefits. Residents of Alaska who have lived in the state for at least one calendar year are also eligible to apply for the state's Permanent Fund Dividend, which is an annual payout from the state's mineral revenues and investments.
Older adults in Alaska have several options for senior care, including in-home care, home health care, adult day health care, assisted living and nursing homes. In-home care involves nonmedical tasks such as housekeeping and personal care assistance, while home health care includes medical care provided by licensed professionals such as nurses and physical therapists. According to the 2021 Genworth Cost of Care Survey, the average monthly cost for in-home care in Alaska is $5,720.
This guide provides an overview of in-home care in Alaska and includes information on Medicaid and Medicare coverage and costs as well as a list of relevant resources.
The Cost of In-Home Care in Alaska
With an average monthly price tag of $5,720, in-home care in Alaska is $763 more expensive than the national average of $4,957, according to the 2021 Genworth Cost of Care Survey. Monthly costs rise to $6,547 in Washington and $6,006 in Oregon, while costs are slightly lower in Idaho and Montana at $5,434 and $5,339, respectively. n-home care in Alaska is $5,621 per month, based on 44 hours of service weekly. These care costs in Alaska are $1,331 above the national average of $4,290 and significantly higher than prices in three of the four nearest states along the northern border — Idaho, Montana and North Dakota. Only Washington state has higher average in-home costs than Alaska at $5,720 per month.
Within the state of Alaska, in-home health care in both of the state's largest metros, Anchorage and Fairbanks, mirror the overall state average of $5,720. Although Alaska has the largest landmass of all the states in the union, it's among the least populated states, so we had to look outside Alaska's borders to find cost comparisons for other cities. Costs in Seattle and Bellingham are higher than they are in Alaska at $6,769 and $6,483, respectively. The average costs of in-home care rise to $7,146 in Portland, while the western Idaho community of Lewiston is more affordable at $4,576 per month.
With an average monthly cost of $6,830, assisted living is $1,100 more expensive than in-home care in Alaska. The most affordable senior care option in Alaska is adult day health care. At an average of $1,562 per month, adult day health care is $4,158 less expensive than in-home care, while home health care comes with the same average price tag of $5,720 per month as in-home care. The most costly senior care option is nursing home care, which costs an average of $31,512 per month.
Does Medicaid Cover Home Care in Alaska?
Alaska's version of Medicaid, known as DenaliCare, covers some of the costs associated with home care. DenaliCare is administered by the Alaska Department of Health and Social Services Division of Public Assistance. It provides funds for in-home care through the Personal Care Services (PCS) program and the Alaskans Living Independently (ALI) waiver.
DenaliCare directly covers the costs of in-home care in Alaska. Services include assistance with bathing, dressing, basic grooming and household tasks such as cleaning, meal preparation, laundry and errands.
Home Care Waiver Programs in Alaska
The Alaskans Living Independently (ALI) waiver is designed to provide options for those who would prefer to remain in their own home rather than enter assisted living facilities or nursing homes.
Alaskans Living Independently
Those who need a nursing home level of care but would prefer to remain living in their own homes may be able to get assistance through the ALI waiver. Along with assistance paying for personal care and household tasks, this waiver also covers home modification, respite services, adult day care and skilled nursing. This waiver is not an entitlement. Only a certain number of recipients can receive it at any one time, which means there may be a waiting list.
Like the PCS Program, the ALI waiver covers assistance with activities of daily life but may also cover costs of private nursing, home modifications to accommodate mobility challenges, adult day care and respite care.
How to Know if You're Eligible for Medicaid in Alaska
Eligibility for Medicaid is determined by financial need, so applicants must be able to prove that they are at or below a certain income level. As of 2022, the current limit is $18,732 per year and $2,000 in assets for single applicants, while their counterparts in two-person households have an income limit of $27,744 and an asset limit of $3,000.
2022 Medicaid Income Limits for Seniors in Alaska
Income Limits *
Asset Limits
*per year
Additionally, those applying for Medicaid in Alaska need to provide the following documentation:
Proof of Alaska residency
Proof of U.S. citizenship or legal immigration or alien status
Proof of low-income status
How to Apply for Medicaid in Alaska
Alaska residents have several options for applying for Medicaid. They can:
Apply online through the federally facilitated marketplace or My.Alaska.gov.
Call 800-478-7778 (TDD/Alaska Relay: 711) to apply by telephone
Download an application from the Department of Health and Social Service's website, print it out, and mail or hand-deliver it to the closest Senior and Disabilities Services office.
What Information You Will Need
Applicants for Medicaid in Alaska need to provide information about their financial status, such as pay stubs, pension or other retirement income such as Social Security, bank statements, tax returns and receipts for recent medical costs. You may also need copies of existing life and health insurance policies.
How to Get Help Applying for Medicaid
Medicaid has strict income and asset guidelines, and the application process can be difficult for some to navigate. Alaska residents who need help applying for Medicaid can reach out to the following resources.
Does Medicare Cover In-Home Care in Alaska?
In general, Medicare does not cover the cost of non-medical home care. That being said, there are situations in which Medicare provides some coverage for medical home care, referred to as "Home Healthcare." There are several eligibility restrictions for coverage, including that individuals must be homebound and have a referral from their doctor specifically for home healthcare services.
Below is an overview of some of the skilled medical professionals whose in-home services are typically covered by Medicare – for more in-depth information, refer to our Guide to Home Healthcare.
Physical Therapists: Physical therapy is used to help patients recover from injuries (broken bones, knee injuries, etc.), treat ongoing conditions such as arthritis, and assist in recovery from surgeries and procedures such as a knee or hip replacement.
Visiting Nurses: Licensed nurses can provide a number of medical services for those who don't need to stay in the hospital, but do need regular medical services such as wound care, changing feeding tubes, etc.
Occupational Therapists: Occupational therapists help seniors regain or maintain the ability to accomplish normal, daily tasks, such as bathing, dressing, eating, and other daily activities.
Speech Therapists: Speech therapists help seniors who are struggling to adequately communicate due to a stroke, dementia, or any other cause regain the ability to functionally communicate using a variety of means. Additionally, speech therapists help to keep seniors independent by modifying diets, teaching special techniques to swallow safely, and retraining associated muscles.
As mentioned above, in-home care is distinctly different from home healthcare. But, there can be some overlap in services between the two types of care. So, while Medicare doesn't cover non-medical in-home care, there are in-home care services that may be covered in special circumstances when they're provided in conjunction with home healthcare (such as an occupational therapist helping with eating or dressing)
Other Financial Assistance Options for In-Home Care in Alaska
While the above programs help many people finance in-home care, they will not cover all costs for everyone. There are other ways to pay for in-home care, including out-of-pocket arrangements with siblings, annuities, reverse mortgages, private insurance and more. Read Caring.com's Guide to In-Home Care Costs to learn more about these alternative payment options.
Free and Low-Cost Resources for Seniors in Alaska
Aging in place has many benefits for Alaska seniors, including remaining connected with family and friends and living in a familiar environment. However, seniors sometimes struggle with household tasks, personal care and other aspects of aging in place such as home modification, applying for Medicare and avoiding fraudulent schemes. The following resources help Alaska seniors remain independent and enjoy a good quality of life.
COVID-19 Rules for In-Home Care Providers in Alaska
In-home care workers in Alaska must comply with federal vaccination mandates. Those with sincerely held religious beliefs regarding vaccinations may file for an exemption. Companies have the right to require employees to be current on all vaccinations, including those for COVID-19.
Alaska's most recent guidelines for in-home care workers were issued in June 2021. Recommendations include using personal protective equipment, taking your temperature prior to each shift and not entering the home of a client if your temperature is 100 degrees F or over or if you are coughing, are short of breath or otherwise suspect that you may have contracted COVID-19. Hand sanitizer, frequent handwashing and washing clothing after each shift are also recommended.
Note: This section is current as of April 2022, but since COVID-19 rules may change, contact your local Area Agency on Aging for up-to-date information.
In-Home Care Laws and Regulations in Alaska
Alaska's 17 state-licensed and federally certified Home Health Agencies are required to comply with state-mandated health facilities certification and licensing standards. In-home caregivers who deliver services through one of these 17 agencies are covered by these regulations, while private-pay providers are unregulated in the state.
In-Home Care Laws and Regulations in Alaska
Scope of Care
Home care providers can offer non-medical services, including assistance with personal care, housekeeping, meal preparation, companionship and help with errands.
Care Plan Requirements
Private pay providers are not required to maintain care plans for clients. Providers who are funded through Medicaid waivers must develop and maintain individual care plans for clients that detail service delivery, service goals and hours of care provided each week.
Medication Management Requirements
In-home caregivers can provide medication reminders and assist with self-administration, but they cannot dispense or administer medications unless they hold a valid medical license or registration.
Staff Screening Requirements
Direct service providers and agency administrators must successfully pass a state criminal record check.
Staff Training Requirements
Agencies are free to set their own staff training requirements in accordance with a client's needs.
Medicaid Coverage
The Alaska Independent Living Medicaid Waiver and the Community First Choice Personal Care Services Program includes coverage for in-home care.
Reporting Abuse
Anyone who witnesses or suspects abuse, neglect or exploitation of an elder should contact local law enforcement or file a report within 24 hours by calling Adult Protective Services at (800) 478-9996. By law, caregivers must report all incidents of neglect, self-harm or abandonment of vulnerable seniors.
Frequently Asked Questions
How Much Does In-Home Care Cost in Alaska?
According to the Genworth 2019 Cost of Care Survey, the average cost of 44 hours per week of in-home care in Alaska is $5,621 per month. Actual costs vary depending on location and may be higher or lower than the state average. Homemaker costs in Alaska's most populous city, Anchorage, average $5,711 per month, while further north in Fairbanks, fees are $754 less at $4,957 per month.
Are There Programs to Cover Home Modifications in Alaska?
Yes. The Senior Access Program provides up to $15,000 towards medically necessary home modifications for Alaska seniors aged 55 and older who own their homes, and up to $10,000 for those who reside in a rental unit. To qualify, applicants must first exhaust all other funding sources, have an annual household income at or below 100% of the area median household income and have documentation from a medical professional or caseworker verifying the need for home modifications. The Alaskans Living Independently Medicaid Waiver also funds home modifications for seniors and adults with disabilities.
What Types of Services Does a Home Care Aide Provide?
Home care aides, also known as homemakers, provide non-medical care to seniors and adults living with disabilities. These care services can include assistance with personal hygiene, light housekeeping, laundry and meal preparation, pet care, and help with grocery shopping. Some homemakers may also run errands, assist with scheduling medical appointments and accompany clients on walks and shopping trips.
What Support Can Help Me Age at Home?
Many seniors are able to safely age at home with assistance from family members, friends and caregivers. This support may include help with physically demanding tasks, such as doing laundry and housekeeping, shopping for groceries and maintaining a lawn and garden. Some older adults also benefit from assistance with personal care, such as bathing, getting dressed and grooming.
What Are "Activities of Daily Living"
Activities of daily living, often referred to as ADLs, are the daily tasks everyone needs to perform in order to maintain a basic level of health and personal hygiene. These activities include using the toilet, getting dressed, bathing and grooming and moving around one's home.
How to Find an In-Home Care Provider in Alaska
Whether you are looking for yourself or a loved one, finding a quality home care provider can be a stressful process. When you hire an in-home care aide you're placing a lot of trust in the hands of the person by inviting them into your home, so you'll want to be diligent in your search. At Caring.com, we're here to help – we've created a helpful checklist below that can help guide you through the process of both determining your needs and finding a home care agency that will provide the best care possible.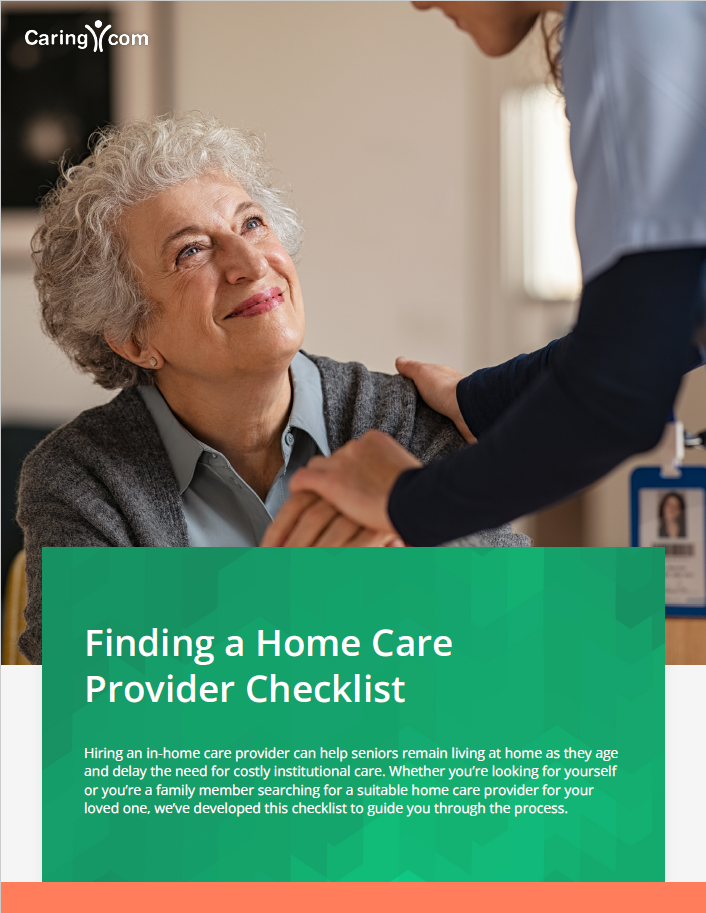 Find Home Care Agencies Near You
To find quality home care providers near you, simply input the zip code or city where you would like to start your search. We have an extensive directory of home care agencies all across the nation that includes in-depth information about each provider and hundreds of thousands of reviews from seniors and their loved ones.