In-Home Care in Washington
Beautiful scenery, mild weather, world-class health care and friendly tax policies are just some of the reasons seniors are drawn to the state of Washington. According to the 2020 U.S. Census, more than 1.23 million people in Washington are aged 65 and older, which is double the number from 1980. This number is expected to grow to 1.86 million seniors by 2040. As the population ages, the need for great health care, such as the University of Washington Medical Center, and quality home care options will also increase.
In Washington, the average cost is $6,547 for in-home care and $6,578 per month for home health care. The light medical services provided by home health care explain the small price difference. These rates account for 40 hours of service per week.
This guide compares the cost of home care in Washington with nearby states, between cities within the state and against other types of senior care available. It also covers the resources that are available to seniors who want to age in place.
The Cost of In-Home Care in Washington
The Genworth Cost of Care Survey for 2021 shows that the average cost of home care in Washington is $6,547, which is about $1,600 more per month than the national average of $4,957. Idaho at $5,434 and Montana at $5,339 per month are both more than $1,000 less expensive per month. At $6,006 per month, Oregon has the closest average to Washington, but it is still about $500 less per month.
Among the major cities in Washington, there is a range of home care costs from $5,911 per month in Wenatchee to $7,245 per month in Mount Vernon. Olympia, the state capital, which costs $6,673 per month, is closest to the state average. Seattle at $6,769 per month is just slightly more expensive. Spokane in the eastern part of the state has a median price of $6,387. Longview in the south has an average rate of $6,054 per month. Finally, Yakima costs $5,958 per month, which is below the state average.
The median price for in-home care in Washington is $6,547 per month. The average rate for home health care is $6,578. The only more expensive type of senior care is a nursing home, which has an average price of $9,249 per month. Adult Day Health Care is the most affordable option for seniors who just need some supervision and care during daytime hours. Assisted living communities in Washington have an average price of $6,000 per month.
Does Medicaid Cover Home Care in Washington?
Washington's Medicaid system, known as Apple Health, can pay for home care services within its managed care program and through a waiver program. If you are covered under Washington Apple Health Classic Medicaid coverage, you may be eligible for Health Home, which provides comprehensive care management, transition planning, individual and family support services, community referrals and health education. A coordinator will create a Health Action Plan that accounts for your health care and long-term support needs. To qualify, you'll need to be eligible for Medicaid and have a qualifying chronic condition, such as cancer, respiratory disease, dementia and other physical and mental conditions.
Long-term services and supports coordinated by Health Home are delivered within guidelines for the Medicaid Personal Care (MPC) program and Tailored Supports for Older Adults (TSOA) program. Services include everything from homemaking and personal errand running to skilled nursing and therapy.
Home Care Waiver Programs in Washington
New Freedom Waiver
The New Freedom Waiver is a program that lets seniors at home direct their own care and manage their service budget. Each participant is given a spending plan and budget based on their assessed needs and preferences. A care coordinator will decide if you remain eligible for the program on an annual basis. Financial management consultants can help ensure you spend your program dollars wisely. You can use the funds from New Freedom to pay for:
Personal Assistance Services: Activities of daily living, health-related tasks, homemaking and transportation.
Treatment and Health Maintenance: Specialized therapies, health prevention and therapeutic massage.
Participant Directed Goods, Services and Supports: Assistive technology, environmental supports, home-delivered meals, home repairs, durable medical equipment and trained service animals
Environment and Vehicle Modifications: Ramps, grab bars, widened doorways, accessible bathrooms, fire safety adaptations and specialized electrical and plumbing systems.
Training and Education Services: Caregiver training in areas related to the needs of the beneficiary.
This program is currently limited to seniors living in King and Pierce Counties. You can apply by contacting your local Home & Community Services office. The numbers are 206-341-7750 for King County and 253-476-7200 for Pierce County.
How to Know if You're Eligible for Medicaid in Washington
To qualify for home care service under Medicaid in Washington, you'll need to meet the income requirements. As a single applicant, you may not earn more than $10,092 per year and not have more than $2,000 in assets. Couples may not earn more than $15,132 per year and own more than $3,000 in assets. In most cases, your home does not count as an asset.
2022 Medicaid Income Limits for Seniors in Washington
Income Limits*
Asset Limits
*Per Year
If you meet the income requirements, Medicaid also requires you to be:
65 or older or Medicare eligible
A U.S. citizen or documented resident
A resident of Washington
How to Apply for Medicaid in Washington
The quickest way to apply for Medicaid in Washington is to use the online application system at washingtonconnection.org or the WAPlanfinder app. Apply over the phone by calling the Washington Healthplanfinder Customer Support Center at 855-923-4633. You can also print and fill out an application then mail it to DSHS or fax it to 888-338-7410. You can also take your filled-out application to your local Community Services Office (CSO).
What Information You Will Need
To complete an application for Washington Medicaid, you will need to provide:
Social security numbers
Immigration status
Birthdates
Income information
Asset information, such as bank statements, trusts, deeds and retirement accounts
How to Get Help Applying for Medicaid
If you're unable to apply for Medicaid on your own for any reason, the following organizations may be able to help. Assistance is available in a variety of languages and mediums. 
Does Medicare Cover In-Home Care in Washington?
In general, Medicare does not cover the cost of non-medical home care. That being said, there are situations in which Medicare provides some coverage for medical home care, referred to as "Home Healthcare." There are several eligibility restrictions for coverage, including that individuals must be homebound and have a referral from their doctor specifically for home healthcare services.
Below is an overview of some of the skilled medical professionals whose in-home services are typically covered by Medicare – for more in-depth information, refer to our Guide to Home Healthcare.
Physical Therapists: Physical therapy is used to help patients recover from injuries (broken bones, knee injuries, etc.), treat ongoing conditions such as arthritis, and assist in recovery from surgeries and procedures such as a knee or hip replacement.
Visiting Nurses: Licensed nurses can provide a number of medical services for those who don't need to stay in the hospital, but do need regular medical services such as wound care, changing feeding tubes, etc.
Occupational Therapists: Occupational therapists help seniors regain or maintain the ability to accomplish normal, daily tasks, such as bathing, dressing, eating, and other daily activities.
Speech Therapists: Speech therapists help seniors who are struggling to adequately communicate due to a stroke, dementia, or any other cause regain the ability to functionally communicate using a variety of means. Additionally, speech therapists help to keep seniors independent by modifying diets, teaching special techniques to swallow safely, and retraining associated muscles.
As mentioned above, in-home care is distinctly different from home healthcare. But, there can be some overlap in services between the two types of care. So, while Medicare doesn't cover non-medical in-home care, there are in-home care services that may be covered in special circumstances when they're provided in conjunction with home healthcare (such as an occupational therapist helping with eating or dressing)
Other Financial Assistance Options for In-Home Care in Washington
While the above programs help many people finance in-home care, they will not cover all costs for everyone. There are other ways to pay for in-home care, including out-of-pocket arrangements with siblings, annuities, reverse mortgages, private insurance and more. Read Caring.com's Guide to In-Home Care Costs to learn more about these alternative payment options.
Free and Low-Cost Resources for Seniors in Washington
The following free and low-cost resources can make it easier and more affordable to age in place at home. Services are provided by public and private organizations.
COVID-19 Rules for In-Home Care Providers in Washington
In order to protect seniors at home from the COVID-19 pandemic, the CDC mandates that home health care workers in Washington state must be vaccinated against the SARS-COV-2 virus. As of April 2022, this mandate is still in effect in Washington, but this may change at a later date. Contact your local AAA or health agency to learn if your area is still mandating vaccination. You may also want to ask if there are other protection measures in place for home care workers in your community, such as wearing a mask or other PPE. Home care agencies may have their own special rules or guidelines.
In-Home Care Laws and Regulations in Washington
The Washington State Department of Health is responsible for licensing home care agencies that provide nonmedical services to seniors. The DOH also conducts on-site, unannounced surveys periodically to ensure licensed agencies are operating according to state rules and requirements. The following table provides an overview of the rules and regulations governing Washington home care agencies.
In-Home Care Laws and Regulations in Washington
Scope of Care
Home care agencies in Washington may provide various nonmedical services to clients. These include assistance with personal hygiene, dressing, toileting, ambulation, transferring and eating. Home care aides may also perform household chores and essential shopping tasks, prepare meals, accompany clients to medical appointments and provide respite support to family caregivers.
Care Plan Requirements
A credentialed agency employee must develop a written care plan to be approved by the client, based on an on-site assessment and discussion. The plan must include the client's nutritional needs/food allergies, functional limitations and the specific nonmedical services an HCA will provide and how often. The plan must be updated after any change in the client's condition or needs and every 12 months at minimum.
Medication Management Requirements
Home care aides may provide reminders about taking medication, and may even hand a medication to a client, as long as the senior is fully aware of what they are doing.
Staff Screening Requirements
Individuals who are already certified as home care aides must have a fingerprint background check completed by the DSHS when applying for work with a home care agency.
Staff Training Requirements
Before individuals can begin work as home care aides, they must complete a 75-hour DSHS-approved training program and pass the HCA certification exam. Twelve hours of continuing education must be completed annually for a worker to maintain their certification.
Reporting Abuse
Suspected neglect, exploitation or abuse of a vulnerable Washington resident aged 60 or older may be reported to Adult Protective Services online via the agency's
central intake form
or by calling 877-734-6277.
Frequently Asked Questions
Are There Programs to Cover Home Modifications in Washington?
Does Washington Medicaid Pay for In-Home Care?
How Much Does In-Home Care Cost in Washington?
According to the Genworth Cost of Care Survey 2019, home care in Washington costs an average of $5,720 on a monthly basis. This is over $1,400 higher than the national median cost, but $95 less per month than home health care services.
What Support Can Help Me Age at Home?
There are various forms of support available. Home care aides offer help with daily personal care, medication reminders and household tasks. Home health aides may provide wound care and administer medications or injections. Intermittent skilled nursing care and speech, physical and occupational therapies may also be provided in-home.
What Types of Services Does a Home Care Aide Provide?
Home care aides can assist with daily living activities, such as bathing, dressing, grooming and self-administering medications. They can also perform basic housekeeping tasks, prepare meals, provide transportation and accompany clients to medical appointments and for errands.
How to Find an In-Home Care Provider in Washington
Whether you are looking for yourself or a loved one, finding a quality home care provider can be a stressful process. When you hire an in-home care aide you're placing a lot of trust in the hands of the person by inviting them into your home, so you'll want to be diligent in your search. At Caring.com, we're here to help – we've created a helpful checklist below that can help guide you through the process of both determining your needs and finding a home care agency that will provide the best care possible.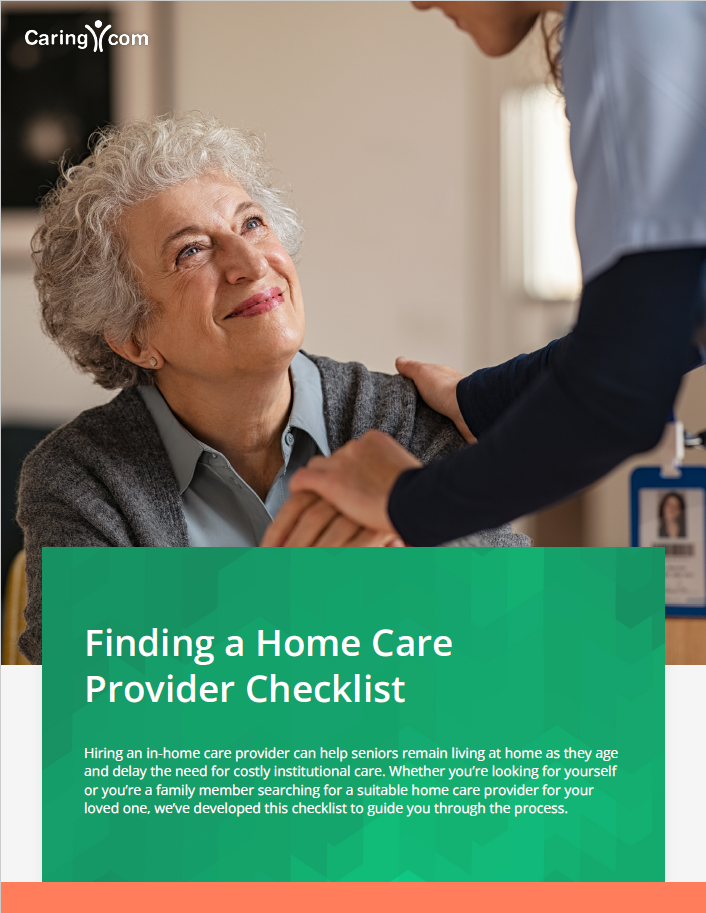 Find Home Care Agencies Near You
To find quality home care providers near you, simply input the zip code or city where you would like to start your search. We have an extensive directory of home care agencies all across the nation that includes in-depth information about each provider and hundreds of thousands of reviews from seniors and their loved ones.
Home Care Services in Washington (233)