The 10 Best In Home Care Service in Spokane, WA for 2023
Spokane is home to almost 230,000 people. Seniors make up approximately 15.7% of the local population, slightly lower than the state and national averages. The lower-than-average living costs and lack of state income tax may appeal to budget-conscious seniors. The city offers a wealth of amenities and attractions, and Spokane International Airport makes it easy for out-of-town family and friends to visit. Per Genworth's Cost of Care Survey 2021, home care costs an average of $6,387 per month in Spokane. Home care includes assistance with day-to-day activities and, unlike home health care, doesn't include medical services. However, residents have access to affordable health care, and the area has more physicians per capita than the national average. Spokane's hospitals include Providence's Sacred Heart Medical Center and Holy Family Hospital and MultiCare Deaconess Hospital.
Below we've compiled a comprehensive directory of every home care provider in the Spokane area – complete with services offered and reviews from families who've actually used the service. In addition to our in-depth provider listings, we've compiled resources to help seniors and their families to access all the tools they need to age in place safely and gracefully.
Paying for Home Care in Spokane, WA
The Cost of Home Care in Spokane, WA
Costing $6,387 per month, Spokane's average rate for home care is higher than the national norm of $4,957. However, it's lower than the Washington average of $6,547. West in Wenatchee, the median monthly rate falls to $5,911. Farther west, Seattle's seniors pay almost $400 more than their peers in Spokane. South of Spokane, in Walla Walla, in-home care costs around $6,149 each month. Approximately 34 miles east in Coeur d'Alene, Idaho, the median monthly fee decreases further to $5,815.
The Cost of Home Care vs. Other Senior Care Options in Spokane, WA
At $6,387 per month, home care is slightly more affordable than home health care, which costs around $6,483 and includes medical care from registered nurses or therapists. Adult day health care is the most affordable care option; at around $1,625 per month, it's more than $4,500 cheaper than home care. Assisted living is also more affordable, at $4,888. Nursing homes provide the highest levels of senior care and charge an average of $9,429 for a semi-private room, more than $3,000 pricier than in-home care.
Nursing Home Facility (semiprivate room)
Financial Assistance for Home Care in Spokane, WA
Given the high cost of in-home care, many people use one or more forms of financial assistance to cover the expenses. Below, we explain some of the most common sources of financial help for paying for in-home care. If none of these options are available to you, you can reach out to your Area Agency on Aging or Aging and Disability Resource Center to learn about local resources.
Free & Low-Cost Home Care Resources in Spokane, WA
Spokane's older population can take advantage of a wide range of free and affordable resources geared toward helping them age at home. Supportive services include assistance with weatherization, home modifications, transportation, social engagement and financial advice. The following agencies can provide further information.
Determining Your Loved One's Need for In-Home Care
Aging can be a difficult process, and loved ones may not always ask for help – oftentimes it's up to their family to evaluate their need for help around the house. While no two situations are exactly alike, this checklist can help you and your loved ones determine when it's time to start the search for a home care provider.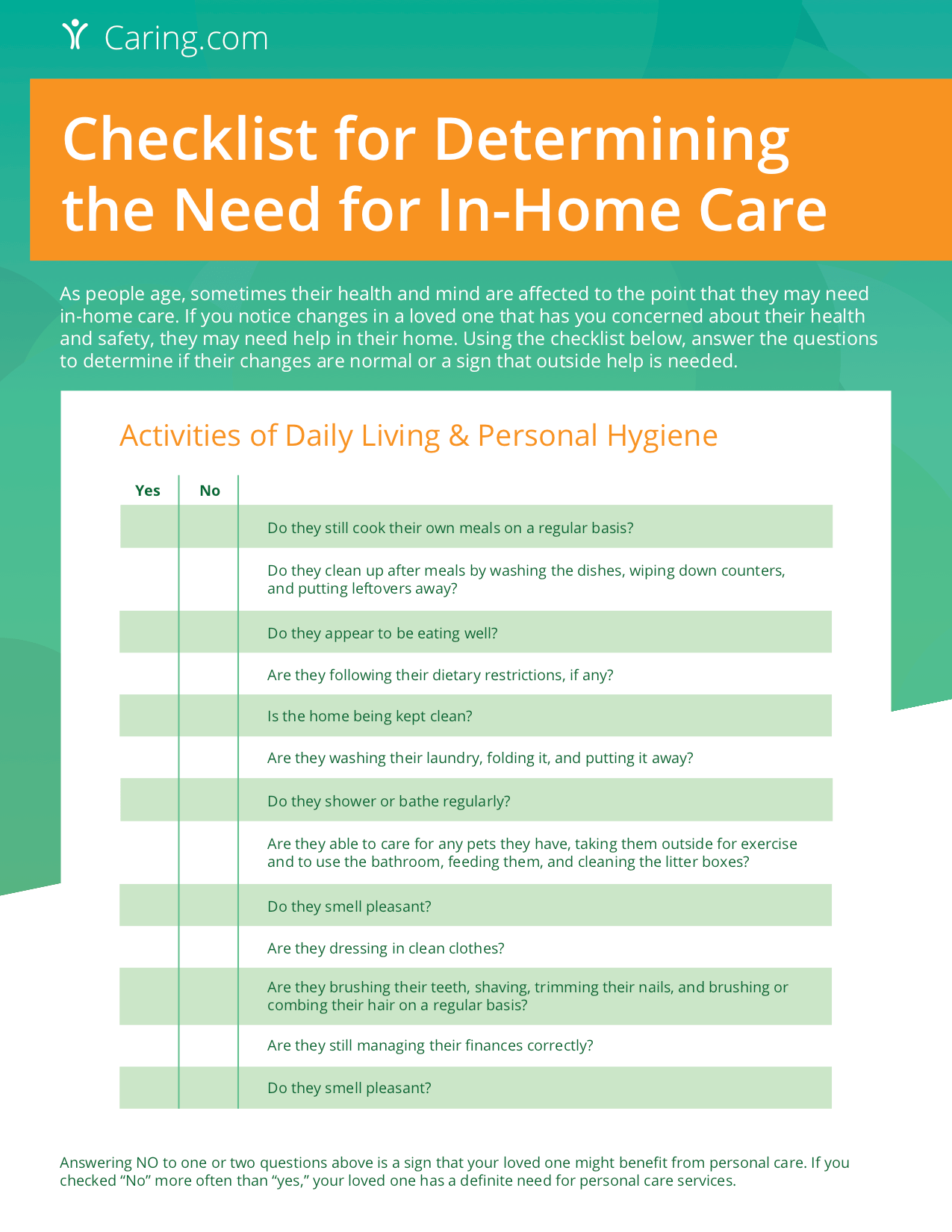 Guidelines for Talking About In-Home Care
If you've determined that your loved one needs the assistance of a care provider in their home, it may be time for a difficult conversation. Handled correctly, however, this process can bring a family together and ensure that everyone's concerns are addressed. Use this PDF as a starting point to help the conversation stay as positive and productive as possible.
Frequently Asked Questions
What types of services can a home care agency in Spokane provide?

A Spokane home care agency can provide a wide range of services tailored to meet a recipient's needs and requirements. Trained aides complete tasks as detailed in an individual's personalized home care plan. Some people may need diverse supportive in-home services every day, while others may only require a few hours of assistance each week. Home care aides generally help seniors with personal care tasks, such as bathing, grooming, dressing and toileting, as well as with everyday activities, such as meal preparation, eating and transferring. Home care services can also include light housekeeping, laundry, transportation, grocery shopping and companionship.      

What is the difference between in-home care and home health care?

Home care aides can't provide any medical services beyond reminding seniors to take medication. In-home care supports those living at home with everyday activities. Home health care provides clinical and therapeutic support personalized to meet an individual's medical needs. Services are typically performed by a certified nursing assistant (CNA), registered nurse (RN) or rehabilitation specialist, such as a physical, occupational, speech or nutritional therapist. Nursing services may include IV therapy, wound care, medication administration and health monitoring.

What is the average cost for in-home elderly care in Spokane?

In Spokane, seniors pay an average of $6,387 each month for 44 hours of weekly in-home care. Individuals who require fewer hours of care will pay less. For example, the median monthly rate for 7 hours per week, or 1 hour per day, is $1,016. This equates to around $33.50 per hour. Around-the-clock home care, or 168 hours per week, would cost an average of $24,387. However, those needing constant assistance will likely find assisted living a more practical and affordable arrangement.  

Who pays for cleaning supplies in home care?

While in-home aides may assist with shopping and domestic tasks, the recipient of home care services typically pays for all cleaning supplies for their home. These may include bleach, disinfectant, floor cleaner, dishwashing detergent and laundry detergent and softener. Where care plans include housekeeping and laundry, agency staff members usually use the senior's equipment and machinery, such as their washing machine, vacuum cleaner, broom, mop and dishcloths. Similarly, in-home aides may assist seniors with personal care, such as bathing and grooming, but individuals should supply their own toiletries, towels, razors, combs and similar.     

What is in-home respite care?

Sometimes, older people receive their necessary care and support from family or friends. They may live with their usual caregiver or their private caregiver, such as an adult child or sibling, may visit them in their independent home to provide assistance. At times, caregivers may not be able to provide their usual care, for example because of illness, work commitments, vacations and similar. In-home respite care refers to care provided by a temporary source to give the regular caregiver a break while making sure the older adult obtains the consistent care that they need.