With more than 309,000 seniors aged 65 and older living in Idaho, safe, reliable long-term care options are crucial in the state. Thankfully, the state is incredibly safe when compared with much of the continental U.S. On a scale of one to 100, Idaho's violent crime rate is just 15.2, and the property crime rate is 26. In contrast, the national medians are 22.7 for violent crime and 35.4 for property crime. Health costs here are 5.9% below the national average, and several top hospitals, including St. Luke's Regional Medical Center, are located within the state.
Seniors who need help while living at home can access in-home care or home health care services from one of the state's home care agencies. While home care provides personal care and chore assistance, home health care provides similar services with the addition of light medical care provided by a licensed professional. In Idaho, the average cost of in-home care is $5,434 per month.
This guide compares the cost of home care services in Idaho to rates in nearby states. It also includes options for paying for care and a list of free and low-cost resources that serve Idaho seniors.
The Cost of In-Home Care in Idaho
According to the Genworth 2021 Cost of Care Survey, seniors in Idaho pay an average of $5,434 per month for home care, which is $191 above the U.S. average. This cost is also the lowest among states in the immediate area. In Oregon, seniors pay an average of $6,006 per month for home care, while those in Washington pay an even higher rate of $6,547 per month. In Montana, costs are slightly closer to Idaho's rates at $5,339 monthly. Average rates in Wyoming are a little higher at $5,529 per month.
Throughout the state, the cost of home care varies depending on the location, as well as the services provided by home care agencies. In Boise and Idaho Falls, seniors pay an average of $5,720 for home care services. Pocatello is less expensive at $5,339 per month, while seniors in Twin Falls pay the lowest rates in the state at $4,767 per month.
In-home care and home health care cost an average of $5,434 per month in Idaho. While these costs are less than nursing home care, which is $9,125 monthly, it's important for seniors to factor in the additional expenses that come with living at home, including rent or mortgage payments, utilities and general upkeep. Assisted living provides a more affordable option at $3,838 per month and offers residential care along with 24-hour assistance. Adult day health care is the most affordable senior care option in Idaho at $2,167 per month.
Does Medicaid Cover Home Care in Idaho?
Idaho's Medicaid program doesn't cover home care services for seniors as part of its standard coverage; however, those who qualify can apply for one of two waiver programs that expand coverage to provide in-home care. These programs are called the Aged and Disabled Waiver and the Medicare Medicaid Coordinated Plan.
Home Care Waiver Programs in Idaho
Aged and Disabled Waiver
The Aged and Disabled Waiver is a home and community-based services waiver that allows seniors to receive care without being uprooted from their homes or communities. This waiver may also provide transitional services for those moving out of nursing care or other residential facilities and back into their own homes. Services it provides include case management, home care, home health care, personal care and respite care.
To qualify, seniors must be financially eligible for Medicaid and a physician or registered nurse must assess that they require a nursing home level of care.
Seniors can apply by contacting their local Area Agency on Aging.
Medicare Medicaid Coordinated Plan
Seniors who are dually eligible for Medicare and Medicaid may choose to participate in the Medicare Medicaid Coordinated Plan. This plan combines benefits from both agencies into a single plan, helping participants access broader benefits, including those that cover home care services.
This program is only open to dually eligible adults.
To enroll, seniors can contact the Blue Cross of Idaho at (888) 495-2583 or Molina Healthcare of Idaho at (866) 403-8293.
How to Know if You're Eligible for Medicaid in Idaho
To qualify for Idaho Medicaid, seniors are required to meet strict income and asset requirements. Those who live alone may not have an annual income of more than $10,728 or assets exceeding $2,000. Married couples are limited to a household income of $15,372 and $3,000 in countable assets.
2022 Medicaid Income Limits for Seniors in Idaho
Income Limits*
Asset Limits
* per year
In addition to Medicaid's income restrictions, seniors who wish to participate in Medicaid must:
Be at least 65 years of age, blind or legally disabled
Live in Idaho full-time
Be a U.S. citizen or permanent resident
Demonstrate a need for assistance with activities of daily living
Demonstrate a need for health insurance
How to Apply for Medicaid in Idaho
Seniors wishing to apply for Medicaid in Idaho can apply online at idalink or call (800) 926-2588 to start the application process.
What Information You Will Need
Before applying for Medicaid in Idaho, you should gather the following documents and information:
Proof of citizenship or immigration status
Federal tax returns or other proof of income for all household members
Documents detailing any countable assets
Social Security number, if applicable
How to Get Help Applying for Medicaid
Many people struggle to understand eligibility requirements and the application process for Medicaid. Those who need help have resources available to them.
Does Medicare Cover In-Home Care in Idaho?
In general, Medicare does not cover the cost of non-medical home care. That being said, there are situations in which Medicare provides some coverage for medical home care, referred to as "Home Healthcare." There are several eligibility restrictions for coverage, including that individuals must be homebound and have a referral from their doctor specifically for home healthcare services.
Below is an overview of some of the skilled medical professionals whose in-home services are typically covered by Medicare – for more in-depth information, refer to our Guide to Home Healthcare.
Physical Therapists: Physical therapy is used to help patients recover from injuries (broken bones, knee injuries, etc.), treat ongoing conditions such as arthritis, and assist in recovery from surgeries and procedures such as a knee or hip replacement.
Visiting Nurses: Licensed nurses can provide a number of medical services for those who don't need to stay in the hospital, but do need regular medical services such as wound care, changing feeding tubes, etc.
Occupational Therapists: Occupational therapists help seniors regain or maintain the ability to accomplish normal, daily tasks, such as bathing, dressing, eating, and other daily activities.
Speech Therapists: Speech therapists help seniors who are struggling to adequately communicate due to a stroke, dementia, or any other cause regain the ability to functionally communicate using a variety of means. Additionally, speech therapists help to keep seniors independent by modifying diets, teaching special techniques to swallow safely, and retraining associated muscles.
As mentioned above, in-home care is distinctly different from home healthcare. But, there can be some overlap in services between the two types of care. So, while Medicare doesn't cover non-medical in-home care, there are in-home care services that may be covered in special circumstances when they're provided in conjunction with home healthcare (such as an occupational therapist helping with eating or dressing)
Other Financial Assistance Options for In-Home Care in Idaho
While the above programs help many people finance in-home care, they will not cover all costs for everyone. There are other ways to pay for in-home care, including out-of-pocket arrangements with siblings, annuities, reverse mortgages, private insurance and more. Read Caring.com's Guide to In-Home Care Costs to learn more about these alternative payment options.
Free and Low-Cost Resources for Seniors in Idaho
Seniors living at home in Idaho have access to a variety of supportive services and resources that are designed to enhance quality of life while keeping expenditures low.
COVID-19 Rules for In-Home Care Providers in Idaho
Idaho's home care aides and home health aides are required to be fully vaccinated against SARS-CoV-2, which is the virus that causes Covid-19. Mandates went into effect on February 14, 2022, in the state, with enforcement rules coming into play on March 15, 2022. The state also recommends that health care staff and those in patient-facing roles stay up to date with booster shots, per recommendations from the Centers for Disease Control.
As of April 2022, these guidelines were up-to-date; however, as recommendations regarding COVID-19 rules and vaccinations continue to evolve, it's important to follow current guidance provided by local public health agencies.
In some cases, home care agencies may have additional COVID-19 rules in place. You can find out about these rules by reaching out to agencies directly.
In-Home Care Laws and Regulations in Idaho
Although in-home service providers are not required to be licensed in Idaho, caregivers are required to meet the training standards established by the Division of Medicaid, Bureau of Long Term Care. This table highlights state-mandated standards around the services provided by homemakers, as well as training and reporting requirements.
In-Home Care Laws and Regulations in Idaho
Scope of Care
Home care providers may provide a range of nonmedical services, including housekeeping, meal preparation and home maintenance. They can also act as companions, escort seniors to appointments and assist with personal care.
Care Plan Requirements
Seniors who receive in-home care services through a Medicaid waiver must have a comprehensive care plan in place.
Medication Management Requirements
In-home caregivers can provide medication reminders, read prescription labels and pick up medications on behalf of a client. Caregivers cannot administer medications.
Staff Screening Requirements
Agencies that employ homemakers are required to complete a background check on all employees before assigning employees to clients and disqualify any employee or new hire with a history of fraud, assault or abuse of a vulnerable person.
Staff Training Requirements
In-home care agencies must ensure all caregivers have the skills and knowledge needed to safely perform their duties.
Medicaid Coverage
Idaho's Aged and Disabled Medicaid waiver includes in-home care benefits.
Reporting Abuse
Idaho's
Adult Protective Services
division investigates reports of abuse, neglect, self-neglect and financial exploitation of seniors. To file a report with APS, contact the local
Area Agency on Aging
, while immediate safety concerns should be reported to the nearest law enforcement agency.
Frequently Asked Questions
How Much Does In-Home Care Cost in Idaho?
On average, in-home care costs $4,195 per month in Idaho, and that number includes 44 hours of weekly care. Actual costs depend on the location and how many hours of care seniors need each week.
Does Idaho Medicaid Pay for In-Home Care?
Medicaid members in Idaho who need in-home care to delay or prevent placement in a nursing facility may be eligible for in-home services through the Aged and Disabled Medicaid Waiver's Personal Care Services Program.
Are There Transportation Assistance Programs in Idaho?
Yes. There are a number of regional transportation services available to help seniors age in place in Idaho. These services help older adults access health care, nutritional programs, senior centers and adult day health services. Information on regional transportation options for older adults is available through the local Area Agency on Aging.
What Does It Mean to Age in Place?
Aging in place means staying safe and healthy in one's own home, regardless of age. To age in place also means remaining involved in the community and retaining connections with neighbors, friends and family.
What Support Can Help Me Age at Home?
Assistance with home maintenance, housekeeping, laundry and meal preparation can help older adults remain in the comfort of their own homes. Some seniors also benefit from transportation services, home-delivered meals and home modifications to improve accessibility and reduce tripping hazards.
How to Find an In-Home Care Provider in Idaho
Whether you are looking for yourself or a loved one, finding a quality home care provider can be a stressful process. When you hire an in-home care aide you're placing a lot of trust in the hands of the person by inviting them into your home, so you'll want to be diligent in your search. At Caring.com, we're here to help – we've created a helpful checklist below that can help guide you through the process of both determining your needs and finding a home care agency that will provide the best care possible.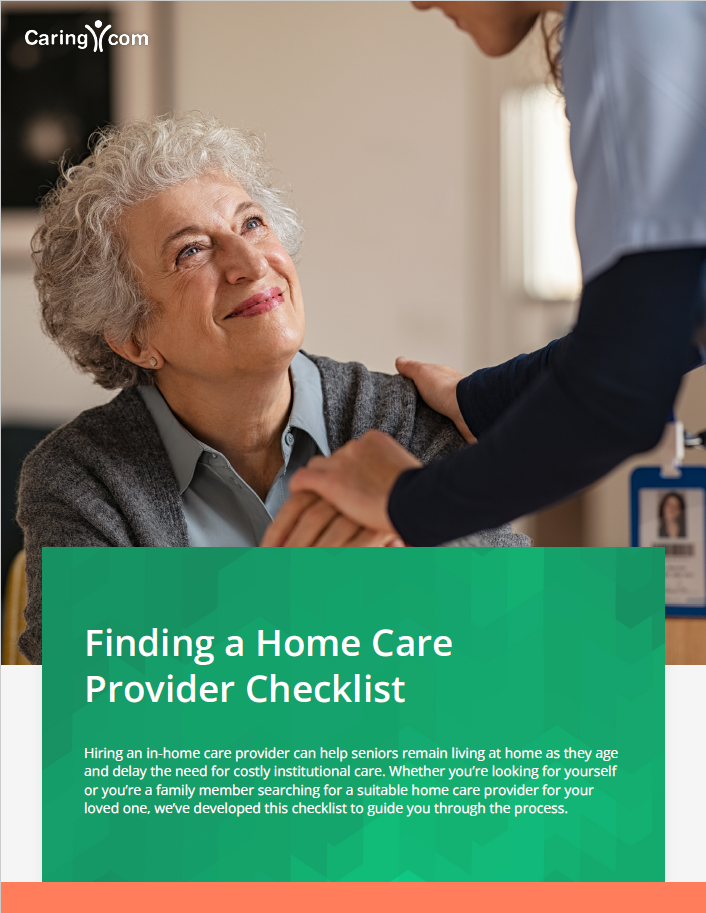 Find Home Care Agencies Near You
To find quality home care providers near you, simply input the zip code or city where you would like to start your search. We have an extensive directory of home care agencies all across the nation that includes in-depth information about each provider and hundreds of thousands of reviews from seniors and their loved ones.
Home Care Services in Idaho (53)