The low cost of living in Arkansas is likely one of the reasons an above-average 17.4% of its residents are aged 65 and older. Houses and transportation are generally more affordable, and health care is less expensive on average. It's a tax-friendly state too because it only partially taxes pension incomes and withdrawals from retirement accounts and doesn't tax Social Security income at all. Health care services may also factor in its appeal, as Arkansas boasts several high-performing hospitals, such as the Washington Regional Medical Center in Fayetteville.
Some people use in-home care and home health care interchangeably, but the two services address quite different needs. In-home care agencies tailor non-medical services for their clients, which may include assisting with personal care, shopping for essentials and light housekeeping. Home health care agencies offer basic medical support from professionals, such as skilled nurses and qualified therapists. Despite the differences, average costs in Arkansas are almost identical, with in-home care fees at around $4,185 per month and home health care at $4,195.
This guide discusses costs in more detail, including support afforded by Medicaid and Medicare. It also lists some useful resources for homebound seniors.
The Cost of In-Home Care in Arkansas
The results of the 2021 Genworth Cost of Care Survey show Arkansas to be $772 per month cheaper for in-home care compared to the $4,957 national median, which makes it one of the most affordable states in the region. Only Louisiana, where costs average $3,623, and Mississippi, where the norm is $3,813, are more competitive. Other neighboring states are considerably costlier, such as Texas, where the average is $4,576 (an annual increase of $4,692 when compared to Arkansas), and Missouri, at $4,767. The region's most expensive state for in-home care is Oklahoma, which, at $4,862 per month, costs its seniors $8,124 more per year than they might pay in Arkansas.
At $3,909 per month, Jonesboro is the most affordable city in Arkansas for in-home care. The difference with Pine Bluff, where costs average $4,004, is slightly less than $100, but that could make a difference to some over the course of the year. The median cost in Fort Smith is $4,176, which is around the state's average, and Little Rock's typical fee of $4,290 is on the more expensive end of the spectrum. At $4,957 per month, the average fee for in-home care in Fayetteville is, by far, the costliest in the state.
Adult day health care centers offer the most affordable care in Arkansas, with fees in the region of $1,733 per month. Assisted living facilities levy about $2,027 more for their services, which include care and accommodation. At $6,083 per month, nursing homes are the costliest option because their care is administered by highly qualified professionals, including physicians, and the staff-to-senior ratio is narrower. Costs for in-home care ($4,185) and home health care ($4,195) are also at the higher end of the scale, but they reflect the one-on-one care that each provider delivers.
Nursing Home Facility (semiprivate room)
Does Medicaid Cover Home Care in Arkansas?
Arkansas' Medicaid pays medical and non-medical costs for home care via programs and waivers. The ARChoices in Homecare program mostly covers non-medical services, but it can pay for skilled nursing in certain circumstances. The Program of All-Inclusive Care for the Elderly is a medical and non-medical option that combines services available via Medicare and Medicaid, and the Self-Direction/Independent Choices Program is a non-medical choice for seniors able to manage their care services.
Home Care Waiver Programs in Arkansas
The following waiver programs can help seniors with varying qualifying criteria. Some, such as the PACE program can help adults younger than 65 years, while the Self-Direction/Independent Choices Program may be better for seniors who prefer to personally manage their care.
How to Know If You're Eligible for Medicaid in Arkansas
In Arkansas, as of 2022, a single person applying for Medicaid cannot have an annual income that exceeds $10,092 or assets valued at more than $2,000. In a two-person household where both spouses apply, the limits are $15,132 for combined income and $3,000 for assets.
2022 Medicaid Income Limits for Seniors in Arkansas
Income Limits*
Asset Limits
*Per year
To be eligible for Medicaid in Arkansas, the applicant must satisfy several other conditions, as well as having qualifying income and assets. The applicant must:
Be a U.S. citizen or hold legal residency status
Reside in Arkansas
Have one or more qualifying health issues that justify nursing home care
How to Apply for Medicaid in Arkansas
Although Arkansans can apply for several programs online, the state's only method of applying for Medicaid is through downloading an LTSS Medicaid Application Packet and sending a completed copy with supporting documents to the nearest Department of Human Services county office.
What Information You Will Need
All applicants need to provide documentary evidence to support the information in their applications. These typically include:
Social Security card
INS card, if not a U.S. citizen
Medicare card
Health insurance card
Birth certificate
Marriage license or divorce decree
Proof of income, such as a retirement benefits letter
Proof of resources, such as property deeds and life insurance policies
How to Get Help Applying for Medicaid
In addition to speaking to a representative of Arkansas' Medicaid program, seniors may also benefit from alternative resources. The three listed here can provide detailed information about the program and support seniors who may encounter legal issues relating to paying for home care services.
Does Medicare Cover In-Home Care in Arkansas?
In general, Medicare does not cover the cost of non-medical home care. That being said, there are situations in which Medicare provides some coverage for medical home care, referred to as "Home Healthcare." There are several eligibility restrictions for coverage, including that individuals must be homebound and have a referral from their doctor specifically for home healthcare services.
Below is an overview of some of the skilled medical professionals whose in-home services are typically covered by Medicare – for more in-depth information, refer to our Guide to Home Healthcare.
Physical Therapists: Physical therapy is used to help patients recover from injuries (broken bones, knee injuries, etc.), treat ongoing conditions such as arthritis, and assist in recovery from surgeries and procedures such as a knee or hip replacement.
Visiting Nurses: Licensed nurses can provide a number of medical services for those who don't need to stay in the hospital, but do need regular medical services such as wound care, changing feeding tubes, etc.
Occupational Therapists: Occupational therapists help seniors regain or maintain the ability to accomplish normal, daily tasks, such as bathing, dressing, eating, and other daily activities.
Speech Therapists: Speech therapists help seniors who are struggling to adequately communicate due to a stroke, dementia, or any other cause regain the ability to functionally communicate using a variety of means. Additionally, speech therapists help to keep seniors independent by modifying diets, teaching special techniques to swallow safely, and retraining associated muscles.
As mentioned above, in-home care is distinctly different from home healthcare. But, there can be some overlap in services between the two types of care. So, while Medicare doesn't cover non-medical in-home care, there are in-home care services that may be covered in special circumstances when they're provided in conjunction with home healthcare (such as an occupational therapist helping with eating or dressing)
Other Financial Assistance Options for In-Home Care in Arkansas
While the above programs help many people finance in-home care, they will not cover all costs for everyone. There are other ways to pay for in-home care, including out-of-pocket arrangements with siblings, annuities, reverse mortgages, private insurance and more. Read Caring.com's Guide to In-Home Care Costs to learn more about these alternative payment options.
Free and Low-Cost Resources for Seniors in Arkansas
There are many government resources available to Arkansans for free or at a low cost. Those listed here can help make homes safer and reduce their reliance on energy sources. There's also help for seniors who may be struggling to access regular healthy meals and affordable transportation services.
COVID-19 Rules for In-Home Care Providers in Arkansas
To comply with the CMS Health Care Staff Vaccinations Standards mandate, all home health care workers in Arkansas delivering services paid in part or in full by Medicaid or Medicare must be fully vaccinated against COVID-19 by March 28, 2022. The Arkansas Department of Health has issued clear guidance to all home care agencies and workers, including how to deal with potential COVID-19 infections among the seniors in their care. It's good practice for seniors and their families to keep up with the policies and procedures implemented by their agencies, as regulations change often. Some care providers apply additional safety measures to minimize their clients' risk of infection.
In-Home Care Laws and Regulations in Arkansas
In Arkansas, in-home care is provided by private care agencies and is licensed and regulated by the Arkansas Department of Health. The department enforces guidelines regarding home caregiver training requirements, licensing applications and renewals and clients' rights.
In-Home Care Laws and Regulations in Arkansas
Scope of Care
Private care agencies only provide nonmedical services for patients. These services include companion care, assistance with activities of daily living, hygiene or grooming.
Care Plan Requirements
Agencies that provide in-home care must perform an initial evaluation visit to determine the needs and condition of the client, what services will be provided and who will provide those services. The Aide Service Plan must also outline the scope and frequency of visits. At least annually, visits must be supervised by a registered nurse.
Medication Management Requirements
Trained in-home assistants may provide reminders for self-administered medications.
Staff Screening Requirements
Prior to hiring an employee, agencies must conduct a criminal history check to determine eligibility for employment.
Staff Training Requirements
Personal care services can only be provided by aides who have completed an approved 40-hour training course. This course covers numerous topics, including body functions, communication skills, nutrition, ambulation, oral hygiene, transfer techniques, meal preparation and nail and skin care. Additionally, aides must receive 12 hours of ongoing training annually. Some caregivers are exempt from these training requirements, including those who have worked for at least a year in a hospital, home health agency, long-term care facility or hospice. Certified nursing assistants, relatives of the patient, registered nurses, physicians and licensed social workers all qualify as caregivers.
Medicaid Coverage
Medicaid pays for in-home care under the ARChoices in Homecare waiver program and the Independent Choices demonstration waiver.
Reporting Abuse
Suspected cases of elder abuse, neglect or exploitation should be reported to
Adult Protective Services
by calling 800-482-8049.
Frequently Asked Questions
How much does in-home care cost in Arkansas?
In Arkansas, in-home care costs $3,623 per month, which is considerably lower than the average national monthly rate of $4,290.
Does Arkansas Medicaid pay for in-home care?
Arkansas Medicaid covers in-home care via two waiver programs, including the ARChoices in Homecare waiver and the Independent Choices waiver. To be eligible for services under these waivers, applicants must meet residency, income, asset and functional ability guidelines.
Does Arkansas Pay For In-Home Care?
Arkansas' Medicaid program can pay for medical and nonmedical in-home care services. Its programs and waivers are designed to support seniors with specific needs living under particular circumstances. Therefore, a senior may find they don't qualify for one of the programs or waivers but may be eligible for another. Each of the three programs or waivers is unique; some pay for medical and nonmedical care, while others only pay for nonmedical care. In order to be eligible for these programs, seniors must be eligible for Medicaid (as a minimum) and in need of nursing home care that can be delivered in the community. Read More
Are there programs to cover home modifications in Arkansas?
In Arkansas, home modifications for seniors receiving in-home care may be covered under the ARChoices waiver program. These modifications help individuals navigate their homes more easily and include items such as wheelchair ramps and grab bars.
Does Medicare pay for in-home care?
Original Medicare doesn't cover in-home care for those who only require personal care and don't need skilled care. However, some Medicare Advantage plans, which are offered by private health insurance companies, may provide coverage for personal care services.
What types of services does a home care aide provide?
In Arkansas, home care aides provide companionship, assistance with daily living activities, meal preparation, mobility assistance and basic housekeeping and laundry.
Can Family Members Get Paid for Caregiving in Arkansas?
Family members can get paid for caregiving in Arkansas via Medicaid waivers and veteran's programs. However, several eligibility requirements must be met, including medical assessments and asset checks. Under Medicaid waivers, a senior's spouse can't be hired as a caregiver. Read More
How to Find an In-Home Care Provider in Arkansas
Whether you are looking for yourself or a loved one, finding a quality home care provider can be a stressful process. When you hire an in-home care aide you're placing a lot of trust in the hands of the person by inviting them into your home, so you'll want to be diligent in your search. At Caring.com, we're here to help – we've created a helpful checklist below that can help guide you through the process of both determining your needs and finding a home care agency that will provide the best care possible.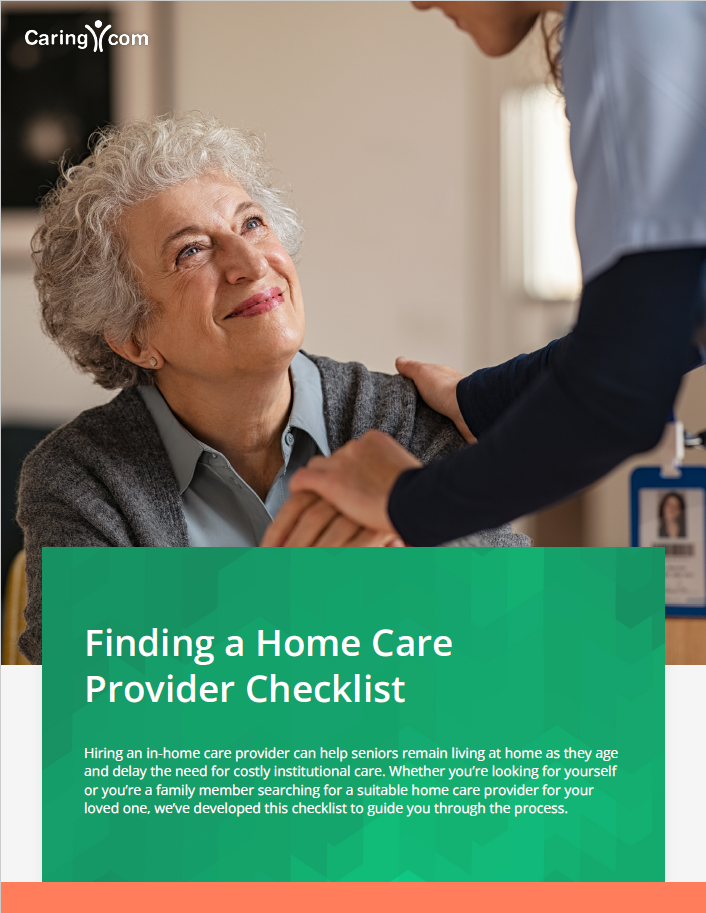 Find Home Care Agencies Near You
To find quality home care providers near you, simply input the zip code or city where you would like to start your search. We have an extensive directory of home care agencies all across the nation that includes in-depth information about each provider and hundreds of thousands of reviews from seniors and their loved ones.
Home Care Services in Arkansas (109)